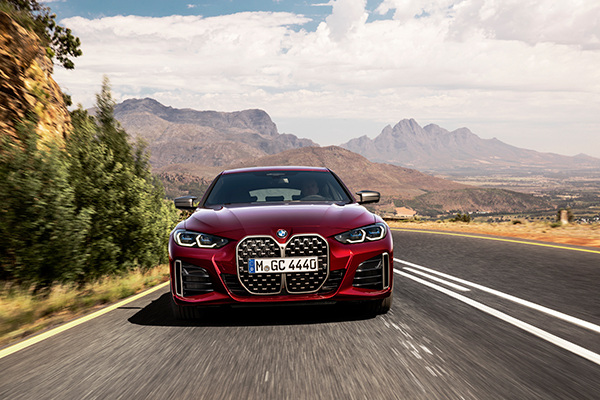 Celebrating Two Sleek, New 4-door Hatchbacks
By Isaac Bouchard
One of the effects of buyers moving en masse to SUVs has been the proliferation of 4-door hatchbacks with "fastback" rooflines. They look sleek—especially next to all those jacked-up crossovers and trucks—and are very practical. Two excellent examples are the M440i and Civic Sport. Though comparing a BMW to a Honda of less than half its price may seem unconventional, these two share so many spiritual qualities it would seem chintzy not to celebrate them together…
BMW M440i xDrive Gran Coupe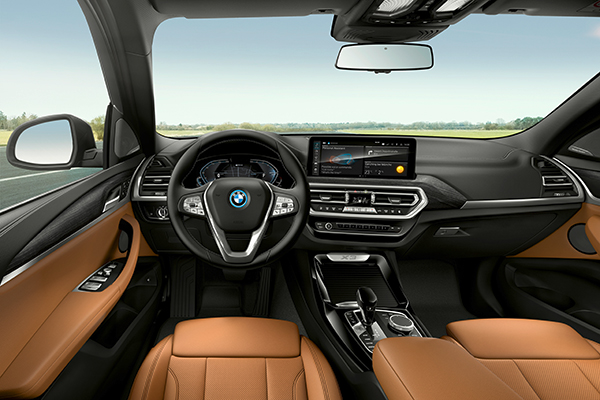 The M440i Gran Coupe is a lower-roofed, fastback version of the regular 3-series, with a hatch that allows easy access to a large cargo area: 45.6 cubic feet with the seats folded.
BMW has decided to be daring and controversial in styling many of its newest vehicles—including the M440i—and not everyone will be down with the large "kidney" grills; the rest of the slinky skin stretching over this sleek machine is much less polarizing. Inside it is mainstream Bavarian in design. Its back seat is tighter than a sedan's, but still readily usable, and the front of the cockpit is quite habitable.
The interior's materials are of uniformly high quality, though there's something about the grain that BMW now presses into the plastic moldings that undermines the perception of that attribute. Also, the leather on the company's steering wheels is neither as durable nor as tactilely rewarding as their older vehicles: it feels fake. That also applies to the way the M440i steers; its feedback is artificial, with a gloopy resistance standing in for genuine feel. It is really puzzling why BMW can't get this essential right. But aside from that, this sports hatch is very pleasing dynamically.
Its adaptive dampers mean its rides bad pavement really well, it is quiet, and it can really hustle when needed. The M440i's firmer suspension settings give it great body control and its brakes are indefatigable. This is one area where BMW has made great progress; its cars from two decades ago never had stoppers as good as the engines they were supposed to rein in. And no one does engines better than this company named after them.
The 3-liter, hybridized 382hp inline six hits like a sledgehammer; it has almost no turbo lag, spins eagerly to redline and has a linear power delivery that means it always feels more than potent enough. 0-60mph takes only 3.8 seconds using launch control (and thanks to standard AWD); even just mashing the pedal from a stop will get it there in 4.6 seconds.
These are numbers that only the fastest M cars of past decades could match.
Power and the 364lb-ft of torque are channeled through a sweet-shifting 8-speed automatic; AWD means traction is never an issue. It is also very fuel efficient, returning 5-7mpg more than competitors in the city and on the highway. Few cars this fast can get 30 mpg on the open road.
BMW also remains the leader in terms of interfaces (at least in this reviewer's opinion) with iDrive allowing touch- or control-based inputs and being lag-free, intuitive and customizable. It also proffers one of the best voice control systems in the business; ask the M440i to take you somewhere and it rarely gets the response wrong. Instead the destination pops up in the head up display and away you go.
The combination of practicality and sport means the Gran (as in Grand Touring) part of the M440i's moniker is aptly applied, and for those who don't mind the new frontal aspect of BMW's styling strategy, this is one of their more compelling new cars. And its fully electric sibling, the i4 tested here—is one of the finest EVs made.
Honda Civic Sport Touring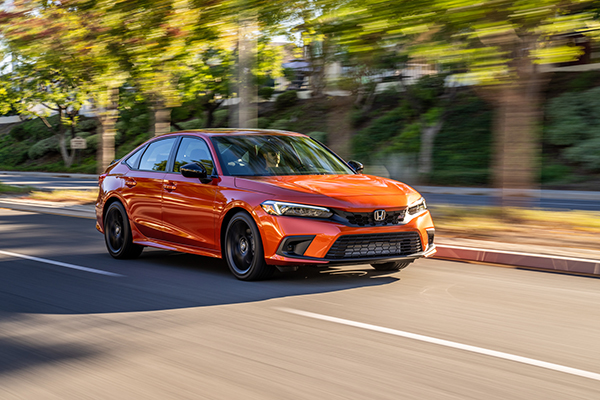 The 11th generation Civic has a newfound classiness to its styling that ties it tightly to the refined-looking Accord, and a breadth of ability and likeability that mean it is one of the best compacts on offer.
The hatchback version only adds to its charms, increasing practicality without diluting the fun it offers. When equipped with the 1.5-liter turbo (the standard normally-aspirated 2-liter is best avoided at our altitude) it is quick too; its 180hp, deployed through a continuously variable transmission hustles it to 60mph in 7.2 seconds and returns excellent fuel economy.
Its 177lb-ft of torque are readily accessible, but the rubber-band feel of a CVT undermines the driver-to-machine interface to some degree, dulling throttle response. Thankfully a slick 6-speed manual is optional.
The Civic Sport's chassis and steering are above reproach, too. In the way the Honda isolates occupants from the worst our awful roads proffer, yet still responds to the driver's inputs, it is an exemplar.
The Sport's steering is direct, linear and offers feedback that only a Mazda3 can match. The ride is supple enough during daily duties yet really encourages one to toss it about on curvy roads or onramps, given its adjustable, exploitable balance.
The Civic—like most Honda's—is noisier than some competitors though; 50 pounds of sound deadening would be worth any performance penalty. The Civic's interior, in Touring spec, shows judiciousness in its blend of high-quality moldings up high and pleasing touch-points like the steering wheel and click-click climate controls.
Missing is a lumbar support, which undermines long-distance comfort, but the lateral support the front chairs offer actually does a better job at holding in this reviewer's frame in place than those in the BMW.
Honda has thrown most all expected modern conveniences at the Sport and the 9-inch infotainment display is prominent and easy to reach—essential in a touch-based system. Its graphics still look a bit low-rent, but at least there's actual knobs for things like the volume. Driving aids like adaptive cruise, autonomous emergency braking and more are standard, something more expensive cars make optional.
The Civic Sport Touring is about the closest affordable alternative to something like the BMW M440i Gran Coupe and makes a great value.
Honda Civic Sport                   BMW M440i Gran Coupe
EPA Ratings:                            30/37/33mpg                          22/29/25mpg
0-60mph:                                7.2sec                                      3.8sec
Price as tested:                       $30,810                                   $67,620
Rating:                                     4 Stars                                     4 Stars
Automotive Editor Isaac Bouchard owns Denver-based Bespoke Autos ([email protected]; 303-475-1462). Read more of his automotive writing, reviews and recommendations on coloradoavidgolfer.com and bespokeautos.com.
---
Colorado AvidGolfer Magazine is the state's leading resource for golf and the lifestyle that surrounds it, publishing eight issues annually and proudly delivering daily content via coloradoavidgolfer.com.