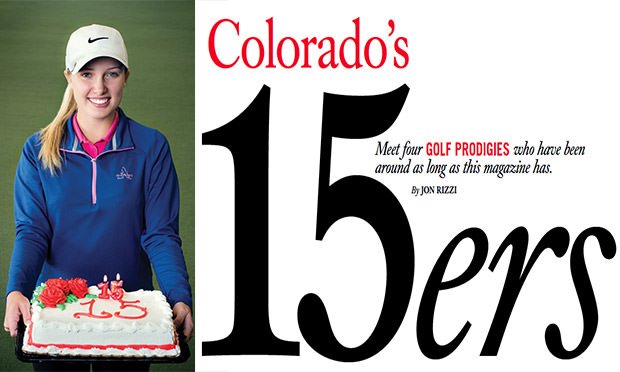 Hailey Schalk, Erie
Hailey Schalk's first birdies on a golf course came in 2004, when she was two years old. She liked feeding the ducks at Lake Valley Golf Club, where her dad, Matt, worked as the PGA head professional.
Two years later, Matt took the top job at Erie's Vista Ridge Golf Club (as Colorado National Golf Club was then known). Hailey found it fun to hit golf balls into the pond fronting the 18th green, so Matt made dunking a few balls her reward after playing three holes with him.
By the time Hailey started playing in tournaments, she had learned to avoid the water. But she had another issue: nerves. She always felt nauseous before tournaments. "Once it was so bad, I didn't want to play," she says. "My dad gave me a choice: 'You can throw up on the tee box or behind a bush, but you're not leaving.'"
Thus "cured," Hailey later went on to play through a 101˚ fever in a 10-and-under CJGA tournament at Boulder Country Club—and had her first hole in one.
Success followed. Matt's experiences over his 25 years as a competitive pro golfer have given her a perspective few juniors get. She's also caddied for him in two Colorado Opens. "I've learned that there will always be times in golf when I'll mess up, and that's okay," she says. "I'm not as into chasing trophies as I am into seeing improvement." 
Hailey hasn't messed up very often. Last May, she won the Junior Golf Alliance of Colorado's first-ever girls' tournament at Todd Creek Golf Club. Shortly before starting her first year at Holy Family High School, she won the 2016 Colorado Junior Match Play—a JGAC major—at The Ridge at Castle Pines North. She won a third JGAC event at Fox Hill Club and finished runner-up in another major, the JGAC Amateur.
On a national level, last year as a 14-year-old she tied for seventh against high school students in the AJGA Hale Irwin Colorado Junior at Highlands Ranch and tied for eighth at October's AJGA All-Star Invitational at Oregon's Pumpkin Ridge Golf Club.
On March 8, 2017 Hailey won her first-ever high school event, the Frederick Tri-Valley League Tournament at Saddleback Golf Club. On May 22-23, she'll tee off in the High School Girls 4A championship at her home course at Colorado National, and in August, she will test herself in the CoBank Colorado Women's Open.
Dillon Stewart, Fort Collins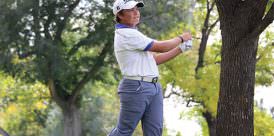 Dillon Stewart's days as a 15-year-old are numbered, but the fact that he turns 16 next month shouldn't preclude his inclusion here. The Fossil Ridge High School
sophomore's accomplishments have had
heads turning and universities inquiring since he qualified for the Optimist Junior World Champions and won the Rocky Mountain Junior Golf Tour Tournament of Champions while in middle school. 
Over the last two years, Dillon has won 10 tournaments, including his very first high school competition, carding a 64 at Flatirons Golf Course in the 2015 Boulder/Fairview Invitational. He defended his title in 2016. He also placed first in the 2015 IMG/Callaway Junior Worlds Qualifier (ages 13-14), finishing T42 out of 162 in the Championship, and won last year's Flatirons Optimist Qualifier (ages 14-15), before placing eighth out of 80 players in the Optimist Worlds in Florida.
The son of PGA Professional Scott Stewart, Dillon plays out of Ptarmigan Country Club, where his family lives on the 12th hole and he works on his game six days a week. He's long entrusted his swing to PGA Golf Instructor Brian Lindstrom, who works out of Windsor's Highland Meadows Golf Course and golfDynamics, an indoor golf center in Loveland.
"He's seen me since I was little," Dillon says. "Last year we worked 50 percent on full swing, and 50 percent on chipping and putting. This year it'll be more like 75 percent on putting and chipping. We're focusing on playing from the hole back."
Dillon wants to improve on a 2016 season in which he finished second in four JGAC events, including the Colorado Junior Amateur.  He also knows he needs to execute in the Optimist and IMG junior worlds and in AJGA events to get looks from the Big 12 and PAC-12 schools he'd like to attend.
He's learning not to put pressure on himself. Working with the performance psychologist Michael Riggs, the high-achieving teenager is achieving the emotional consistency and self-forgiveness necessary to take his already strong game to the next level.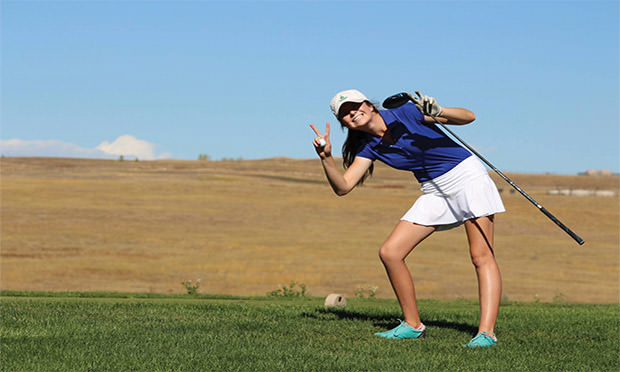 Charlotte Hillary, Cherry Hills Village
When Charlotte Hillary heard that Cherry Hills Country Club would host the JGAC's first annual Junior Tour Championship on October 8-9, the 14-year-old Cherry Hills Village resident circled the dates.
Her family belongs to the historic club—as well as to Castle Pines Golf Club, where she takes lessons from PGA Director of Instruction Don Hurter—and she knows the Cherry Hills course intimately.
Going into the Tour Championship, Charlotte had won two of the last three JGAC events of the season. "I felt like my game really started to blossom right before the tournament at Cherry Hills," she says. But the Kent Denver freshman was one of the youngest in a field of 20 star players.
After starting the championship with two bogeys, Charlotte composed herself and posted a one-under 72, with five birdies on the back nine. The following day, she enjoyed a four-shot lead after a birdie on the par-5 15th. She strung together three pars heading into 18.
"I was so nervous with all those people around the green," she admits. "When the last putt dropped, it felt like a miracle."
Full of confidence, the first JGAC Tour Champion went with her family to Hawaii in December and shot 68-65 in an event she remembers as a "member-member thing" at Kukio. In January she won January's Future Collegians World Tour (FCWT) Junior Golf event at California's Half Moon Bay.
A solid student who aspires to become a prosecuting attorney, she only started playing golf seriously four years ago, having cycled through other sports. "On the driving range, people would say I had a natural swing," she remembers. "I thought, 'wow, maybe I can do something with that.'"
She'll be doing that this year for Kent, as it competes in the newly created 3A Girls Golf division. She also intends to play in national and JGAC events and to defend her JGAC Tour Championship title Oct 7-8 at, yes, Cherry Hills.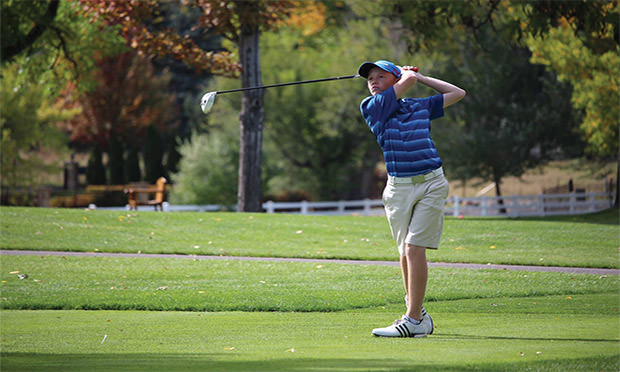 Jordan Jennings, Montrose
Living in Montrose and competing in state golf events means Jordan Jennings and his father, Ty, spend a lot of time in the car. "We get to talk about things most fathers and sons don't get to talk about," says Ty, who works for Irwin Golf Management.
One of those things might be where to put all the trophies and medals that Jordan—who turns 15 in October—keeps winning. In 2016, Jordan, whose home course is Bridges Golf & Country Club, won the JGAC Junior Championship (ages 11-13) at CommonGround Golf Course after birdieing three of the last four holes to force a playoff with Ryan Sangchompuphen. He also placed first in qualifiers for both the Optimist (12-13) and IMG Academy (11-14) championships.  He's qualified four consecutive years for the Optimist and the last two for the IMG.
His performance in the latest Optimist championship, held on PGA National's Champions Course, made a big impression on
his father. Tied for the lead going into the
17th hole on the final day,  Jordan failed to carry the water and took a triple-bogey. "He
showed no emotion," Ty marvels, "and then parred the 18th hole." Jordan finished third in a field of 88 players from around the world.
Jordan credits his on-course demeanor
to talks with Ty and his father's friend, PGA Tour player Bryce Molder. "From the time I was four, my dad told me if I wanted to play golf with him, I had to be focused and committed for a full 18 holes," Jordan says. "He also told me never to let my emotions get involved or show them on the golf course."
From Molder he's also gleaned the importance of staying positive. "We talk on a regular basis," Jordan says. "He's told me always to take from a round the ten best things that happened." Molder also advised taking a four- or five-month break from golf at the end of October, something Jordan embraces. "I like playing team sports like basketball," says Jordan, who looks forward to joining a strong Montrose High School golf squad in the fall.
This winter's hiatus didn't prevent the Jennings from going to TaylorMade headquarters in Carlsbad, Calif., where Jordan, a "junior staff" member, got fit in February for a new set of P770 irons. "Their program looks into the future, more so with shafts than with clubs," Ty explains. "Jordan's grown seven inches in less than a year, so we'll probably be buying new shafts every four to six months." Such is the price of raising a golf prodigy.
---
This article appears in the April 2017 issue of Colorado AvidGolfer. Subscribe today!
Colorado AvidGolfer is the state's leading resource for golf and the lifestyle that surrounds it, publishing eight issues annually and proudly delivering daily content via coloradoavidgolfer.com. Follow us on Twitter, Facebook and Instagram.