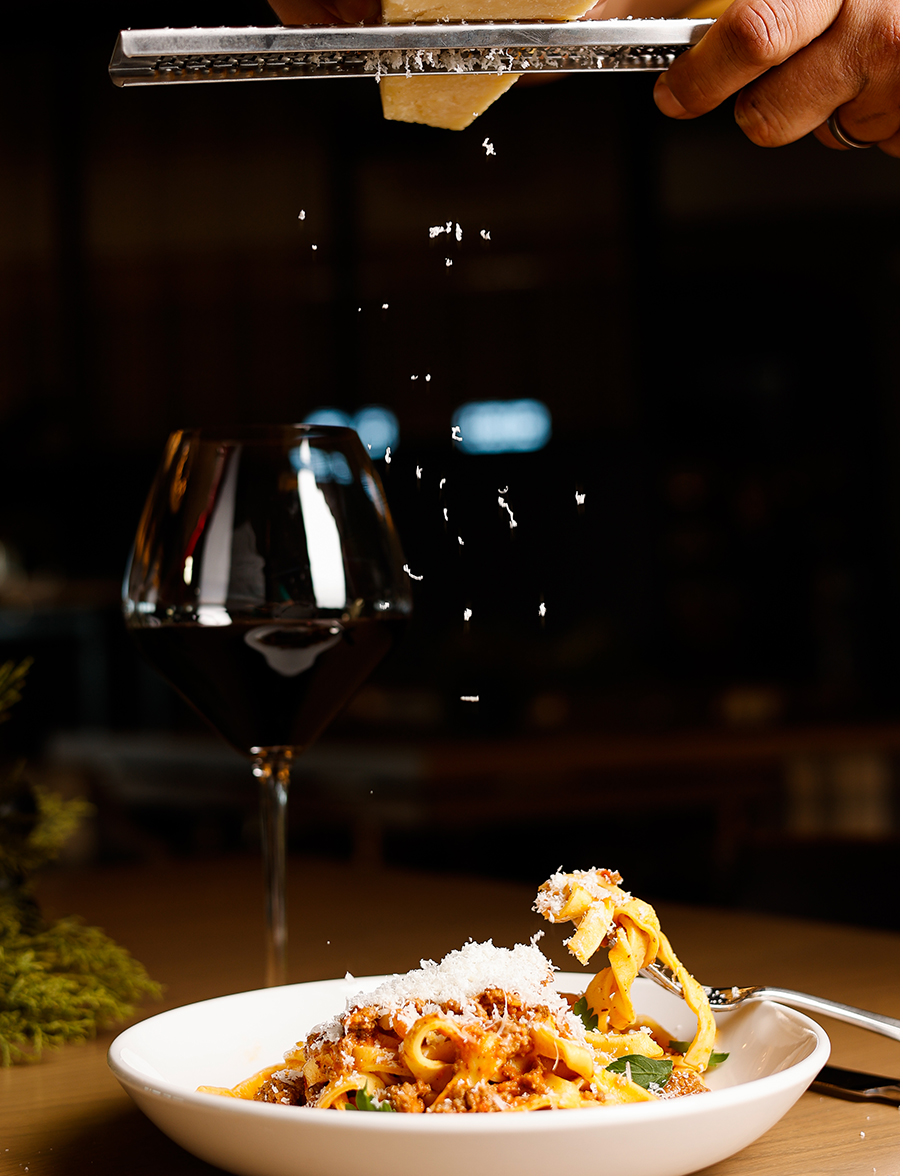 Colorado's private clubs are transforming golf food expectations.
By John Lehndorff
IT FEELS LIKE you're entering a private party at a luxurious hilltop home when you walk in the front door at Harmony Club in Timnath, east of Fort Collins. Inside a welcoming atrium space couples and groups sip cocktails on couches around a fireplace.
The aptly named Great Room opens into Harmony's warmly lit dining room. The full tables and bright modern booths look out on a pastel sunset over the lights of Fort Collins with the Front Range peaks in the distance.
The personable serving staff delivers pours of pinot noir in tall stemware, beautiful plates of creamy burrata cheese with beets and platters of melt-in-themouth short ribs and blackened tilapia.
Tucked away nearby is a lively bar and lounge area ruled by Irish-born bartender Matty O'Reilly, a former chef who can pair fare for members from a list of designer cocktails, wines and beers.
Year-round diners linger on Harmony's expansive wraparound patio that looks out over the golf course.
Welcome to the great new world of Golf Food 2.0.
The food, service, wine and ambience at golf course restaurants in Colorado is getting a major upgrade. Public and private clubs are investing serious funds in amenities as interest in golf has boomed during the Covid pandemic.
We talked with the leaders at three Colorado clubs—Harmony, Ballyneal and Ravenna. Each takes a different, fresh approach to the feeding of members, especially the millennials. Golf's next generation includes savvy, well-traveled diners with dietary needs and expecations beyond a club sandwich.
HARMONY CLUB
"Golf course food got its reputation at country clubs. Typically, country clubs were out in the country, and they had to feed people. They had these giant kitchens for banquets," says Harmony Club owner Byron Collins.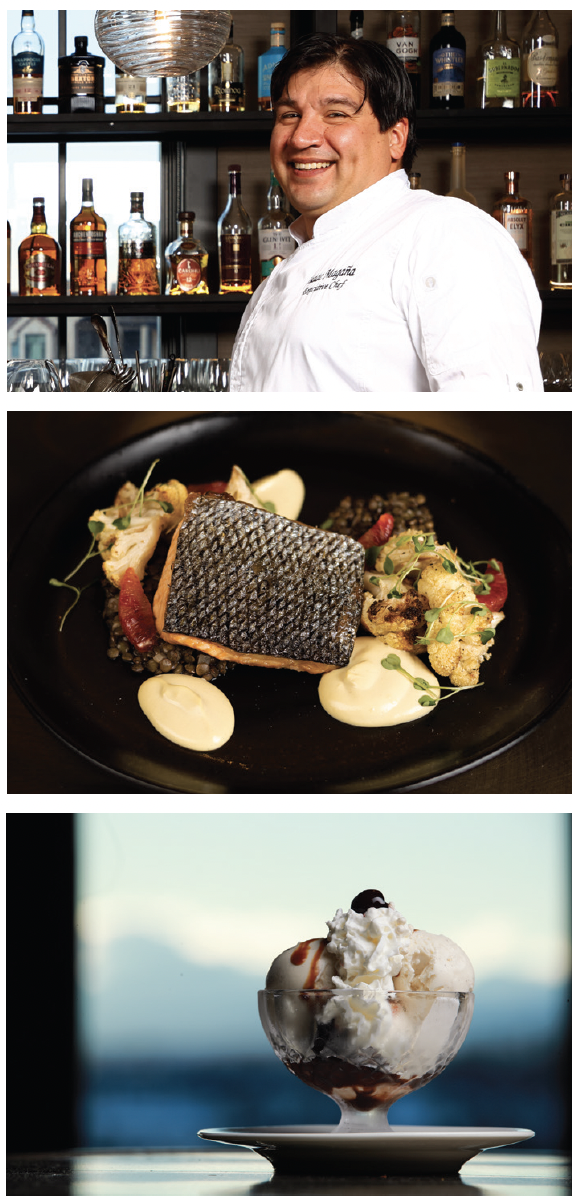 The private golf community near Fort Collins opened in 2007 but the commanding clubhouse and dining room only debuted in August 2020. "Times had changed. We knew it had to be a restaurant, not at a banquet hall. We didn't want it to be stuffy," Collins says, "It's a neighborhood club. It's much more like Cheers than a 'country club.' You always see the same staff and they know members by name," he says. The 600 members live near the golf course and in the nearby community. "They expect meals similar or better than what they can find at local restaurants, which are very good."
Collins praises Executive Chef Isaac Magana's fine-dining philosophy and everythingfrom- scratch approach. "He finds out what each diner wants. Have it your way is our way," he says.
The Chicago-trained chef's changing seasonal menu includes fresh pasta dishes like ravioli centered with soft egg yolks served with seared pork belly, shallot jam and brown butter. Dinner in the restaurant calls for reservations, especially if you want to dine at 7 p.m. Friday and Saturday. "We're not looking to flip tables. We're happy to have members for an hour or three," Collins says.
The casual menu for the Great Room, bar and patio is packed with familiar favorites all elevated a notch. The obligatory burger is prime beef topped with Odell Beer cheese, grilled verjus onions, house-made pickles and Kewpie mayonnaise on a freshly baked bun.
"We're like the best-kept secret in the area because it's not a public restaurant," Collins says. For him, millennials' fresh passion for golf is making all the difference on and off the course. "It's very gratifying to see three generations— grandparents, a young couple and their children–all eating here." harmonyclub.info
BALLYNEAL GOLF & HUNT CLUB
The food needs to be really great at Ballyneal, the renowned private golf club tucked away near the Nebraska border in Holyoke.
"Our audience is captive here," Ballyneal General Manager Dave Hensley explains.
"At a lot of golf courses, you're going to swing in, grab a snack before teeing off, grab beers and maybe lunch afterwards, and then you're gone. Our members come and eat three meals here plus happy hour and snacks. They aren't dining anywhere else."
Ballyneal's facilities include a main dining room seating 65, a rustic bar and a private dining area. The wide-open patio boasts sweeping views and sunsets on the eastern plains of Colorado. The club has an invisible advantage over other golf courses in Colorado. The elevation is only 3,700 feet above sea level (versus say, Vail's 8,150 feet) making it easier on the numerous national members and their flatlander guests. That's helpful since Ballyneal's Scottish- style course walking-only and members work up an appetite and thirst.
"If the golf course is good, the food needs to be just as good," Hensley says.
That's where Sarah Wills, Ballyneal's talented executive chef, comes in. "I'm classically French trained as a chef," says Wills, who arrived at Ballyneal from The Pinery two years ago. "I don't have to compromise here. We make everything from scratch, and I feel like you can tell when you taste the food."
Her focus on quality doesn't mean exotic fare full of foams, strange garnishes and trendy ingredients. Ballyneal's changing menu features familiar, exceptionally made dishes like an upgraded club sandwich with candied bacon. "Chicken Parm is a big favorite," the chef says. "We take a fresh chicken breast, pounded out and breaded, over fettuccine noodles with house-made marinara. There's a big 'wow!' factor," she adds, indicating other diners at the table often experience entree envy.
Her culinary mantra is simple: "You see before you eat."
"I'm a huge seafood fan, so I serve sea scallops pan-seared–nice and crispy brown on one side, with beet puree, lobster risotto and sugar snap peas and vanilla beurre blanc. It makes you hungry looking at it," she says.
Ballyneal is a destination club with lodging for about 65 people, mainly groups of guys. "It's all about the vibe and the hang we provide for them," Hensley says. "We are a small enough and slow enough operation that it gives us a chance to get to know our members' taste. They can just walk into the kitchen and make requests."
"We had a member fly out from New Orleans with a big old cooler of shrimp and I did shrimp five ways for him and his guests," Wills recounts. "To me, you should feel a little bit special if you belong to a club like this." ballyneal.com
THE CLUB AT RAVENNA
Dining at Ravenna, the private golf club near Waterton Canyon, will never be same after March 2022, when a spacious new Italian-inspired clubhouse opens.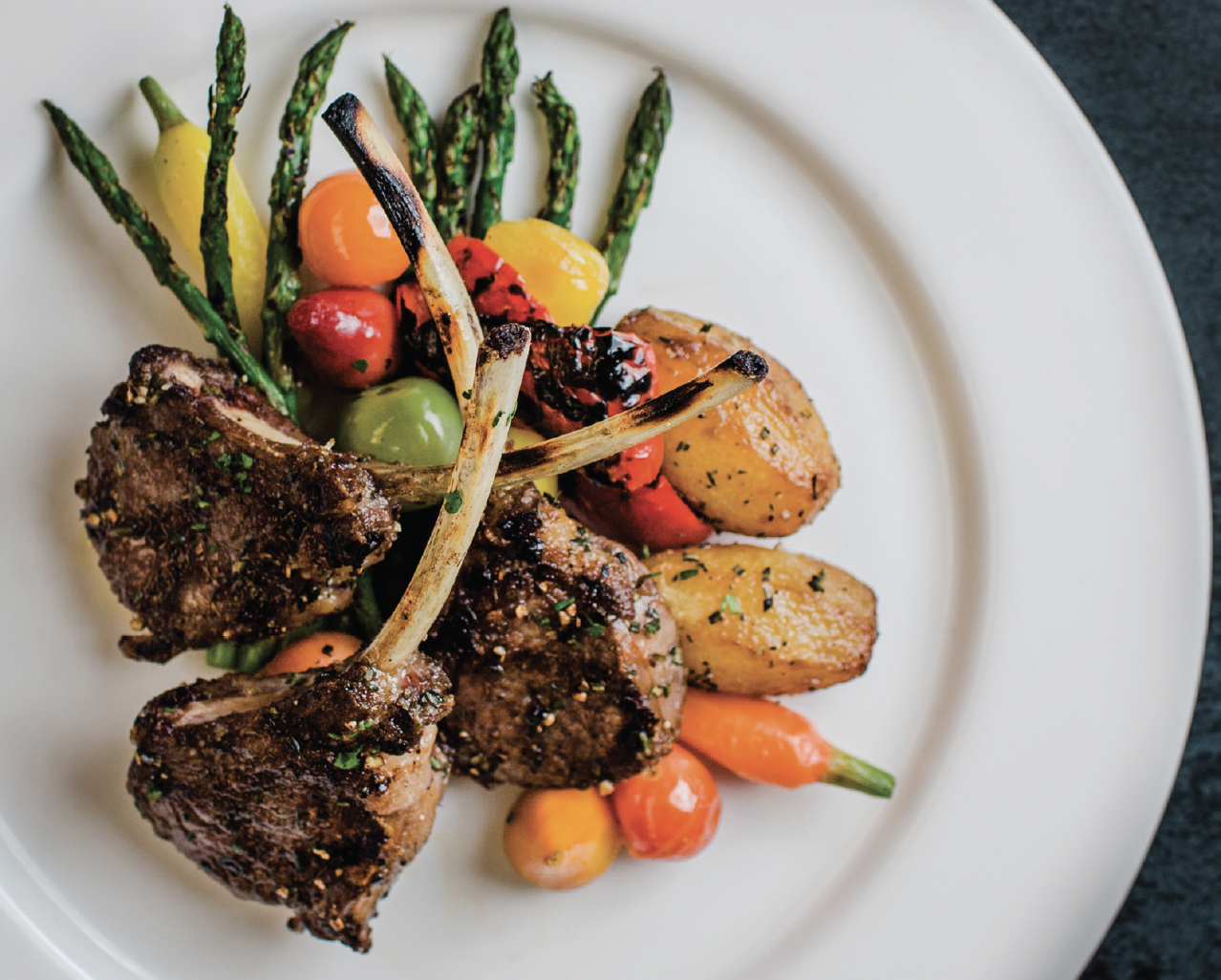 "We've been providing great food and beverage service from a temporary tent kitchen for years, back when we only had 50 members," club owner Kevin Collins says. Originally a homeowner at Ravenna, Collins bought the club in 2015 and has steadily added amenities (like a fitness facility and event center) and attracted hundreds of new members.
"When we were planning the clubhouse, we wanted to give our members a dining experience they can't get anywhere else," Collins explains. The new clubhouse includes a 70-seat dining room and a cozy lobby decorated with original oil paintings where guests can relax with drinks and hors d'oeuvres. "We're competing with other restaurants as well as other golf courses." To realize this culinary vision, Collins hired Executive Chef David Lazarus in 2018. His extensive r sum  includes hauls at the Denver Club and training at The Broadmoor.
"Opening a new facility like this attracts a high level of international talent including sommeliers, a new sous chef and experienced service staff," Collins says. "The new kitchen allows our chef to take dining to the next level. For instance, he will be able to do tableside service and carve a steak or do flambes for dessert. It's really kind of a lost art in restaurant dining now." Personalization is the hallmark at Ravenna.
"We have a smaller boutique club and it allows our staff to deliver great service," Collins says. "The chef meets members at each table and talks about their tastes. If there's not something on the menu they fancy that night, he can come up with something special." That includes low-fat, low-carb, gluten-free or vegan dishes. "We can provide what they need to make it a good experience. It's like everyone has a personal chef," Collins says.
Guests can also dine on a 2,000-square-foot terrace above the 18th hole with spectacular 360-degree views including deer, wild turkeys and the ravine suggested by the club's name.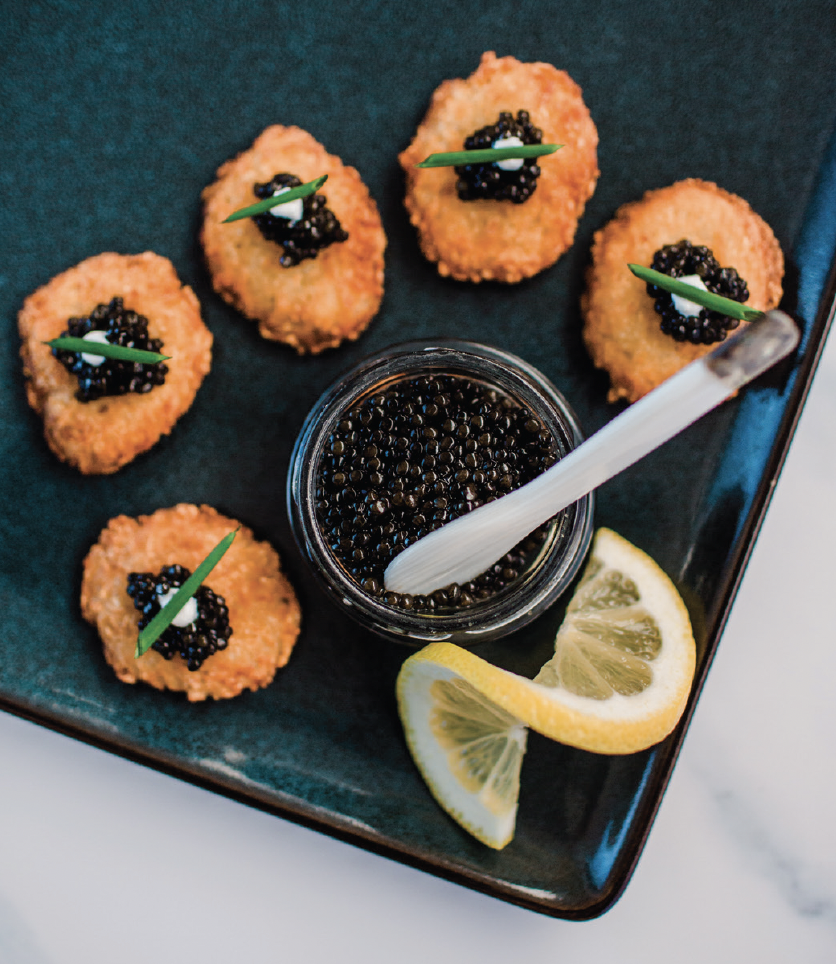 The fine-wine appreciation that is part of Ravenna's DNA will express itself spectacularly in a circular staircase that transports guests down to a wine grotto. "It looks like a Napa wine cave and it's next to a 1,600-bottle cellar," he says. "Members can go in with our sommelier before dinner to pick a bottle." The grotto is also available for intimate wine dinners. Ravenna's constantly changing seasonal menu can feature classics like beef bourguignon, penne pomodoro with grilled pesto shrimp and braised lamb shanks and eye-catching appetizers including thin sweet potato pancakes with caviar and honey-roasted beet salad with oranges and toasted almonds. "We can make a club sandwich if a member requests one," Collins adds.
Collins says he chooses to dine at Ravenna even though many dining destinations are a short drive away in Littleton. He highly recommends the menu's succulent grilled bone-in veal chop with morel mushrooms and the seared ahi tuna salad. "I live out here and eat at the club a lot, so it better be good," he says. ravennagolf.com
John Lehndorff is the former Dining Critic of the Rocky Mountain News. He writes Nibbles for the Boulder Weekly and hosts Radio Nibbles on KGNU.
---
This article can also be found in the 2022 Spring Issue of Colorado AvidGolfer.
Colorado AvidGolfer is the state's leading resource for golf and the lifestyle that surrounds it, publishing eight issues annually and proudly delivering daily content via coloradoavidgolfer.com.