Follow your nose to the best BBQ on the Front Range.
By John Lehndorff/Photographs courtesy of the restaurants
ONCE UPON A TIME, wannabe pros played tours of small golf tournaments known as the "barbecue circuit." These days in Colorado, the barbecue circuit is a battery of artisan smokehouses competing for fans who crave that unique melding of smoke, salt, fat, spice and fire. Colorado pitmasters focus on quality and not necessarily on whether they 'cue authentically Carolina-, Kansas City- or Texas-style. All that matters is flavor.
There are some things—call them rules of 'cue–that separate true smokehouses from chain eateries dishing some barbecue dishes. These pitmasters smoke their own meats (using different woods) and sell them by the pound or the slab. They craft their own sauces, side dishes and pickles, and they famously have lines at the front door when they open (traditionally at 11 a.m.) because they often run out of meat and close early.
Expect true 'cue destinations to be quirky, opinionated and pricey. Some won't serve dessert or bread because they aren't considered "authentic." One cranky pitmaster told me he initially resisted offering any barbecue sauce because he thought it insulted the meat.
So, follow the rules and your nose to the top barbecue joints along the Front Range.
AJ'S PIT BAR-B-Q
Inside a mountain cabin-like industrial space in South Denver, Jared Leonard presides over a quintessential Texas-style barbecue fueled by 100 percent post oak. The folks at the counter reach behind them directly into the smoker to retrieve juicy pork ribs, sliced and chopped brisket and luscious pulled chicken and pulled pork. My favorites are the spice-rubbed tri-tip steak and the candy-like burnt beef ends. Big jars of house bread-and-butter pickle slices sit on the communal picnic tables and, instead of the paper towels, AJ's provides diners with colorful cowboy cloth bandanas for wiping away the last lip-smack of sauce.
On the side: Don't miss the truffled mac-n-cheese with sharp cheddar, the deviled egg potato salad and the wonderful, dessert-like "custard-filled" cornbread with corn kernels.
2180 S. Delaware St., Denver
pitbarbq.com; 720-815-5571
SMŌK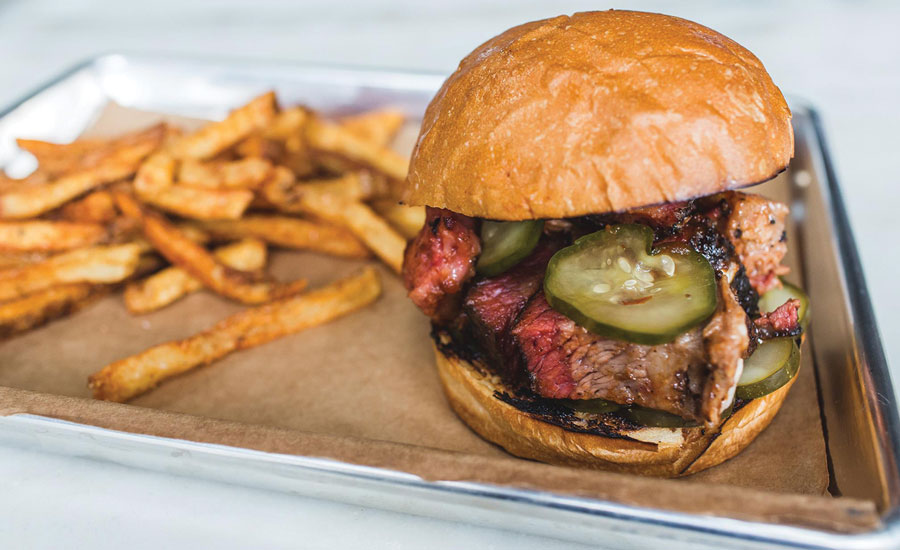 Kansas City meets Austin (by way of Mexico City) at this well-done barbecue stop located off the lobby of the Source, one of Denver's hippest new hotels, in RiNo. Chef William Espiricueta applies fine-dining savvy to brisket,
pork belly and ribs. Smōk never runs out of burnt ends—the slightly charred, chewier end pieces that get exposed to more smoke. I enjoyed them simply on a soft brioche with house pickles and a beer. Change-of-pace goodies include creamy deviled eggs, crunchy Nashville hot chicharrones, smoked brisket and pulled pork corn tacos. The best vegetarian sandwich in town is the smoked portabello mushroom sandwich topped with a beer-battered onion ring, melted provolone and spicy barbecue sauce.
On the side: The street food-inspired creamed corn is elote in a cup: smoked corn and chilies with queso fresco and lime. Don't miss Smōk's corn bread and strawberry-rhubarb hand pies.
3330 Brighton Boulevard, Denver
denversmok.com; 720-452-2487
ROAMING BUFFALO BAR-B-QUE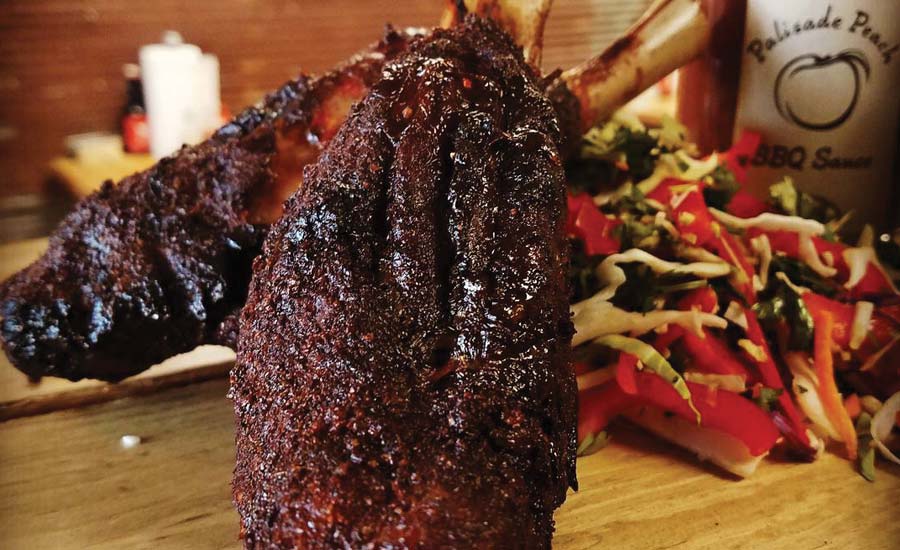 An emerging "Colorado-style" barbecue can be found at Coy and Rachael Webb's Denver smokehouse. They dish fine examples of pecan- and oak-smoked chopped brisket, pork ribs and turkey breast, but foodies come to sample some amazing rarities: Colorado-sourced smoked pulled lamb, the big and tender bison back ribs and especially the exquisite lamb shank.
On the side: Use the house-fried sea salt potato chips to scoop up bites of smoked poblano cheddar mac and "redeye" cowboy beans made with dark-roasted coffee. I'm also a devotee of Roaming Buffalo's grits with Andouille sausage.
2387 S. Downing St., Denver
roamingbuffalobbq.com; 303-722-2226
OWLBEAR BARBECUE
Make a beeline for this urban oasis of world-class smoked goodness hidden between a tattoo parlor and Our Mutual Friend Brewery. Trained at the Vatican of smokehouses—Franklin's BBQ in Austin, Tex.—Owlbear owner Karl Fallenius is a meat purist who only serves the best, regardless of price, slow-smoked over mild oak and barrel staves sourced from wineries and distilleries. Neither of Owlbear's two sauces is necessary for his artfully seasoned, spoon-tender fatty beef brisket and sexy pork belly that melts in the mouth like Chinese char siu. The biggest eye-openers are the oversized pastrami-style beef ribs crusted with spice rub. Seating is limited, but if you order a beer at the brewery, you can eat at its picnic tables.
On the side: Topped with Parmesan cheese crunch, the mac-n-cheese is the best I sampled. The Asian-style cucumber salad coolly counterpoints the rich, fatty meats.
2826 Larimer St., Denver
owlbearbbq.com; 720-667-1181
JABO'S BAR-BE-Q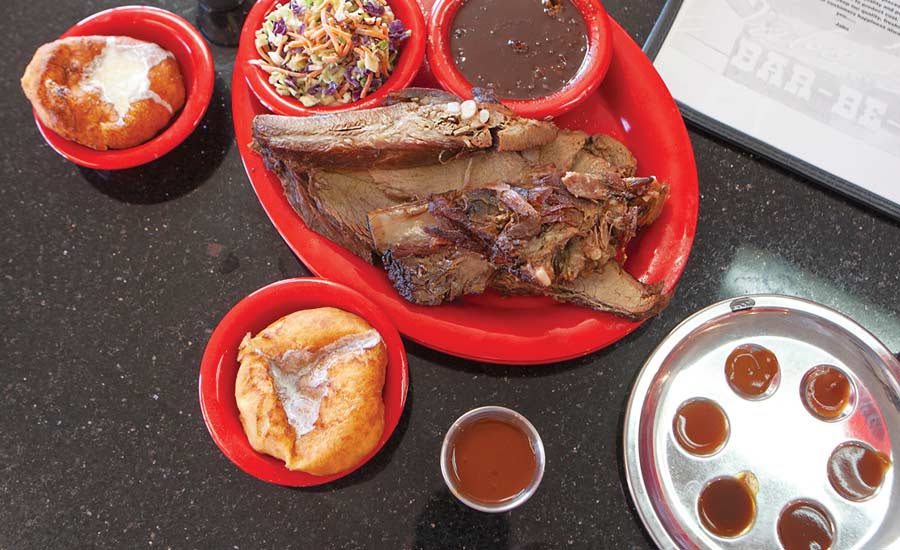 The granddaddy on this barbecue honor roll has earned its spot by consistently dishing quality Louisiana-style brisket, pulled pork, pulled chicken and hot links for more than 18 years in a Greenwood Village strip mall. The star of these hickory-smoked attractions are fall-off-the-bone pork spare rib slabs. I also like the Chicago-style rib tips over fries with sauce and the half-pound Carolina—pulled pork and coleslaw on a challah bun. If you love barbecue sauce, Jabo's offers diners a tiny sampler of all their sauces before the meal. Go for the Smoky Vinegar and Hickory Mustard Habanero sauces.
On the side: Every dinner comes with a nice, doughy Sconut, similar to a New Orleans beignet, topped with powdered sugar and a drizzle of sweet glaze. Molasses fans will love the dark, meaty barbecue beans.
9682 E. Arapahoe Rd, Greenwood Village
jabosbarbeq.com; 303-799-4432
SWITCHBACK SMOKEHOUSE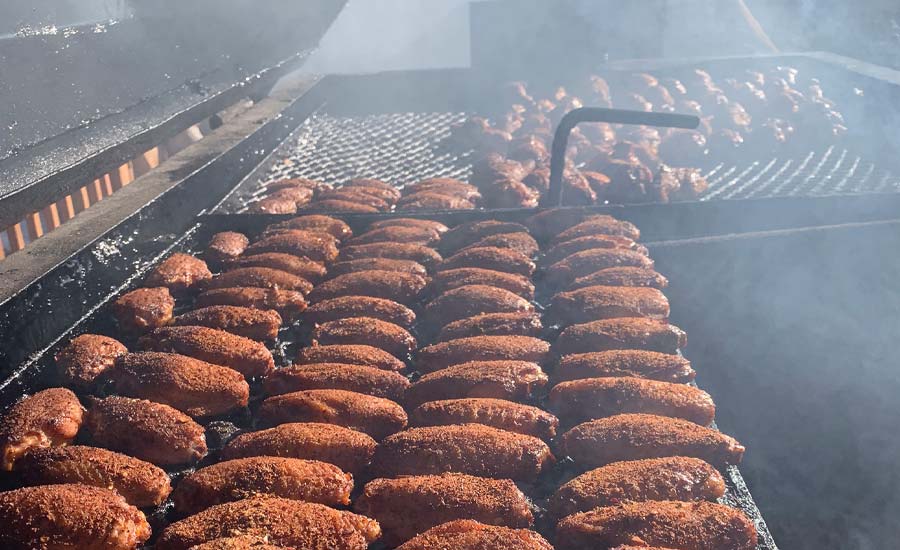 You can smell the fruit wood smoke before you see the smokehouse after a long and winding road trip to the foothills town of Kittredge. It's worth the drive to find yourself sipping a cocktail by Bear Creek and digging into cured, smoked duck breast, chewy Montreal-style brisket and mahogany-glazed salmon. The sweet-tangy root beer sauce is a perfect pairing with pulled pork and thick-sliced peppered bacon by the slice.
On the side: Don't miss the tart batter-fried giardinera (pickled vegetables), thick waffle fries and baked beans thick with brisket.
26220 Highway 74, Kittredge
303-200-0878
WAYNE'S SMOKE SHACK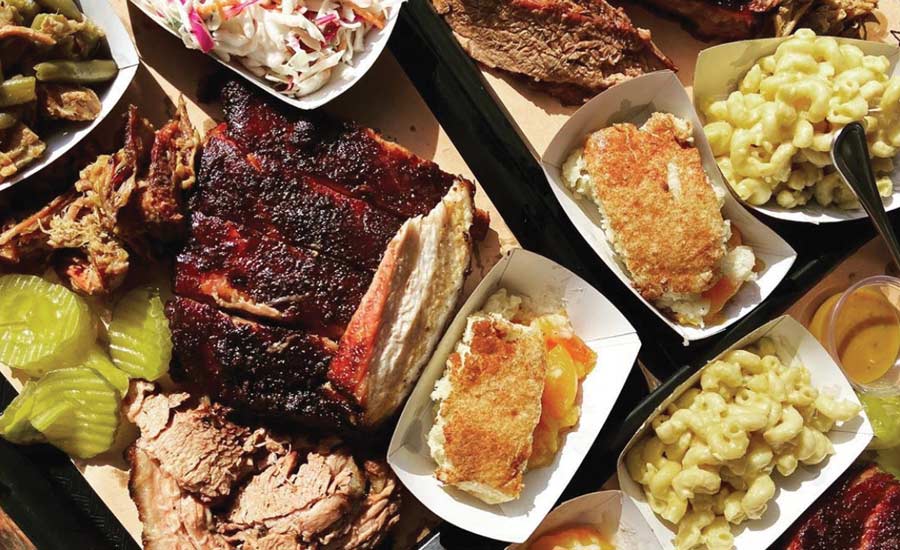 In Wayne's barbecue world, grown men and women stand in line and talk in hushed tones about whether they'll get the smoked brisket, fall apart pork shoulder, Wagyu beef sausage links or spice-crusted juicy turkey breast … or a pound of each. I understand because I've developed a thing for Wayne's Texas-style smoked candied pork belly. This north suburban shopping center often closes early to ensure the meat is always fresh from the smoker. Also recommended: the smoked catfish and scratch-baked Texas kolache pastries filled with fatty brisket and cheddar.
On the side: The sides that sing to me are Wayne's green chile mac-n-cheese, Southern green beans with pork belly and deep-dish peach cobbler.
406 Center Dr., Superior
waynessmokeshack.com; 303-554-5319
Wayne's is currently serving meals to local hospital workers who, as we all know, are understaffed and overworked. They hope to extend their efforts to the entire Denver Metro Area and beyond, but need your help in order to make that dream a reality. You can donate to the cause through this GoFundMe that Wayne's has established solely for this purpose. Thank you in advance!
MORE FRONT RANGE SMOKIN' TREATS
Smoked Tofu: Texas white oak-smoked firm tofu, with minced onions, sport peppers and pickles. LuLu's BBQ, Louisville, lulus-bbq.com
Chicken Wasabi: Oklahoma-style, oak-smoked bone-in chicken with Wasabi-Q sauce. Bird Dog BBQ, Colorado Springs, birddogbbq.com
The "Bob": Smoked bacon-wrapped, jalapeño-stuffed chicken breast chunks. Yazoo Barbecue, Denver, yazoobbq.com
Smoked Chicken Wings: Hickory-smoked and then crisply fried, these are the most addictively tasty wings in town—even without sauce. Boney's BBQ, Denver, boneysbbq.com
EDITOR'S NOTE: In light of the current statewide ban on dine-in service at bars and restaurants, please contact these bbq establishments regarding hours and delivery and takeout options.
---
John Lehndorff had to swim 100-plus extra laps at the pool to counteract his deep barbecue research. He is the former Dining Critic of the Rocky Mountain News and hosts Radio Nibbles on KGNU (kgnu.org)
This article was also featured in the April 2020 issue of Colorado AvidGolfer.
Colorado AvidGolfer is the state's leading resource for golf and the lifestyle that surrounds it, publishing eight issues annually and proudly delivering daily content via coloradoavidgolfer.com. Follow us on Twitter, Facebook and Instagram.