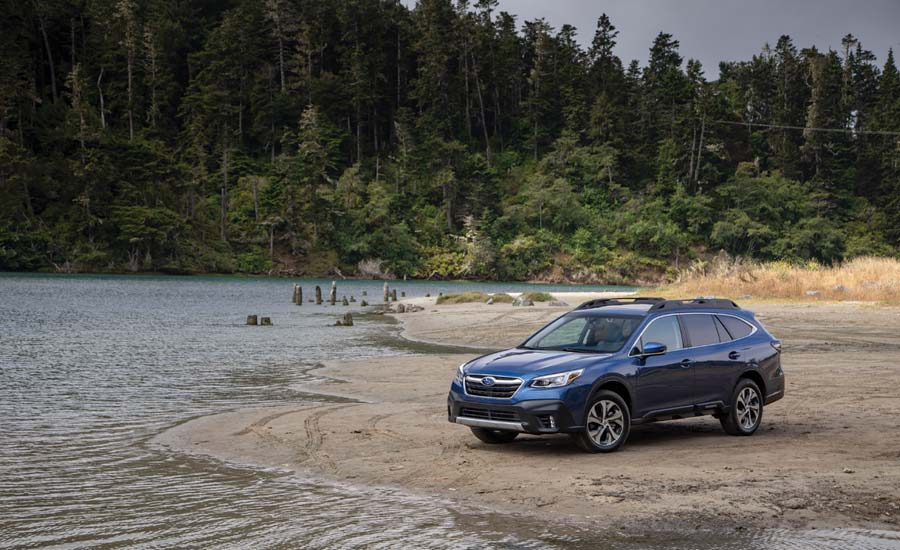 How do some of the latest SUVs stack up?
By Isaac Bouchard
AMERICANS AND PEOPLE across the globe are swapping cars for trucks, SUVs and other "utility" vehicles. Let's see how some of the fresh-faced newcomers—collectively known as crossovers—compare to establishment stars like the Subaru Outback, which has seen its sales more than double over the past decade.
2020 Subaru Outback XT Touring
The latest version of one of the vehicles that started the revolution switches back to turbo and ups the luxury quotient.
Outside, the Outback looks much like its well-received predecessor, with the biggest giveaway being stacked, ice cube foglights. Inside, the cockpit is much bolder, with sweeping forms finished in contrasting, soft-touch materials. Touring models have buttery, brown leather and most everything standard, including an 11.6-inch, vertically-oriented touch screen whose big buttons make navigating menus easy. A stretch in wheelbase of 1.4 inches all translates to a bigger back seat and cavernous cargo room.
This sixth-gen Outback takes refinement to a new level, with a long-legged stride that smothers the worst our roads can throw at it. And while steering accuracy and overall handling are fine, the Subaru most certainly emphasizes luxurious travel over sporty overtures.
The 260hp, 2.4-liter engine plays well with the CVT-type transmission to offer copious thrust, which is unaffected by altitude. Though its delivery isn't as linear nor sonorous as the outgoing flat-six's, it gets 3 mpg more in all tests and knocks almost a second off the 0-60mph sprint, which now takes only 6.1 seconds.
Subaru sure seems to have Americans zeroed, with over eight straight years of sales gains on the books. In all the best ways the Outback XT is the modern embodiment of the kind of classic wagons like the Country Squire and Vista Cruiser that previous generations prized for family duty, combined with the all-season, go-anywhere confidence of an SUV. No wonder it is the best-selling midsize crossover extant.
EPA Ratings: 23/30/26mpg
0-60mph: 6.1sec
Price as tested: $41,851
2020 Cadillac XT6 Luxury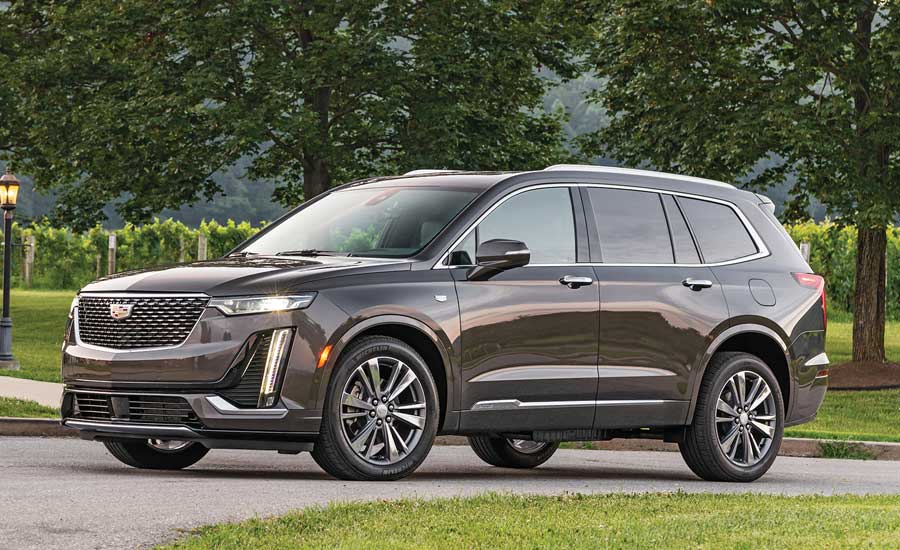 Cadillac's success with the Escalade has allowed it to take its sweet time getting a seven-passenger crossover to market. Now that the XT6 is here, though, one has to wonder if competition like the new Lincoln Aviator has made it redundant.
The Cadillac looks terrific, with modern and clean lines, slit-like lighting signatures front and rear and a great stance. Climb aboard and at first all appears right with the world, too: the architecture is clean and simple and details like the Bose Performance Series' metal speaker grills, gold thread carbon fiber-look trim and microsuede headliner are impressive.
But there's room for improvement inside the XT6; many adjacent plastics don't match in texture or color and some of the materials are subpar for the price.
The roominess of the rear two rows comes at the cost of front seats that are too small and lack sufficient adjustments—a legacy of the C1 platform shared with the Chevy Traverse, Buick Enclave and GMC Acadia. At least the CUE infotainment system is now world-class and lets you interface with it through multiple modalities.
The XT6 handles well, rides decently on its adjustable dampers and the helm is responsive. But it never makes the driver want to push. It always starts in front-drive mode after being shut off, resulting in tires loudly scrambling for traction if you stomp the gas pedal from a dead stop.
While the 3.6-liter, 310hp direct injection V6 is fairly refined, it doesn't have the thrust of turbocharged competitors like the Aviator. It seems as if all Cadillac's focus on the forthcoming all-new Escalade has come at the expense of its more modest offerings.
EPA Ratings: 17/24/20mpg
0-60mph: 6.4sec
Price as tested: $71,585
2020 GMC Acadia XT4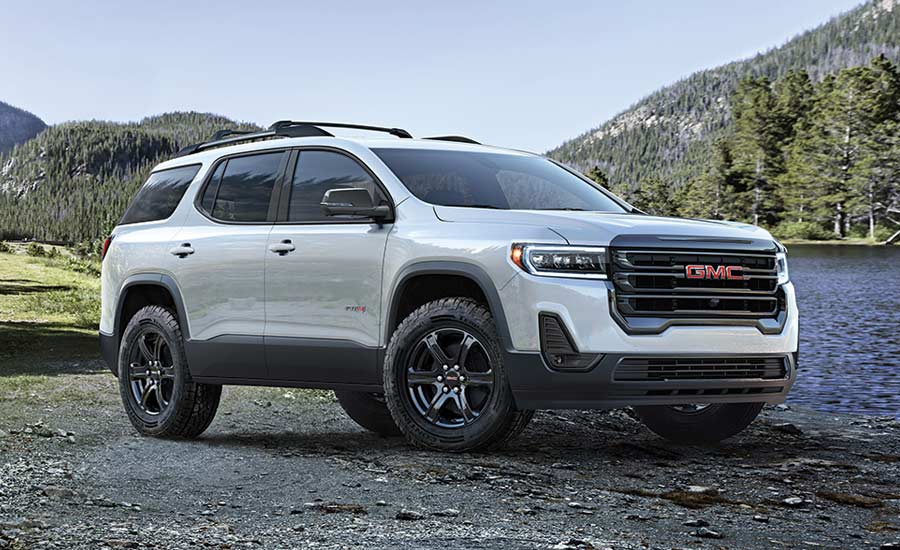 Updated for 2020, the XT4—built on the same platform as the Cadillac—shares many of its vices and its virtues. It looks good, especially the off-road-oriented model.
The Acadia interior is roomy and well-thought-out for family duties. But it shows the GMC's penchant for making quality plastics look cheap. Its drivetrain is pretty much the same as in the Caddy, too, which is fine for the price.
Allied with a smooth ride, competent handling, firm brakes and steering, the Acadia is a solid performer. But it costs at least as much as competitors like the Mazda CX-9 and Hyundai Palisade, which offer every conceivable safety system, cosseting options like ventilated seats and other unique virtues the GMC lacks.
EPA Ratings: 18/25/21mpg
0-60mph: 6.2sec
Price as tested: $45,680
2020 Hyundai Palisade Limited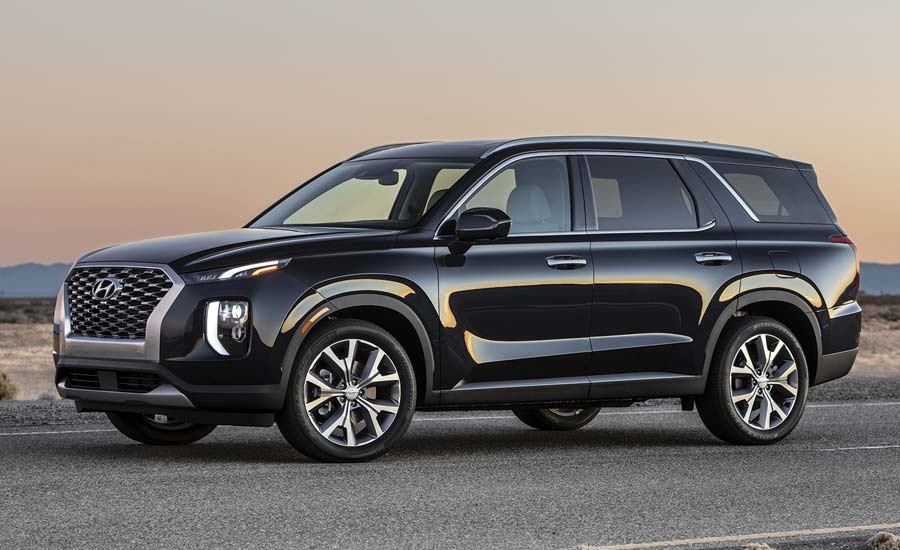 The Palisade threads a tight needle: Twinned with the multiple-award-winning Kia Telluride, it also has to leave room for the Hyundai's upcoming upmarket Genesis crossovers.
Its exterior is more daring than the handsome, if conservative, Kia's, and its interior has a very modern vibe, with textured metallic trim prominently used in lieu of timber. The material quality is generally a notch above that of competitors like the Ford Explorer, though the nicest hides are only available on the Limited trim.
Yet even at this level, there is incredible value, with a range of standard equipment that makes most everyone else look stingy. From the twin infotainment screens and blind-spot camera repeaters that provide that Germanic sense of technological superiority to the heated and ventilated first and second rows, the Palisade is a lovely place to while away the miles.
Its ride cossets superbly and suppresses noise in the front, though those in the way back are as tightly packaged as in most seven-or eight-passenger crossovers of these dimensions.
The Hyundai is not even remotely sporty. Pitch it into a corner and the soft suspension evinces itself with body roll and tire howl. But give it an interstate and it will munch miles as well as most luxury vehicles. The steering has a keen sense of the straight ahead, though the lane-assist system tends to intrude too much.
The Palisade powertrain, shared with the Telluride, is no more than adequate at our elevation. Outputs of 291hp/262lb-ft show it to be a bit torque-lite. Still, the 3.8-liter V6 makes many competitors' turbocharged fours feel unrefined, and its 8-speed automatic thrusts it ahead.
That sums up the Hyundai: one of the most polished vehicles in its segment and one brimming with equipment to soothe away the travails of travel.
EPA Ratings: 19/24/21mpg
0-60mph: 7.1sec
Price as tested: $47,605
Crossover vs. SUV: What's the Diff?
These days, the terms "crossover" and "SUV" have become interchangeable. They're more marketing terms—"SUV" suggests a rugged off-roading capacity that "crossover" doesn't—than descriptors of the design or construction of the vehicle. This hasn't always been the case.
A traditional utility vehicle (sport or not) was built using methods applied to many pickup trucks: a separate frame supporting a body, with a solid rear axle and part-time four-wheel-drive. The Toyota 4Runner, which the company calls "a full-size SUV" continues to be built this way. So, too, the Chevy Tahoe. And Ford is bringing back the Bronco, "a true body-on-frame SUV."
Most "crossovers" share an underlying structure with that of the company's other cars in order to save costs. They typically lack the tow capacity of a true utility vehicle, but compensate with better ride quality and fuel economy. For example, Toyota's popular Highlander crossover shares a platform with the Avalon, Camry and RAV4.
These days, however, hardcore off-road companies like Jeep and Land Rover are scrapping the traditional body-on-frame approach for their SUVs in favor of a monocoque/unibody construction style and independent suspensions.
So, ultimately, whether you're driving a wee Mazda CX-30, midsized Toyota Highlander or a big ol' BMW X7, you can classify it as you like—just like the car companies do.
---
Automotive Editor Isaac Bouchard owns Denver-based Bespoke Autos ([email protected]; 303-475-1462). Read more of his automotive writing, reviews and recommendations on bespokeautos.com.
This article was also featured in the April 2020 issue of Colorado AvidGolfer.
Colorado AvidGolfer is the state's leading resource for golf and the lifestyle that surrounds it, publishing eight issues annually and proudly delivering daily content via coloradoavidgolfer.com. Follow us on Twitter, Facebook and Instagram.