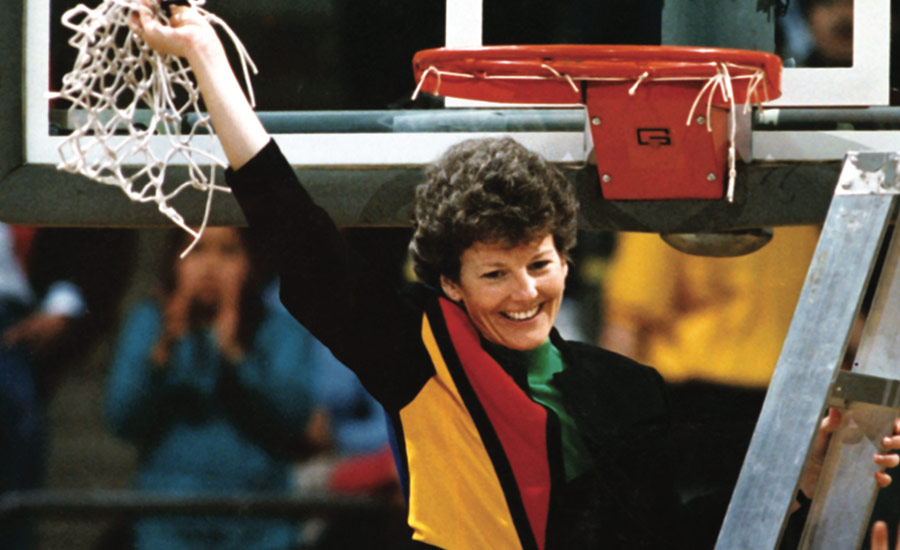 After almost four decades as a Hall of Fame coach and administrator, Ceal Barry is planning for life after CU. Hint: Golf will play a role.
By Theresa Smith
LIKE LINING UP a putt, seeing it from all angles, Ceal Barry has strategized retirement. The University of Colorado icon envisioned a purposeful, yet relaxed next phase when she stepped down in July after 37 years at CU. A Women's Basketball Hall of Famer, Barry served 22 years as the Buffs' women's basketball coach, leading them to 12 NCAA tournament appearances; she worked another 15 years in administration, the past two as deputy athletic director. Her tenure is the fifth-longest in CU athletic department history.
Barry's retirement to-do list includes consulting with former players-turned-coaches, hiking, biking—and playing golf.
The latter is inspired by her mother and namesake, Adele. She introduced Adele Cecilia to golf.
"She tells me, 'Ceal, don't ever stop playing,''' Barry related. "'You play golf as long as you can play.'''
Due to the pandemic, Adele Barry, 95, is isolated in a Kentucky nursing home. She looks forward to phone calls from Ceal, peppering her daughter with questions about her days on the fairways.
Adele played golf until she was 88 years old.
Barry, 65, makes no bold predictions about matching her mom's durability. However, when she was in her 40s, she made a pact with playing partners to walk every course—no cart riding— until they are 75.
Golf has always posed a catch-22 for Barry— it taps into her competitive core, yet the demands of coaching and administration prevented her from practicing and playing enough to excel.
"That's been my lifelong struggle with golf, exactly,'' Barry said. "I'm not that good of a golfer, and it's hard, I think, to play something and not be very good at it but want to still go out and play all the time. But that's the beauty of golf. You hit one good shot and it makes you think, If I can hit one good one—that's the competitive side, one good shot—why couldn't I hit two good shots a hole?''
Amid Barry's weekly walks with CU's women's golf coach Anne Kelly, their conversations often turn to golf. Kelly advised Barry to work on her short game, since she's physically unable to drive the ball 200 yards.
"I'm kind of excited about working on that [short game], so I can score better,'' Barry said. "It really bothers me when I double bogey. It really bothers me.''
Barry's competitive nature stems from childhood, when she competed with her seven siblings, including five sports-crazed brothers.
Another of golf's appeals, for Barry, are the lengthy conversations.
"I have a lot of friends in Denver and it's an opportunity to come together, and it's an opportunity not just for 30 minutes,'' Barry said. "You are going to be together for five hours, so it is a great gathering opportunity for people. I play for the social benefit, to see my friends and to be outdoors. I take a lot of swings out there—I'm not that great.''
Perhaps self-deprecatingly, Barry counts no strengths in her game. In contrast, Kelly quickly identifies two pluses.
"Number one, Ceal's really competitive, and number two, she is really determined,'' Kelly said. "And in retirement, with more time to work on her game, I think she's going to turn into a pretty good golfer. She's pretty close to breaking 90. And I think that will probably happen in her retirement.''
Her purposeful yet relaxed retirement will include limited practice.
"I intend to practice, but I won't go overboard,'' Barry said. "I won't practice every day, but I will get to the golf course a little bit earlier. And I could go hit balls a bit more and prepare a bit better.''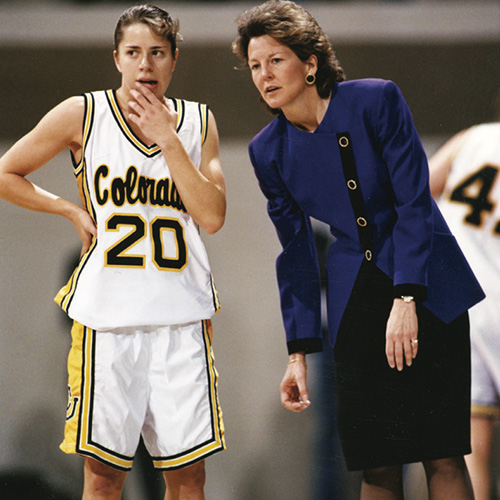 When the novel coronavirus eases, Barry plans a few golf vacations, including a trip to Florida to play with a former college teammate, a return to Brandon Dunes in Oregon, and enrollment in a golf school next winter in Arizona.
"I want to work on the parts of the game,'' Barry said. "Make no mistake, I'm not going to compete, but I'd like to enjoy the game more. I play a lot. I'd like to enjoy it more by playing it a little bit better.''
A member of Lake Valley Golf Club in north Boulder, Barry loves the quiet, peaceful, scenic setting. Her favorite hole is No. 7, site of her first hole-in-one, in 2004.
Over the years, the women Barry observes on golf courses have changed.
"What I see are athletes out there that are women,'' she said. "They're strong. I see them on the driving range. I see them in videos; GOLFTEC. These women, you can tell they're not just former collegiate women golfers, but former collegiate athletes. They are 30-, 35-, 40-year-olds. They're the beneficiaries of Title IX, and they are athletes. They can play the game because they have the mindset. They have the bodies, they have the gear … You see women hitting the ball 200 yards; they're good. It's nice to see women and men enjoying the sport.''
Barry's appreciation of athletes and determination to help players and coaches is a hallmark of her time beneath the Flatirons, a legacy observed by Associate Athletic Director David Plati, in his 42nd year at CU.
"She has a pure passion for anything she is involved with a certain calmness,'' Plati said. "When she shifted to an administrative role, she brought those same organizational and detail skills from her coaching days to her new roles.''
In her 15 years in athletic administration, Barry secured an on-site locker room for the women's tennis team, practice uniform laundry service for men's and women's Olympic sports, including golf, and product increases, including $30,000 from Nike for cleats and sports bras for women's cross country and track and field.
Her stellar coaching record (427-242) gave her instant credibility among the coaches she oversaw as an associate athletics director and senior women's administrator.
"She's always been a mentor, a great person for advice, and always willing to help any of the other coaches,'' Kelly said. "She is someone who loves CU so much and wants everyone to be successful.''
Plati pointed to her relatability to athletes. "She was always looking out for the best interest of the student-athlete,'' he said. "She took great pride in that, and I believe that is backed up by what her former players think of her and how much they credit her with who they are today."
Northern Colorado basketball coach Jenny Huth, née Roulier, was a three-time All-Big Eight selection for the Buffs. She is among several former CU players who are coaching college basketball and seeking advice from their sagacious former coach.
"We have a lot of the same reference points,'' Huth said. "It has been great to bounce things off of her, whether it is a coaching decision, a personnel decision, or strategically planning. Throughout the COVID time, we hit aspects of coaching that you don't always have the time to do. The first thing we worked on was maximizing practice time. So I spent three weeks [on Zoom] picking her brain.''
Barry says the time she spends consulting with ex-players-turned-coaches like Huth, Raegan (Scott) Pebley (Texas Christian University) and Shelly Sheetz (Loyola University Maryland), is like retirement heaven.
"Retirement is this label and it is a label that you don't want to buy into,'' Barry says firmly. "Really, it's transitioning from a 10-hour-per-day commitment to doing other things with your time. But it doesn't mean you are going to sit in the rocking chair.''
Nor does it mean that Barry is yearning for a swanky post-COVID retirement sendoff. She counts her Women's Basketball Hall of Fame induction ceremony in Knoxville, Tennessee in June 2018 as her retirement party. She was feted by her hometown family—carloads of relatives and friends attended from nearby Louisville, Ky.—and by her adopted family, friends and colleagues from Colorado who made the journey to the festivities.
"I don't need any more retirement parties,'' Barry said, smiling. "I am very happy.''
---
This article was also featured in the August/September 2020 issue of Colorado AvidGolfer.
Colorado AvidGolfer is the state's leading resource for golf and the lifestyle that surrounds it, publishing eight issues annually and proudly delivering daily content via coloradoavidgolfer.com.