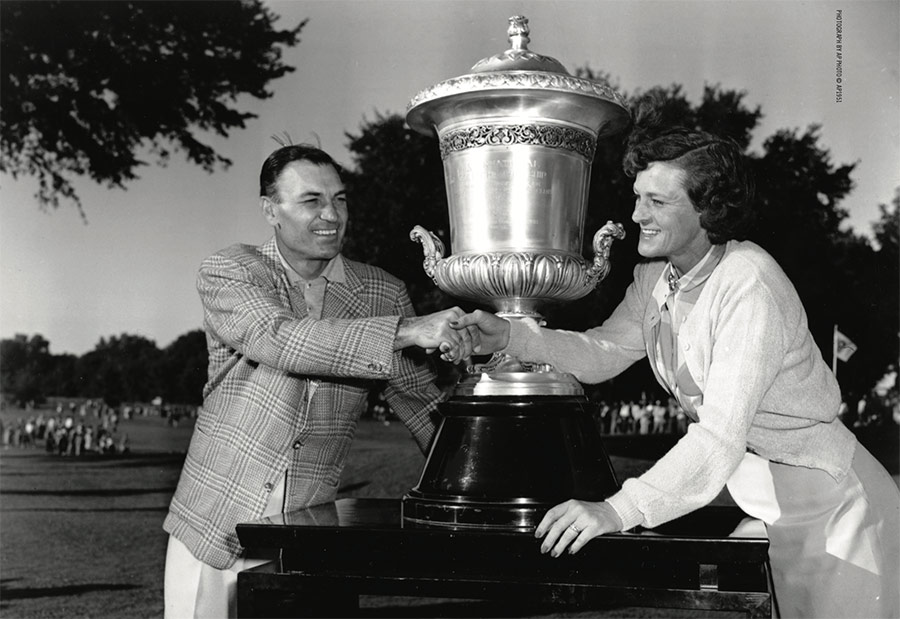 A neighborhood bicycle ride leads to a memorable encounter for a young Denver boy.
By Scott Gardner
IF YOU'RE LIKE me, you've probably played golf by yourself, late on a summer evening. Your score stinks and the thought of penciling in another double bogey on your mustard-stained scorecard has as much appeal as fishing out a carp from the lake—where you chunked your second shot moments ago—and having it for dinner.
But on the next tee, you pluck two worn balls from the bag and for the remainder of the round it's match play—you versus Ben Hogan for the U.S. Open. This begs the question—what would you give to play with the greatest golfers of your generation?
Well, if you're longtime Denver native Jerry Karsh, the answer can fit into a small paper bag.
Karsh, now 85, is a modern-day renaissance man, who's enjoyed career success in both Hollywood and Denver in the entertainment biz, as a television production-coordinator and producer-director. If you're a cinephile, you may have seen his Hollywood work in a "A Walk on The Wild Side," or "The Bird Man of Alcatraz." Locally, Karsh was instrumental in getting KRMA Channel 6 off the ground in the mid 1950s, and later in the decade, worked at KUSA Channel 9, producing local children's programing, such as "Fred & Fae" and "Sheriff Scotty." Karsh also spent time in the early '60s as Assistant Controller of the Grinberg Film library, then the largest of its kind in the world. Not bad for someone who started his television career at Channel 9 working as the night shift janitor, before going on to earn his Radio and Television Communications degree from the University of Denver.
Currently, Karsh is founder and President of Karsh Forensic Consult- ing, which has been involved in valuing business and personal assets for some of the highest profile divorce and corporate acquisition cases in the country.
Interviewing Karsh at his Aurora office overlooking the Rockies to the west, it didn't take long to realize that from an early age, he wasn't afraid to take a chance—which more often than not, landed him in the right place at the right time—a trait passed down from his paternal grandfather who barely escaped the Russian pogrom against the Jews back in 1887, before emigrating to the United States.
On a warm summer day back in 1943, the then-seven-year-old Karsh was exploring his Park Hill neighborhood on his bicycle. Racing his vintage Schwinn down Dahlia street, he came upon the curious sight of a full-grown woman, wearing a long dress, out in her front yard swinging a golf club. Unfamiliar with the game, Karsh skidded to a stop to observe. "She was not just fooling around, but really swinging the club!" he remembered. She eventually stopped to dab the perspiration from her brow and noticed the curious lad. She asked Karsh if he played golf and after shaking his head no, he peddled off, leaving the words "My name's Babe" fading away behind him.
Fast forward to the 1950 Women's Western Open, contested at Cherry Hills Country Club. Babe Zaharias, voted the Greatest Female Athlete of the First Half of the Twentieth Century, was battling Peggy Kirk in the match-play final. The match made its way to the sixth green, where then-fourteen-year-old Karsh sat cross-legged, watching along with a hundred or so other patrons. After lining up her putt on the green, Zaharias noticed Karsh, who had a sack lunch perched in his lap. She strolled over to say hello.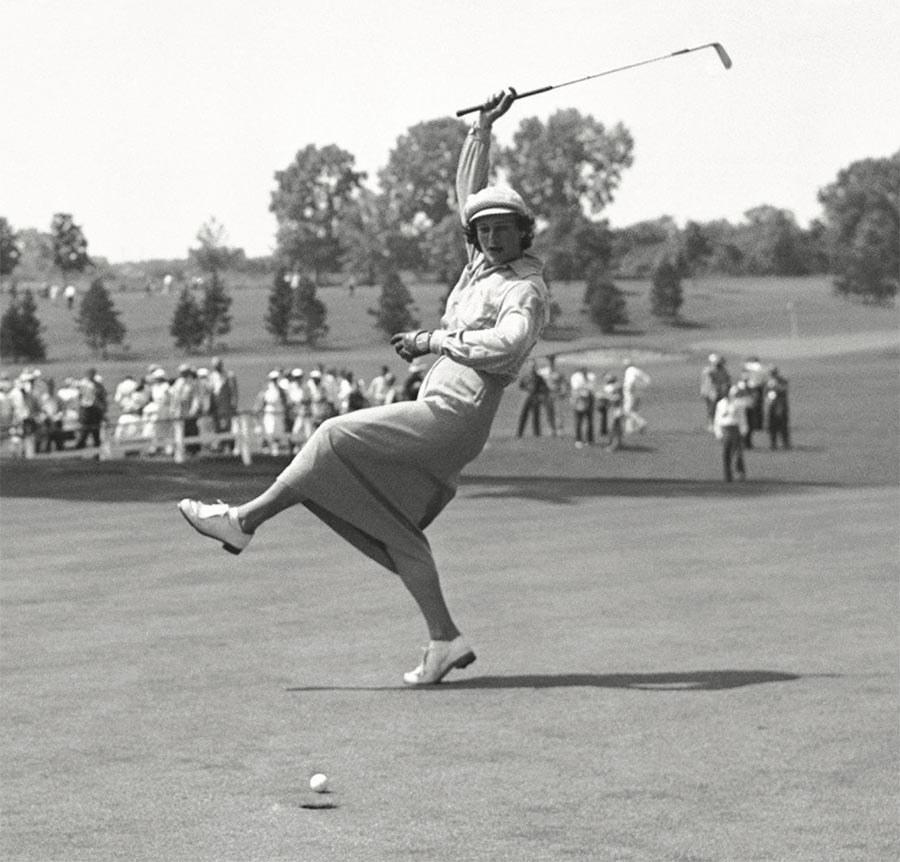 "I see you've come prepared," she said, smiling. Zaharias, who hadn't had time for break- fast, was hungry. In fact, when she putted on the previous greens, the hushed gallery could hear her stomach gurgle. For the next several holes, Karsh sacrificed the contents of his lunch for the greater good of the game. First the sandwich, then the potato chips. "She even ate my banana," Karsh remembered with a smile. Zaharias, however didn't slip on the peel, as she went on to win that championship match by a 3 & 2 margin.
When a sunburned and tired Karsh arrived back home that evening, his mother called out to him, asking how the tournament went. Standing up from the open refrigerator door, Karsh replied "I'm hungry; Babe ate my lunch!"
A month after Babe's victory at Cherry Hills, Karsh arrived home from his daily bike ride to find his mother waiting. She said that Babe was looking for him. Karsh thought maybe she wanted him to caddie for her, which he had done once or twice in the past. He laid his bike up against the garage door and scrambled into the family car. His mother dropped him off in the parking lot of the now-shuttered Park Hill golf course at 35th and Colorado Blvd.
Waiting for him was Babe, wearing her customary long dress and holding the bag of clubs she had collected for Karsh over the years. She asked Karsh if he wanted to play golf with Louise Suggs, Ben Hogan and herself to celebrate his recent birthday. Suggs, an eleven-time major champion and fierce rival of Zaharias' on the LPGA, was in Denver discussing the formation of the LPGA tour with Zaharias. Hogan, making a rare appearance in the Mile High City, was joining Zaharias in a charity event for children the following day.
Later that evening, when again Karsh was head-deep in the refrigerator, his mother asked him how his round with the Babe went.
He responded, "Babe and Louise didn't speak to each other and Ben only said 'hello,' before we teed off and 'nice to play with you, son' after the round."
"That's it?" she asked.
"Oh, and Babe told me that I stand far from the ball!"
So much for a glamorous round with golf superstars. The official reason why Karsh was invited to join that illustrious threesome that day at Park Hill was on account of his birthday; however, my theory lies in the age-old adage that there are no "free lunches" in life, and that the Babe was simply paying Karsh back for the sack lunch he provided her at Cherry Hills.
But if there's a moral to this story, it's got to be that if you see an athletic-looking woman practicing her golf swing out in her front yard, stop and say hello, but be careful—she might just end up "eating your lunch."
Scott Gardner, a contributing writer for Colorado AvidGolfer, lives in Aurora and blissfully grew up playing and caddying at Lakewood Country Club.
---
This article was also featured in the May Issue of Colorado AvidGolfer.
Colorado AvidGolfer is the state's leading resource for golf and the lifestyle that surrounds it, publishing eight issues annually and proudly delivering daily content via coloradoavidgolfer.com.