Odd-numbered years are usually the time for new mid-to-high-end ball launches. Here are three, from Titleist, Srixon and Bridgestone, that have caught our eye.
By Tony Dear
Titleist Pro-V1/Pro-V1x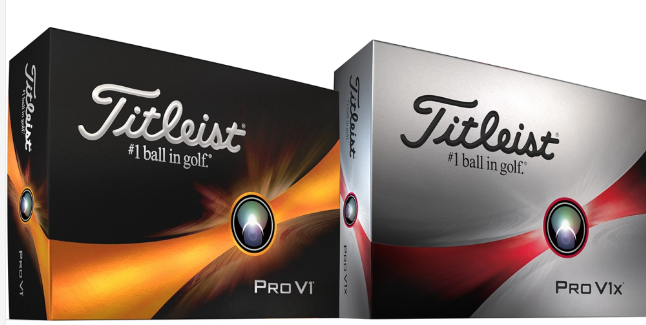 After another hugely successful year in the pro game – the standard Pro-V1 (Scheffler) and Pro-V1x (Thomas, Fitzpatrick, Smith) won all four major championships – it might have been tempting for Titleist to pump the R&D breaks and let its staff players keep using the existing model(s). But, of course, stand still  in this game, even for a moment, and you're liable to get bypassed by competitors who probably aren't all that far behind – in terms of performance, at least. Plus, it's just not in Titleist's nature to rest on its laurels.
So, following a triumphant two years, it was time to update 2021's ball. You can only update so much when dealing with something as successful as the Pro-V1, of course. It's obviously performed rather well and there are governing body-enforced limits on what manufacturers can do. So, it's true that not a great deal has changed for 2023. The Pro-V1 is still a three-piece ball with a soft, urethane cover that feels great on and around the green, and has a compression of somewhere in the mid-to-high 80s. Likewise, the Pro-V1x still has four pieces, spins more so flies higher, and has a compression in the high 90s.
What is different is the core. In 2021, Titleist experimented with a gradient core – soft in the center but getting gradually firmer moving toward the surface – in the limited-release Pro V1 Left Dot and Pro V1x Left Dash. It was a hit with Tour players so Titleist has used it for the 2023 Pro-V1 and Pro-V1x.
A gradient core is designed to reduce spin on long-game shots, meaning the ball flies a little lower and shots have a tighter dispersion. The firmer-feeling Pro-V1x is a dual-core ball, of course, and the new gradient, inner core is 44% larger than its predecessor. The much thinner outer core is firmer than in the past, the result . The resulting gradient (or graduate) core performs much the same as that of the Pro-V1 – a little more energy transferred a little more efficiently.
So though you shouldn't expect any wild (or even immediately conspicuous) differences with the new Pro-V1 and Pro-V1x, your stats might improve some over time. You might hit your drives a little further and you might find an extra fairway. And you'll still get all the greenside spin and feel every previous generation of Pro-V1 gave you.
Price – $55/dozen
Colors – White available now, yellow coming later this month.
Available – Now
titleist.com
Srixon Z-Star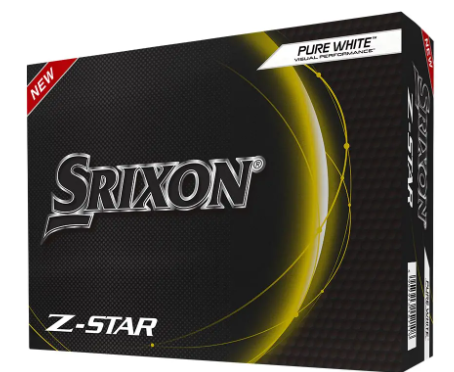 While there has been one significant change to one of the balls in the Z-Star family, the overall story is similar that of the Pro-V1 in that not an awful lot has changed from 2021. And though Srixon likes to bring attention to the Z-Star's extremely thin urethane cover and its new Spin Skin + coating which increases friction between clubhead and ball (and therefore spin ) on short-game shots, the core is essentially the story here too.
As it does in the Pro-V1's gradient core, the firmness of Srixon's Fastlayer DG Core, increases as you move out from the center. What distinguishes the Z-Star from the Z-Star XV and Z-Star Diamond is mainly characteristics of that core as each ball has its own formulation.
The Z-Star has a low-90s compression which is still quite firm, but it is the softest-feeling of the three balls. And the spinniest too with its newly-developed Spin Skin+ coating which makes each ball a touch more durable too. The Z-STAR XV, which has changed from a four-piece ball to a three-piece, has the highest compression of the trio and is the lowest-spinning family member.
The Z-Star Diamond sits neatly between its two siblings with a thin mid-layer but a firmer compression than the Z-Star which, says Srixon, optimizes iron spin.
Each of the Z-STAR Series balls retains Srixon's 338 dimple pattern with low-drag dimples that help  increase distance and, the company says, makes it unbeatable in the wind.
A few weeks after the main Z-Star launch, the Z-Star Divide and Z-Star XV Divide will be available.
Price – $48/dozen (all Z-Star family balls)
Colors – Z-Star and Z-Star XV in Pure White and Tour Yellow; Z-Star Diamond in Pure White.
Availability – Z-Star, Z-Star Diamond, Z-Star XV on Feb. 15; Z-Star Divide, Z-Star XV Divide in the Spring.
us.dunlopsports.com/srixon
Bridgestone e12 Contact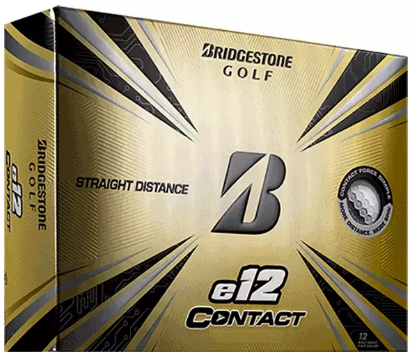 A two-piece, Surlyn-covered ball tends to be a bargain-bucket rock that few seasoned golfers would touch with a 48" driver. And while the e12 Contact's build is no different to those lower-end balls, it does have a cover material which covers the cover, so to speak, and which causes the ball to spin less on full shots but more on shorter shots.
Explaining how this 'Flexativ' material is able to do that exactly is something probably best left to the boffins at Bridgestone. "Flexativ represents our fourth iteration of Contact Science," says Adam Rehberg, Senior Manager, Ball Fitting and R&D. "Our engineers have found a way to combine the structural and chemical advantages of Contact Science and put them into one golf ball, creating a model that flies longer, straighter, and spins more on short shots around the green. The new FLEXATIV cover is designed using impact modifiers that allows it to react to the amount of force applied at impact. When struck with a driver the cover behaves like a firmer material for faster ball speed and more distance, and also less sidespin for straighter shots and enhanced forgiveness on off-center hits. When struck with a wedge or short-iron, however, it behaves like a softer, slower material. The result on shorter shots, when combined with Contact Force dimples, is 46% more surface contact, creating significantly more spin and control around the greens."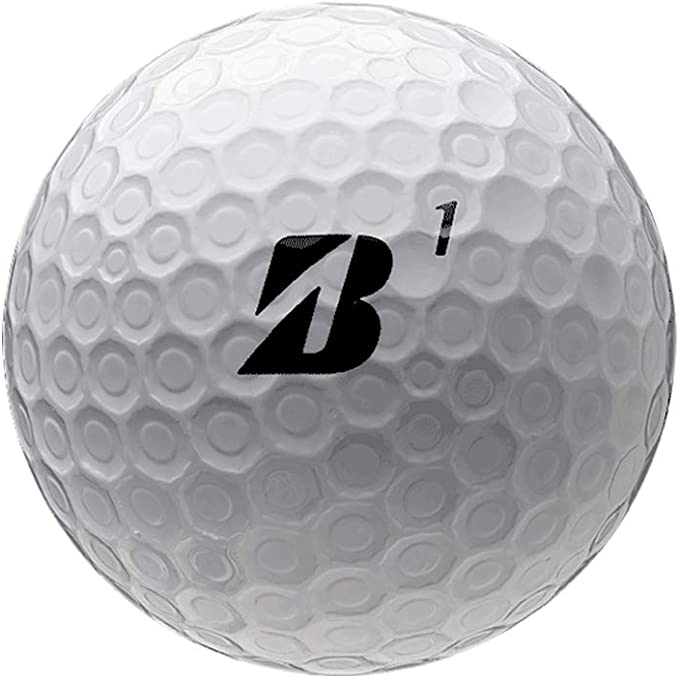 Those Contact Force Dimples are hexagonal in shape and have a raised circle in the center which, according to Rehberg, cause 38% percent more surface area of the ball to contact the clubface which imparts more energy. The part of the dimple outside the circle is designed to reduce sidespin. Together, than means longer, straighter shots. Bridgestone also says the Contact Dimple design helps on short-game shots as more of the ball's surface can be grabbed and spun by wedges and short-irons.
Not your usual two-piece, Surlyn-covered ball then.
Price – $35/dozen
Colors – White only
Available – March
bridgestonegolf.com
---
Colorado AvidGolfer Magazine is the state's leading resource for golf and the lifestyle that surrounds it, publishing eight issues annually and proudly delivering daily content via coloradoavidgolfer.com.