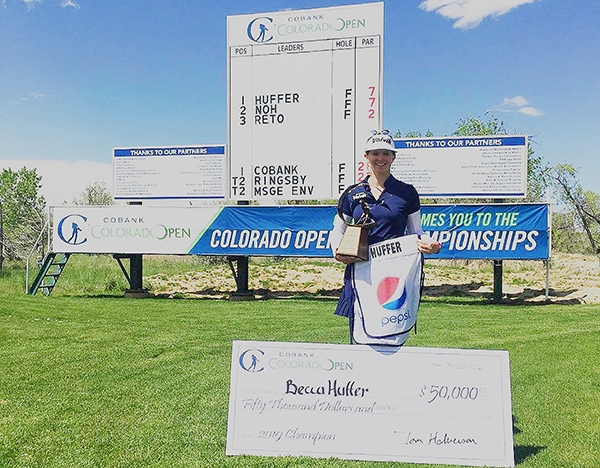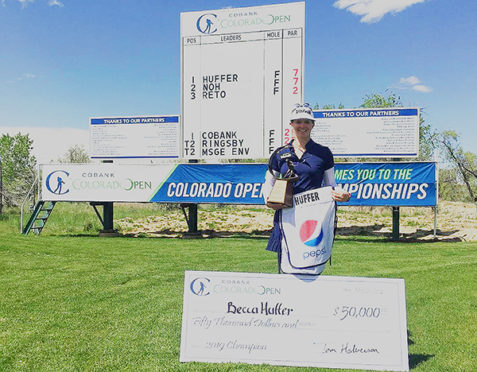 Coloradan capitalizes on final hole for dramatic victory.
History repeated itself in Friday's finale to the CoBank Colorado Women's Open.
As she did in 2013, Becca Huffer overcame a five-shot deficit in the final round to win the event in a playoff. This time, however, the LPGA rookie from Denver faced a seemingly insurmountable task. Going into the final hole, she trailed the leader—17-year-old Yealimi Noh of Concord, Calif.—by three strokes.
Noh, who already has two professional wins after a stellar junior career, followed a perfect drive on the difficult par-5 18th with two balls into the penalty area along the right side of the fairway. She finally cleared the trouble on her third attempt.
She ultimately carded a quadruple-bogey nine on the hole.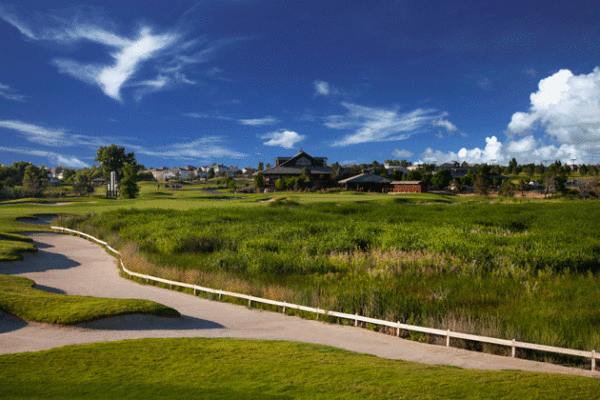 Meanwhile, Huffer, who had birdied the par-3 17th to cut the lead to three, hit her third shot into a greenside bunker. She couldn't get get up and down for the winning par, but her bogey advanced her into a playoff with Noh.
The two squared off on the 18th. This time both put themselves in position for birdies. After Noh missed hers, Huffer drained a six-footer worth $50,000.
Noh remains positive
Spectators likened Noh's implosion on 18 to Jan Van De Velde's epic meltdown 20 years ago at the Open Championship, where his poor choices on the final hole liquidated his three-shot lead.  Some wondered why she didn't have a caddie.
"I really don't want to think too much about it," Noh told coloradogolf.org. "I'm happy with the way I played. Up until the last hole I was playing pretty good. I'm just glad about where my game is going. I just probably need to fix some mental stuff. And Becca played really well."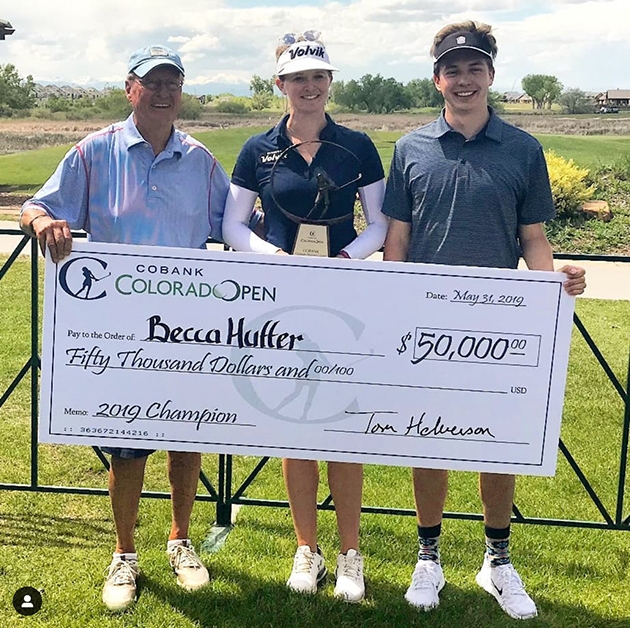 Huffer became only the second two-time winner of the event. Walailak Satarak won in 2007 and '08.
"Not gonna lie, pretty crazy to find myself holding the Colorado Women's Open trophy again today!" she posted on Instagram. "So awesome to play some good golf again and see it pay off (especially back at home!)!"
Alone in third was 2016 Olympian Paula Reto of Bloemfontein, South Africa who shot a 4-under 68 to finish at 2-under (214 total). A three-way tie for 4th at 1-under 215 included Juli Erekson of Eagle Mountain, Utah, Jenna Peters of Kohler, Wis., and Caroline Powers of Bowling Green, Ohio.
Low amateur honors went to University of Colorado senior Kirsty Hodgkins of Brisbane, Australia, who finished alone in 7th place at even par 216. University of Denver bound Caroline Jordaan of Denver was three strokes back at 3-over 219, finishing in a tie for 16th.
In the pro-am competition, Team CoBank (professional and Olympian Paula Reto and amateur Tyler Etcheberry) set a pro-am scoring record finishing 28-under par (188 total) and winning by three strokes over Teams Massage Envy (professional Jennifer Hahn and amateur Eric Kenealy) and Ringsby (professional Alexandra Braga and amateur Joanna Ringsby).
Here are the final results from the event: 
1   Becca Huffer          Denver, CO                  72-68-69–209 -7  $50,000.00
2   Yealimi Noh           Concord, CA                 68-67-74–209 -7  $11,475.00
3   Paula Reto            Bloemfontein, South Africa  73-73-68–214 -2  $8,000.00
T4  Juli Erekson          Eagle Mountain, UT          69-76-70–215 -1  $5,000.00
T4  Jenna Peters          Kohler, WI                  72-73-70–215 -1  $5,000.00
T4  Caroline Powers       Bowling Green, OH           71-71-73–215 -1  $5,000.00
7   Kirsty Hodgkins (a)   Brisbane, Australia         74-69-73–216 E
T8  Darian Zachek         Deming, NM                  74-72-71–217 +1  $3,000.00
T8  Kennedie Montoya      Thatcher, AZ                80-72-65–217 +1  $3,000.00
T8  Macy Hubbard          Mason, OH                   72-74-71–217 +1  $3,000.00
T8  Kim Welch             Sacramento, CA              72-73-72–217 +1  $3,000.00
T8  Sophia Schubert       Oak Ridge, TN               71-75-71–217 +1  $3,000.00
T8  Rebecca Lee-Bentham   Toronto, Canada             71-73-73–217 +1  $3,000.00
T8  Jessica Porvasnik     Hinckley, OH                71-73-73–217 +1  $3,000.00
15  Katrina Prendergast   Sparks, NV                  71-72-75–218 +2  $2,000.00
T16 Alexandra Braga       Edgewater, CO               77-74-68–219 +3  $1,625.00
T16 Caroline Jordaan (a)  Denver, CO                  72-74-73–219 +3
T16 Cindy LaCrosse        Tampa, FL                   73-71-75–219 +3  $1,625.00
T19 Ashli Bunch           Morristown, TN              74-74-73–221 +5  $1,400.00
T19 Britney Hayes         Las Cruas, NM               72-77-72–221 +5  $1,400.00
T19 Olivia Jordan-Higgins Jersey, United Kingdom      72-76-73–221 +5  $1,400.00
T22 Bryana Nguyen         Chapel Hill, NC             72-76-74–222 +6  $1,250.00
T22 Jennifer Hahn         Henderson, NV               72-78-72–222 +6  $1,250.00
T22 Janelle Johnson       Royal Palm Beach, FL        74-73-75–222 +6  $1,250.00
T22 Haley Greb (a)        Pendleton, OR               79-72-71–222 +6
26  Tracy Stanford        Austin, TX                  68-75-80–223 +7  $1,150.00
27  Tatiana Wijaya        Jakarta, Indonesia          78-74-72–224 +8  $1,125.00
T28 Jill McGill           Denver, CO                  73-76-76–225 +9  $1,085.00
T28 Cheryl Fox            Tiffin, OH                  77-72-76–225 +9  $1,085.00
T28 Allie Knight          Knoxville, TN               74-76-75–225 +9  $1,085.00
T28 Sherry Andonian       Denver, CO                  76-72-77–225 +9  $1,085.00
T32 Sandra Angulo-Minarro Torreon, Mexico             74-74-78–226 +10 $1,050.00
T32 Camille Enright (a)   Plano, TX                   77-74-75–226 +10
T32 Brooke Baker          Edmond, OK                  77-74-75–226 +10 $1,050.00
T32 Jenny Lee             Los Angeles, CA             73-78-75–226 +10 $1,050.00
T36 Ashley Tait           Morrison, CO                76-73-78–227 +11 $1,020.00
T36 Emily McLennan        Brisbane, Australia         77-73-77–227 +11 $1,020.00
T36 Anna Young            Saskatoon, SK Canada        72-78-77–227 +11 $1,020.00
39  Grace Olkowski (a)    Las Vegas, NV               71-79-79–229 +13
40  Taylor Howerton       Evansville, IN              71-81-79–231 +15 $1,000.00
41  Anna Kennedy (a)      Parker, CO                  77-72-83–232 +16
Pro-Am Competition
1   Paula Reto Bloemfontein, South Africa Tyler Etcheberry (a) Wesley Chapel, FL  61-66-61–188 -28 $2,800.00
T2  Jennifer Hahn Henderson, NV Eric Kenealy (a) Broomfield, CO                   67-62-62–191 -25 $1,450.00
T2  Alexandra Braga Edgewater, CO Joanna Ringsby (a) Cherry Hills Village, CO     65-67-59–191 -25 $1,450.00
4   Natalie Vivaldi Oceanside, CA Ruben Zapanta (a) Aurora, CO                    63-67-66–196 -20 $900.00
T5  Becca Huffer Denver, CO Tom Lane (a) Greenwood Village, CO                    68-66-67–201 -15 $650.00
T5  Juli Erekson Eagle Mountain, UT Daniel Williams (a) Denver, CO                65-70-66–201 -15 $650.00
T5  Cindy LaCrosse Tampa, FL David Simon (a) Cherry Hills Village, CO             66-66-69–201 -15 $650.00
T5  Stefanie Ferguson Broomfield, CO Laura Stuto (a) Denver, CO                   73-64-64–201 -15 $650.00
T9  Kelli McKandless Hamilton, TX Brian Kreps (a) Highlands Ranch, CO             66-69-67–202 -14 $375.00
T9  Allie Knight Knoxville, TN Doug Goldstein (a) Effingham, IL                   67-65-70–202 -14 $375.00
11  Jessica Dreesbeimdieke Juno Beach, FL Pat Hamill (a) Denver, CO               69-65-69–203 -13 $300.00
12  Jill McGill Denver, CO Miles Cortez (a) Cherry Hills Village, CO              64-68-73–205 -11 $275.00
13  Tracy Stanford Austin, TX Molly Greenblatt (a) Denver, CO                     66-67-74–207 -9  $250.00
14  Chirapat Jao-javanil Cha-am, Thailand Dick Myers (a) Greenwood Village, CO    72-65-77–214 -2  $225.00