Update: Chuck, Manning get a round in at Cherry Hills before game 1 of the NBA Finals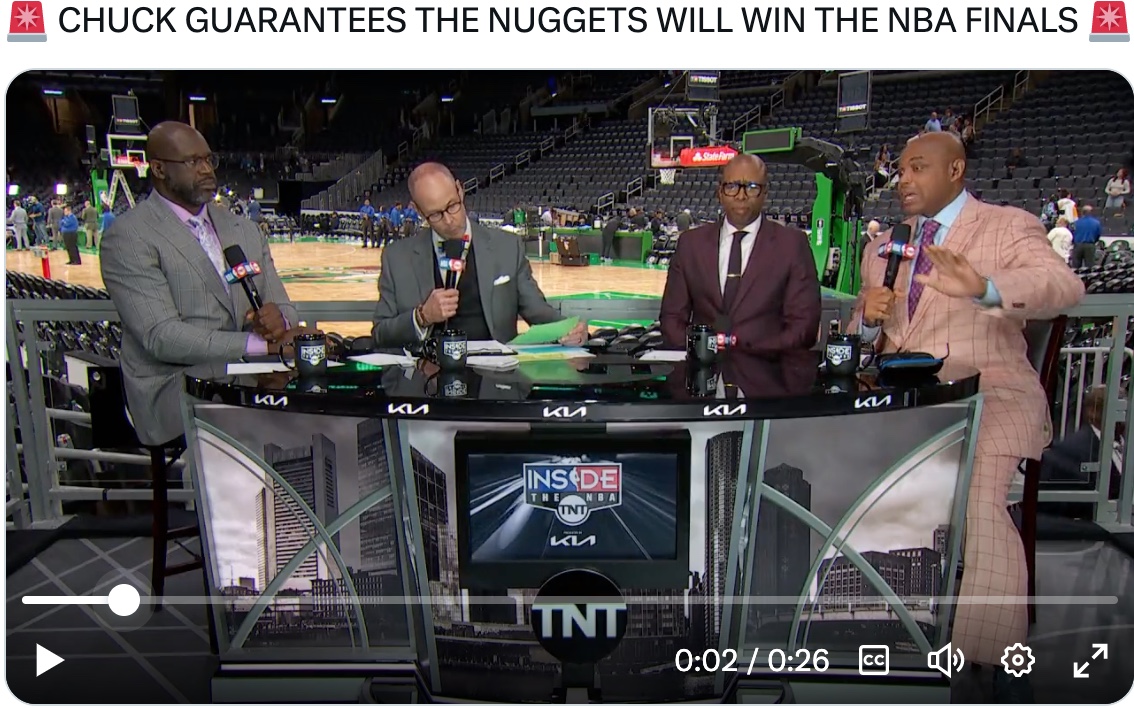 by Jim Bebbington
June 1 Update: Well, the clash of the titans finally happened.
Peyton Manning posted a photo on Instagram before Game 1 of the NBA Finals game showing he and NBA on TNT commentator Charles Barkley at Cherry Hills Country Club.
https://www.instagram.com/p/Cs9gpC4xQIL/
Barkley had said he wanted Denver to make the Finals so he could play with Manning on 'some good golf courses out there in Denver.'
No report yet on how they shot.
---
Previous coverage
"I know they have some good golf courses out there in Denver"
NBA Hall of Fame and TNT NBA talker Charles Barkley 'guaranteed' that the Denver Nuggets would make it to the NBA Finals week, and admitted he had an ulterior motive.
He got his wish Monday night when the Nuggets defeated the LA Lakers, sweeping the Lakers 4-0 in the Western Conference Finals.
Friday Barkley, who plays golf enthusiastically if not well, talked about how much he wanted the Nuggets to win so he could call Denver-residents Peyton Manning and Sean Payton and get out on local courses.
The Nuggets beat the Lakers for the first time in the NBA playoffs and will face the winner of the Miami Heat/Boston Celtics series in the NBA Finals.
The Finals are scheduled to begin 6:30 p.m. MT,  Thursday, June 1.
https://twitter.com/NBAonTNT/status/1659765595292987392
"I'm going to the Mile High; Peyton and Sean, get the golf courses ready. Chuck is coming," Barkley said.
UPDATE May 26: The Match is happening.
After Charles Barkley said on national television that he wanted the Nuggets to advance to the NBA Finals so he could play golf in Denver, former Bronco's quarterback Peyton Manning stepped up.
Manning posted to Instagram a photo of he and Barkley on a golf course together and told Barkley to reach out and set up a tee time.
https://www.instagram.com/p/Cskgq4BssVL/
Manning wrote that he wants to play with Barkley as his partner against a team of Shaquille O'Neal and Broncos Head Coach Sean Payton. Barkley said on TNT this week that he got a text from Manning and that they're playing Castle Pines Golf Club.
Castle Pines, in Castle Rock, is one of the region's most exclusive country clubs and the course is set to host the PGA Tour's BMW Championship in summer 2024.
---
Colorado AvidGolfer Magazine is the state's leading resource for golf and the lifestyle that surrounds it, publishing eight issues annually and proudly delivering daily content via coloradoavidgolfer.com.