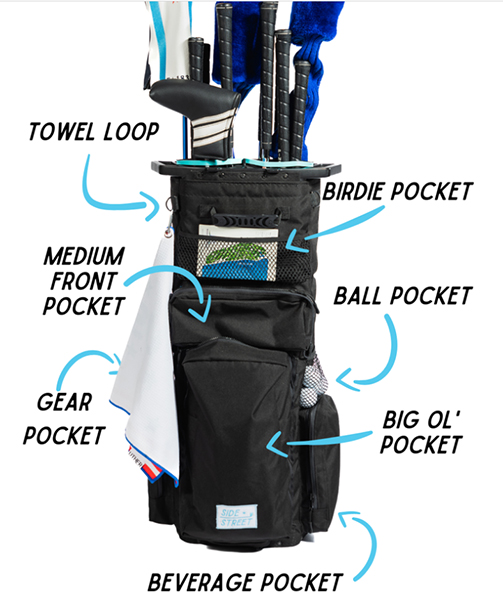 For golfers without a car, getting the sticks to and from the range/course can be a big hassle. This new product will help.
By Tony Dear
Bob Huguelet always was a tinkerer – one of those kids that enjoyed building stuff, repairing stuff, taking stuff apart and putting that stuff back together again. So it was only natural that he'd find a solution to the problem of not being able to easily transport his golf clubs to the range or the Sydney Marovitz Golf Course where he plays.
"I started golfing and biking more early in the pandemic," he says, "and wanted to try riding a few miles to the Diversey Driving Range here in Chicago. I tried wearing my golf bag on my bike, but it was awkward and felt dangerous on the busy streets."
Huguelet, a graduate of Notre Dame University and a software consultant by day, searched online for something he could use safely and conveniently, but found nothing. There were trailers and a variety of other attachments he could mount to his bike. But who wants to do that?
"As I was noodling on this, I noticed that a lot of folks were riding up to the driving range with their clubs stuffed into backpacks or awkwardly clutched on their handlebars," he continues. "I then realized golf is pretty inaccessible if you don't have a car, which is a lot of high school kids, college students and folks in urban areas."
So he envisioned a backpack made specifically for golf clubs. "It would work on bicycles, electric scooters, motorcycles, and be more convenient for public transit or if you live in an apartment and don't have a garage."
Early attempts at building the sort of thing Huguelet had pictured were pretty clunky, but helped him decide what would work and what clearly wouldn't. And all the while he was having conversations with friends who played, other golfers, cart guys, course attendants, and just about anyone else who saw him wearing it. "I was getting a lot of very useful feedback on things like shape, size, materials, and what else it would need."
By March of this year, Huguelet had finalized the design and launched a Kickstarter campaign in order to go into production. The goal was to raise $10,000, an amount he surpassed in short order as golfers from around the world latched on to the idea and saw a product that would make getting to and from the range/course so much easier.
Huguelet says that while he expects golfers of all ages to be interested in the Back9, the target market is predominantly millennials who, according to a report by financial planning website, Smartasset.com, now make up roughly 33% of Denver's population – about 236,000 individuals. It's estimated about 20,000 of them play golf. Ypulse.com says about a third of millennials neither own or lease a car which means, if my very suspect math is to be relied upon, there are 6,000-7,000 millennials in Denver who play golf and don't own/lease a car. That's a lot of potential business for Huguelet and his golf club carrier.
The Back9 Backpack is 33 inches high and 12 inches wide. To make riding safer, users should turn their clubs upside-down so the clubheads are at the bottom of the bag, and then secure the shafts with the easy-to-use silicone belt system. That lowers the bag's center of gravity and will prevent all that weight moving around while in transit.
There are shoulder straps, sternum straps and a waist belt to secure the bag to your body while moving, and the straps become a single or double strap for carrying when playing.
The Back9 has a variety of pockets that will hold everything you need (golf balls, scorecard, waterproofs, beverage, etc.), as well as a rain hood and towel loop. There's room for 14 clubs, a pop-out stand (it's cart-friendly too), and a lumbar wedge cushion. And it weighs just 5.5lbs.
Huguelet and his team at Side Street Golf are on-course to start shipping in October and there are more products in the pipeline. "Once we started thinking about mobility on and off the course we couldn't stop," he says. "There are some accessories we will be coming out with to make the Back9 even more versatile, and we've plans for other purpose-built golf bags and gear that will make golf more accessible."
$180
Pre-order now at sidesteetgolf.com
For more on the latest and greatest gear in golf, visit our GEAR PAGE.
Colorado AvidGolfer Magazine is the state's leading resource for golf and the lifestyle that surrounds it, publishing eight issues annually and proudly delivering daily content via coloradoavidgolfer.com.
Follow us on Twitter, Facebook and Instagram.