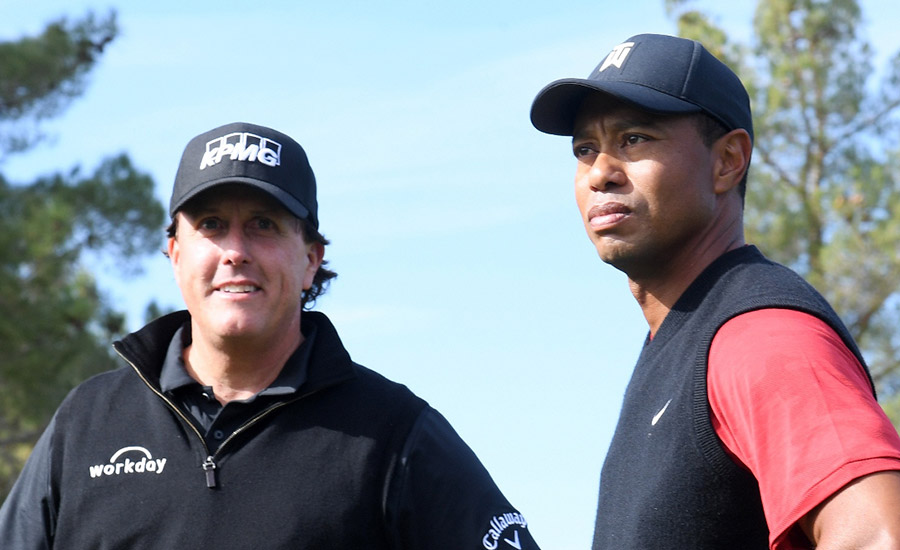 Photo Credit: Harry How/Getty Images for The Match
The "Champions for Charity" golf match brings the best of golf and football professional athletes to support America in a time of need.
The stage is set. This coming Sunday, May 24th at 1pm (MT), four legends will face off in what could be one of golf's greatest charity tournaments ever played. In teams of two—Tiger Woods and Peyton Manning vs. Phil Mickelson and Tom Brady—the four athletes will compete with the goal of raising money for COVID-19 relief. Fans across the world will tune in for this match, and Coloradans are no different. With a backdrop of pandemic-related golf tournament delays and cancellations, the "Champions for Charity" tournament comes at a time when golf fans are hungry for golf action. We've started to see courses open back up in Colorado, allowing a sense of routine to return back to avid golfers, but the pressing impact of the pandemic is still looming over the nation. No one can predict what the near future holds. However, the current need is clear: support for our frontline healthcare and essential workers who are showing up consistently to keep our communities functioning. While we typically focus on Colorado specific golf news, we couldn't hold back from highlighting this tournament that is truly history in the making.
So who do you pick? Tiger Woods and Peyton Manning? Or Phil Mickelson and Tom Brady? While everyone has been placing their bets, there's been no shortage of mocking jabs (all in jest) exchanged between the athletes, fueling the competitive tension of this iconic match-up.
In a four-way Zoom video shared by Mickelson on Twitter, he reflected on when Woods put the jacket on him (referencing the famous green Masters Champion jacket). Tiger quickly fired back, jokingly flaunting his own green Masters jacket.
You know I had to come in hot with a little trash talk, but as usual, he got the better of me 😔

Looking forward to getting back to golf and teaming with @TomBrady against @TigerWoods and Peyton.

Even more excited to raise money for those in need during these difficult times. pic.twitter.com/jp1ten4UqH

— Phil Mickelson (@PhilMickelson) May 7, 2020
Mickelson also stated in an interview with GolfWeek, "I can't wait to go to Tiger's place and take him down. Tiger thinks he has a huge advantage playing there because he was insistent that we play this event on his home course, despite everyone else wanting to play it elsewhere. That's fine. We'll take it to him and Peyton."
Tom backed up his teammate by sharing a photo on Instagram, where Brady and Mickelson tower over Woods and Manning. It's almost reminiscent of political cartoons, but with a modern social media spin.
Tiger stated in an interview with GOLFTV, "We've had banter back and forth, and it's been fantastic. But it's typical us, it's what we do. We like to give out the needle, and to give out the needle you gotta be able to take it."
This smack-talk is characteristic of four incredible athletes coming together and competing. It's reported that Tiger Woods and Peyton Manning are a 2-to-1 favorite. The x-factor is most likely tied to the quarterbacks. Manning has a 6.4 handicap index and Brady has a 8.1.
Whether you plan to watch this banter and competition unfold from an apartment in Denver, or a mountain property in the Rockies, make sure to at least tune in for a bit to watch these champions play in this historical golf moment with an impactful purpose.
So again, we ask… who do you pick to win?
---
For more of the latest Colorado golf news, visit our NEWS & PROFILES PAGE.
Colorado AvidGolfer Magazine is the state's leading resource for golf and the lifestyle that surrounds it. CAG publishes eight issues annually and delivers daily content via coloradoavidgolfer.com.