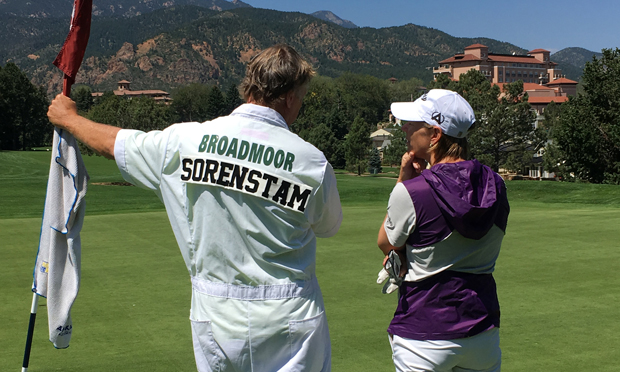 Nine winners of CoBank's PEAK Performers Contest got to play alongside 72-time LPGA champion Annika Sorenstam at The Broadmoor's famed East Course…
Story and Photography by Kim McHugh
---
It isn't every day that you get to play golf with a three-time U.S. Women's Open champion. But nine golfers did just that when they teed up in late August with Annika Sorenstam at The Broadmoor. The teenagers were winners of the inaugural CoBank PEAK Performers contest, a leadership and performance program for top teens from The First Tee across the United States. The contest was open to the more than 30,000 teenage participants from The First Tee chapters nationwide.
"I was honored to play golf with these nine wonderful participants from The First Tee on the course that really kick started my championship career at the 1995 U.S. Women's Open," says Sorenstam. "The Broadmoor means a lot to me and sharing this experience with these kids on this beautiful property is very special indeed."
Over breakfast the World Golf Hall of Famer invited the teens to share thoughts about their off-course interests, which included playing musical instruments, participating in other sports like basketball, soccer, baseball, tennis, swimming and track, and what plans they had for attending college. She then shared insights about golf and life.
"I think golf is such a great sport because it's so similar to life," explains Sorenstam. "Golf makes you well-rounded. Not every day is going to be beautiful and sunny. It could be windy and rainy, so it's good to be prepared, be focused and have the ability to adjust to different situations."
She then joined the teens on the East Course, playing six holes with each threesome. Having the Broadmoor's Director of Golf, Russ Miller, on her bag, made her round all the more enjoyable, especially when it came to reading the confounding greens.
Among those taking part in the four-day, all-expenses-paid golf academy were two Coloradans, Sarah Abercrombie, 15, The First Tee of Pikes Peak (Colorado Springs) and Hunter Swanson, 14, from The First Tee of Green Valley Ranch (Denver).
"To meet Annika was really cool because I got to see how she was in real life not just on TV and how she plays in real life," Swanson explains. "I was excited because I know how much she means to golf. She helped me with putting on these fast greens. They are pretty tricky."
[easyazon_infoblock align="center" identifier="1592400760″ locale="US" tag="coloradoavidg-20″]
All the teens, which included Jackson and Luke Boldt, 16, The First Tee of Coastal Carolinas, Andrew Santiago Caldwell, 16, The First Tee of Pine Mountain (Kentucky); Nina Goodrich; 16, The First Tee of Greater St. Louis; Joshua Lim, 17, The First Tee of Greater San Antonio; Victoria Slawinski, 17, The First Tee of Pittsburgh and Borina Sutikto, 14, The First Tee of Silicon Valley, while unnerved initially at meeting and then playing with the golf icon, were quickly put at ease by Sorenstam's calming demeanor.
"I kind of just hung out with them," says Sorenstam. "We shared some experiences, they had a few questions about practice and routines and what it takes to be a professional golfer. It was just very organic, very easy going. It is fun to see these ambitious youths that have such a positive future."
The winner of 72 LPGA events, including 10 majors, gave them some terrific advice as they begin to navigate life.
"You've got to find your own path. Try different things, explore, have fun, find your passion and never give up. Everyone makes mistakes. Every player has bad shots and bad rounds, but just try to make the most out of it. Learn from it."
Words of wisdom for the next generation of golfers.
---
Colorado AvidGolfer Magazine is the state's leading resource for golf and the lifestyle that surrounds it, publishing eight issues annually and proudly delivering daily content via coloradoavidgolfer.com.