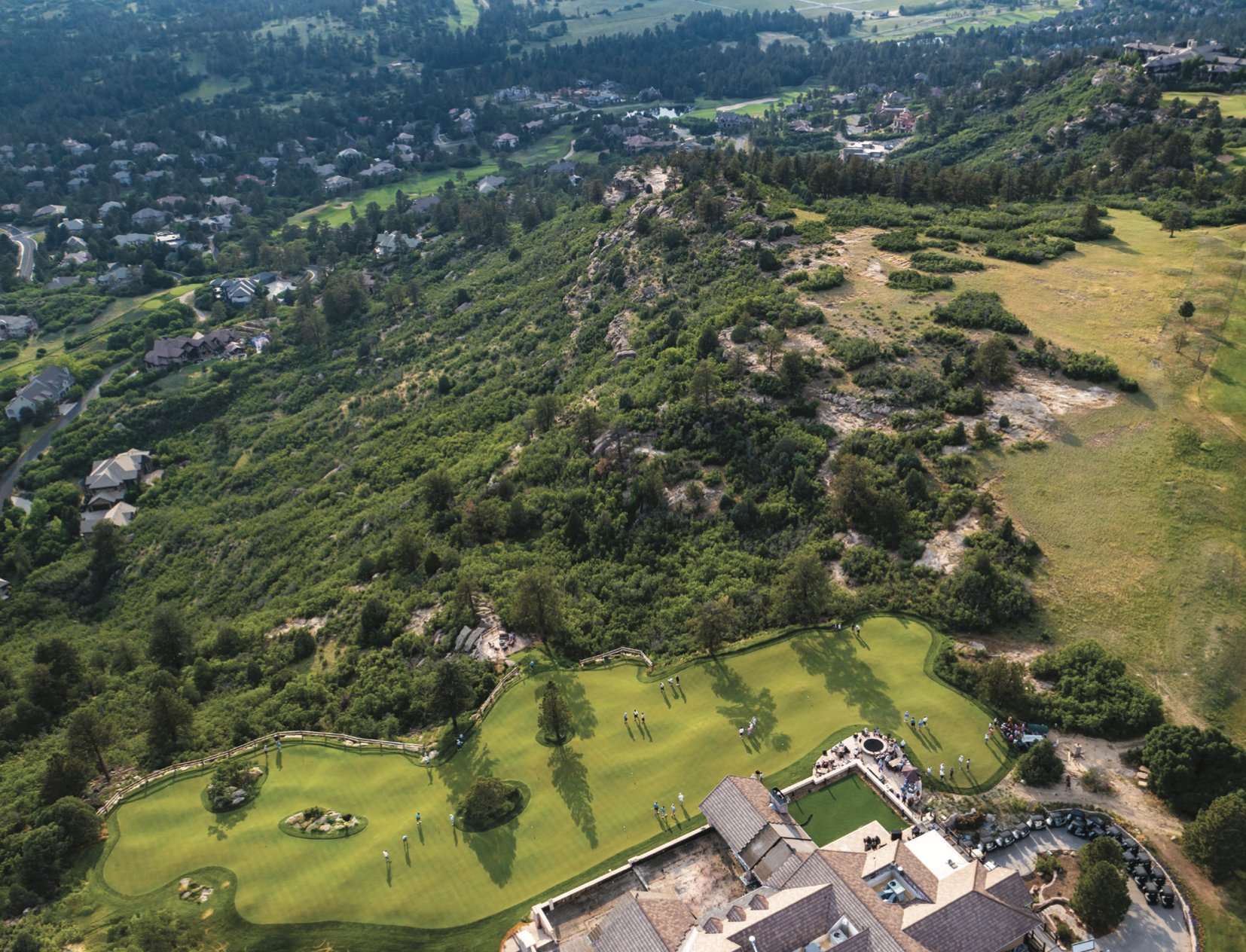 The Country Club at Castle Pines takes putting to a higher level.
AT THIS AUGUST'S SCHOMP BMW CUP, a Colorado AvidGolfer event hosted by The Country Club at Castle Pines, guests partook in a putting contest few had experienced without having to navigate a windmill or loop-the-loop. Putting from flat lies, sidehill lies and uphill lies, they watched with intrigue as shots broke 40 feet and gimme-distance putts unspooled into uphill 15-footers quicker than you could say "that's good."
Such is the difference between a lag putt and a Crags putt. Opened last September, The Crags is the stunning, entertaining and engaging one-acre, 18-hole putting course designed and constructed by CCCP's longtime Director of Agronomy Sean McCue. "Crag" is a geological term for steep rock cliffs—the kind upon which his course seems to balance, perching above an abyss covered in rocks, scrub oak, pine and native foliage.
McCue used some of that vegetation to create small, landscaped islands on the green that unify the putting surface with its environment. He drew his inspiration from visiting the Punchbowl putting course at Bandon Dunes (which was itself inspired by the Himalayas course at St. Andrews) and by reading
about Alister MacKenzie's eccentric and long extinct 12th green at Sitwell Park in England.
The Crags tumbles 30 feet from its highest to lowest point, with some slopes graded as high as 20 percent. "The most extreme you typically find on a golf course is anything from 3 to 7 percent," McCue explains. He prevents downhill putts from rolling into the yawning chasm below by terracing certain areas and embracing a classic Golden Age green speed of 7.5 to 8 on the Stimpmeter.
Regular CAG readers might recall seeing The Crags featured in a recent issue, but not from this angle. The drone's-eye view underscores its enormity and contrast between its groomed, contoured surface and the verdant brush that nose-dives towards the homes below.
When not entertaining tournament players, The Crags and its adjacent firepits and makeshift food-and-drink areas gather members as they await completion of their clubhouse, infinity-edge pool (not unlike the infinity-edge Crags) and other amenities that comprise a $17.1-million capital project. ccatcastlepines.com
---
This article was also featured in the Fall 2021 Issue of Colorado AvidGolfer.
Colorado AvidGolfer is the state's leading resource for golf and the lifestyle that surrounds it, publishing eight issues annually and proudly delivering daily content via coloradoavidgolfer.com.