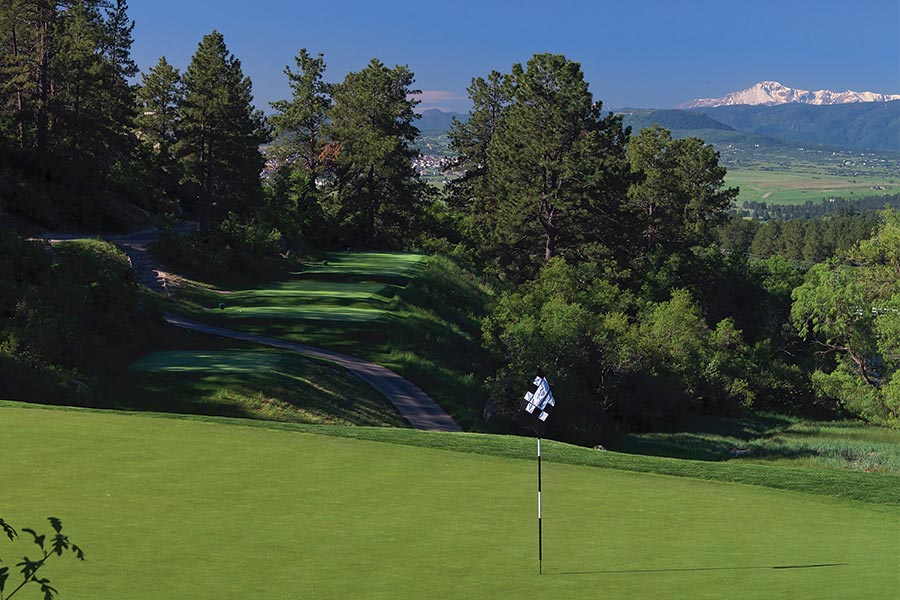 From Tee to Green, The Ridge at Castle Pines North sets a daily-fee gold standard.
By Jon Rizzi
THE TRAILBLAZER
Has it really been almost 25 years since "The Ridge" opened in Castle Pines? Back then, the region was synonymous with elite private golf. Then along came something new—a high-end public course, managed by Arizona-based Troon Golf, featuring a richly appointed lodge-style clubhouse, solicitous staff, thrilling Tom Weiskopf-designed golf course and a patio serving food as tasty as its mountain views.
Competition soon arrived, as did a recession and pandemic. Through it all, The Ridge at Castle Pines North has remained the benchmark for daily-fee golf on the Front Range. "We've had to adjust, just like every business," says PGA General Manager Daniel Kane. "2020 was a fun grind."
GAME-CHANGER
Among the 2020 adjustments Kane made was converting the course restaurant, Park Place—named for retired LPGA player Grace Park, whose family owns The Ridge—from table service to café-style service. "You order food at the bar, bring your beverages to a table on the patio and a server delivers your order," Kane explains, adding the quality of the food and the efficiency with which it now arrives eclipse any sense of inconvenience or inattention regular customers might have initially felt. "We managed the expectation."
Naturally, their expectation of the course—and Kane's— is as high as ever. "This is a place people bring clients to play," Kane explains, "and they come back again and again."
Exquisitely kept by superintendent Nick Eberhardt, the lay- out careens through 7,013 yards of dense pine forest, meadows bordered by ponds and bluffs wreathed by Gambel oak.
Players can now traverse it all via a ClubCar equipped with GPS and The Shark Experience—a hi-def, multimedia feast of premium content, music and more that the Denver- based coder, Edison Interactive, has beta-tested at The Ridge.
The Ridge has also resurfaced tees and expanded the size of its practice range—where Bryson Hotchkiss and Andy Connell give lessons—and players can receive high- end custom clubfitting at an onsite True Spec Studio.
EVENTS AND TOURNAMENTS
Tournaments, which account for 7,500 of the 32,000 rounds annually played at the Ridge, are "our wheelhouse," Kane says. Attendees love the generous custom sponsor packages, myriad buffet options and attractive pricing, but also the personal commitment to making the day as effortless for the organizers as it is memorable for the players.
That same dedication goes into hosting wedding rehearsal dinners or family celebrations, which transpire on the patio lawn against a mountain backdrop. "No matter the occasion, we always aim to deliver extraordinary experiences," Kane says. "Compared to 20 years ago, this area now has so many more people and so many more options for fun, but if you're looking for a relaxed place with great golf and views, come be a 'member for a day'."