FOR THE SIXTH TIME in the last five years, the Colorado PGA REACH Foundation presented a mortgage-free home to a deserving combat-wounded veteran. This year's ceremony, which preceded the annual Colorado PGA REACH Invitational at Bear Dance Golf Club in Larkspur, honored U.S. Marine Corps Lance Corporal Steven Klimtzak, who in 2004 sustained multiple injuries in Iraq when a roadside IED exploded his unit's Humvee.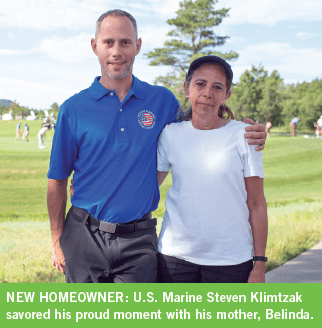 The fateful incident occurred three months after the 19-year-old soldier from western New York had marched in President Ronald Reagan's funeral procession. He'd enlisted at age 17, and the Purple Heart Medal was only one of a dozen awards he'd received before his medical retirement in 2006. Like many veterans, he struggled afterward. He "hit the bottle pretty hard" and endured a divorce and an eviction, prompting him to move back in with his mother, Belinda. "I've made mistakes and I've overcome them," the 34-year-old father of three sons (ages 10, 6 and 5) said before the ceremony. "I've been sober three years. My life has completely changed."
The same desire to serve that inspired Klimtzak to enlist straight out of high school now manifests itself in being a role model for his boys and working as an outreach coordinator and chef for the nonprofit VAST (Veterans Adaptive Sports & Training) camp in Maine. "I try to give back to those who have served as I had served," he said. "And to have my boys come with me and see the veterans that we help always gives them a positive outlook."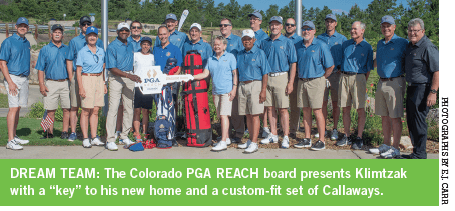 Klimtzak's mortgage-free home will be in the south Buffalo suburb of Boston. It comes courtesy of a four-organization partnership led by the philanthropic Colorado PGA REACH Foundation—which utilizes golf to make a positive difference through Youth Development, Supporting our Military and Diversity and Inclusion—and its HOPE (Helping Our Patriots Everywhere) program. The other three partners are Southwest Greens (the owner of Bear Dance and three other Colorado courses, which funds the program through sales of its Mile- High Golf Trail Program); the San Antonio-based Military Warriors Support Foundation (a non-profit charity that has provided veterans and their families with 839 mortgage-free homes as well as payment-free cars); and Wells Fargo & Company (which donates the home).
With representatives in attendance from the four organizations, as well as from the four branches of the military, Klimtzak received ceremonial keys to the house—as well as a full set of new Callaway clubs that were custom-fit the previous day by PGA master club-fitter Brian Gott and presented individually by members of the PGA REACH board. The sticks slid into a handsome Colorado Section PGA REACH golf bag, which would fly east in a Bear Dance-logo travel case.
"I don't have words for how grateful I am," the Marine said as his eyes welled up. "It's a very humbling experience." coloradopga.com
---
This article appeared in the 2019  August/September Issue of Colorado AvidGolfer.
Colorado AvidGolfer Magazine is the state's leading resource for golf and the lifestyle that surrounds it, publishing eight issues annually and proudly delivering daily content via coloradoavidgolfer.com.