The crossover comes in a variety of models, capacities and price points, as the latest from Range Rover, Audi, Hyundai and Nissan attest.
By Isaac Bouchard
2020 RANGE ROVER EVOQUE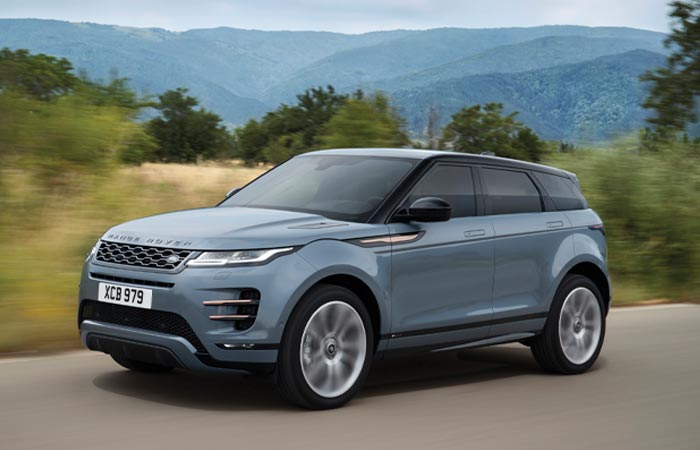 The first-gen Evoque became Range Rover's best-selling model ever. Though this second one rides on a new platform and has an all-Rover engine, it looks similar to the outgoing model. The biggest change is the addition of flush door handles like on the company's Velar model. Nonetheless its skin is extremely enticing, with terrific proportions, gorgeous detailing—especially so in the First Edition model, with its bronze-like exhaust finishers and fender accents—and that upscale vibe that makes many swoon.
Inside, the Evoque has better material quality, a subtle, sophisticated color palette, many more contemporary interfaces and greater room for rear-seat passengers. The main, twin touchscreens have gorgeous graphics but are still somewhat slow to respond, and the screen that replaces conventional gauges on the dash is underutilized. But the head-up display is well-wrought and the adaptive cruise and other driver aids work well.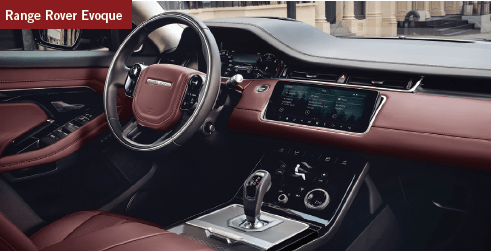 Dynamically, the new Evoque stumbles somewhat. It clomps and thumps over bad urban road blight—at least on the optional 21-inch wheels—and it lacks some of the responsiveness of the previous model.
At least the new powertrain—comprised of Range Rover's own Ingenium engine, an updated 9-speed auto and a slick AWD system that can send power to individual rear wheels—is more responsive. In the 246hp/269lb-ft P250 model, 0-60mph should take mid-6s and its configurable drive modes allow tailoring to the driver's desires. There will also be a 296-horsepower model. And the Evoque still has Range Rover's off-road chops for those willing to risk its gorgeous flanks and fasciae. But in an increasingly crowded segment, the Evoque's dominating design continues to set it apart from the Audis, Acuras and BMWs it competes against.
Fuel economy: 20/27/23 mpg
Price as tested: $58,860 (First Edition)
2019 AUDI Q8
With crossovers in ascendance, Audi's new top model is the Q8. It is the quintessential modern GT: understated yet sexy outside, sumptuous yet sophisticated within and boasting moves and manners most suited to the open road. Built on the platform of the seven passenger Q7, its bodywork suggests the original 80s quattro, with box flares for the fenders and overtly techy detailing.
Like modern Range Rovers, inside it has switched to multiple touch screens as interfaces. They work fairly reliably, with haptic feedback for "button" pushes, but require more attention from the driver than Audi's previous MMI systems. The way that trim, texture, material and lighting combine creates the kind of cockpit that once made Audi the leader in interior design; it's nice to see them back. Cargo capacity is generous, as well, giving this two-row crossover real practicality.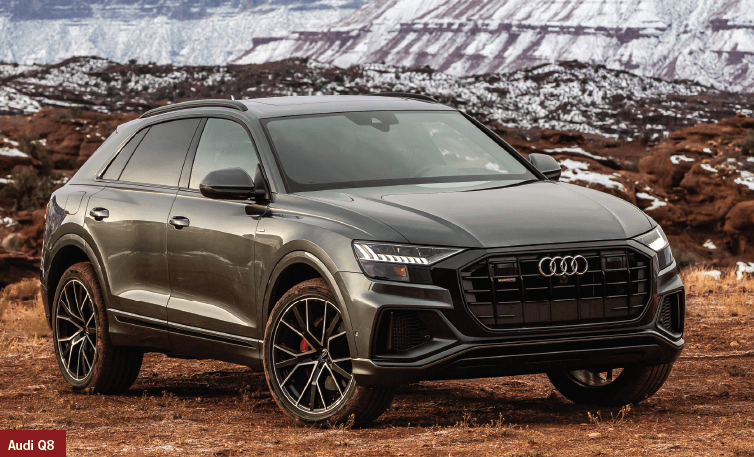 As a GT, the Q8 is best on epic journeys. Its 3-liter, supercharged engine is sluggish in the city and seems to struggle to move the big coupe's heft off the line. Yet it wakes up and shuffles the Q8 along in a refined manner when the horizon is distant. Compounding this, the transmission responds well in sport but not in drive. With outputs of 335hp and 369lb-ft motivating 5,100 pounds, 0-60mph took 5.3sec in an independent test, which is quick enough; the problem is you need to mat the accelerator to get there. Steering precision and body control are somewhat like Audis of old: deliberate and a bit uncommunicative. The Q8 easily pushes into understeer in tight turns when driven hard through tight twisties. It's better to back off and take advantage of the configurable suspension, which combines good ride and excellent high-speed body control, along with the ability to engage in light off-roading and to tow loads of up to 7,700 pounds.
Fuel economy: 19/22/17mpg
Price as tested: $88,690
2019 NISSAN KICKS SR &
2019 HYUNDAI KONA ULTIMATE
In many respects, the Nissan Kicks and Hyundai Kona are the 21st century versions of the Mini and Beetle. With their small footprints, practical layouts and funky-cute looks they add a dash of stylish practicality to the successful "econobox" formula and excel in urban use.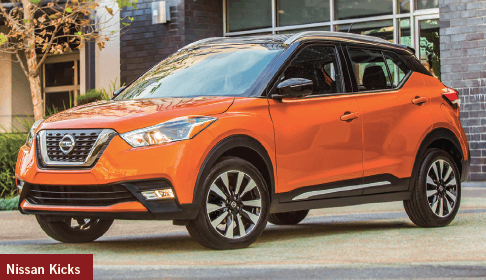 Both the Kicks and Kona are very contemporary in their detailing and stance; each also has a highly styled interior and easy to fathom, touchscreen- based interface. The Kicks has supportive, comfy front seats, and the armrest attached to the driver's seat serves as a reminder that Nissan expects it to spend much of its life sitting in traffic. This fate becomes more bearable with an excellent Bose surround sound system, clear Bluetooth and nice detailing like the soft-touch, (faux) contrast-stitched dash front and big windows. The cargo area is voluminous at 25 cubic feet and even serves rear seat passengers with a wide, bench seat.
The Kona is tighter in the back, partially because of its optional AWD (the Kicks is front-drive only); its plastics and assembly seem of uniformly decent quality. Cargo capacity is smaller at 19 cubes but its UVO infotainment screen is larger and higher resolution than the Nissan's. Both offer all kinds of upscale features, such as heated seats, automated emergency braking, Android Auto/Apple CarPlay and remote start.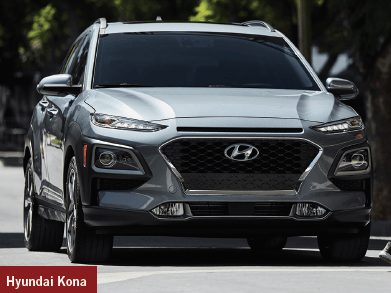 The Kicks seems particularly well suited to the Front Range's urban centers, with strong off the line urge despite an engine that only puts out 125hp. Its CVT isn't objectionable in tone or shift strategy most of the time, and despite it barely being able to clear 10 seconds on the way to 60mph, it feels swift enough at low speeds. But the Kicks seems a good value, starting under $20,000 and coming well-equipped for a few thousand more.
For those who plan to head regularly to the hills, the roughly $7,000 premium for the Kona Ultimate will seem well spent; its 1.6L turbo cranks out 50 more horsepower and a stout 195lb-ft of torque. It can crack 60mph in 6.5 seconds—really quick for any vehicle—and delivers a more solid and refined feel than the Nissan at high speeds. Its chassis is also more capable than that of the Kicks, with excellent steering, great handling and ride, and good brake feel.
Fuel economy: Nissan 31/36/33.5mpg;
Hyundai 26/29/27mpg
Price as tested: Nissan $23,330;
Hyundai $30,005
Automotive Editor Isaac Bouchard is the owner of Denver-based Bespoke Autos ([email protected]; 303-475-1462). Read more of his automotive writing on bespokeautos.com.
Want to read more auto reviews? Visit our LIFESTYLE PAGE.
Colorado AvidGolfer Magazine is the state's leading resource for golf and the lifestyle that surrounds it, publishing eight issues annually and proudly delivering daily content via coloradoavidgolfer.com.