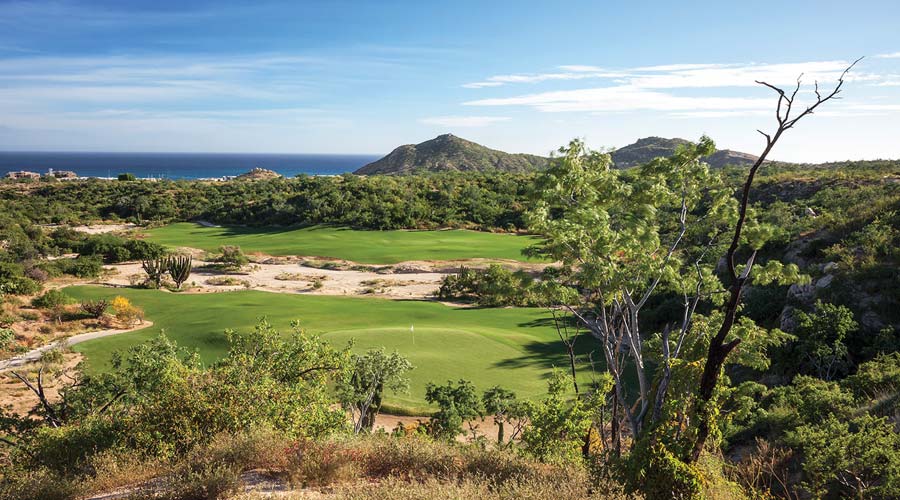 Twin Dolphin Golf Club, a Fred Couples Signature Course, highlights the peninsula's posh new private residential and resort community.
By Kim D. McHugh
Sixty years ago, a traveler journeying to the tip of Baja would have been hard pressed to find much of anything, let alone today's plethora of stellar golf courses and luxury hotels with their infinity-edge swimming pools, spas and globally influenced cuisine.
Back then, a merciless, 800-mile-long dirt road leading from California served as a sentry, allowing only the heartiest—the whale watchers, the 4 x 4 explorers, the die-hard scuba divers and sportfishermen—to quench their thirst for adventure.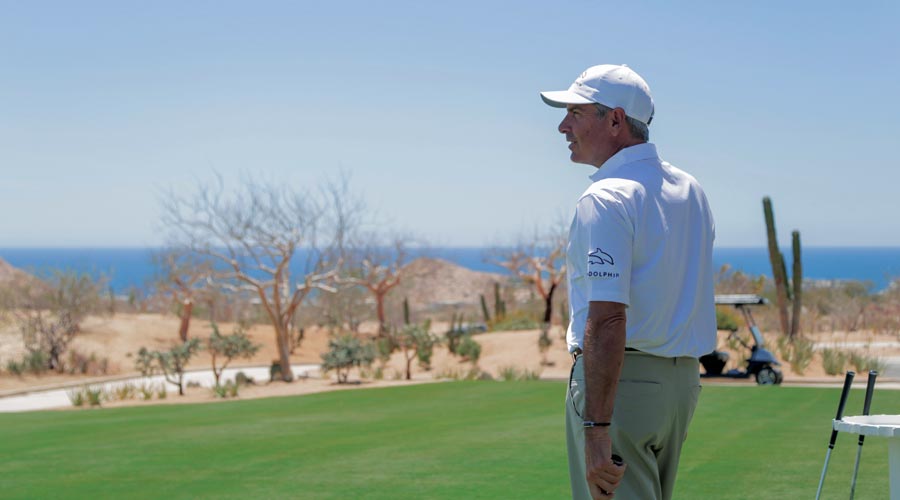 However, the last quarter-century has brought more flights, hotels and golf courses, making the area between San José del Cabo and Cabo San Lucas a prime vacation destination. The courses at such clubs as Quivira, Chileno Bay, Cabo Real, Cabo del Sol, Palmilla, Querencia and Diamante speak to the quality of golf enjoyed in the area.
Last November, a newcomer kicked up that experience another notch. Named for the Hotel Twin Dolphin—a pioneering luxury resort that once sprawled all the way to nearby Santa Maria Bay—Twin Dolphin Golf Club occupies a 1,000- acre desert plateau approximately 600 feet above the Sea of Cortez, allowing golfers to take in views of the ocean and Sierra de la Laguna mountain range from every hole.
Yet, the spectacular course almost didn't get built.
"Greg, a friend of mine, talked about doing this project back in 2008, so we came down, we saw (the plateau) and the old Twin Dolphin hotel was torn down," Couples remembers. "We were thinking we were going to start pretty soon, and then the world kind of came to an end. But he called me up in 2015 and said we're on again. Ohana and Montage said, 'okay, let's go,' and they really started digging in. It turned out spectacularly."
The aforementioned "Greg" is Greg Villeneuve, former vice president golf operations at Montage Hotels & Resorts and now president of Summit Golf, based in Orange County, California. Ohana Real Estate Investors and Montage Los Cabos Resort are the developer and hospitality operator respectively, and the driving forces behind the 1,400-acre, multimillion-dollar resort and master-planned real estate community of Maravilla Los Cabos. Couples, who in 2008 was being courted by Diamante just up the coast, was encouraged by Villeneuve to be patient.
"When the call came it was beautiful timing," adds Couples. "You know, at that time I'm 55, 56 years old, I wasn't designing any courses because I was really focused on the Champions Tour and I wasn't playing a lot. I met Todd, and I really liked him. We had a great time doing it."
The 7,156-yard, par-72 course represents the first Fred Couples Signature Design in Mexico. Teaming up with Eckenrode, Couples—who had previously collaborated with architects Pete Dye, Bob Cupp, Schmidt-Curley Design and Gene Bates—got a California-based architect who learned the game at Alister Mackenzie's legendary Pasatiempo, has a portfolio that stretches from Barona Creek to Dubai Hills, and definitely brought his "A" game to the project.
"Our routing predominately focused on two aspects: to maximize the incredible ocean views through orientation, and to best utilize the interest and strategic challenge of the native arroyos in as many varied ways as possible," Eckenrode says. "The golfer plays alongside, across, and even through the natural and diverse arroyos. The experience is everchanging and no two holes look or play alike."
Couples adds that they were mindful not to "phony it up" with false fronts, unplayable bunkers or wavy, multi-tiered greens. They made a conscious effort to preserve what Mother Nature already had in place, clearing very little desert, keeping thousands of mature cacti and trees and preserving surrounding foliage. During construction the most disruptive hiccup was unexpected, pre-monsoon rain.
"We had the course 90 percent done and then out of the blue a huge rainstorm trashed the place," Couples explains. "But that taught us more about how the course needed to drain. We put down more sand and added more drains, so now after an evening storm, by morning the course is firm."
Playing from the third set of tees, I was awed by the finished product. The layout—a private course measuring between 7,156 and 5,011 yards—masterfully integrates winding gullies and deep mini-canyons with native areas, rippled, contoured fairways and bunkers that, while appearing treacherous, have more bark than bite. That said, the drives of this 15 handicap didn't carry several arroyos and the fairway bunkers snared a number of my approaches.
"I had a vision of people with higher handicaps coming up to play and we just couldn't make this brutally hard," Couples explains. "Working with Todd, most of the pushback was trying to soften up the course a little bit. We battled at times, we talked about tweaks, but overall very little changed on the original routing. We have some tough greens, we have some tough shots, but not 16 of them. Todd was phenomenal, the course is phenomenal."
Talking to golfers with local knowledge, I was told that, contrary to courses closer to or right along the shore (think Cabo del Sol, Diamante, Quivira, Palmilla), where the winds off the ocean can be prevalent during an entire round, those teeing up at Twin Dolphin Golf Club often just feel a light breeze. The attentive service of my caddie, Alex, notwithstanding, I witnessed members and guests enjoying the "Red Doors" stations. A tribute to amenities dating to the original Twin Dolphin hotel, the one off the fifth green had a kitchen with a chef, a well-stocked bar and seating for eight. Adjacent to the Hole 12 tee box stood the second, a "palapa" with a chef-staffed grill and bar, where our threesome munched on pulled pork tacos, cheeseburger sliders and quesadillas.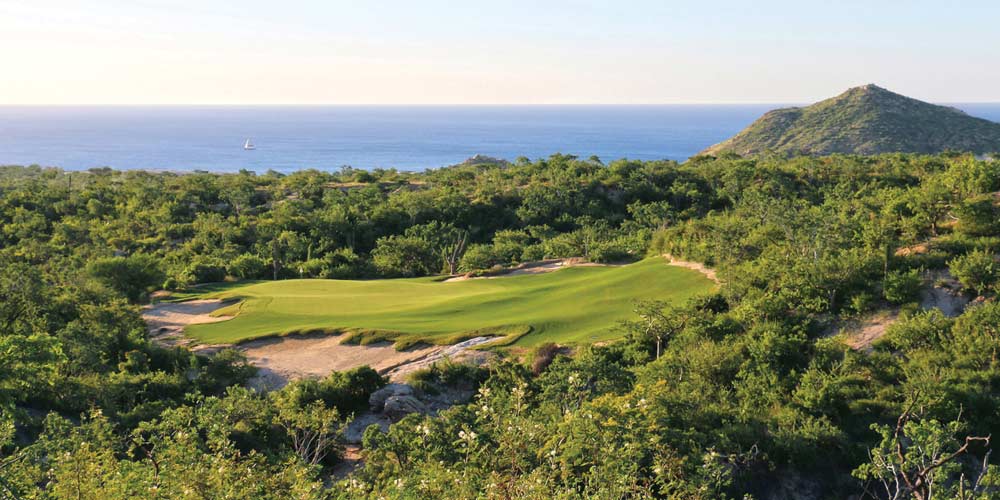 "We've worked to reinvent the golf experience," says Neil Johnson, managing director, Ohana Real Estate Investors. "From the Red Doors throughout the course… to the specialty Niños Tees designed with kids in mind, the course offers something the entire family can enjoy together."
Asked what play, if any, at Colorado courses influenced this design, the 1992 Masters champion—who has played Castle Pines Golf Club, The Broadmoor, and finished second in a playoff against Tom Lehman during the 2010 Senior PGA Championship at Colorado Golf Club— shared this observation.
"If you think of two different styles, I'd say Twin Dolphin would be a little bit like Colorado Golf Club with its mountain views and native areas, and Castle Pines, which has uphill and downhill shots, but not many big drops."
At the end of my round, I see the 19th hole—a bonus par-3 playing 95 yards over a deep arroyo. Our caddie tells my group that this is where friendly wagers often occur, so my foursome decides that the guy furthest from the pin will buy a round of tequilas.
I pitch to within eight feet. Muy bien, Freddie!
Rooms and Real Estate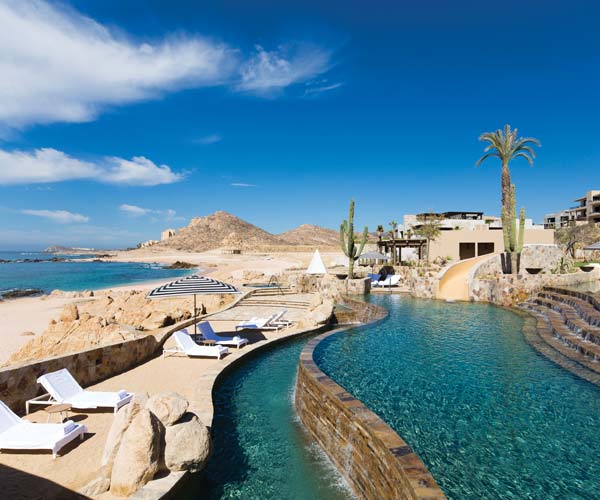 Created by Ohana Real Estate Investors, Twin Dolphin Los Cabos occupies the former site of the Hotel Twin Dolphin. The 1,400-acre development includes Maravilla Los Cabos, a private residential community; Montage Los Cabos, a luxury 122-room beachfront hotel; and Montage Residences, 52 two- and three-bedroom turnkey units.
Maravilla Los Cabos Homesites: Quarter-acre+ to over one acre priced from $3M to $12M. Villas and Townhomes: priced from $3.5M to $11M. Montage Residences: priced from $2.35M for a 2BR to $2.95M for a 3BR. twindolphinloscabos.com
Membership to Twin Dolphin Golf Club is offered exclusively to owners in Twin Dolphin's residential communities. In addition to golf, members can enjoy the Dos Arroyos "glampsite" featuring a 40-person dining palapa, kitchenette, communal table, hammocks, lounge seating, and a lookout tower with views of the Sea of Cortez. There are also 10 miles of hiking and mountain biking trails, an 18-hole putting course, archery, paintball and access to Twin Dolphin I, a 56-foot day yacht.
Montage Los Cabos resort guests are limited to five tee times per day; $450 per player, per 18- hole round, plus a $50 caddie fee. Resort packages like Sweet 15 and Discover Baja start at $525 a night (the latter requires a minimum four-night stay).
---
Contributor Kim McHugh, a Lowell Thomas Award-winning writer and Golf Writers Association of America member, has written for 5280, SKI, Tastes of Italia, Colorado Expression and Hemispheres.
This article appeared in the 2019 April issue of Colorado AvidGolfer.
Colorado AvidGolfer Magazine is the state's leading resource for golf and the lifestyle that surrounds it, publishing eight issues annually and proudly delivering daily content via coloradoavidgolfer.com.