Kia has seen astonishing growth as it has refocused its lineup on crossovers; the large, 7-passenger Telluride has been a homerun, impressing reviewers and raising the brand's equity with consumers.
The Sorento is all new and slots in just below it. It is sized like the Mazda CX—9, GMC Acadia and other smaller, midsize crossovers. The styling of the new model is more angular and muscular, and in top trim levels like the X-Line that was tested, upmarket. Interior design is modern and appealing, with great colors and sweet stitching on the X-Line seats. However, many materials are of the hard n' shiny variety, which is at odds with Kia's messaging about being a near-premium player and its price, which places it directly in the path of the Mazda CX-9, whose finishes are much better. It is significantly better than what you get in a GMC, Buick Enclave, or Ford Explorer for the same money. The Sportage's front seats are supportive and cargo room generous; the third row is for occasional use only. The middle row is somewhat problematic, in that under-thigh support is lacking, meaning many of those sat there will be uncomfortable in short order. Kia's current interpretation of how a hand's free liftgate works needs a rethink, too. It opens inadvertently if you stand next to it with the key on your person, but sometimes wont open with a button when you want it to. The Sportage boasts Kia's latest tech, viewed on large, bright screens, and in aggregate it is intuitive and well executed. Using touch screens means interacting with Apple and Android is much easier than in the CX-9, since Mazda stubbornly sticks to a control wheel. The driver aids are too invasive however, something that plagues other vehicles in the extended Kia-Hyundai-Genesis family, and many need to have their intervention thresholds manually lowered to allow for journeys that aren't interrupted constantly by beeps, buzzes and lane-assist steering wheel intervention. In context, they are better than Subaru's systems, worse than Mazda's.
Price-wise, the Sorento competes well, and it in several ways the Kia has more to offer, such as a panoramic sunroof. For Colorado residents, perhaps the most relevant is an engine that has enough power to conquer our mountain passes. The 2.5-liter turbo's horsepower crushes what you can get in competing Toyota or Nissan, and its 311lb-ft of torque is beaten only by Mazda. The 8-speed, twin-clutch automatic shifts better in our thin air when switched to Sport mode; otherwise, progress is a somewhat hesitant. Fuel economy isn't this engine's strong suit, though; in town it is hard to get it to show numbers over 20mpg on the trip readout. The Mazda beats it overall economy, though the Kia is slightly faster. Ride and handling are class average; the Mazda is better, as is a GMC Acadia, but most are worse. There is nothing fundamentally wrong in the way the Sportage carves a mountain corner, but the damping feels like it needs some work to keep it from porpoising about when pushed hard, and secondary ride isn't as refined as the Mazda or GMC. The Sportage X-Line is every inch modern in design, tech and execution, in a way those two are not. Combined with the fantastic Kia warranty and the ratings the company is receiving in independent surveys for reliability, durability and customer satisfaction, it should be at the top of shoppers' lists.
EPA Ratings: 21/28/24mpg
0-60mph: 6.3sec
Price as tested: $44,285
Here is what Kia has to say.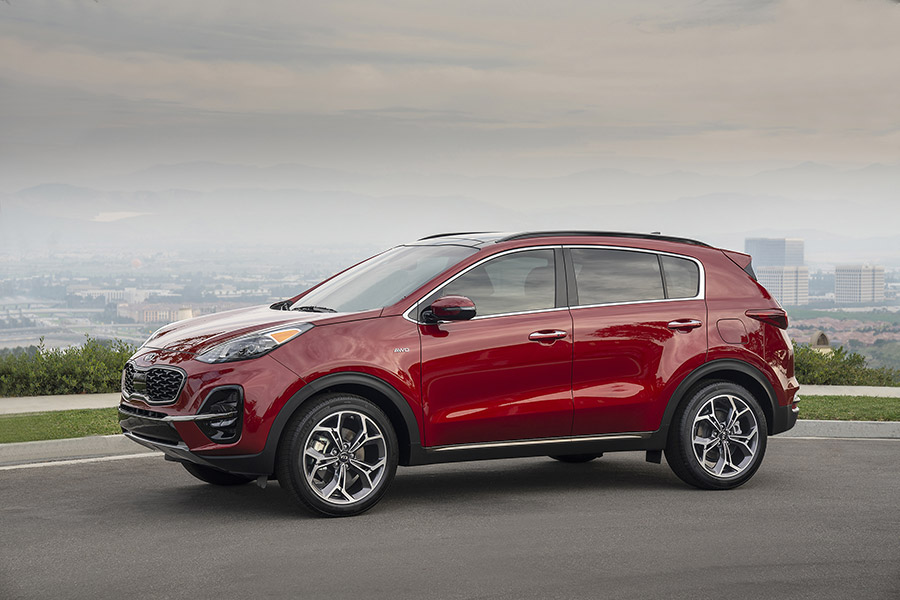 Kia Sportage SX
From its more rounded styling, it is easy to see that the Sportage is a last-generation Kia product, but it still a great compact crossover in SX form. Its 240hp turbo is powerful and refined, it handles in a tidy fashion, rides well, and is a perfect size for many, being of small footprint outside yet with plenty of room for those in front, a comfy back seat and (barely) enough cargo capacity. The Sportage's tech is very easy to use and none of it frustrates in the way some of the latest gee-wiz stuff in the newest products from the extended Kia family can. The Sportage SX also looks great in a chunky, four-square way, and its interior materials are perhaps of even higher quality than the newer vehicles in the lineup, such as the Seltos and Sorento. It is smaller than the Honda CR-V and Toyota RAV4 but has more performance—if worse fuel economy—and isn't far off the best-in-class Mazda CX-5 GT Reserve.
EPA Ratings: 19/24/21mpg
0-60mph: 6.7sec (est)
Price as tested: $37,290
Here is what Kia has to say.
---
Contact Isaac Bouchard for help saving time, money and hassle when buying or leasing one at [email protected]
Colorado AvidGolfer Magazine is the state's leading resource for golf and the lifestyle that surrounds it, publishing eight issues annually and proudly delivering daily content via coloradoavidgolfer.com.