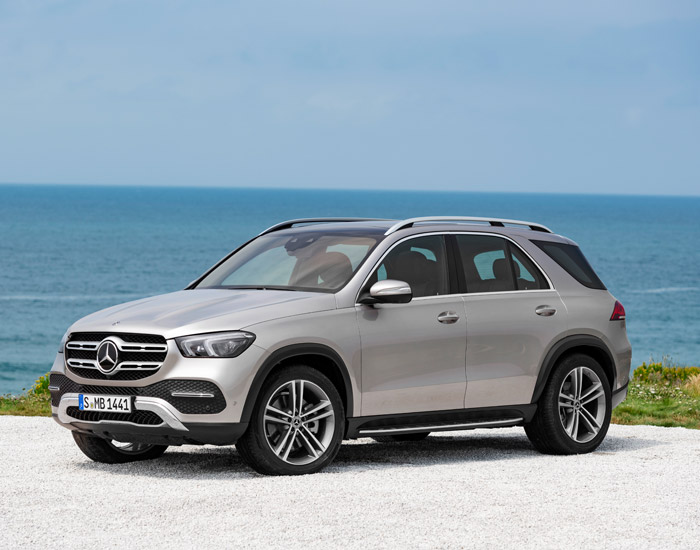 By Isaac Bouchard
I had my first exposure to the all-new Mercredes GLE-class SUV in late Winter. It impressed with the torque of its 2-liter, four cylinder base engine and overall competence. About a month later I had the opportunity to get to know the new Benz better while driving one in Dallas. This was a more loaded example and I had the time to really probe the breadth of ability of one of its two optional, air suspensions. I also came to know MBUX, the new, AI-based interface. Aesthetically, this example benefited from the AMG Line's "Diamond-block" grill, fascias, fender flares and wheels, all of which imbued it with a chunkier stance. The GLE350's interior, nice even in basic form, really started to seem worthy of the three-pointed star with its contrast-stitched dash and door panels, whose black MB-Tex material has always proven durable and looks like real hide. The multi-contour seats, whose bolsters adjust to counter g-loads and also offer multiple massage modes—include a soothing "hot stone" function—were trimmed out in leather and proved enduringly comfortable. The back seat easily accommodated three and, thanks to the 3.1in longer wheelbase, had the leg room the previous GLE lacked. While there is a third-row option, those needing to really haul a family will want the forthcoming GLS seven-seater, based on a stretched version of the same platform.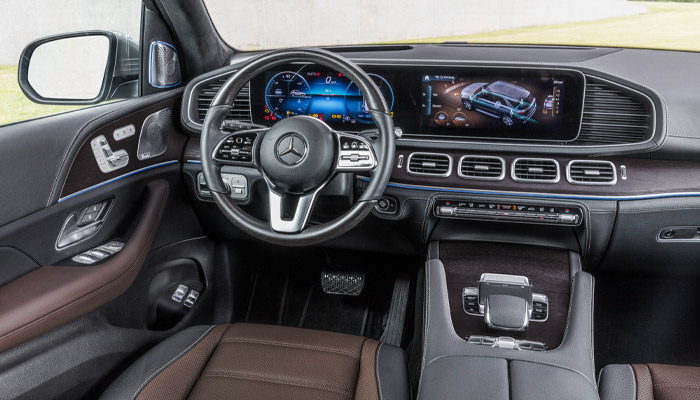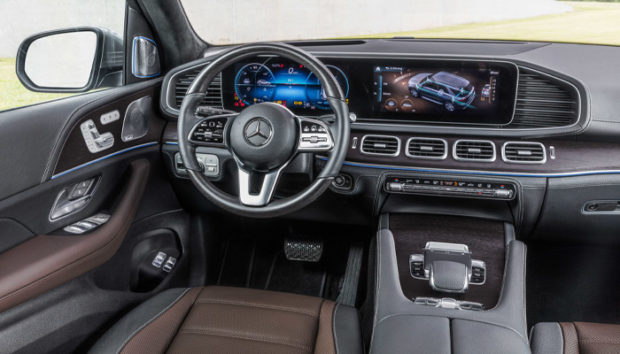 The dash, which has two 12.3in screens housed behind one continuous strip of blacked out glass, is really striking. The menus are logically laid out, yet the sheer number of permutations and adjustments take time to learn, as in most all computer operating systems. Especially nice are the two little touch-sensitive capacitors on the steering wheel spokes that allow you two swipe around and dive through functions and menus. One disappointment was the Mercedes' voice-activated assistant, which reminded me of Apple's Siri insofar as how erratic her responses were. For instance, she almost never could execute a request to navigate to a given destination and would almost always interrupt music or conversations when she thought you had said "Hey Mercedes." Other times, she would do exactly what you wanted, quickly and without drama. Being AI-based, one may hope she will become more adept at her job over time. The GLE350 navigation system itself was quite amazing, with its multiple cameras and ability to show real-time, high-resolution video of approaching intersections so you could make sure you were in the right lane before turning. There were even little street-sign icons that would zoom around to make sure you knew what street was coming up—quite helpful in some areas around Ft Worth.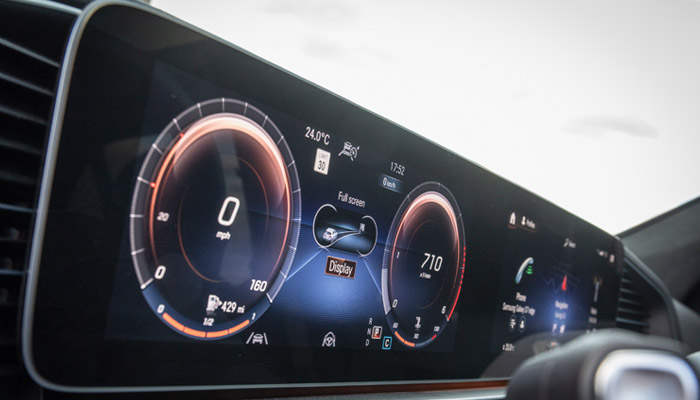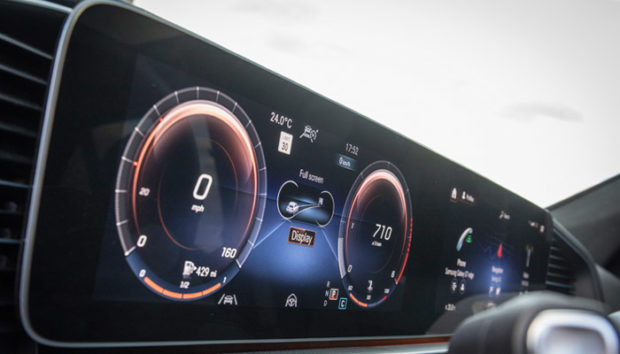 When I wasn't marveling at the brightness and clarity of the displays, I was focused on the way the Mercedes went down the road. The GLE350 certainly feels like it outputs more than 255hp; it scoots right along, even loaded with five folks and their gear, its 273lb-ft of torque making for rapid getaways from the innumerable stop lights that define DFW's suburbs. The Active Steering Assist function, part of the Driver Assistance Package Plus—which also includes superbly a executed adaptive cruise control with the ability to autonomously handle stop-n-go traffic and adapt to changing speed limits—kept the Benz locked-on to the lane's center most of the time and didn't mask steering feedback too badly (like many such systems), so I left it engaged almost the whole time I had the SUV. When I did turn it off, to tackle some on- and off-ramps at higher speeds, the helm itself came across as precise and accurate. The Mercedes' body motions were well contained by the Airmatic suspension. Adaptive dampers kept the ride smoothly taught in the sportier modes, and cushy in the Comfort setting. Combined with the tester's optional increased cabin insulation, the GLE proved a great highway cruiser. One surprisingly nice option was the heated arm rests; just like when heated seats and then heated steering wheels debuted, this was one of those things that you never knew you needed until you experienced it—and now was hard to imagine being without.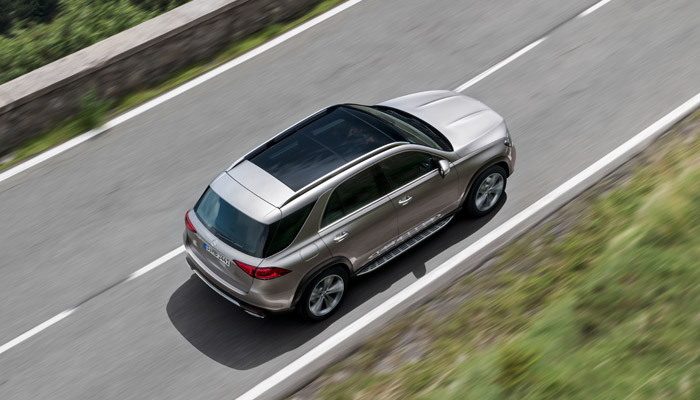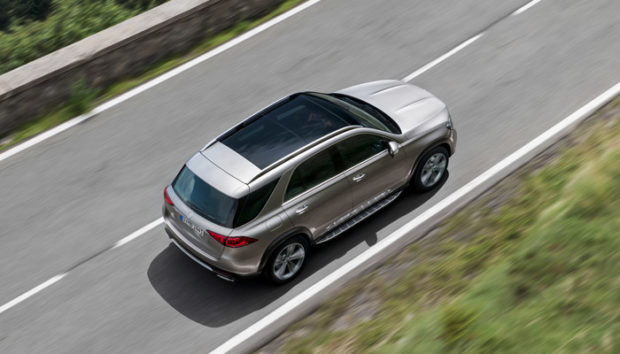 I've yet to spend much time with the GLE450, but a version of its new, turbine-smooth six cylinder engine powered the AMG CLS43 I recently spent a week with, so I can say that this 362hp/369lb-ft mill is the engine I would want; it lent a more upscale acoustic signature to proceedings and in tests gets the GLE to 60mph in just over five seconds. Either engine mates well with Mercedes' in-house 9-speed automatic, and while this isn't a transmission you feel the need to interact with via the paddle shifters very often, its well-chosen ratios and seamless shifts are appropriate to the Mercedes ethos. The six, labelled M256, has an integrated, 48-volt starter/alternator, meaning that you don't need to immediately reach for the defeat button to auto stop/start every you get in, since the Benz goes silent and restarts in an unobtrusive way, while also having the juice to keep the A/C running at is should. And the electric motor fills in the hole at the bottom of the powerband with up to 162lb-ft of torque, meaning the engine's turbo can be sized to produce more boost where needed without worrying so much about lag. Its 0.9kWh lithium-ion battery recharges automatically under braking, so there's no need to plug it in. This was my second taste of such a mild hybrid system (the other being the one Jeep uses with its 2-liter turbo in the Wrangler and Cherokee) and I'm a convert.
What's not to like about the GLE? Of course one can gripe about the need to pay for most everything as an option, but that has been a hallmark of German cars for decades. And that the MBUX system is still glitchy despite being on sale in Europe for over a year is aggravating—in the same way phone and computer updates oft cause slow running and unexpected problems. Finally, a few of the interior's materials (including some buttons and controls) feel somewhat insubstantial. But by and large the GLE350 does seem special, and worthy of the Mercedes moniker. It also stands, along with the all-new BMW X5, at the current pinnacle of desirability for midsize SUVs.
EPA ratings: 19/26/22mpg
0-60mph: 6.7sec (est)
Price as tested: $80,810
★★★★☆
---
Want to read more auto reviews? Visit our LIFESTYLE PAGE.
Colorado AvidGolfer Magazine is the state's leading resource for golf and the lifestyle that surrounds it, publishing eight issues annually and proudly delivering daily content via coloradoavidgolfer.com.