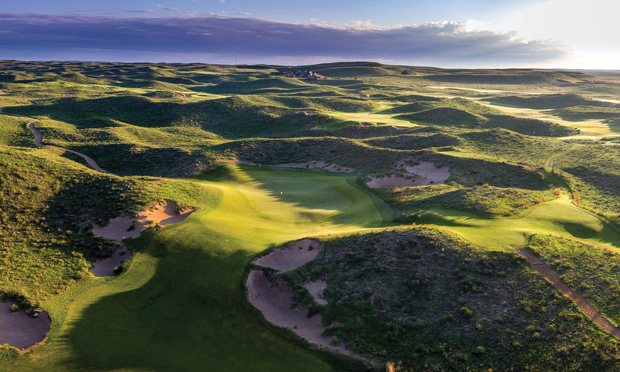 Across the fertile Sandhills of Nebraska and Eastern Colorado, golf courses have sprouted like so much corn— all of it ripe for the playing.
By Ted Johnson
---
NO ONE IS REALLY sure how the Sandhills region came to be. Was it the outlying ripples of the forces millions of years ago that created the Rocky Mountains to the west? Or was it some freakish Ice Age mutation that cut the terrain into large rolling swells and deep dales? Or maybe deposits left from a retreating inland sea? Let's leave that to the geologists.
When you play them, however, you realize soon enough the courses within the Sandhills region are the antithesis of the shaped, contained and overly manicured facilities we find amidst housing tracts and former gravel pits. Golf in the Sandhills isn't about slope ratings and back tees and waterfalls. The focus is the interaction of man and land as experienced through ball and club – good walks revered, as it were.
Four courses in Nebraska—Awarii Dunes, Wild Horse, The Prairie Club, Dismal River— and Ballyneal in northeast Colorado comprise the most compact grouping of Sandhills courses. Note that these are remote settings that require a lot of driving and at some sites a sacrifice of cell reception. Their remoteness is assuaged by on-site accommodations, and although Awarii Dunes has a limited offering in that regard, hundreds of hotel rooms lie less than six miles north in the convention capital of Kearney.
Sandhills courses are known for their lack of "shaping," the construction phase of a course in which bulldozers create contours and gouge out low areas for ponds or lakes. Here, the land dictates the layout, and honor comes in how little earth is moved to create the best routing. And as you play among the open spaces you get the feeling that Kevin Costner from Dances With Wolves is just on the other side of the nearest dune. Indeed, the buffalo did roam here.
That feeling makes Sandhills golf as unique as the links of Scotland and the Sandbelt of Melbourne, Australia—a "bucket list" region that sprang from the dreams of Dick Youngscap, a developer out of Lincoln who had worked with Pete Dye at Firethorn Golf Club. Youngscap scoured western Nebraska for years looking for the right property on which to build a private club that would take advantage of the unique Peoria Loess geology. He came across a site outside Mullen that seemed perfect, except for one issue: The sellers required he purchase not just a couple hundred acres but 8,000.
The deal was completed in 1991. Course designers Bill Coore and Ben Crenshaw took a couple of years to explore the land, conjuring 130 "hole sites" in the process. Such a bounty created options, to be sure, but when Crenshaw and Coore decided on the 17th and 18th holes, the routing of the rest of the course fit in.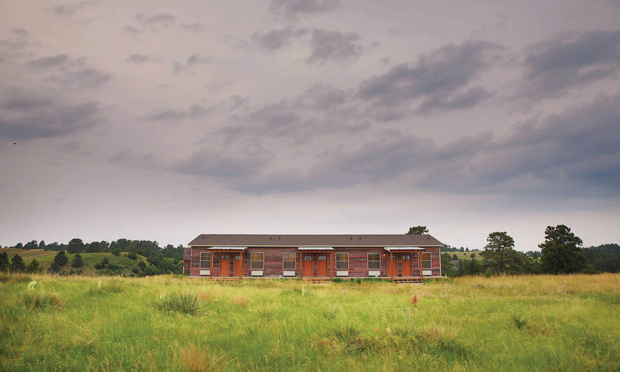 The private Sand Hills Golf Club opened in 1995 to stunning acclaim, and last year Golf Digest rated it No. 9 on its Top 100 in the world.
Sand Hills is open from mid-May to late September. More than half its members live outside the state. There's no towering clubhouse, just a building that looks like a three-bedroom home. Cabins house overnight members and guests. The club added a "member-member" tournament so people from various parts of the country could get acquainted.
Despite its expanse, Sand Hills is meant to be walked with a caddie, and in this aspect all Sandhills courses put the focus on conviviality, in part due to their remoteness. Getting in and out within a day can be difficult. These are clubs built for sport, food and drink shared with people from other parts of the country who become new friends.
---
AWARII DUNES GOLF CLUB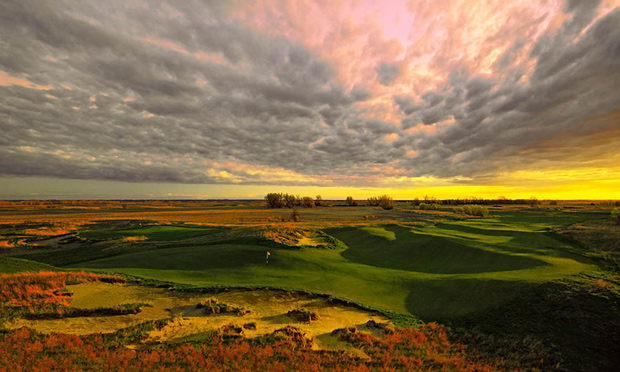 Axtell, Nebraska, seven miles south of Kearney awariidunes.com; 308-743-1111
Located five miles south of I-80, Awarii Dunes represents architect Jim Engh's fusion of Ireland and Heartland. He invoked a lot of Cairn, the famed Irish links course, and that means large dunes hiding tiered greens. That's right, blind approach shots. The polarizing elements that some-times define Engh's efforts don't predominate. Awarii means "wind blown" in Pawnee, and the T-1 bentgrass fairways spread wide to accommodate the gales. Miss the short grass and watch your ball auger into deep rough. Land in the sand and ground your club without penalty—the bunkers, which occur naturally and spontaneously, aren't considered hazards, so there aren't any rakes, either. Yes, the contours of some of the greens are wild, but Awarii isn't "tricked up" or "unfair." It's quirky and great fun.
WILD HORSE GOLF CLUB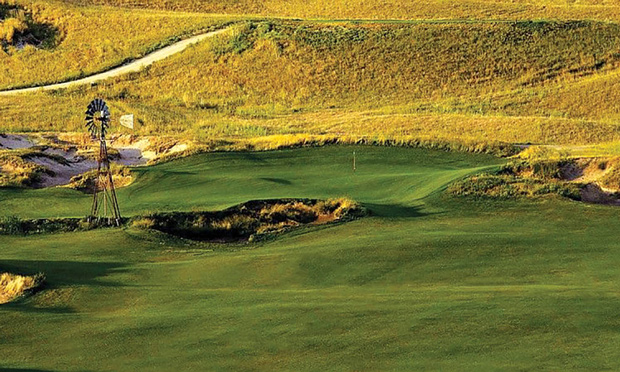 About three miles outside Gothenburg, Neb. playwildhorse.com; 308-537-7700
Dave Asland and Dan Proctor both worked at Sand Hills Golf Club before they created Wild Horse in the middle of the state. Hardly any course offers as friendly, fun and challenging round. Assistant Manager Robert Wehnes, who worked for more than 10 years at Riviera Country Club in Los Angeles, put it this way: "At Wild Horse, they don't ask you to replace your divots. There is no bottle of sand. The land is so rich the divots fill in quickly." Very easy to walk, Wild Horse doesn't have the deep, angry bunkering found on other Sandhills courses, but on the day I played, the USGA would have been proud to stage the U.S. Open on its greens—12 on the Stimp and as smooth as glass. Onsite cabins are available.
THE PRAIRIE CLUB

17 miles southeast of Valentine, Neb. theprairieclub.com; 888-402-1101
Founder Paul Schock said it best. It wasn't about building another course. It was about the "raw nature" of the land. Located 30 miles from the South Dakota state line, The Prairie Club offers two full 18-hole courses and a short course de-signed by Gil Hanse, all built around a high-end resort. Tom Lehman's Dunes course doesn't have a tree on it, save for a gnarly oak behind the second green. The sprawling layout features men-acing bunkers amidst fairways as wide as an eight- lane interstate. The green complexes are expansive, to say the least. Graham Marsh's Pines course ducks into patches of trees but inevitably to the dunes. It's a six-hour drive from Denver to The Prairie Club, where they hope you "golf, golf, eat, sleep. Repeat." Finding the course can be tricky, as the sign on the road is easy to miss, and then it's another two miles on a dirt road to the resort. Once on the property, your cart transports you from your simple, elegant cabin to the lodge, the courses and two large practice ranges.
DISMAL RIVER CLUB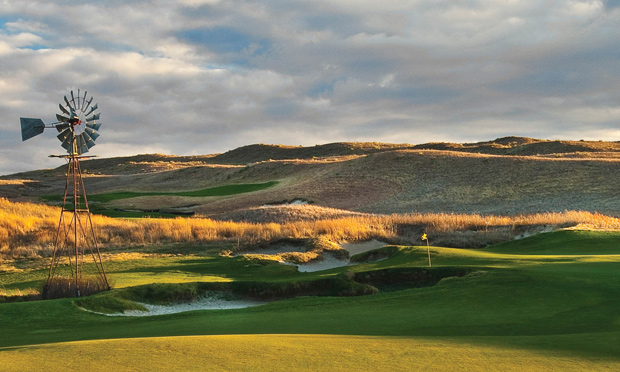 About 22 miles outside Mullen, Neb. dismalriver.com; 308-546-2900
Dismal River is about as remote as it gets—five hours from Omaha, about five from Denver. Off the two-lane highway south of Mullen, you follow a road barely wider than a sidewalk for 18 miles before you see the sign. Then it's another two miles on dirt to the resort. It's worth it. Another two-course resort, the White course by Jack Nicklaus is the original, more traditional of the two. Six years ago Tom Doak laid out the Red Course that's a mile-long bumpy cart ride on that dirt road. The Red Course winds through the dunes like an angry serpent before landing into a fairly tame hollow. A soothing finish for jangled nerves. Raw and menacing with flared-up bunkers topped by long natural grasses, Doak's design can be visually intimidating. Take it easy and move up. Tee spots are marked by stakes – red, white or blue. It helps to play with a member, as first-timers end up looking for the next tee. The remoteness makes this the true stay-and-play resort, and the large TV room and high-end restaurant in the lodge is perfect for hanging out and mingling. The cabins are elegantly rustic. And those who prefer, pheasant and elk hunting expeditions can be arranged when in season.
BALLYNEAL GOLF AND HUNT CLUB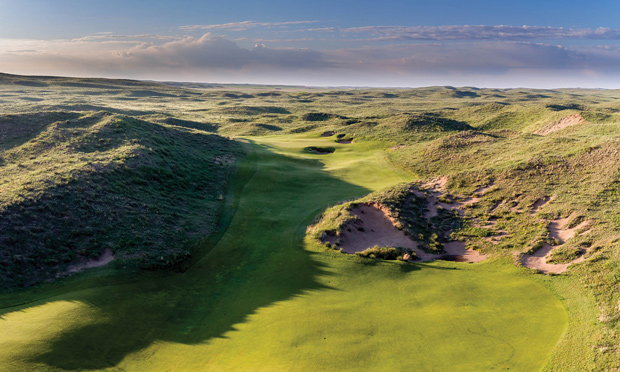 About 15 miles south of Holyoke Colo., three hours northeast of Denver ballyneal.com; 970-854-5900
Many golf aficionados consider this Tom Doak's masterpiece. The drive off I-76 takes you through corn and soybean fields as flat as a flounder. And then it all changes when you turn at a small sign onto a dirt road that takes you to this small private club set on a roiling landscape. It's golf-centric, to be sure. The golf shop, lodging and clubhouse ring a rollicking one-acre putting course called The Commons, which sports numerous drink holders. It leads to the first tee of the fescue fairways and greens that heave and churn like an angry ocean. From the tips, you're looking at 7,100 yards, but play the course at any length you prefer. You can't post a score because there are no hole ratings, therefore no course rating and no way to mea-sure it against other courses in the USGA's slope system. Play what feels comfortable. The caddie points and you slide your peg into the ground. And you need a caddie to know the shortcuts through the dunes and where to hit. Doak also designed the Mulligan course, a 12-hole par-3 layout that's perfect for later afternoon betting-and-beer contests—if you can find each hole. If not, the layout encourages you to create your own, which is great fun. The modern rooms are very comfortable. The intimate restaurant invites you to get to meet other pilgrims to this golf mecca. Guided upland bird hunting, skeet and trap shooting are also available on property. Though private, some outside play is allowed, so call ahead.
---
This article appears in the June 2018 issue of Colorado AvidGolfer, the state's leading resource for golf and the lifestyle that surrounds it, publishing eight issues annually and proudly delivering daily content via coloradoavidgolfer.com.