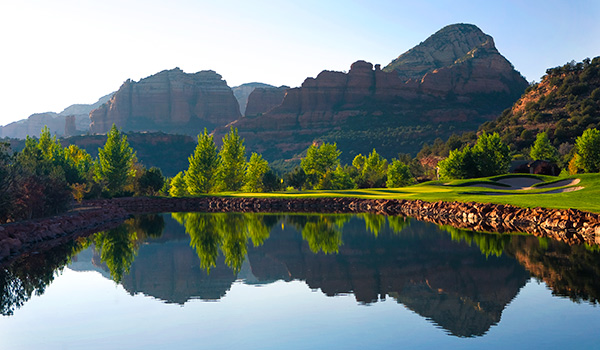 Some hidden gems await outside of Phoenix and Tucson.
By Ted Johnson
WITH ITS POPULATION of five million people, Phoenix ranks as the 10th largest metropolitan area in the United States. And though its climate and access to golf is hard to beat, there's still the region's traffic and congestion—which can mitigate the pleasure of a getaway trip to the Copper State.
Luckily, there are facilities outside the major population centers of Phoenix and Tucson that offer authentic Arizona golf experiences—without the bumper-to-bumper aggravation. Places where you'll find skies that seem to have a darker shade of turquoise, black nights dappled with a brighter, denser Milky Way, and lush fairways juxtaposed against desert brush, saguaro and boulders that are ever more vernal.
All facilities contacted here gave the impression they will be open for the foreseeable future and, as you will see, some have adapted well to golf amid a global pandemic. But with COVID-19 health protocols still in place, it's best to check ahead of time to inquire about course availability, as well as the number of people allowed in a traveling party—not to mention services like indoor dining.
SEDONA
Located about two hours north on Interstate 17 from Sky Harbor Airport, few places in the world offer a more stunning backdrop than Sedona's singularly beautiful birthmark—the red rock bluffs. Sitting like an island within the Coconino National Forest 17 miles west of central Sedona, the private Seven Canyons Golf Club provides an "IMAX" experience as every hole brings astounding views. Designed by Tom Weiskopf, this course is considered one of his most "player friendly" layouts—wide in fairway, greens not overly protected or tricky.
Challenging but fair, every direction has red rock scenery. As for a signature hole? All 18 could be signature holes.
You'll remember the 154-yard par-3 fifth hole because it was designed in homage to the Postage Stamp hole at Troon, where Weiskopf won the British Open, his only major champion- ship. From the high tee you can see miles into the distance.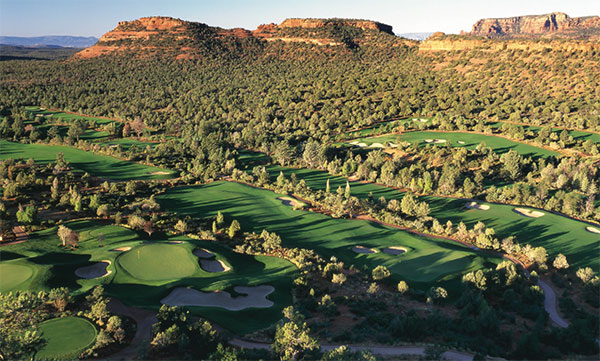 Access to this private enclave is available through various hotels in Sedona like the Enchantment Resort. It's best to check with the concierge at your place of stay to determine if tee times are possible and for prices, as they can vary per the hotel.
In central Sedona, Oak Creek Country Club, a semi-private course with a front-nine designed by famed architect Robert Trent Jones (and with a back nine later added and designed by son Robert Trent Jones II) also features those famous backdrops.
Classic Jones Sr. courses tend to feature par-4 holes whose landing areas are pinched down by fairway bunkers. His son added more of the same, though the back nine has more elevation changes. Lush fairways lined by trees offer a stark contrast to the sienna bluffs that grow deep- er red as the sun sets. This is the town's main public course and quite popular.
The Sedona Golf Resort on the east side of town is a friendly, beautiful layout whose par-3 seventh hole hangs on the bluffs to offer 180-degree view of the bluffs. This Gary Panks layout offers beauty and a good variety of holes— thought-provoking short par-4s, eye-popping par-3s. It is open to the public, and stay-and-play packages are available at the Hilton Resort at Bell Rock.
NORTH OF SCOTTSDALE
For those who seek an "Arizona desert golf experience," start with Quintero Golf Club. From Sky Harbor it can be an hour-long drive off I-17 to Route 74; the website asks guests to not depend on GPS to get there—you know it's remote when its location confuses satellites. It's best to call the resort for directions.
Opened 20 years ago with a course de-signed by Rees Jones (the other brother of the Jones golf architect family), Quintero offers "PGA TOUR playing surfaces," according to general manager Mike Poe. Despite being two decades old, this course defies the advancement of technology in golf equipment; distance isn't needed as much as savvy placement of tee shots in the fairway and knowledge of where the approach shot should end up on the green.
"We have to keep an eye on the greens," said Poe, whose course is rated among the best in the state, "because we're in the entertainment business, and greens too fast for most golfers doesn't translate into a fun time."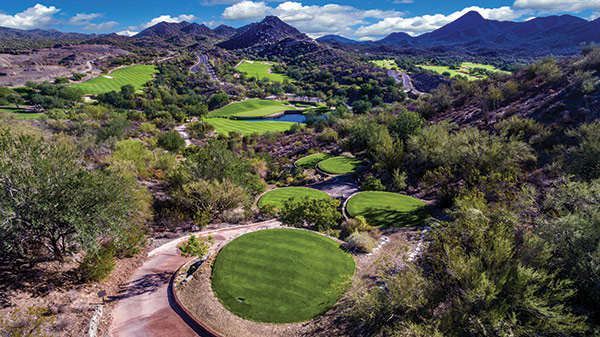 Quintero offers six furnished condos for rent and the grill at the golf shop will provide in-room meals, making it a one-stop shop. Food service doesn't stop there. Meals can be delivered to you on the course, too.
"Now, in these crazy times, I find I have a 350-acre restaurant," Poe said.
The property is rife with wildlife—roadrunners, javelinas, bobcat, deer, mountain lions, burros and, in the warmer months, those slithery things with rattles on their tails. Be careful.
About 30 miles northwest of Quintero is Wickenburg Ranch Golf Club. Slated to open in 2010, the housing crisis reduced construction of surrounding real estate to nothing, so the course remained unavailable for play, yet it was watered and mowed for five years before finally opening in 2015. It's been rated by one golf publication as the best place to play in the country.
The clubhouse came in 2017, the 9-hole a short time later. Big Wick can go as big as you want, more than 7,000 yards, but compresses down to 4,500 if need be. Fairways climb and bend on the desert hillsides, and the views from the 240-yard par-3 13th do take your mind off the intimidating tee shot that must carry water.
Wickenburg Ranch serves as a social center for the small town of the same name, and its three restaurants are all first-rate and available to visitors. Personally speaking, the Outpost at the Lil Wick nine is hard to beat.
For those who want a more traditional resort experience, the Wigwam in the town of Litchfield, west of Phoenix, more than meets the bill. Graced with three courses, a magnificent patio restaurant called Red's, and classic casita-style architecture, the Wigwam can't wiggle away from its charm.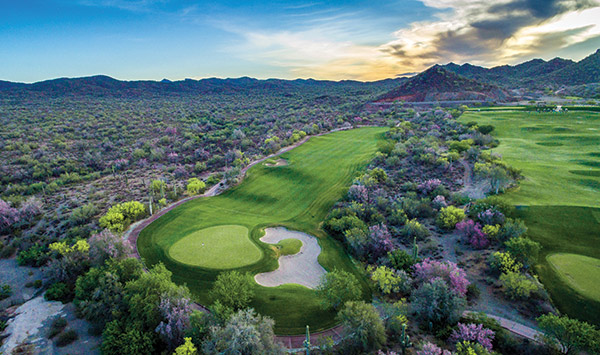 It opened in 1929 as part of the Goodyear Tire Company, which years earlier had discovered that cotton embedded in rubber increases the wear-life of its tires. Out came company execs to secure land to grow that cotton, and in time a resort developed. It suffered some waning years but in 2010, an investment group led by Jerry Colangelo, the sports executive who at one time owned the Phoenix Suns and Arizona Diamond- backs, purchased the property.
"It's a unique property," said Rob Myers, the president of the PM Public Relations group that represents the property, "in that it offers daily fee, resort and private member play."
Located on 440 acres that include 331 remodeled rooms, top-notch restaurants and, as expected, spa, the 7,300-yard Gold course, another Jones Sr. design that opened in 1965, hosts the Patriot All-American collegiate tournament every year. And the 6,000-yard Blue course and 6,800-yard Red course both offer first-rate experiences. It now ranks among the country's best resorts.
ORO VALLEY
Travel southeast from Sky Harbor on Interstate 10 about 100 miles and then turn east on Tangerine Road to find Oro Valley. Central Tucson is about 30 minutes south, but the golf in this region offers plenty of open space views of the Catalina Mountains.
The MountainView and The Preserve golf courses are part of the Saddlebrooke retirement community. Both offer excellent views of the mountains, and both find the layouts to be welcoming despite the rolling desert terrain and deep arroyos. You'll remember the par-3 sixth at The Preserve and its 80-foot vertical descent to the green.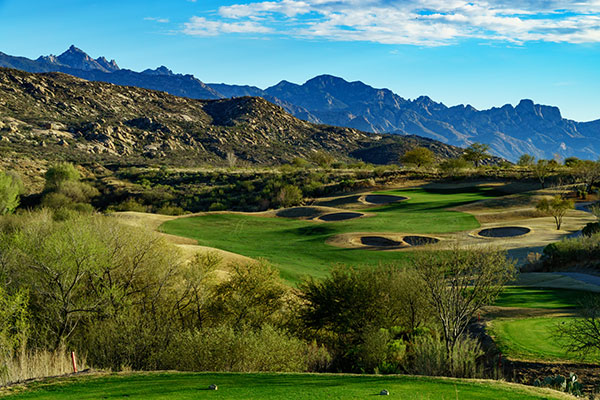 Moving a little closer to Tucson, you'll find El Conquistador Golf and its two courses, the Conquistador and Canada courses. As part of the Oro Valley Community Center, they offer afford- ability, public access and quality golf. Stay-and- play packages are available through the nearby Sheraton Resort, but many other accommodations are available along Oracle Road.
The Views Golf Club in the Rancho Vistoso community off Oracle Road has, at the risk of being redundant, more stunning sights amidst 18 holes of dramatic desert golf nestled against the Tortolita Mountains. Business is booming.
"We're just trying to keep up," said Director of Golf Rick Price. "We went up to 63,000 rounds last year, and we're ahead of that this year. We don't need to but we're just trying to accommodate and help people get through this."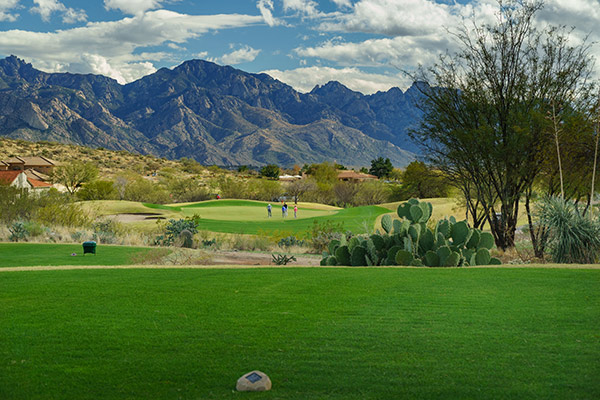 Finding the best of desert golf in Arizona in the time of COVID isn't difficult; no matter the health protocols and the social distancing, it is possible to experience excellence in some of nature's most dramatic settings.
In writing about golf for more than three decades, Ted Johnson has traveled the world to find the best courses, experiences that, due to a unique experience in Vung Tao, Vietnam, now led him always to carry toothpaste and a toothbrush in his golf bag.
---
This article was also featured in the Spring Issue of Colorado AvidGolfer.
Colorado AvidGolfer is the state's leading resource for golf and the lifestyle that surrounds it, publishing eight issues annually and proudly delivering daily content via coloradoavidgolfer.com.