George Solich

, Castle Pines Golf Club's new chairman and president, directs the rebirth of a great club.
By Jon Rizzi
Photography by Barry Staver
NO INDIVIDUAL in Colorado golf history was more closely identified with one club than Jack A. Vickers was with Castle Pines Golf Club, which he founded and presided over for nearly 40 years.
"For lack of a better word and without being trite, Castle Pines was his vision, his dream," says George H. Solich, the man who has succeeded Vickers—who died at age 93 last September—as the club's chairman and president.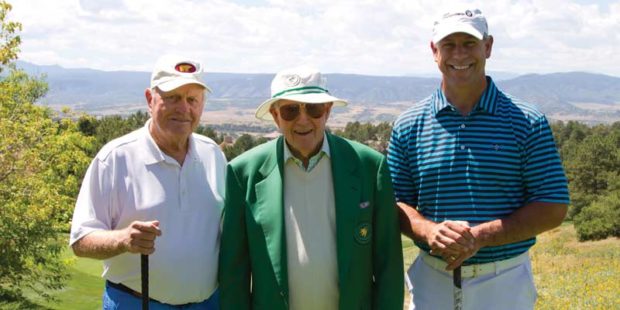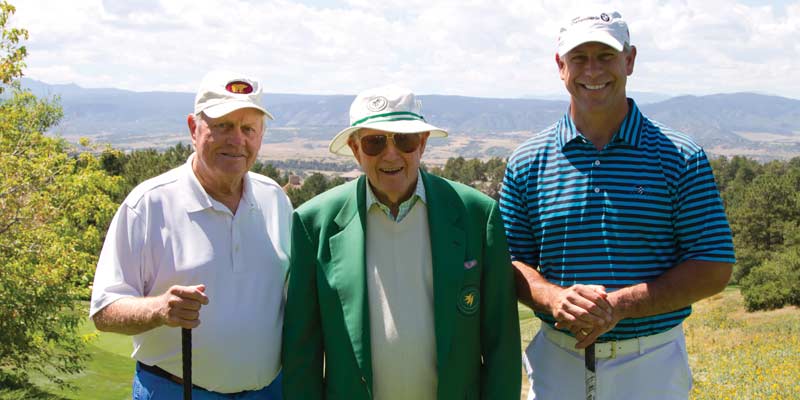 "There's no replacing Jack Vickers," Solich emphasizes. "He's a true legend, and I have no illusions that I'm walking in his shoes. He had a real vision for Castle Pines, and that was to be the best."
To be sure, there was nothing J.V. about Jack Vickers except his initials. He drew his inspiration from Augusta National Golf Club, one of more than a dozen clubs to which he belonged. He envisioned a Colorado version of Augusta—a warm and welcoming club with a prestigious national membership, a club that would radiate the same best-in-class level of golf, food, service and hospitality as the venerable home of the Masters.
Which is why, in 1979, he hired as course designer his longtime friend Jack Nicklaus, the 20th century's greatest golfer, whose majors victory total included a record five Masters. The spectacular course hosted its first round in October 1981, and by 1986, four months after Nicklaus won for the sixth and final time at Augusta, Vickers and his fellow green-jacketed Castle Pines members were congratulating the appropriately named Ken Green as the inaugural winner of The International.
Vickers saw to it that his tournament would distinguish itself from all others. He made it the first PGA TOUR event with a million-dollar purse, the only one to use a Modified Stableford scoring system and a must-play destination for the best golfers in the world for the next 20 years.
"Jack believes the best golf club is run by a dictator and not a committee," club member Pete Coors said in a video at Vickers'2009 induction into the Colorado Business Hall of Fame. "He is a benevolent dictator who everybody loves," echoed fellow member Charlie Gallagher.
That love extended well beyond the staff and membership. In 2014, the PGA TOUR honored Vickers with only the 11th Lifetime Achievement Award in its history, and only the third (after Pete Dye and George H.W. Bush) given to a non-player. His funeral this past October at St. Thomas More Catholic Parish marked the first and only time Castle Pines allowed its members to wear their iconic hummingbird-crested emerald blazers off club premises.
THE COURSE COMES FIRST
"We're still guided by Jack's vision of being the best," Solich says, "and I view that as a great honor and a great responsibility. Castle Pines has been around for forty years, so what we're intending to do is honor the past and shape the future for the next forty."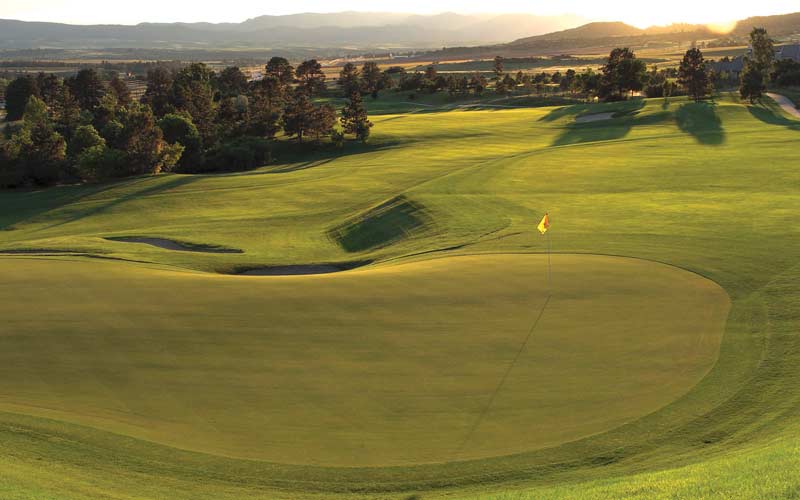 That starts with work on the golf course. "We can build all the fancy rooms we want in the clubhouse," Solich explains, "but the golf course has to lead us to be the best."
In the summer of 2015, Nicklaus, Vickers and General Manager Keith Schneider toured the property—as they did during the course's initial construction. "They were going to redo the greens, so we went to see if there was anything we could do to improve the course," Nicklaus says. The design changes mainly affected holes 2, 5, 6, 8, 9, 12, 13 and 16, with new green complexes on 5, 8 and 16; the addition and elimination of numerous bunkers; the re-contouring of slopes surrounding the greens; and the addition of cascading ponds on 16 similar to those on 11.
"The golf course has to be the golf course it was," Solich says, referring to its days as a PGA TOUR venue (Golf Digest, which ranked it as high as 28th in the country, now puts it at 48th). "We're certainly getting there. We've spent a tremendous amount of capital on the golf course, and we're working with Jack on tee boxes that will take the course to nearly 8,000 yards long. They're not tee boxes that would dramatically change the design of the hole. They really fit very well. Keith Schneider and I have walked them all, and when Jack comes back out again this August, we're going to finalize them."
Guided by Jack Vickers' vision, Solich clearly wants to bring championship golf back to Castle Pines. "Jack didn't want to have a senior or amateur event here. Jack wanted the PGA TOUR here. That's the way the golf course was designed, and we're certainly working to make sure it continues to be a challenging golf course for the PGA TOUR players."
A logical event is the BMW Championship. Solich had "a great experience" working with the PGA TOUR as general chairman of the 2014 BMW at Cherry Hills Country Club, where he is also a member. Originally known as the Western Open, the BMW Championship is the second-oldest professional tournament in the U.S. and the signature fundraising benefit for the Evans Scholars Foundation. Solich—a former caddie, Evans Scholar and an active member of the Board of Directors of the Western Golf Association/ Evans Scholars Foundation—played a critical role in bringing the event to Colorado.
Could he do it again for Castle Pines? "I think it would be a really great fit here," he says. "And I think there are a few others that think it would be a great fit here too, including Jack Nicklaus, and he's very supportive of us trying to find the right tournament. It will need to be one of great prestige and the highest quality we can find. We're not thinking second-tier anything, we want to host a tournament that puts Castle Pines back on the map as one of the best stops on the PGA TOUR. …We don't expect that we'll host an event every year again, but we think it's a tremendous opportunity every three to five or even ten years."
THE CLUBHOUSE TURN
Jack Nicklaus's aforementioned August visit will be his sixth in the last four years. On one of those visits, in August of 2016, he told Schneider, "I've been to every great golf club in the world, and Castle Pines has the greatest golf-club feel of anywhere I've ever been."
"He sat right here on this patio and said that," Solich relates, referring not to the glorious clubhouse patio overlooking Castle Pines' uphill 18th hole but to the patio of a beautifully appointed cottage bordering the first fairway.
We're in the cottage because the clubhouse—known for its magnificent locker room and dining area, iconic tower, and spectacular 70-mile views—is undergoing a massive renovation. "Every square foot will be touched," Schneider says of the project that's "been in the works for two years" but really began in earnest at the end of last season. "And we are adding 10,000 square feet."
The extra space will accommodate a dedicated fitness area—relocated from one of the cottages—and spa with treatment rooms and a cold plunge, a wine cave and an enlarged terrace area.
"We're making the fitness area much more of a centerpiece of the club and clubhouse," Solich explains. "And we're building some programming around it." With nearly 60 percent of members traveling from out of state, they come to Castle Pines as a destination, and would prefer to stay at the club for fitness and spa.
"The character of the club will not change," Solich assures. "Jack Vickers had a great eye for architecture, and really picked a tremendous design for the clubhouse. The lines, the character and the beauty of the architecture are all in our favor, but it needs updating— in keeping with Jack's vision to be the best. The architecture of the 1980s was very chopped up on the inside, so we're opening it up, creating a better flow and exposing it more to the great outdoors."
A new elevator will deliver riders to the top of the clocktower, rewarding them with spectacular views of the Front Range. "It wasn't exactly a destination spot before," laughs Solich, noting the space formerly housed mainly communications equipment.
"We're really moving into a time of rebirth of this great club," he says. "I think there are a lot of energized members and energized staff. I think we all have this sense of responsibility around what Jack and the Founders built. Jack's drive to be the best, and his attention to detail to build quality at every turn, was the stuff of legend."
Solich praises club CFO Mike MacAdams and GM Schneider and his son, Assistant GM Drew Schneider, for their daily engagement on the project, and club member Larry Mueller, the founder of Cuvée, a Denver-based real estate private-equity firm and luxury villa rental company, who oversees the design and construction management. The club has also hired "a designer and another project manager who has worked extensively at Augusta National over the last ten years."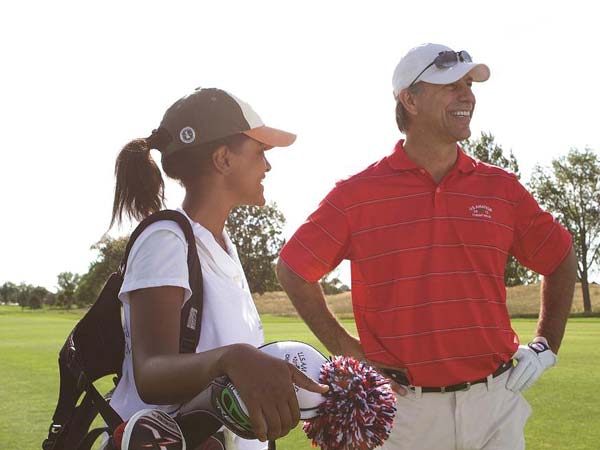 GE Johnson Construction is the general contractor on the 44,000-square-foot structure, which is slated to open later this summer.
WHY HIM?
"Having the right people on the job means we're going to have the right outcome," says Solich. He could very well apply that sentiment to himself.
A driven, charming and charismatic self-made businessman with a deep appreciation for the opportunities golf afforded him, Solich is the right man to lead Castle Pines. Yes, he has his experience with the PGA TOUR, but an almost congenital connection to Jack Vickers and his vision for Castle Pines to be the best in everything encompasses and surpasses that.
Although he came from a working-class family in Colorado Springs and Vickers was the son to oil-rich parents from Wichita, Solich has much in common with the legend he's following.
For one, both had four brothers. For another, Vickers was born in Colorado Springs while his parents vacationed at The Broadmoor in 1925. Fifty years later, young George Solich worked as a caddie at The Broadmoor, a job that would help him realize his goal of earning an Evans Caddie Scholarship to the University of Colorado. He once looped for Jack Vickers, "who was great to be with, a gentleman and a really good player," Solich remembers. "I didn't really know who he was or what he meant to golf, but he certainly made an impression."
The young caddie would experience firsthand what Vickers meant to golf early in his junior year at CU, when he and 19 other Evans Scholars were asked to travel from Boulder to caddie at the inaugural playing of the eagerly anticipated Nicklaus-designed layout at Vickers' Castle Pines Golf Club.
Like Vickers, Solich, who's president and CEO of FourPoint Energy and LongPoint Minerals, made his money in the oil and gas business, and also like Vickers, his wealth has enabled exceptional philanthropy.
The Jack A. Vickers Foundation and The International Charities donated throughout the years to hundreds of worthy causes, including, most notably, the Boys & Girls Clubs of Denver, where his legacy lives on through the recently constructed Jack A. Vickers Boys & Girls Club in northeast Park Hill.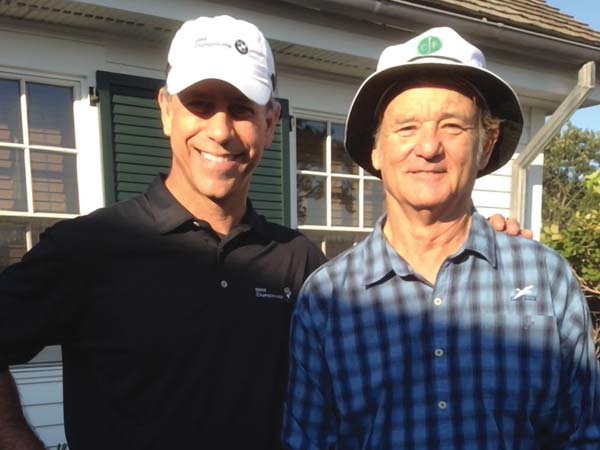 Chief among Solich's many causes are caddie-based programs. As mentioned earlier, he sits on the Board of Directors of the Western Golf Association/ Evans Scholars Foundation. He also started the Colorado Golf Foundation, and, most notably, co-founded with his brother Geoff at CommonGround Golf Course in Aurora in 2012 the nationally recognized Solich Caddie and Leadership Academy, which now has three Colorado chapters and has produced 19 Evans Scholars. (He also helped finance producer Jim Packer's upcoming Loopers, a documentary about caddies narrated by Bill Murray, whom he met at the Gardner Heidrick Pro Am at Conway Farms Golf Club near Chicago to kick off the 2015 BMW Championship.)
"A great golf club has to have a great caddie program—period," he has said. Castle Pines does, as do Cherry Hills and The Broadmoor, where he's also a member.
For all his talk of "greatness," George Solich remains approachable and confidently humble, much like the "lovable dictator" who preceded him. He assumed the leadership of Castle Pines at the age of 57, roughly the same age as Vickers when he started the club, and was invited to join Castle Pines at age 43; Vickers was 41 when Augusta National came calling.
Last November, a few weeks after accepting the presidency and chairmanship of Castle Pines, Solich visited Augusta National for the first time since Vickers had passed away.
"I'd been to Augusta a half-dozen times, but this time I looked at it thinking about Jack Vickers," he says. "As I walked around, I could actually see how Augusta inspired a lot of what Jack did at Castle Pines. What a wonderful legacy and history we have to build upon. That's the way I look at it, building upon this great Picasso of golf."
---
This article appeared in the 2019 April issue of Colorado AvidGolfer.
Colorado AvidGolfer Magazine is the state's leading resource for golf and the lifestyle that surrounds it, publishing eight issues annually and proudly delivering daily content via coloradoavidgolfer.com.
Follow us on Twitter, Facebook and Instagram.