That's the Ticket!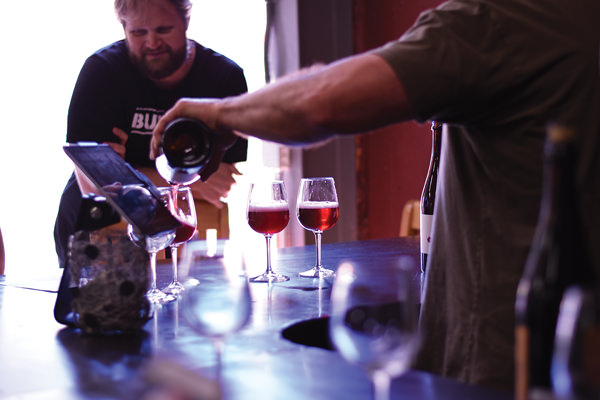 Only prepaid patrons get to enjoy the artisanal lambics at Casey Brewing & Blending in Glenwood Springs—and the payoff is well worth it.
By Cody Gabbard
---
World-renowned for their uniquely tart, sour and refreshing characteristics, the beers of Belgium's Pajottenland—known as lambiek, or lambics—result from the Old World techniques of spontaneous fermentation and blending. Much like wine, these beers represent the area in which they are brewed, incorporating the local terroir in the form of local fruits and airborne yeasts.
To create gueuze, a type of lambic, brewers blend beers of varying ages (typically of one, two and three years) to achieve a level of complexity not found in single vintages. Fruited lambics such as kriek (made with cherries) and framboise (made with raspberries) undergo a second fermentation on top of fruit.
In the past decade, a handful of American breweries have taken the notion of the locally brewed lambic to similar levels, devoting themselves solely to wild-fermented beers made with indigenous ingredients. One of those, Troy Casey of Casey Brewing and Blending in Glenwood Springs, has merged some of these Old World traditions with New World science.
Situated above the Roaring Fork River in a nondescript warehouse a few miles from downtown Glenwood Springs, Casey's doesn't resemble your typical brewery. There's no sweet, bready aroma mixed with the astringency of sanitizing solution; rather, it smells more like a wine cellar, with oak and over-ripe fruit perfuming the air. Instead of towering, stainless steel equipment, rows of stacked barrels—each with its own patina of liquid stains and aged wood—line the facility. In lieu of a metal bar encircled by television screens or hipster graffiti, Casey has a single 15- to 20-seat bar lined with 22-ounce cork-and-caged bottles instead of taps. Patrons, who have to book online in advance, pace in anticipation for their allotted pours.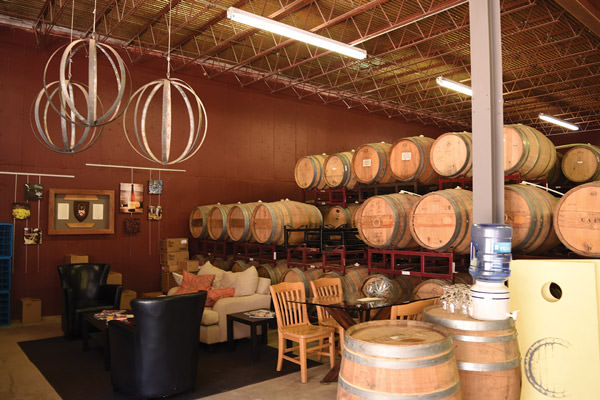 What may seem like an unnecessary process to get a beer is due to the high demand at Casey, which RateBeer.com ranked as the best new brewer in the world for 2015. When the place initially opened, lines of curious beer buffs snaked out the door, with many of them turned away when supply ran out.
The ticketing system guarantees that everyone gets to taste the beer and nobody has to queue up. Another advantage is the group gets to participate in a shared experience. These are not beers to gulp down, but to be savored and discussed. Once all members of the group have had the chance to sample the handful of beers that come with a ticket, it's common for individuals to buy bottles—despite price tags that range from about $15 to upwards of $35 for rarer vintages—and share amongst the group.
It might seem paradoxical that intricate, small-batch brewer Troy Casey spent his formative years at MillerCoors. But he arrived soon after the giant brewery had started its craft-centric project, AC Golden, and found his niche in the sour beer program. Credited with much of their success in developing these beers, he struck out on his own and founded Casey Brewing and Blending in 2013.
For a majority of the beers, Casey uses two base recipes, Saison and Oak Theory. The wort (unfermented beer) is brewed at a nearby brewery and then brought to Casey, where it's aged and blended, often with fruit at a rate of one to two pounds per gallon.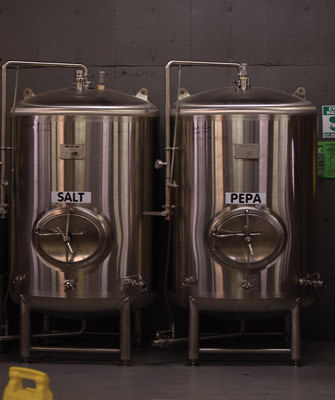 Where the Old World meets the New is in the laboratory. Casey holds an undergrad degree in chemistry as well as an advanced degree from University of California, Davis, an incubator for burgeoning brewers. Armed with this knowledge, he has managed to isolate a house blend of yeast and bacteria to inoculate his beers. Where Belgian lambic producers rely on the microflora resident in their breweries to spontaneously ferment their beers, Casey uses his selected strains in order to better predict the results of his blends. He still plans on someday adding a coolship (an open vessel used to cool wort naturally and simultaneously inoculate wort from airborne yeast and bacteria) to the brewery for the purpose of replicating the lambics of Europe.
All of the fruit comes from local farms and 99 percent of the ingredients are from Colorado, with the one percent comprised of specialty hops from New Zealand and Europe. Like wine vintages, the beers may vary by season depending on the fruit and wild yeast. However, the quality and bold flavors are undeniably consistent.
Casey's beers are moderately tart rather than bracingly sour. The fruited blends are indeed very fruit forward, but not sweet. They finish dry with a surprising amount of body for beers that hover around 6-7% alcohol. They boast an earthiness you don't get from other fruit-forward beers, with the entire fruit showcased from tannic skin to rich, juicy flavor. The beers are sporadically available out-side of the brewery at select stores, but a trip to Glenwood Springs is best for the uninitiated. Just be sure to visit the website first.
---
This article appears in the June 2017 issue of Colorado AvidGolfer. Subscribe today!
Colorado AvidGolfer is the state's leading resource for golf and the lifestyle that surrounds it, publishing eight issues annually and proudly delivering daily content via coloradoavidgolfer.com. Follow us on Twitter, Facebook and Instagram.