Changes keep coming to Utah's colorful corner.
By JON RIZZI
ON A SUNNY November day, golf-course architect David McLay-Kidd flew his Cirrus SR22T to the southwestern corner of Utah to check the progress of his $7 million golf-course renovation at the Entrada at Snow Canyon Country Club in St. George. Had all gone according to the original plan, he'd have already presided over the grand reopening in September, but pandemic-related delays in construction pushed the ribbon-cutting to next April.
So, in addition to a status update, McLay-Kidd's visit also entailed a Q&A with members of the private club. He followed it with a golf cart tour of the front nine in which the celebrated creator of Bandon Dunes would describe the inspiration behind the modifications he'd made to 25-year-old layout de- signed by Johnny Miller and Fred Bliss to give players more options.
"When a hole offers options on how to play it, the game becomes so much more interesting," McLay-Kidd said. "We want to increase those options at Entrada, allowing players to use their imagination, creativity and skills to play holes and attempt to score. Options might manifest themselves with a strong player trying to hit a high approach with backspin, while another might use guile to read a slope and play a running shot into the same green. Neither approach is better or worse if the result is the same, but it sure is more fun to have the option."
More options mean more teeing areas, more strategy, more chances to recover from poor shots, more accessible approaches and hole locations. More fun—a word players should use to describe a golf course that snakes through an electrifying landscape of red sand-stone cliffs, rolling dunes, black lava beds and rugged arroyos.
"It's a combination of Sedona and Kona— the best of both worlds," course architect Phil Smith says.
Smith, however, doesn't work with McLay-Kidd; he works with Tom Weiskopf, and they are creating a golf course called Black Desert on equally dramatic terrain less than a mile from Snow Canyon Country Club.
Both projects happen to involve Arizona- based Troon Golf as management company and members of its design, development and agronomy team. Beyond that, however, "there's no relationship or reciprocity between the projects," says Jared Lucero, the president and CEO of Utah-based Reef Capital Partners, whose subsidiary, Stillwater Equity Partners, purchased the 602 remaining acres in Entrada for the Black Desert project.
Stillwater's plans run deep: a 2,500-home resort community anchored by a 150-room hotel with 300 rental residences and a smorgasbord of world-class amenities—the first of which will be a golf course that will incorporate tons of jagged a'a and outcroppings along its wide fairways.
Whereas Entrada at Snow Canyon Country Club only allows outside play by guests of the posh Inn at Entrada, Black Desert will be a high-end daily-fee resort course. Plans call for it to open by this time next year, and when it does, it will add yet another reason to head to a region that Lucero, a native Utahan, calls "the Palm Springs of Utah."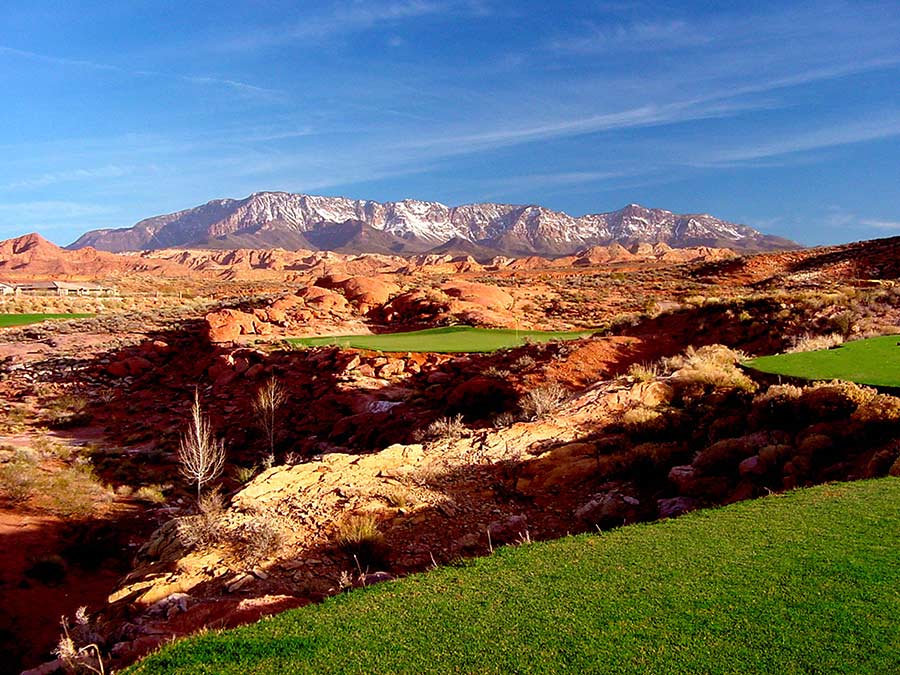 A GOLFER'S ZION
Known as "Greater Zion" because of its proximity to the world-famous national park, the St. George area is hardly a secret, especially among retirees. But in an area where the Mojave Desert, Colorado Plateau and the Great Basin converge, now so do golfers, hikers, bikers, triathletes (St. George will host the 2022 IRONMAN 70.3 North American Champion- ship in May) and other outdoor enthusiasts.
Many of them like it so much, they never leave. In the last decade, the population of Washington County—which comprises Zion National Park, St. George, and state parks like Sand Hollow and Snow Canyon, the Red Cliffs National Conservation area and the most magnificent Pine Valley this side of Philadelphia—has grown by 30.5 percent, from 138,115 to 180,239. That makes the 2,430-square-mile area the fastest-growing county in the nation's fastest-growing state. The same period saw Utah's population jump 18.4 percent—from 2,763,885 to 3,271,616.
The swarm of transplants to the Beehive State means more golfers and more places to put them. The Greater Zion area currently boasts 13 courses, which complement the eight that lie 40 minutes and one time zone away in Mesquite, Nev. (See "Info to Go" on page 56.)
Worth playing on the Utah side of the border is Coral Canyon, a magnificently situated and fittingly named Keith Foster designed layout in the town of Washington that has benefited from a recent management change. Golf Digest ranked The Ledges Golf Course—a Matt Dye design offering 360-degree views from its perch 900 feet above St. George—as one of the top 10 new public courses of 2007, the year before the 48-year-old nephew of architect Pete Dye succumbed to cancer. The gloriously long views make up for the somewhat short length of the 6,450-yard Jeff Hardin-designed Sky Mountain Golf Course in Hurricane.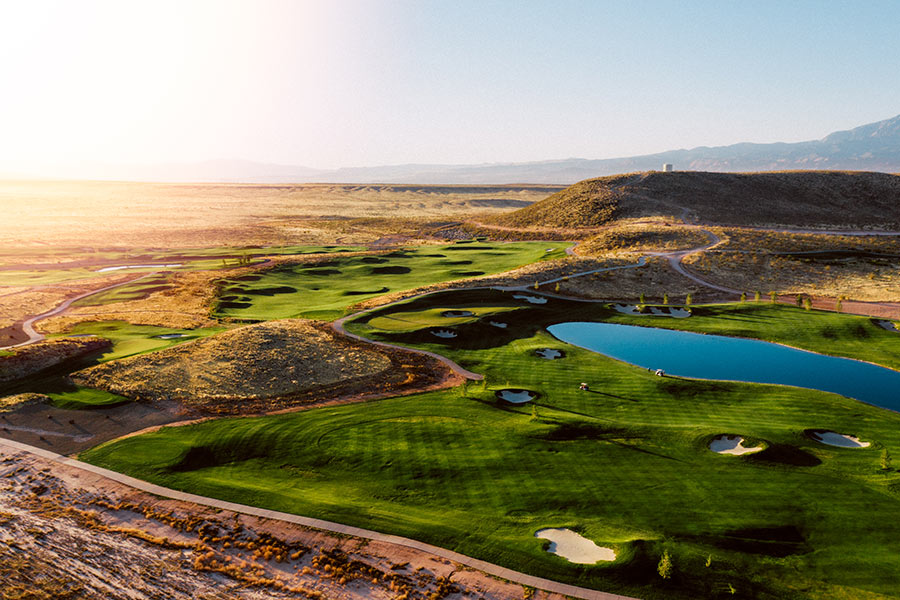 HURRICANE SEASON
The town of Hurricane (locally pronounced "Her-ah-kun") is roughly 20 minutes east of St. George and 450 miles from any ocean, meaning it has never experienced an actual hurricane—although two of Hurricane's public courses do regularly blow golfers away
The first—both here and on national "Best in State" lists for more than a decade—is Sand Hollow Golf Resort. Designed by John Fought and Andy Staples, the 7,300-yard Championship Course's front nine brilliantly winds around the red-rock outcroppings, natural arroyo and desert vegetation, its undulant emerald fairways punctuated by indigenous red sand bunkers. The back nine brings a wild ride along ledges and ridgelines, rewarding you with shot values that are every bit as fine as the views of Zion National Park to the east, and the Red Cliffs framed by the snow-capped Pine Valley Mountain to the northwest.
In addition to the course that annually tests the pros at the Sand Hollow Open, the resort delights guests (and their families) with its 3,600-yard, par-36 Links Course, which features some of the widest fairways and largest greens you'll ever encounter, and a nine- hole "Wee Course," where players of all ages can pitch, chip and putt on holes measuring 50-120 yards. Fun!
Of a piece with its red-rock surroundings, Sand Hollow's award-winning clubhouse serves breakfast, lunch and dinner with views from the deck into Zion National Park. Lodging consists of six types of foursome-friendly suites, spacious villas and luxury homes, with amenities including two swimming pools and access to equipment rentals for boating, bass fishing, biking, four-wheeling and hiking at nearby Sand Hollow Reservoir, Snow Canyon State Park and Sand Mountain Dunes.
Hurricane's other star, Copper Rock Golf Course, opened in 2020 on the other side of the reservoir from Sand Hollow Resort. Designed by Dale Beddo, the 6,823-yard par-72 layout offers stunning copper cliffs, sweeping desert vistas and the "Auld Sod" touches of fescue-covered fairway berms, winsome double greens (including one shared by the 9th and 18th) and even a "Valley of Sin" hole.
Wide landing areas for tee shots accommodate the stiff winds. Copper Rock—whose head PGA Professional H. Myatt Green, Jr. is the son of the late World Golf Hall of Fame member Hubert Green—will host its second Symetra Tour championship in April. Part of a 950-acre master-planned residential development that will include a hotel, Copper Rock currently offers sweet fairway-home rentals that can accommodate large groups.
ENTRADA YADA YADA
Copper Rock aspires to join Sand Hollow among the top golf resorts in the U.S. At Entrada in St. George, Black Desert Resort shares that ambition, with plans for retail, a world-class spa, family amenities and activities well underway. The resort already reports more than 1,000 reservation presales.
Among the attractions at Black Desert will be "the coolest thing I've ever designed in my life," Smith says, describing a 68,000-square-foot putting course featuring boulders, black lava, LED-illuminated holes and lights positioned to reveal the contours of the green at night.
It sounds like a blast. While there may not be any official reciprocity between Black Desert and its neighbor at Snow Canyon, the former's presence certainly appears to have influenced the latter's decision to have McLay- Kidd modernize its course into a more accessible, appealing and "fun" experience.
And those kinds of experiences are what keep people coming back—to courses, to golf and to this spectacular part of the world.
INFO TO GO
United Express has two direct flights daily to and from Denver and St. George. McCarran Inter- national Airport in Las Vegas—a two-hour drive away—presents more options. Plus, you pass through the golf and gaming mecca of Mesquite, Nev., less than 30 miles from St. George. For Mesquite golf and lodging options, visit golfmesquitenevada.com and golfingmesquite.com.
For information on all golf courses, lodging and activities in the Greater Zion area, visit the omnibus greaterzion.com. For information on Black Desert Resort, visit blackdesertresort.com.
Jon Rizzi is the founding editor of Colorado AvidGolfer.
---
This article was also featured in the Winter 2021 Issue of Colorado AvidGolfer.
Colorado AvidGolfer is the state's leading resource for golf and the lifestyle that surrounds it, publishing eight issues annually and proudly delivering daily content via coloradoavidgolfer.com.