Sqairz is the new golf shoe with a square toe. Its creator believes it can make you a much better golfer.
By Tony Dear
It's 23 years since Bob Winskowicz left the King's employ but, perhaps not surprisingly, the former Senior VP of Sales and Marketing for the Arnold Palmer Golf Company still remembers his meetings with the boss fondly. "Working for Mr. Palmer was everything you'd expect it to be," he says. "We'd meet every quarter for a lunch or dinner to discuss strategy, financial reports, marketing initiatives and product development. It was business, but Mr. Palmer always kept it comfortable and relaxed."
Winskowicz was particularly active on the company's successful PhD Irons which launched in 1995 and were designed by Clay Long. They featured a wing, or flange, on the back side of the hosel designed to reduce clubface twisting on off-center hits. Palmer liked them because they helped the mid-high handicapper enjoy the game more. "Mr. Palmer was all about the helping the average golfer," says Winskowicz. "Before we advanced with any product, he'd always ask 'how does that help the golfer?'."
Since the mid-90s, the native New Englander has worked at a start-up (he started it) golf tech company that develops color-change and energy conversion chemistry solutions for consumer, industrial and military customers; founded another company developing, patenting and licensing technologies to golf OEMs; and served as the CEO of a medical device manufacturer (he didn't start this one).
For the past two and a bit years though, Winskowicz has been committed to the development, manufacture and marketing of a slightly weird-looking golf shoe called Sqairz (pronounced "Squares")–and yes, it was his idea. He founded the company.
Sqairz are "slightly weird-looking" because the toe is square, as in not curved like pretty much every other type of athletic shoe. Winskowicz can explain the benefits in a moment, but first, how did he get the idea?

In 2011, he was a guest at a private club and, upon arrival, sauntered out to the practice range to greet his host. He began hitting a few wedges while still in his square-toed street shoes. "After a few shots, I became aware of how accurately I was hitting them," he remembers. "It was remarkable how straight each shot was, and it occurred to me it must have something to do with my shoes. The square toes were helping me square up to the ball, and I felt more balanced and stable."
Winskowicz was pretty excited, and wasted no time in applying for a patent. Having worked in the golf industry on and off for over a quarter of a century, he knew his way around the process, and his patent was duly granted in 2013. Winskowicz sat on it for a while as he steered Sterilis, the medical device manufacturer which created a remediation machine cutting the volume of medical waste by 80%, from launch to security. By late 2017, however, he was ready to plough headlong into Sqairz. His first move  was to hire some serious design talent. "A number of athletic shoe companies are based in the northeast, so I was quickly able to hire two very accomplished designers–Jonathan Morris and Joe Napurano–who had made shoes for top athletes including Shaquille O'Neal, Shawn Kemp, Wimbledon champions, soccer players, cross-fit trainers, you name it."
Winskowicz also bought in Jonathan Bacon as Director of Footwear Design. Bacon had spent 12 years at FootJoy and ten at Puma, Reebok and New Balance before that. With the design side in capable hands, Winskowicz looked to golf industry veterans for administration, managerial and marketing expertise and added past PGA of America President Jim Remy to the staff along with respected tournament director Eddie Carbone, and Golf Channel executive David Curran. "I'd been in the business for a long time, and had made many friends in the industry," says Winskowicz. "I was able to count on some key people coming on board. We now have a very strong team."
As the designers got to work developing Winskowicz's original concept, it started to become clear the alignment-improving square toe wasn't going to be the only benefit to golfers. "The main goal was creating the square toe," says Bacon. "But in doing so, we discovered the shoe's base was actually 2mm wider than any other shoe we tested it against. A wider shoe prevents the toes angling inwards, giving room for the whole foot to lie naturally flat, creating a better connection with the ground. That means better stability, and it also allows the toes a greater range of motion. It was a serendipitous discovery."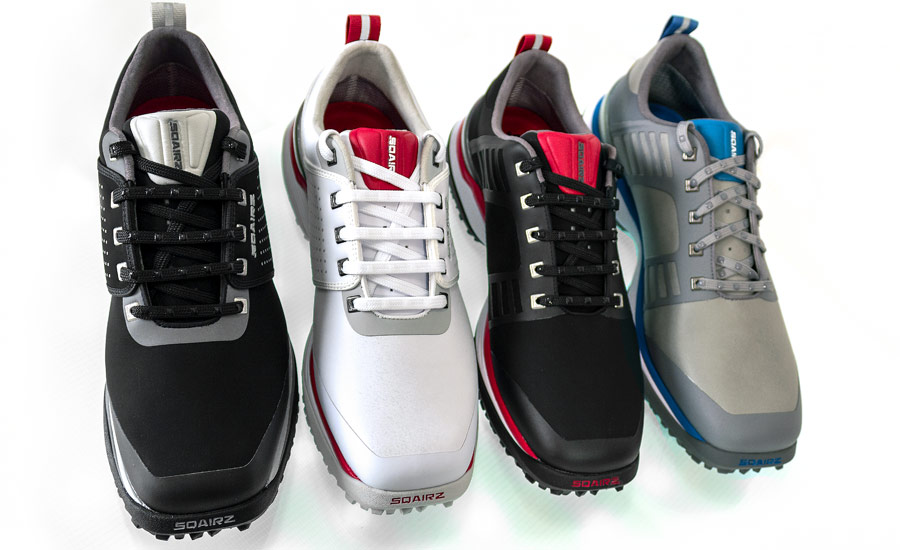 The designers added a number of other features: Sta-Put Laces–laces with small, raised nubs positioned every 2cm or so to ensure the lace remains in place throughout the round preventing you from having to re-lace at any point. The synthetic leather uppers are waterproof; the heel stabilizer centers the foot to promote better biomechanics; a reinforced pull-tab was added at the back; the ankle and tongue feature extra padding; the circular traction lug is designed for the proper rotational movement of the feet; and the four red cleats (there are six in all) are positioned directly beneath the typical golfer's main pressure points ensuring a more solid connection to the ground. "And the insole is slightly thicker in these areas to improve comfort," adds Winskowicz.
The result is a shoe the makers believe should be considered equipment rather than an accessory or gear. "Yes, they are comfortable and stable, and provide traction like any good golf shoe," says Winskowicz. "But they're just that little bit more comfortable and extra stable, and they have the added benefit of helping you square up to every shot."
That all sounds pretty appealing, but won't the unconventional look of the shoe put people off? "I don't think so," says Winskowicz. "I'm not at all concerned that it looks drastically different. Think of all the successful products in the past that contrasted strongly from what was considered conventional at the time–Ping Anser, metal-headed drivers, oversize irons, Fat Shaft, Bubble Shaft, fat putter grips, etc. Of course, if the product doesn't perform measurably better than the competition then consumers aren't going to be interested. But when people learn about the tech involved, we're confident they'll not only try Sqairz but be pleasantly surprised and impressed when they do. This shoe has been designed to make them a better golfer."
Arnold Palmer definitely would have approved.
$200
Colors: black with grey, black with red, white with red, grey with blue
sqairz.com
Colorado AvidGolfer says:
Testing the Sqairz properly has been tough given that we can't play golf, but I've certainly been wearing them around the house and swinging a club out in the backyard and can confirm what Winskowicz says is true. I've not played with my buddies since the shoes arrived so haven't had any grief over how they look, but I got over it very quickly–they're really not that weird. And yes, they are Comfortable with a capital C.
In swinging a club, I do get the sense my foot is flatter and not curled up towards the toe. It's a pleasant feeling. I can't say yet if it's a confidence-boosting feeling, but I suspect it might be. More to come.
---
For more on the latest and greatest gear in golf, visit our GEAR PAGE.
Colorado AvidGolfer Magazine is the state's leading resource for golf and the lifestyle that surrounds it, publishing eight issues annually and proudly delivering daily content via coloradoavidgolfer.com.