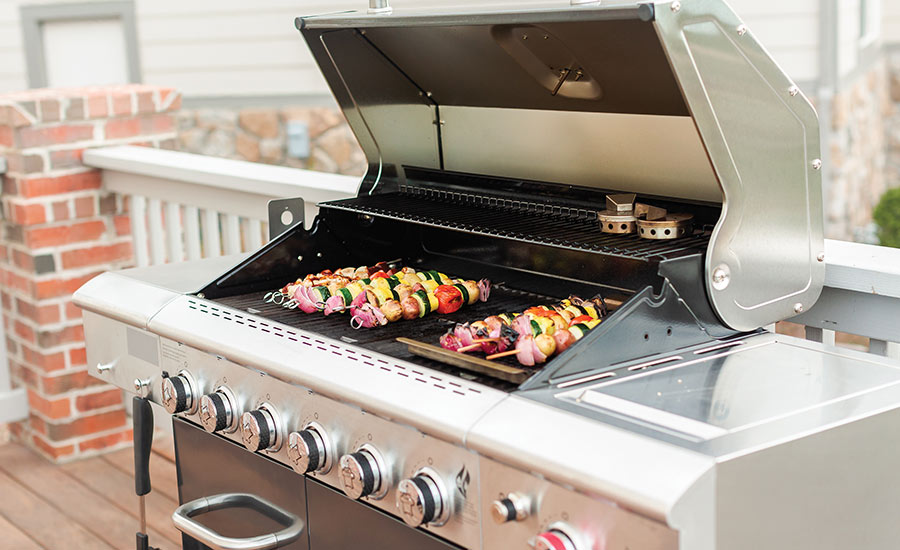 Easy hacks infuse a little more oomph into summer backyard fare.
By John Lehndorff
WE ALL HAVE those helpful neighbors. You know the type–eager to share their expertise about literally everything, especially your barbecue. Consider this recent Facebook comment on a barbecue food page:
"There are two types of people in this world: those who grill over charcoal, and those who are wrong."
Frankly, the grill snobs can stick it in their Traeger smoker. On hot summer weekdays when I finally make it home, I'm not pursuing a hobby. I need to make something good to eat.
I'm as fascinated by fire as the next dude. I love the crackle, the sizzle and the char on food. I just don't always have time after work to coddle the coals and babysit a slab of meat until it reaches nirvana.
I do crave that essential smokiness in my food and that perfume in the air. A gas grill is my answer with one small hack: a wood chip puck or chimney. There are small metal smoking pucks available commercially, but I make an aluminum foil chimney.
Start with a 1-foot-square rectangle of heavy-duty aluminum foil, preferably a double layer. Add a handful of wood chips but only in one layer. Leave room to fold the foil over the edges in the shape of a thin pillow. Poke three or four holes in the top. The puck or chimney can be placed between the grill and the burners or on top of the grill from the moment you light the grill so it's smoking when you add the food.
Hickory is traditional, apple and cherry woods are sweeter and milder, and mesquite is heavy smoke-wise. Don't soak the wood chips in water beforehand. That just makes steam and slows the smoke. Keep a tight lid on the grill to concentrate the smoke. You can use the wood puck or chimney repeatedly until it no longer produces smoke. Then, replace the chips.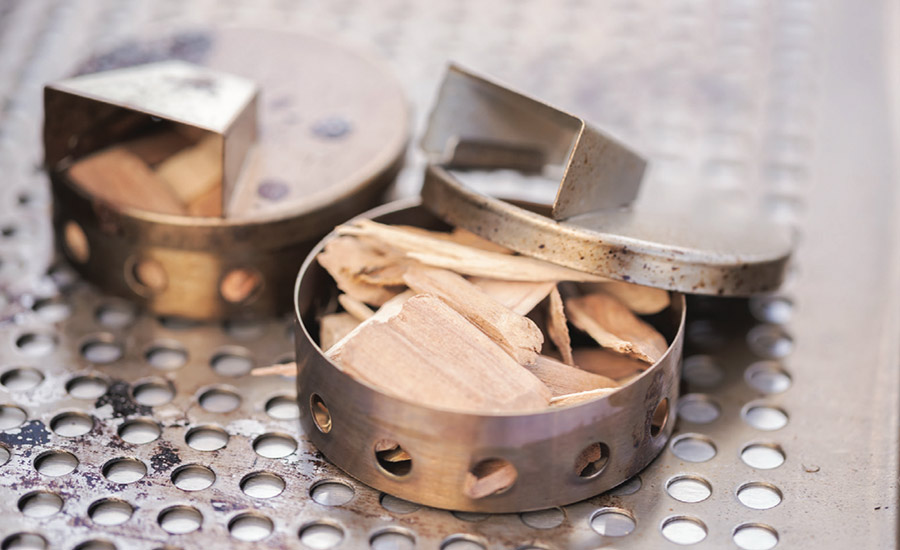 KISS COMPLICATED GRILLING GOODBYE
When it comes to weeknights, I want a KISS–a Keep It Simple Supper. I like adaptable dishes that are quick to pull together, big on flavor and use great Colorado ingredients.
Start with Happy Family Skewers, named after the great Chinese-American dish that combines chicken, seafood and veggies. They are marinated in a Cuban-style mojo made with grilled citrus juice and served on a Grilled Romaine Salad.
The menu features Colorado-made bratwurst with local chilies and onions and grilled corn on the cob—elote-style. For dessert, fresh ripe berries and peaches simmered on the grill.
This is the kind of meal where you need a timeline more than a recipe. From the moment you light it until after you turn off the gas, the grill is always full of stuff. To begin, add a wood chip puck or chimney. Light it and place citrus fruit halves face down on the clean, oiled grates. When the grill is hot and smoking, place a whole head of Romaine lettuce or multiple leaves brushed with olive oil. Singe them a little but don't wilt them completely. Set aside.
While the citrus is grilling, assemble the ingredients for the Happy Family Skewers with Grilled Citrus Mojo (see sidebar recipe). When the fruit is seared, juice it and prepare the marinade. As soon as there is room on the grill, add thick slices of Colorado yellow onions and whole Pueblo chilies brushed with olive oil.
LINKS TO BIGGER BRAT FLAVOR
There are two kinds of sausage and both types should be cooked or heated before they are grilled. Many sausages come pre-cooked, including my favorite bratwurst from Denver's River Bear American Meats. Other links are sold fresh, including most chorizo and Italian sausages. They should be simmered in a little water or broth first before going on the fire. Don't use beer as it leaves links tasting bitter, not beer-y. Pre-cooked sausages can be butterflied—sliced lengthwise leaving a hinge before grilling. That exposes more surface area that can get charred. After grilling, place links in a pan with strips of grilled, skinned and seeded chilies and chopped onions and keep warm.
SIMPLE FROM SALAD TO DESSERT
To assemble the salad, cover a platter with grilled Romaine leaves. Top with your favorite veggies—I like halved grape tomatoes, snow pea pods, English cucumber and red bell pepper. Dress the salad with some of the marinade.
Meanwhile, grill sweet corn on the cob without husks. Turn it into elote—Mexican street corn—by coating hot grilled ears with chipotle mayo, sprinkling with crumbled cotija cheese and adding a spritz of lime juice. Hot sauce optional.
When everything else is ready, grill the skewers and serve with the remaining mojo marinade atop the salad. Pair it with a good loaf of crusty bread, a local pale ale and a slab of watermelon.
When you turn off the grill, warm up the dessert. Seal fresh berries and ripe sliced peaches with a little sugar or honey and vanilla in a pan or foil container and leave in the grill. Serve it over pound cake with sour cream or fresh whipped cream.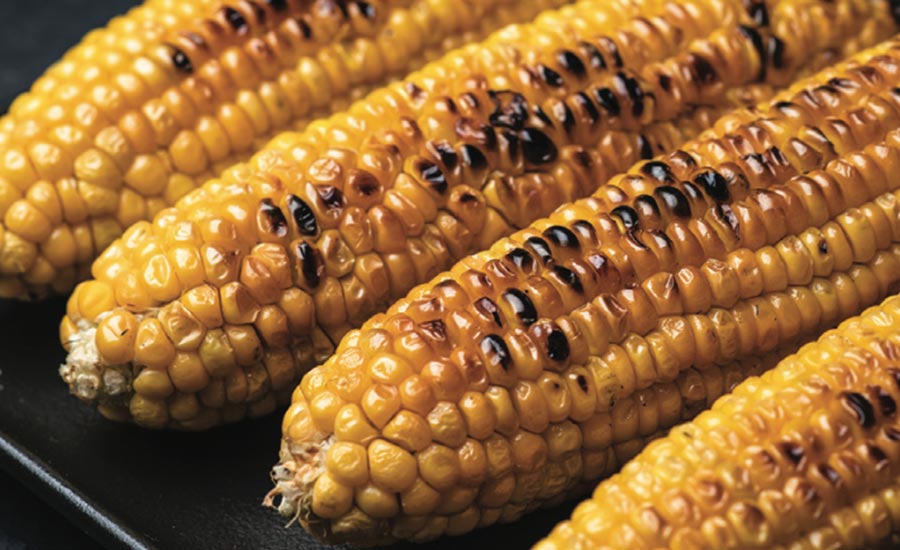 SMOKE GETS IN YOUR MANHATTAN
The idea is to not waste any of that grill heat or wood smoke. Since your wood chip puck or aluminum foil chimney is belching flavor anyway, always fill the available grill space and infuse other foods with woodsy goodness.
I like to smoke stem-on fresh Bing or Montmorency cherries (on a piece of foil) and use them in summer cocktails. Also easy are whole vegetables such as large green onions, halved baby artichokes, garlic heads, tiny purple potatoes and thin Asian eggplant. They can be used later in various dishes.
After spending the winter and spring cooped up in the kitchen trying to bake sourdough bread, isn't it a joy to be smoking in the backyard again? The over-the-fence experts may still be dishing advice, but you're dishing mouthfuls of yum.
Happy Family Skewers with Grilled Citrus Mojo
Ingredients:
1lb. boneless skinless chicken thigh, cut in strips
1lb. medium shrimp, deveined, shell-on
1 lb. sea scallops, grilled (large ones can be halved)
3 (to 4) Navel oranges, halved and grilled
2(to3)limes,halvedandgrilled
1lemon,halvedandgrilled
1/2 cup (approx.) extra virgin olive oil
1/2 cup fresh oregano, finely chopped (or 1 tablespoon dried oregano)
6 to 10 garlic cloves, very finely chopped
2freshjalapeños,seeded,sliced in rounds
1 1/2 teaspoons kosher salt

1/2 teaspoon ground cumin
Directions: Grill halved oranges, limes and lemons over high heat until seared. When cool, juice. You should have about 21⁄2 cups of citrus juice. If you need more liquid, add orange juice. Combine juice, oil, oregano, garlic, jalapeños, cumin and salt in a bowl and mix well. Taste the marinade and tweak the seasonings as needed. Set aside 1 cup marinade for sauce. Place chicken and seafood in a dish with remaining marinade. Cover and refrigerate for one hour. Can be made up to two days ahead.
To Serve: Remove chicken, seafood and jalapeño rings from marinade and place on metal or bamboo skewers. Grill skewers. Pour remaining marinade (at room temperature) over skewers just before serving.
Note: Adjust meat and seafood quantities as needed. This recipe is designed to be flexible. The marinade also works well with pork, beef and portobello mushrooms. Grapefruit, tangelos and other citrus fruits can be substituted. Grilled citrus juice also makes an excellent addition to various cocktails.
John Lehndorff is the former Dining Critic of the Rocky Mountain News and Food Editor of the Boulder Daily Camera. He hosts Radio Nibbles on KGNU (kgnu.org). Blog site: johnlehndorff.wordpress.com
---
This article was also featured in the July 2020 issue of Colorado AvidGolfer.
Colorado AvidGolfer is the state's leading resource for golf and the lifestyle that surrounds it, publishing eight issues annually and proudly delivering daily content via coloradoavidgolfer.com.