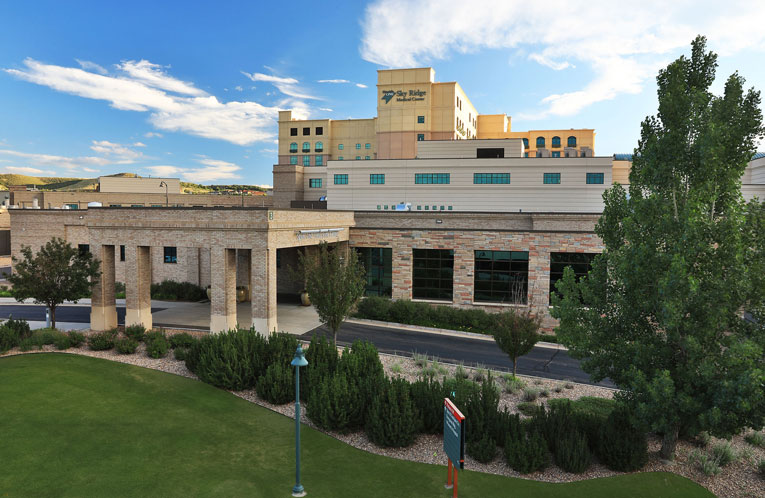 Sky Ridge Medical Center, the leader in spine surgery in Colorado, is the first hospital in Colorado to acquire the next revolution in robotic spine surgery from Globus Medical, a developer of spinal and orthopedic implants and surgical instruments for patients with spine disorders.
This new robotic technique is designed to improve accuracy and optimize patient care by using robotics and navigation, much like a GPS in your car. On the day of surgery medical images are taken and imported into the system. The surgeon uses these images to determine the size and placement of implants and creates a plan based on your anatomy. This is used to guide the rigid robotic arm to a specific region of the spine, similar to a planned route or pathway on a GPS.
The surgeon uses this pathway to accurately place the implants using uniquely designed instruments. Throughout the procedure, the instruments and implants are continuously displayed on a screen for the surgeon and staff to monitor, providing live feedback during the procedure for more precise implant placement.
Benefits of Minimally Invasive Techniques
Surgeons separate the muscles surrounding the spine rather than cutting through them, enabling them to use smaller incisions.  This leads to less tissue damage, less blood loss, shorter hospital stays and faster recovery.
"We are continually exploring opportunities to provide our patients and our surgeons with advanced, high-quality techniques that will improve the overall surgical experience," says Phil Jaklich, VP of Surgical Services for the Sky Ridge Spine & Total Joint Center.  "We are honored to be selected as the first site in Colorado because of our exceptional outcomes, multi-disciplinary team and low infection rates."
The Sky Ridge Spine & Total Joint Center, which marked its 10-year anniversary in June, is home to highly skilled surgeons and dedicated pre- and post-op teams with decades of experience.
The Sky Ridge Spine & Total Joint Center has your back.
For more information, visit skyridgemedcenter.com.

---
For more on life around the greens, visit our LIFESTYLE PAGE.
Colorado AvidGolfer Magazine is the state's leading resource for golf and the lifestyle that surrounds it, publishing eight issues annually and proudly delivering daily content via coloradoavidgolfer.com.