The Periodic Table surprises diners with a this-summer-only menu of lobster rolls, chowder and Cape Cod classics.
By John Lehndorff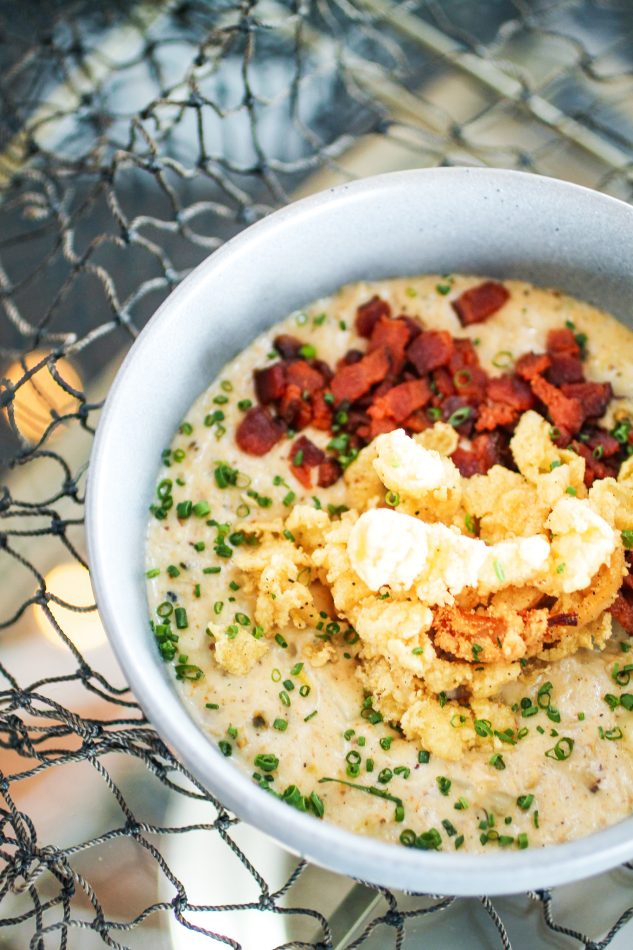 You expect to see seagulls divebombing through muggy salt air as the sun shimmers on the ocean when you are happily slurping clam chowder and sighing over a griddled roll jammed with plump chunks of sweet lobster. Yet, these true New England classics taste right at home as you gaze toward a panoramic Rocky Mountain sunset from above the 9th hole at Catamount Ranch and Club in Steamboat Springs.
Located at the private club but open to the public, The Periodic Table is not your typical golf course restaurant. You won't find a club sandwich or Cobb salad. In fact, you won't even find a dish you sampled there six months ago. The restaurant throws everything on the menu overboard twice a year.
"Last winter we had an Argentinian Steakhouse menu. This spring we changed everything from appetizers to desserts and cocktails—even the décor," says the restaurant's General Manager Jenny Knickerbocker. Previous themes have showcased European Riviera fare, classic dishes of New Orleans, and cuisine from 1940s Havana and 1920's New York.
As the Director of Training & Development for Destination Hospitality, Knickerbocker helps oversee a group of mountain town eateries that includes Table 79 Foodbar and Aurum restaurants in Steamboat Springs, Aspen and Breckenridge.
This sea change in the standard menu began in 2019 when the restaurant group, under the guidance of Chef Patrick Ayres and Destination founder Phillips Armstrong, started operating The Periodic Table and opened it to the public.
With its floor-to-ceiling windows open for the summer, The Periodic Table's dining room, bar area and wraparound outdoor deck seem like one large open-air eatery with a view.
The veteran serving staff has been aboard for three years at the restaurant, a rarity given the challenges eateries have faced in the past few years.
"The staff know the club members well and what they like. We can have their favorite
Tito's and soda in front of them before they even sit down. They say: 'This is just what I needed after 18 holes of golf,'" Knickerbocker says.
DOWN EAST … OUT WEST
To prepare a one-off menu steeped in the food culture of Cape Cod and the Eastern Seaboard, Chef de Cuisine Charlie Klein did months of research, reading and experimentation with the help of his Vermont-born sous chef.
"I ran everything by him," Klein explains. "If he said, 'This is how it should be; this tastes like it does at home,' then we added the item."
A seafood company in Steamboat Springs maintains an enormous live lobster tank that the Periodic Table accesses every two days.
"The quality of the main ingredients is what really matters. We focus on getting truly fresh fish flown in from the coast," Klein says.
Whole steamed lobster is served with drawn butter and lobster pieces are tossed in a light dressing with celery, dill and Old Bay seasoning for the lobster rolls. Kids can enjoy their mac and cheese with lobster added.
Another highlight is fresh clams and mussels steamed in smoked tomato broth. "We add sausage, corn and charred fennel to get all the flavors together and married in a big bowl," Klein says with enthusiasm.
FRESH CHOWDER, NOT POWDER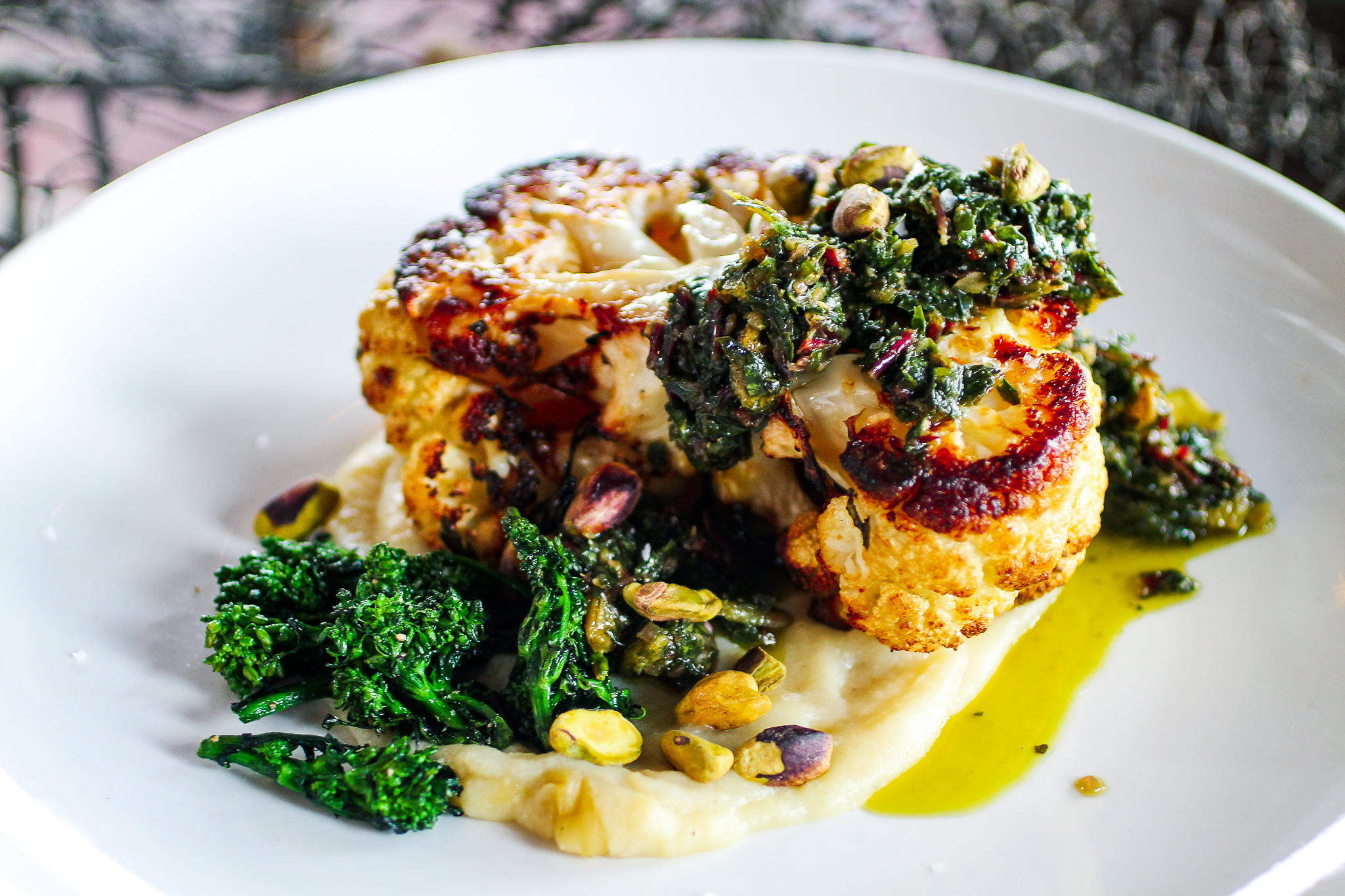 Starters on the restaurant's summer roster will ring some happy bells for anyone who's dined from Maine to New Jersey—such as oysters on the half shell, a beefsteak salad with ripe tomato, a Roquefort dressing and fried shallot, and a spot-on rendition of creamy New England chowder packed with clams, potato, leeks and bacon.
"I'd go toe-to-toe with anyone in the state of Colorado about this chowder," the chef says.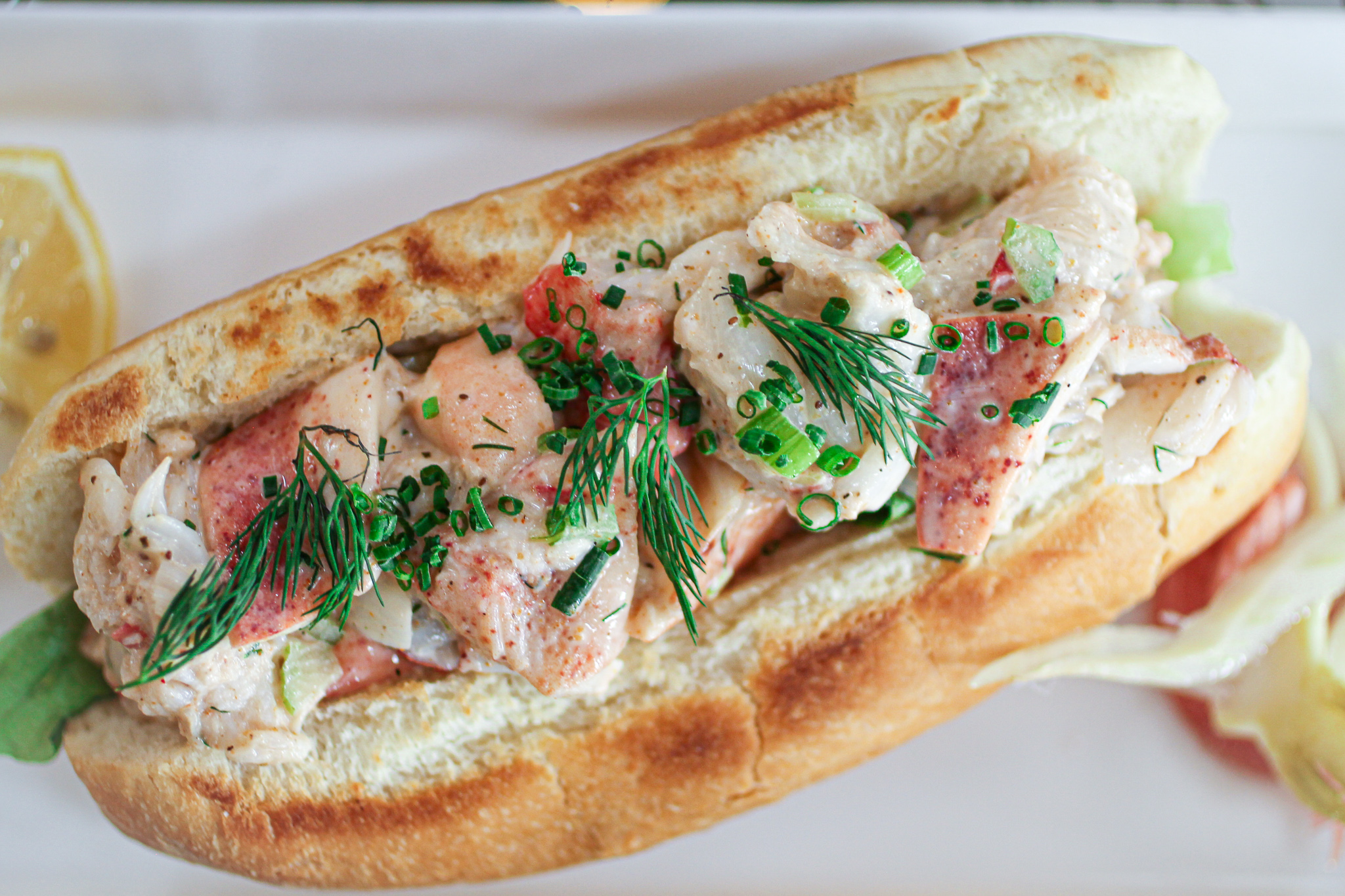 The entrée side dishes maintain the New England theme with corn and butter bean succotash and Gruyère colcannon—a creamy, cheesy cabbage and potato mash.
Klein gets questions about the fried green tomatoes—a dish popularized in a bestselling novel and 1991 film as being traditionally "Southern." But fried green tomato variations are enjoyed wherever summer tomatoes grow in the Northeast. "Ours are based on an old Pennsylvania Dutch recipe that doesn't use cornmeal," he explains. "We use a tempura batter— it's a little airier and crunchier—and serve them with a sauce of crème fraiche, paprika and garlic."
POT ROAST IN AUGUST
Not everything on The Periodic Table's platters was pulled directly from Penobscot Bay—for instance, steak tartare, ribeye steaks to chamomile duck breast. The veal and pork meatballs in tomato sauce with polenta are a welcome nod to New England's large Italian community.
It's surprising to see a hearty fall-apart Yankee pot roast on a hot-weather menu plated with sweet peas and parsnip purée. "I've learned that even on a 90-degree day, if it's a braised piece of beef in sauce, our diners will love it," Klein says.
The Periodic Table's kitchen also did its dessert research, featuring Maine whoopie pies and Indian pudding. Chef Klein prepares the traditional pudding with cornmeal sweetened with molasses and Vermont maple syrup and topped with spiced apple "butter," slow-cooked in-house.
HAUTE IS IN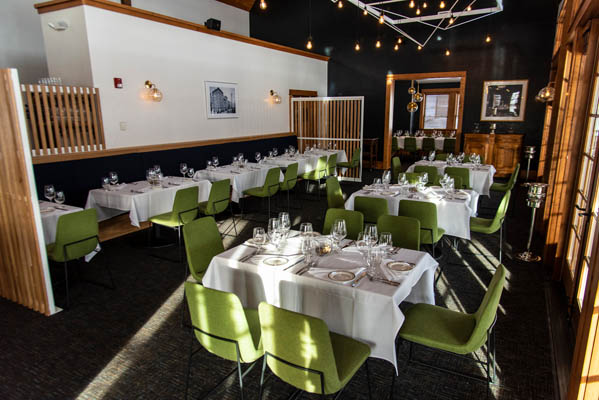 Even with a Tom Weiskopf-designed 7,088- yard championship course and a 550-acre private lake, Catamount, like many private clubs, has found it must upgrade its culinary offerings.
"It's no longer the hamburgers, the hot dogs and the pastrami sandwiches," Catamount PGA General Manager of Ranch and Club Mark Lampe says. "It's Argentinean beef and Wagyu steaks and halibut. The people at Destination Hospitality are pros. The Periodic Table has given us that fine-dining experience that we didn't quite have before."
That experience allows the club to compete with restaurants in Steamboat Springs.
"If you want your members to come to your club restaurant for dinner," he says, "it has to have great food and service in a great environment."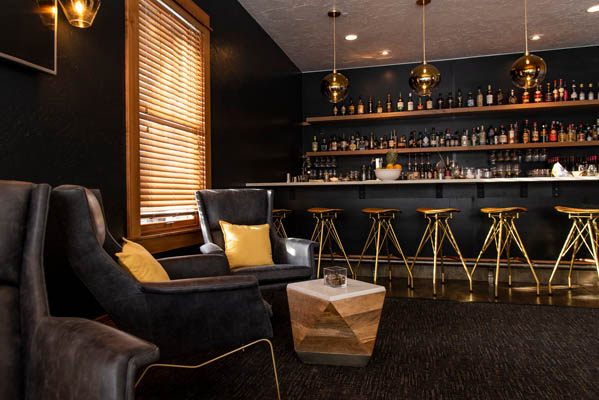 The Periodic Table's last lobster roll will ship out September 25. The cuisine choice for the restaurant's winter season remains a secret. Destination Hospitality's Knickerbocker admits she and club members do have pangs of regret when a menu ends.
"We all miss certain dishes," she says. "But everyone gets excited about tasting the next cuisine. It's like going to a new restaurant."
Colorado AvidGolfer Food Editor John Lehndorff grew up in New England. As a teenager, he helped stage huge clambakes cooked on steaming seaweed and served with chowder and Indian pudding.
---
This article can also be found in the August/September Issue of Colorado AvidGolfer.
Colorado AvidGolfer is the state's leading resource for golf and the lifestyle that surrounds it, publishing eight issues annually and proudly delivering daily content via coloradoavidgolfer.com.