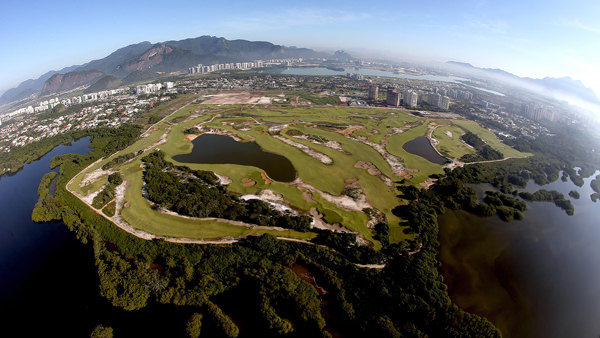 When the Rio Olympics get underway next week, all eyes will be on the thousands of athletes competing at one of the 38 venues across Brazil. One of the largest venues for the games will have strong ties to the University of Denver.
Alumnus Gil Hanse is known around the world for his work designing, renovating and restoring golf courses. From New York to California, Scotland to the United Arab Emirates, Hanse's work is on display in some of the world's most famous courses. When the Olympics begin on Aug. 5, it will be his design putting some of the world's greatest golfers to the test.
Hanse didn't take the most traditional route to get to where he is today. In 1985 he graduated from DU with degrees in political science and history. He wanted to get into politics — in fact, during his senior year at DU, he interned with Colorado Congressman Dan Shaefer.
He attended Cornell University in Ithaca, New York, for graduate school and focused on city and regional planning. He quickly changed his concentration after taking a landscape architecture class during his first semester. "When I found out there was a legitimate career path in golf-course architecture and there were people at Cornell pursuing that, then I jumped in with both feet," Hanse says.
After receiving his master's, Hanse moved back to Colorado and worked several years with fellow Cornell alum Tom Doak (designer of CommonGround in Aurora and Ballyneal in Holyoke).
He did a lot of golf course renovation and restoration work before getting the opportunity in 1993 to design Stonewall Golf Course in Pennsylvania. That was the break he needed to start his own company outside of Philadelphia. "The course outside of Philadelphia had my name associated with it, so it was important to be near a course I could actually take people to to show them," Hanse says. "There are so many more courses in the northeastern part of the U.S. than there are in Colorado and the West. We had access to more opportunities by being based in Philadelphia." The Philadelphia area has been home to Hanse and his family ever since.
Over the next two decades, Hanse designed more than a dozen golf courses across the country and overseas. He has also worked on dozens of restoration and renovation projects, including a project at the Denver Country Club several years ago. His design strategy is something he believes sets him apart from others. "We try to limit the earth disturbance, minimize the amount of earth movement and use the natural character of the site," Hanse says. "People call us minimalists, but I think we are actually maximalists, because we try to maximize what is in the ground and at the site, much like original golf courses in Great Britain."
This approach to golf-course architecture perhaps helped Hanse most in 2011. A request was put out to architects all over the world for design proposals for the Rio 2016 Olympics. It was the most competitive bidding process Hanse had ever been a part of. "Basically we turned over a set of plans and said, 'you can build this golf course right now.' The bid included everything that was needed to build a course."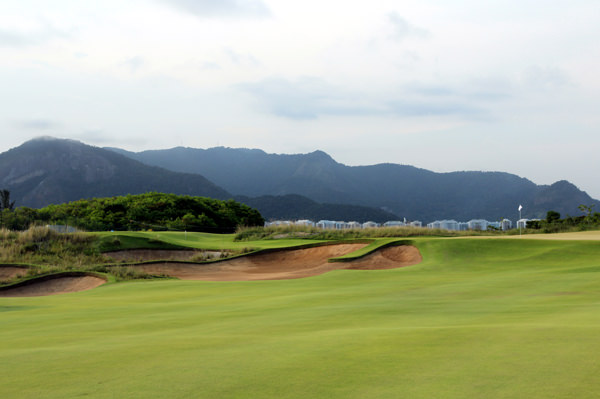 Six months later, Hanse's design was selected. One year later, construction got underway in the Barra neighborhood in Rio. Located in the western part of the city, Barra is the newest section of Rio, best known for its beaches, lakes and rivers — and its lifestyle. Construction, which was supposed to take only one year, ended up taking twice as long because of disputes over land, environmental permissions and more. "It was not easy dealing with some of the practical aspects of building a golf course in Brazil," Hanse says.
The Barra de Tijuca Olympic course is 7,200 yards long and is a par 71. Very few people have been allowed to play the course, including Hanse — who is an 11-handicap. He had to sneak in a few rounds during the construction phase, something referred to as dirt golf. "It's fun. It's not going to give you a true test of the way the golf course is going to play, but it at least gives you some sense of distance, and are the bunkers in the right place off the tee, etc."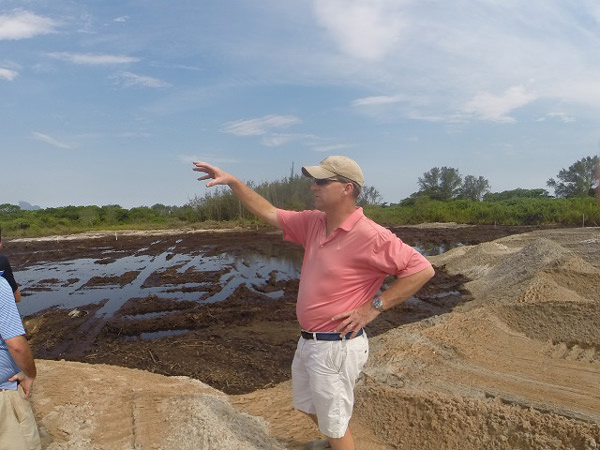 Hanse will be involved in the day-to-day operations of the course during the Olympics. He's been asked to serve as a technical official and will help set up the course every morning, determining the best tee and hole locations. Hanse is also looking forward to meeting another DU alum at the Olympics. Former DU golfer Espen Kofstad (BS '10) will represent his home country of Norway. "Maybe I can get someone to take a picture of the two DU alums on the Olympic course," Hanse says.
Frank Nobilo of The Golf Channel did a tee-to-green tour of Gil Hanse's Olympic Golf Course, click here to watch .
Hanse is disappointed to see that several of the world's top male golfers have withdrawn from the Olympics because of fear of the Zika virus. "You want to see the top players compete on a golf course you design. Frankly, we will still see the best in the world compete on the women's side, but we won't see it with the men."
Life after the Olympics goes on. Hanse has recently had two new courses open in Florida and Mississippi. He also has three more on the drawing board. Asking him for his favorite golf course "is like asking me to choose which of my children is my favorite." However, Hanse does favor the Boston Golf Club, which opened in 2005. "It was my favorite experience for actually building a course. It had great grounds, a great owner and I was not terribly busy at the time."
Hanse, who has done restoration work at Denver Country Club and Lakewood Country Club, occasionally makes it back to Denver. He says he's "surprised and pleased that Mustard's Last Stand is still here." He admits that degrees in political science and history are not a perfect transition to golf-course architecture, but he says the lessons he learned at DU have been very helpful in his work. "The history of the game has always fascinated me, so understanding the historical research is helpful. Also, (golf) club politics are about as fierce of a branch of politics as you are going to find anywhere, so being able to navigate in those waters is helpful."
NOTE: This story originally appeared on the University of Denver News Website. Reprinted with permission from the author.
Colorado AvidGolfer is the state's leading resource for golf and the lifestyle that surrounds it, publishing eight issues annually and proudly delivering daily content via coloradoavidgolfer.com. Follow us on Twitter, Facebook and Instagram.