Titleist's new ball isn't really an official product as such. It's a maybe. The company just wants you to buy it, test it and tell them what you think.

It's round and white, has 346 concave dimples, and is a urethane-covered three-piece ball. That, however, is pretty much all Titleist is letting on about the EXP∙01.
Why the lack of info and tantalizing soundbites on how this is the fastest/softest/longest/firmest/most durable/lowest-spinning/biggest-carrying/best-feeling/most-controllable ball it's ever made? When Titleist wants trusted feedback on a new product, it typically asks its staff players or online community to test it. This time, however, it has altered its policy and is making the ball available at retail.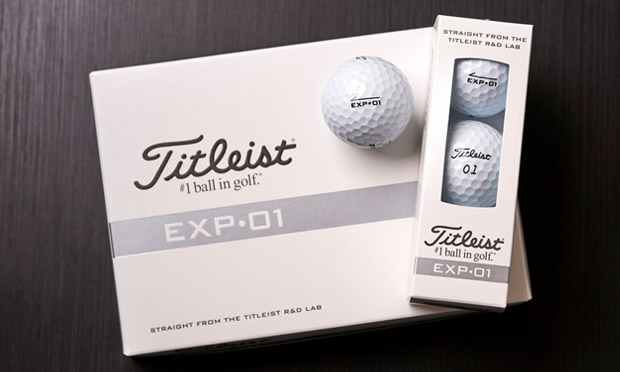 You might think the price of the EXP∙01 ($40/dozen) is an indication of what it is and where on the Titleist food-chain it sits. But the company has indicated it is trying to give as little away as possible so as not to influence player comments. If you know it is designed to do such and such, you can state whether it lives up to its billing or not, and assert favorably or otherwise on its value for money. So, it could be a premium, Tour-level ball – an AVX or Pro-V1. Or, it could be something closer to the lower end like a TruFeel or Velocity.
The 'EXP' indicates it is an experimental ball. The '∙01' indicates that it is the first time Titleist has attempted this process of gathering information on whether or not the ball tech it's testing is worthy.
Titleist says it anticipates all the product will be gone by the end of the year, and that its Tour staff is unlikely to use it at any Tour event. It's not clear, however, when and if Titleist will issue the findings and indicate whether the experiment has been a success or failure.
Should it release a three-piece, urethane ball with a 346 dimple-pattern within the next year or so, it's probably safe to assume the experiment went well and the feedback was positive.
Whether you want to spend $40/dozen on a ball you know next to nothing about is up to you, of course. Titleist hopes you're willing to roll the dice and find out. Not for gratifying sales figures so much as quality intel on a potential future product.
$40/dozen
titleist.com
Future's Brite
A decade-plus of Srixon's Soft Feel came and went in a hurry. One of the balls that best learnt how to combine feel and distance at a low price point, the Soft Feel just kept on getting better and the two-piece ionomer-covered ball with the 338-dimple pattern is now undoubtedly one of the best value balls in the game at just $20/dozen.
Yesterday, it was announced the Soft Feel would now be available in three new matte colors—Brite Orange, Brite Green, and Brite Red—and offer the same performance with what Srixon's Marketing Director Brian Schielke describes as "enhanced visibility."
$20/dozen
srixon.com
Kubism
This product admittedly had us confused. The Sun Mountain Kube is a golf travel bag that, when not in use, folds down into a small suitcase shape with the dimensions 9″ x 13″ x 14.5″. Considering how big the golf bag is, the folded-down version really is impressively small.
But, as I say, we were hesitant at first. Why would you need to fold it down when it's not being used as a golf bag? Would you not just put it in the trunk of the car, under the bed, or in the hotel closet?
You can, sure, but the Kube is obviously much tidier and more manageable. It is ideal, says Sun Mountain President Ed Kowachek, for golfers who travel periodically with their clubs. "They want their golf travel bag to take up as little space as possible when not in use," he adds.
The Kube weighs 6.8lbs. and comes in eight colors. It is constructed from durable, ballistic-style fabric in combination with plastic half-shells with dense foam padding through the top of the bag to protect golf clubs. The fabric is further reinforced in wear areas and heavy-duty, two-way zippers run the full length of the bag to make it easy to load.
$230
Available in – Carbon Fiber, Graphite/Pink, Inferno, Tropic, Cobalt, White, Bumblebee, Rush.
sunmountain.com
---
For more on the latest and greatest gear in golf, visit our GEAR PAGE.
Colorado AvidGolfer Magazine is the state's leading resource for golf and the lifestyle that surrounds it, publishing eight issues annually and proudly delivering daily content via coloradoavidgolfer.com.