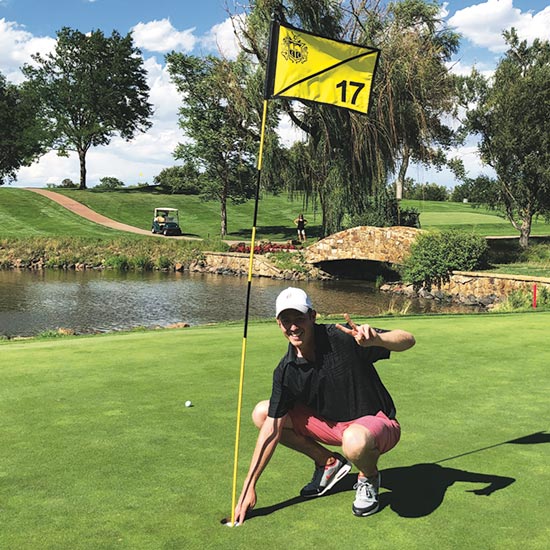 WHILE IT WASN'T quite Snowmageddon, the unexpected, surprising winter-like blast Colorado got in September was a disappointing reminder that at some point soon, it will indeed be the end of the (daily) golf season. With so much happening, from COVID-19 to record-setting numbers of rounds played, summer was a dizzying blur—but we wanted to take time to acknowledge a few special events that took place on courses across the state.
Although they grew up just a few blocks away from each other in Scotland, with both playing golf collegiately at Colorado State University, Adam Nelson has at best, a passing acquaintance with Martin Laird. The two have never played a round of golf together. One could say that the latter—still kicking around on the circuit with three PGA TOUR wins under his belt—has had the most notable career. But, that may have changed briefly in July—according to the National Hole-in-One Registry, the odds of one player making two holes-in-one in one round are 67 million-to-1. But at Lakewood Country Club, Nelson did just that, acing the 7th and 17th holes."It was a super windy day, like 30 miles an hour—it was tough, but I seemed to be playing okay," he said. "Number 7 was about 205 yards; it was heavily downwind and the pin was in the back. I hit like a chippy, three-quarter eight iron—I kept it low and it landed on the front of the green and kept on rolling up.
"I think I kind of muttered the words, 'Go in,' and then it dropped and my friends who were playing in front of me on the eighth tee started running at me and we had a huge celebration. I texted a couple of friends and told them they'd better get down to the club 'cuz we were gonna start drinking."
As it turned out, there was no rush. A crowd gathered at the 18th green, in anticipation of celebrating Nelson's feat (the odds of which are "only" 12,000-to-1, according to the registry), but before he could play 18, there was the matter of the 135-yard 17th. On that hole Nelson said he "smashed" a 56-degree wedge.
"Again, it was downwind," he said. "It landed eight feet short, jumped just past the hole then spun back in. At that point, I think the whole course thought something was up, because you could hear the ovations everywhere…it was a little bit like being at Augusta (National, home of the Masters and its legendary roars)."
If two holes-in-one wasn't odd enough, consider that Nelson used the same ball for each— after his first ace, Nelson eschewed the tradition of taking the special ball out of play.
"People asked me why I didn't retire it after the first one; I thought about it, but I thought I would just end up losing somewhere anyway," he said. "So I played 18 with it—which probably wasn't the smartest move—but I managed not to lose it, so now it's been polished up and is going into a case with the two flags from the holes."
Nelson, who said he had two previous holes-in-one, both in Scotland, played Lakewood again the day after his incredible day, basically just getting gluttonous.
"You gotta think that there's a chance, right?" he said. "But alas, no holes-in-one to report, I'm afraid."
FOURTH OF JULY FIREWORKS
After three-putting the 14th hole for bogey at The Ranch Country Club in Westminster in early July, Brandon Dingae's playing partners began giving him a hard time, telling him he needed a birdie on 15 to make up for the lost stroke. He accomplished that, and more.
Hitting driver on the 370-yard hole, Dingae said his tee shot "never left the flagstick.
"I figured that I would be putting for eagle," he continued. "We did not see my ball as we drove up to the green and parked behind the green to check the back bunkers and rough in case it went long—the ball was nowhere to be found so we checked the hole and my #6 Titleist was staring back at me… Pretty fun 4th before and after!"
A SWEET STROKE—AND AN EVEN SWEETER RIDE
Last, but certainly not least (particularly as it relates to continued employment), in August, Colorado AvidGolfer President and Group Publisher Allen J. Walters was participating in final day of the magazine's annual Schomp BMW Cup tournament at The Country Club at Castle Pines.
"After six shots on No. 1, I stepped onto the No. 2 tee box with a 7-iron," Walters said. "It was about 178 yards to the pin and it was, without a doubt, the finest golf swing I have ever been able to deliver—it was the perfect shot."
Indeed, the ball hit the green and began rolling up to the pin…
"All of a sudden," recalled Walters, "I said, 'Guys, that's going in!'"
In the aftermath, Walters admitted to being more nervous than he'd ever been "in my entire life."
He wasn't the only one; Walters' ace came on a hole sponsored by the auto company and carried a prize of a year's lease of a fancy BMW X-7.
"The kid from Schomp who was working there went, 'I don't know what I'm supposed to do,'" Walters said.
Perhaps still in a daze, like Nelson at Lakewood Country Club, Walters continued his round playing the hole-in-one ball, at one point sending a wayward shot into some native grass off the fairway.
"You better believe we did a really thorough search for it, and we found it," Walters said. "I put it away after that."
---
This article was also featured in the Fall issue of Colorado AvidGolfer.
Colorado AvidGolfer is the state's leading resource for golf and the lifestyle that surrounds it, publishing eight issues annually and proudly delivering daily content via coloradoavidgolfer.com.