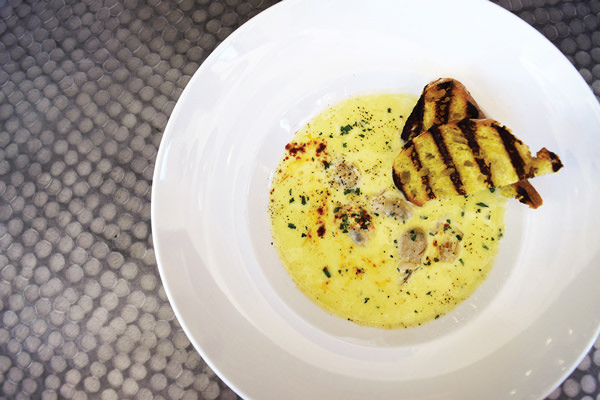 Thanks to shellfish and seafood joints like Cherry Creek's Blue Island, Denver shucks now more than ever.
By Gary James
---
OYSTERS ARE ALL THE RAGE in Denver. We've come a long way from the days when people would try to order the Rocky Mountain variety on the half shell. Now modern shipping technology allows ultra-fresh proprietary seafood to arrive overnight, and the most affecting "dock-to-dish" mission can be found at Blue Island Oyster Bar & Seafood.
"They don't think about it with sushi, but people have this stigma attached to fresh fish in a landlocked state," owner Sean Huggard says. "Being in the center of the country, we actually have some of the freshest. You'll be sitting on the beach in Boston having California halibut, and they had to fly it over Colorado. It's a new world of logistics and FedEx."
For Blue Island, Huggard (a former executive chef at Black Pearl and Encore and an operations manager at Humboldt and other Concept restaurants) partnered with the renowned Long Island-based Blue Island Shellfish Farm owned by Chris Quartuccio.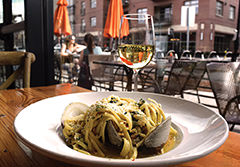 "I'm a seafood nut—I grew up around it, cooking it, understanding it, and I was a seafood chef on Nantucket Island," Huggard says. "I've always been a sucker for oysters. I started chatting with Chris at the Boston Seafood Show (a.k.a. Seafood Expo North America). He wanted to open an oyster bar as the next step for his business—he's the rock star in the oyster wholesaler trade, doing it for twenty-plus years. Most fishmongers do it all—salmon, cod, mussels. Not a lot of them specialize in oysters and clams like he does, both diver harvested and off his farm. And he helps a lot of locals—there's not a lot of glory or money in it, like farming in general.
"I wanted to partner with him and tell his inspiring story and that of the culture I grew up in. The majority of our oysters come through his connections. Unless they are well-handled and molded to have a taste profile, we never bring in anything south of the Mason-Dixon line. Gulf oysters grow fast, so they don't have flavor."
So Blue Island has the feel of a clam shack in a small New England coastal town as opposed to, say, a New Orleans fish house. The sleek, modern maritime-leaning setting is subtle and relaxing, including a cool full-wall rendering of Long Island's Great South Bay.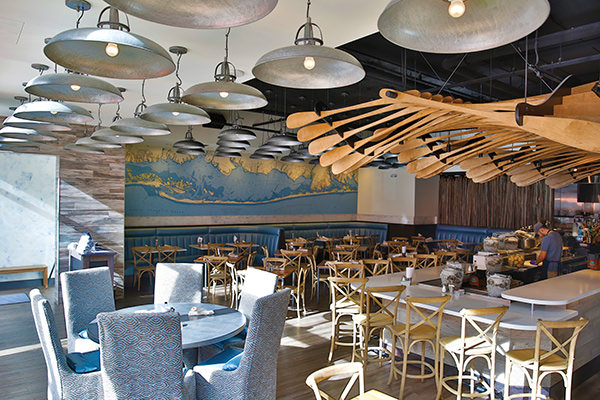 "But I shot myself in the foot," Huggard admits. "It never occurred to me that people wouldn't know an oyster bar is also a seafood-driven restaurant. After two years of being Blue Island Oyster Bar, we're now Blue Island Oyster Bar & Seafood, because we get a lot of people saying, 'I've never been, I don't like oysters.'"
Indeed, there's so much classic "coastal comfort food" to sample under the aegis of Executive Chef Tom Stanford. The City's Best Clam Chowder is just that—creamy, chunky and served with a golden-brown frittery clam cake (basically a clam beignet). If you're a sucker for lobster rolls, there's the classic Northeastern seaboard style prep, but also some variations—a Tokyo Roll (with ginger-yuzu mayonnaise, sesame, Japanese red chili pepper and cucumber), a Mile High Roll (spicy chipotle aioli, avocado, bacon and tomato), and the exquisite Hot & Buttered (the Maine lobster sopping in garlic-herb butter with Bibb lettuce, nothing more).
The New England Fried Surf Clam Plate is manna for those who believe anything is better fried—the mollusks are dusted in corn flour and served with house-made tartar sauce. The Clam Pasta—fresh linguine tossed with lots of chopped Little Necks and Quahogs, crushed red pepper, garlic, white wine and Parmesan—is sublime. The Knuckle Sandwich—Maine lobster (the meat culled from a leg joint) on a buttered bun for $8— is the best Happy Hour treat imaginable.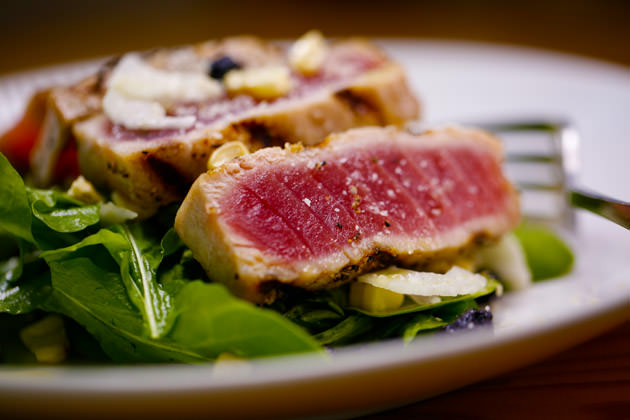 But what about the oysters? Objectively, the pelecypods are high in zinc, low in cholesterol, and thus good for your immune system and your heart. Subjectively, there's no better time spent than sitting at the raw bar—festooned with bivalves on ice (now there's a Disney touring show!) displayed in traditional baskets—and interacting with the knowledgeable shuckers while slurping down the fresh, delicate tissue with mignonette or cocktail sauce and pondering deep philosophical questions (i.e., if an oyster loses its shell, is it naked or homeless?).
Quartuccio meticulously sources from both coasts; the oysters are flown in daily and change with the season.
"Oysters are like dogs—you have a black lab, I have a boxer, but they're both dogs, just different species," Huggard muses.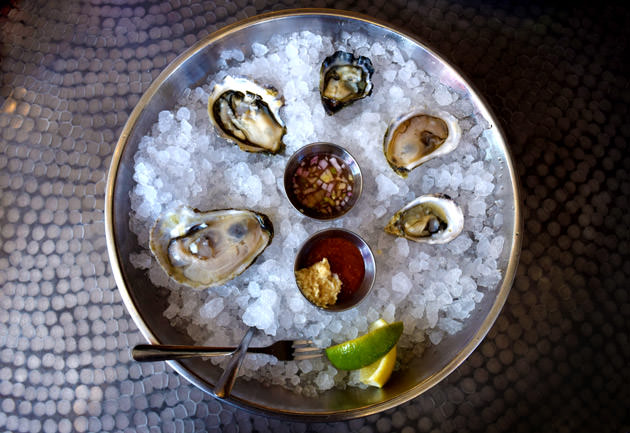 "There are five species of oysters," he explains. "The Virginica oyster on the East Coast are native to America; you find them as far north as Canada and down to the Gulf of Mexico. On the West Coast, there are two species not native to America—the Gigas species, the typical West Coast oyster, has a cool fluted shell. The Sicamea or Kumamoto oyster came from Japan, but that bay is so polluted, they're grown on our West Coast. The species native to the West Coast, the Olympia, is very difficult to find—it's not wild anymore, and it's very small, growing to the size of a quarter or half dollar; we bring them in when we do our 'Five Species Tasting.' Fifth is the Belon oyster, the species native to Europe."
Huggard advises the virgin oyster eater to "go with Kumamoto—it's the most palatable and, ironically, the most expensive. It's very sweet, like putting a bit of sugar on a cucumber. We are the only bar that serves a true Kumamoto; the others are hybrids. I love the Naked Cowboy, naturally grown in 20 feet of super-cold high-salinity water, not farmed, so they're withstanding the elements of nature—bite into them and they're almost crisp."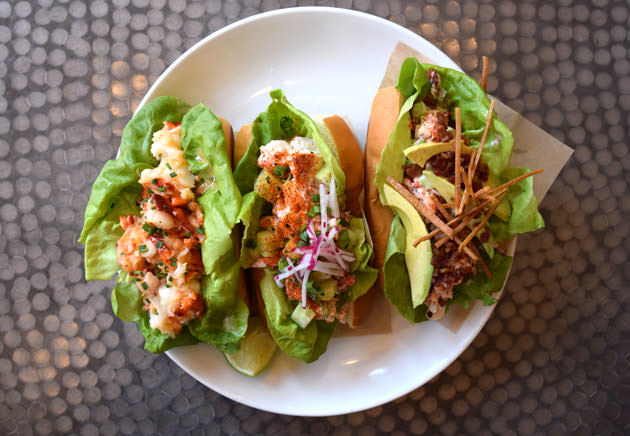 If you're one of the poor misguided souls who believe eating cooked food is what makes us human, you'll do fine with the Roasted Oysters in garlic butter, herbs, Parmesan and Ritz cracker crumbs.
"Seafood culture in Denver is expensive—it's those plane tickets—and we get nailed for being in Cherry Creek, an upscale neighborhood," Huggard says. "But seafood doesn't have to be stuffy—we try to be a fun, casual place. We're not inexpensive, but we're of value."
As I said to my last oyster, thanks for opening up to me.
2625 East 2nd Avenue, Denver blueislandoysterbar.com; 303-333-2462
Denver's Oyster Parade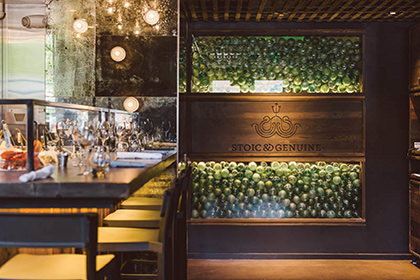 Stoic & Genuine
This Union Station seafood staple makes freshness its top priority, especially during happy hour (2-6), when Malpeques, Genuines and Church Points run a cool $2 each. The raw bar boasts as many as seven types of oyster from Washington, Prince Edward Island, Cape Cod and Long Island. stoicandgenuine.com; 303-640-FISH
---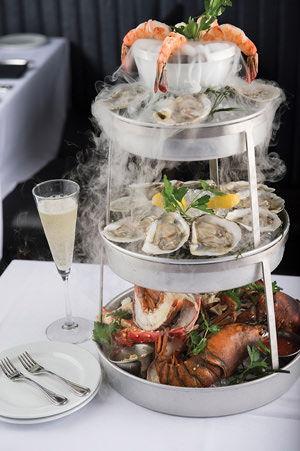 Ocean Prime
The Larimer Square supper club takes up the slack of what McCormick & Schmick's used to be, serving prime steaks as well as signature fresh seafood. It's steakhouse- pricey and sports a steakhouse-worthy wine list, making it a great special-occasion destination.  The oysters are hearty on the half-shell, but the showstopper is the Smoking Shellfish Tower (above): four stories of crab legs, raw oysters, shrimp, crabmeat and lobster presented with a mist created by dry ice pellets and water. A second Ocean Prime will open this summer in the DTC's Belleview Promenade.
oceanprime.com; 303-825-3663
---
Cart-Driver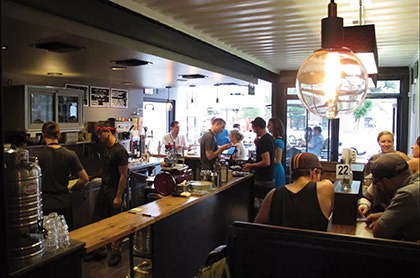 RiNo's contribution to the oyster  craze squeezes into a doublewide shipping container and delivers exquisite antipasti, wood-fired pizzas, Prosecco and craft beer on tap and an eclectic selection of  freshly shucked ostriche.  cart-driver.com; 303-292-3553
---
 Jax Fish House & Oyster Bar
This fish house and oyster bar model, with locations in Boulder, downtown Denver, Fort Collins and Glendale, features outstanding seafood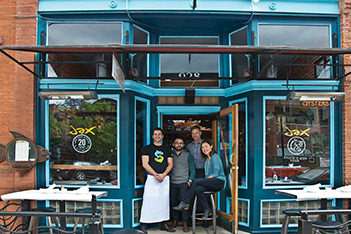 certified as sustainable by the Monterey Bay Seafood Watch, an admirable commitment to global oceanic fish stocks. The counter bar at the Denver location has been packing people in since 1996, a rollicking oasis for Happy Hour bolstered by a staff whose enthusiasm is contagious. Put yourself in Adam's capable hands (if they're not sheathed in shucking gloves)! jaxfishhouse.com
---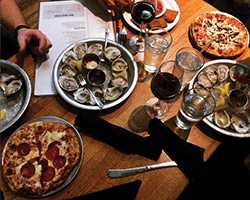 Angelo's Taverna
Between its locations in Denver and Littleton, this Italian pizzeria and restaurant serves more than 7,000 oysters a week, the majority during its legendary happy hour and after 9 p.m. At lunch and dinner, the bivalves come on the half shell, fried in sliders and chargrilled with toppings such as chipotle bourbon butter and bacon and Gorgonzola with an arugula pesto. angelostaverna.com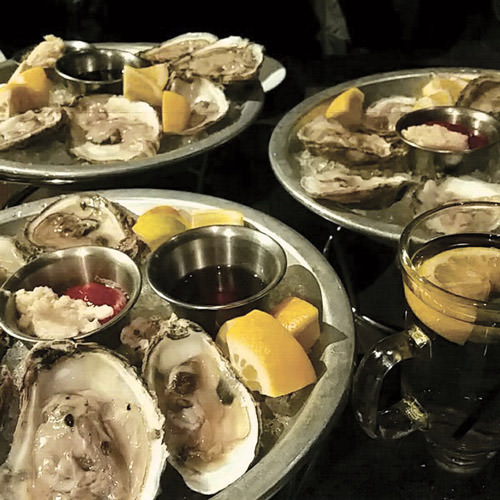 ---
Blackbird Public House
A neighborhood joint in West Washington Park with a homey ambience, "The Bird" has emerged as one of Denver's best options for brunch. It offers a robust menu of artisanal pizzas, wings, burgers and fried chicken—but don't overlook the fresh oysters, shucked right at the end of the bar. blackbirdpublichouse.com; 303-733-3923
Gary James is a Boulder-based food and music writer. Read more at coloradoavidgolfer.com/fareways.
This article appears in the Spring 2018 issue of Colorado AvidGolfer Magazine— the state's leading resource for golf and the lifestyle that surrounds it, publishing eight issues annually and proudly delivering daily content via coloradoavidgolfer.com.