The winter of our discontent for the 50-plus golfer? Not if you make the commitment to an off-season fitness routine. To play better next season, get to work right now.
By Neil Wolkodoff
GIVEN THE INCREASED number of rounds played in the summer and fall, the winter might be a needed break if you are a golfer over 50. Yet the next couple of months are critical to how you approach your fitness and health heading into next season.
First, let's look at some numbers: on average, you likely played two or three times per week and probably walked more than you normally would. You might have walked for exercise once more per week, yet made no trips to the gym for aerobic or strength training. Your golf was at least as good as normal, maybe a bit better because you were able to fine-tune your swing and tendencies.
Let's call this person Greg Golfer (for the sake of application, she can also be Ginny Golfer; the basic physiological relationships and axioms are applicable)—how does he or she approach the off-season, perhaps with the goal of improving their fitness, and maybe even dropping a few pounds? The average 50-plus golfer is a complex mix of sports activities, regular exercise, genetics, medical history and even medications. The guide- lines presented here need to be tempered with your individual factors, whether you do that in consultation with your physician or a trained health professional.
Not surprisingly, the older golfer functions very differently at 63 than at 25. Possibly the worst thing Greg can do is approach the off- season using the training program of someone on the PGA TOUR or a similar caliber player. Those guys want to hit it a little further, whereas Greg (or Ginny) should be concerned with not losing distance and how to improve and/or maintain their health.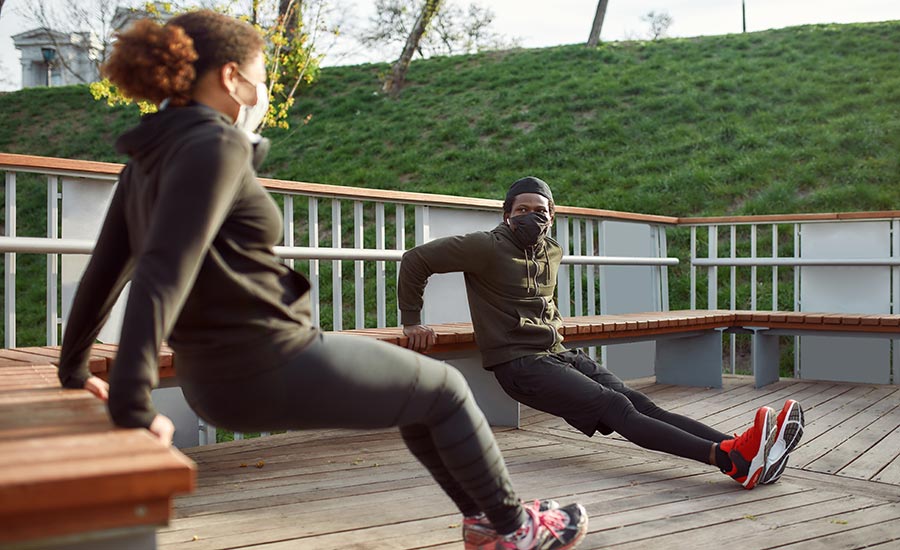 Also, the PGA TOUR approach starts from a better base of fitness. Pros can take their habits and just bump things up a notch. And, when that is your job, it's no problem exercising two hours per day. The key here is that the over-50 golf- er needs a better fitness base—one that wasn't provided from just playing more golf this season.
This is an important distinction for the over-50 golfer to make, and is supported by 40 years of research. Golf is an activity that is best described as a low-level, calorically-additive benefit. In other words, it does add to health by having a minor impact on cholesterol and mental outlook, but it's not a real fitness activity—at least it doesn't provide the same impact that taking an indoor cycling class would have on your health. In short, playing golf does not build fitness in any area beyond, at best, a moderate level. So, even with playing three times per week, the fitness levels of Greg and Ginny are not optimal heading into the off-season.
The next big difference between them and that totally-buffed tour player is the effect of age on appropriate exercise intensity, recovery and even the selection of exercises used after the clubs have been put away. After the age of 30, it takes 10% more time for every decade of life to make a training adaptation or result. If Greg or Ginny are over 65, it's going to take them almost 40% longer for the muscles or body to adapt compared to a tour player.
The idea isn't where Greg and Ginny want to be next week—it should be where they should be after seven weeks. So how do they get there? The first step is to ease into any program and resist the urge to kick in the exercise turbo- charger. Chances are, we did no resistance training during the golf season, so two weeks of three to four sets of 15-20 repetitions to get the joints ready for increased intensity is important. The same applies to just about everything else, from cardio to core training.
Another aspect that's often overlooked by the older golfer is recovery. It also takes 10% more time in that decade equation to recover from exercise. So, the tour player can pound it every day and feel fine—Greg and Ginny can't. A good strategy is to exercise five days per week with a three/two schedule. Three days of exercise in a row, one day off, two days of exercise, then another day off. If there's no bounce back in recovery, there isn't a subsequent spring forward in improved abilities. Massage, compression sleeves and hot tubs can all help, but only if golfers have the basic schedule in place to take advantage of the extra benefits.
THINK MACRO, NOT MICRO, AND GET RESULTS NEXT SEASON
When it comes to offseason exercise, the temptation is to try to get "golf specific." In reality, the only thing that is specific to golf is golf, and unfortunately, unlike basketball or similar sports, there is a minimal fitness training effect. For Greg and Ginny Golfer, the exercise selection should focus on the two major components— basic strength and aerobic fitness. If there is time for more, that's great, but five days per week at 45-60 minutes is quite a bit for most 50-plus golfers. Regularity of schedule is more important than going nuts for two hours one day, then having to rest for the next three.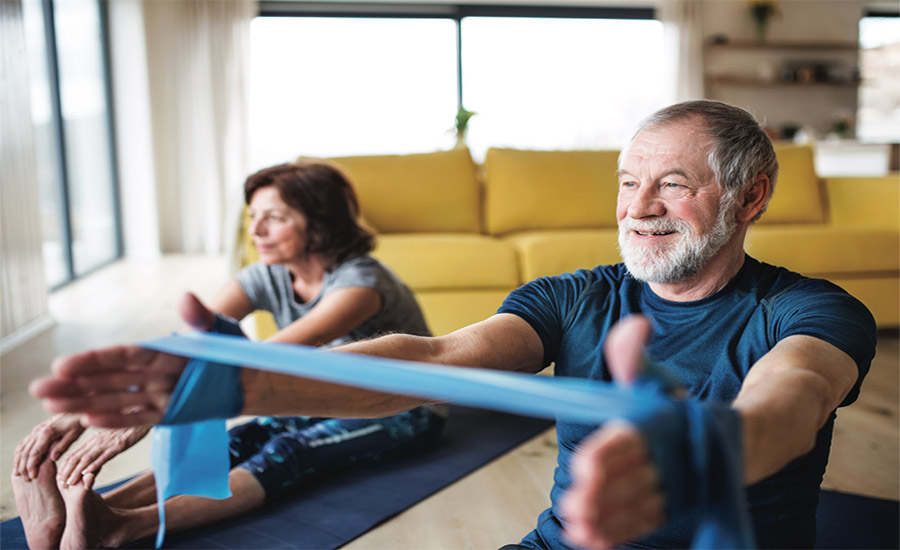 Strength is not built on the golf course, just as it isn't developed from daily activities, like vigorous yard work. Whether is it driving distance or precision with your iron game, strength and power really helps golf. Why doesn't normal activity maintain or build strength? The reason is simple: as you get older, the body progressively loses its fast twitch, or power muscle, fibers.
If you don't stress the muscle and neurological or wiring system enough, the body continues its strength decline. In terms of resistance or weight training, at some point the weight has to be heavy enough that Greg can only perform 8-10 repetitions, or he won't access that explosive muscle fiber.
If you're comfortable going back to your athletic club during these uncertain times, you'll find circuits or rows of weight machines that work your body from head to toe. After a couple of weeks of getting your joints ready, try for three to four sets of 10 repetitions per machine twice per week.
(If Ginny won't go to a facility, then a carefully constructed program at home with resistance bands can be a reasonable substitute.)
How much is enough? About 25-28 sets of exercise in an hour is average—optimal is closer to 42-50. Start with the basics, then add the icing to your training cake.
Another thing—18 holes of golf (perhaps with a little range time included) takes about five hours. While that intermittent activity uses cardiovascular fitness, it does not actually develop cardiovascular fitness. It's just not intense enough and not sequential—neither Greg nor Ginny have been walking up a hill for 50 minutes all at once, but rather performing it in two- or three-minute chunks. It might add up, yet the fitness results are very different.
Because golf, no matter how they play it, involves some degree of walking—best to give the joints a break and train aerobically without any impact to the body. A combination of cycling, elliptical and maybe swimming is optimal. If picking out one activity at home, it would be the upright bike. Just choose a level where it feels like you're on cruise control—not too hard, not too easy. It's just as important to stretch it as far past 30 minutes as possible for maximum benefit.
When Ginny can get to 50 minutes of sustained activity at this level, then add a session of interval training once per week, the result will be a good metabolic boost.
Body awareness is a key component for older golfers. You can't improve a swing that you can't feel in space and time. From a purely fitness/results perspective, movement-focused classes have very limited effects on strength or aerobic fitness. However, they can build move- ment awareness. If Greg has extra time beyond the five sessions per week, then anything like movement based-yoga, Pilates—even Tai Chi— will probably help body awareness.
Many of these are available on-demand, so they can be performed when schedules permit.
Neil E. Wolkodoff, PhD, is the Medical Program Director for LivingVital, a longevity performance program in Denver, Colorado. Wolkodoff focuses his efforts on helping people 50+ live better, perform optimally, and live longer.
---
This article was also featured in the Winter issue of Colorado AvidGolfer.
Colorado AvidGolfer is the state's leading resource for golf and the lifestyle that surrounds it, publishing eight issues annually and proudly delivering daily content via coloradoavidgolfer.com.