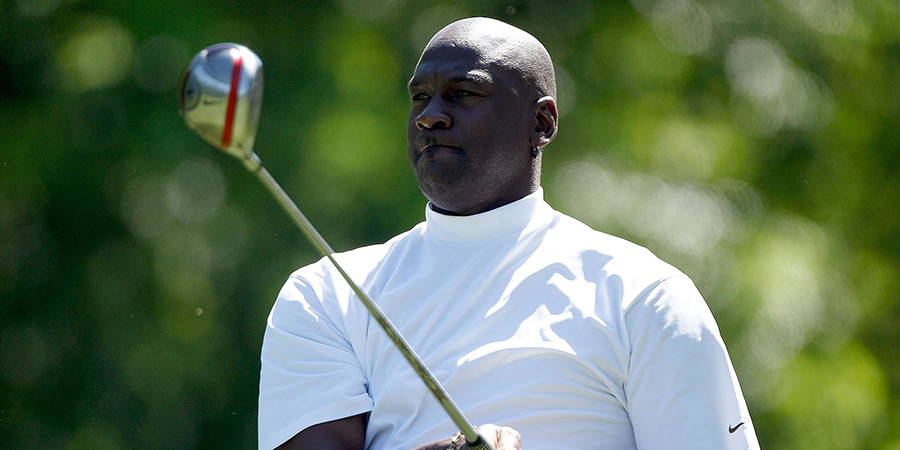 Basketball legend and committed golfer Michael Jordan's golf-tech investment company backs app creator.
By Tony Dear
V1 Sports's first mobile golf app launched in 2009 and has been downloaded over three million times. V1 Golf App users are able to connect with more than 10,000 instructors worldwide for video lessons with integrated telestration and voiceover. That means the instructor can record personalized messages and draw lines on the screen to illustrate what you are doing and what you should be doing. Not surprisingly, given how effective and user-friendly it is, V1 Golf App has won numerous awards and topped numerous 'Best of' lists in its time.
By engaging closely with customers in forums and chat rooms, the company continued to improve the product over the years as well as introducing hardware such as desktop and laptop computer systems loaded with V1 swing analysis software and the V1 Pressure Mat which measures and displays the amount of pressure being exerted on the ground throughout the swing helping users improve their weightshift. (It has also developed a Baseball app allowing batters and pitchers to analyze their mechanics).
It wasn't until 2020, however, that V1 Sports introduced a successor, or rather a companion, to the Golf App. V1 Game App offers an array of capabilities – GPS rangefinder operable on over 40,000 courses, shot-tracking and dispersion record, Virtual Caddie which recommends clubs based on past performance, and comprehensive post-round stats and Strokes Gained that Virtual Coach analyzes and then suggests areas of your game that need work.
Last month, it was announced that a certain former basketball player who loves his golf together with two business associates – Ken Weyand, general manager at The Grove XXIII in Hobe Sound, FL., the Bobby Weed-designed course Jordan developed and owns, and Darren May, the golf coach there – had been so impressed with V1 that their 'golf technology fund' – Black Cat Ventures, was investing in V1 Sports in order to 'pursue projects that further cement the brand as the number-one solutions provider for instructors, coaches and improvement-driven athletes'.
"We had a very engaged, thoughtful conversation with MJ as we talked a lot about what we could do in the future, which we haven't been able to dream about because it does come with both financial commitment and with (other) connections," says Bryan Finnerty, V1Sports's CEO who bought the company in 2016. "Michael, Ken and Darren established the Black Cat Ventures fund as a means to invest in, and partner with, companies like V1. Jordan believes elite instruction should be available to non-elite athletes anywhere on the planet. He wants to democratize the ability for all these kids to have access to really great instruction."
Co-developer of the V1 Game app was engineer Dallas Webster who has added 20 yards and seen his handicap drop from five to scratch in the four years since he began work on it – all while holding down two jobs and managing a growing family. The 37-year-old recently got the opportunity to caddie for LPGA player Vicki Hurst who has benefitted from using the app along with several other LPGA and Symetra Tour players (
PGA Tour players have access to ShotLink Data). Following the round Webster was able to view Hurst's stats for the round (a three-under 68) and saw a lot of stuff he expected to see plus
one or two things he didn't. "I am in no position to be critical of Vicky's golf game," he said, "but taking a statistical point of view, there were times when in my opinion she was too safe." Webster then showed how Hurst had taken a safe 3-wood on the 10th tee (Old American GC in Texas) when, looking at the app, a driver would actually have been the better play.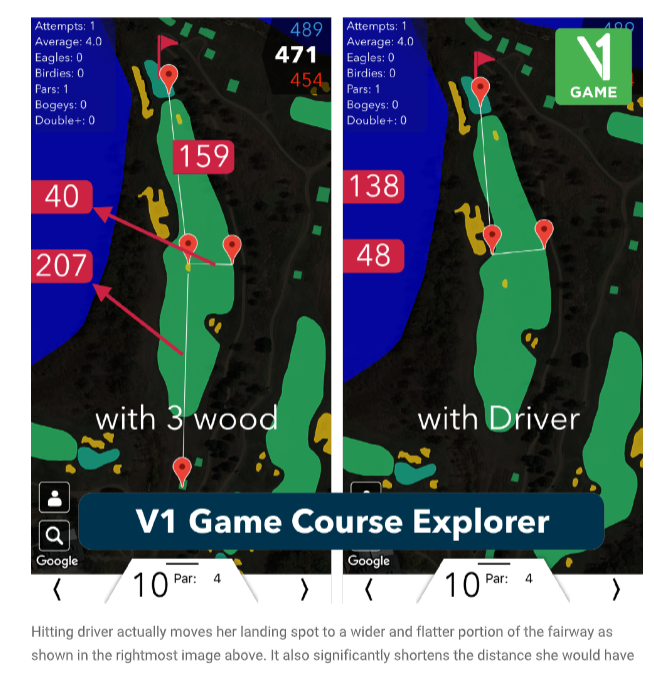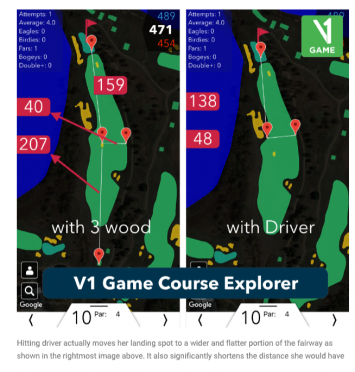 The image on the right clearly shows why hitting the driver might have saved Hurst a shot or two over the course of four rounds.
Webster also blogged (on golfwrx.com) after Phil Mickelson's unexpected triumph at the PGA
Championship and Jordan Spieth's popular win in Texas using the V1 Game App to show what parts of their game had been most meaningful in securing their victories. It gave a fascinating insight into how using V1 Game App could save you shots. Saving you shots is really what Dallas Webster, Bryan Finnerty and now Michael Jordan are all about.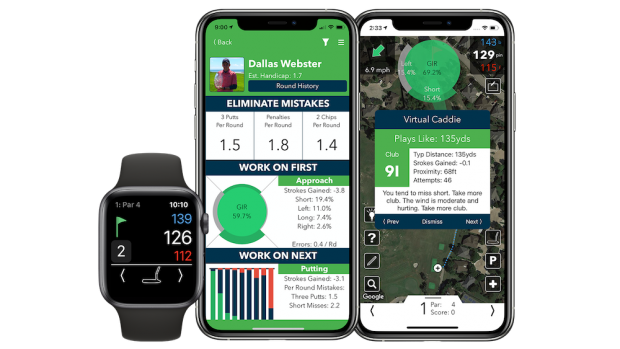 V1 Game App subscription is $120/year. There are also $20/year and $60/year options that give you fewer capabilities.
https://v1sports.com/athletes/v1-game-app/
---
For more on the latest and greatest gear in golf, visit our GEAR PAGE.
Colorado AvidGolfer Magazine is the state's leading resource for golf and the lifestyle that surrounds it, publishing eight issues annually and proudly delivering daily content via coloradoavidgolfer.com.
Follow us on Twitter, Facebook and Instagram.