The new P790 iron from TaylorMade is now available at retail and builds on the success of its predecessors with some potent new tech.
TaylorMade's P790 iron still has a long way to go before reaching the iconic status Ping's Eye 2 iron, Callaway's Big Bertha driver, Cleveland's 588 wedge or Odyssey's Two-Ball putter achieved, but there's no denying it's right on track. In the four years since the original launched, the P790 has logged some very impressive sales figures, more or less defined the Players-Distance iron category, and been the subject of countless glowing, five-star reviews.
Much of its success has revolved around what could be described as 'Beautiful tech'. It's less pervasive than it once was certainly, but a sense that technology in a golf club can look a little awkward, if not downright ugly, still lingers. Manufacturers building Players-Distance irons in recent years have done a magnificent job 'hiding' the tech inside genuinely attractive clubheads, and the P790 leads the way.
What the golfer sees as he picks the club from his bag then looks down on it at address is, and probably always will be, critical. A club's appearance has a significant influence on how comfortable the golfer feels using it, and it's clear an awful lot of golfers feel comfortable hitting the P790.
Perhaps even more important than its elegant, refined looking clubhead though is what's going on inside it. The 2017 and 2019 models featured a substance called SpeedFoam injected into the hollow body through a screw hole in the toe. It was there for two reasons – first to soften the vibration of impact improving feel and sound, and second to enable engineers to create an extremely thin clubface that flexed at impact and increased the speed at which the ball launched.
The 2021 club features the latest version of SpeedFoam, called SpeedFoam Air. The name does kind of make you wonder if TaylorMade believes the hollow body should be filled with elastomer or remain empty, but let's not dwell.
Instead, focus on the fact SpeedFoam Air is 69% less dense that what it replaces giving TaylorMade a little discretionary weight to play with – about 3.5g on average in each iron. And what do clubmakers do with discretionary weight – redistribute it, in this case by adding a tungsten weight (as much as 31g in the long irons – an increase of almost 60% over the previous model's tungsten weight) near the toe, in order to lower the club's Center of Gravity (CG), improve its Moment of Inertia (MoI) and optimize launch conditions – basically make it a little more stable, forgiving and easier to hit. TaylorMade says the effective sweetspot is significantly larger than it was on the previous models, especially in parts of the clubface frequently hit by mid-handicappers – high-toe and low-heel.
The forged 4140 steel L-shaped face is housed in a body made of much softer 8620 carbon steel and is a remarkable 1.5mm thick in places. So ball speeds get a boost with the speed pocket on the sole helping shots hit low on the face retain their speed.
Last week, we featured an iron – the Ping i59 – whose MSRP was a whopping $275 per club. The P790, though still a significant spend certainly, is a bargain by comparison and, we're guessing, will further the growing P790 legend.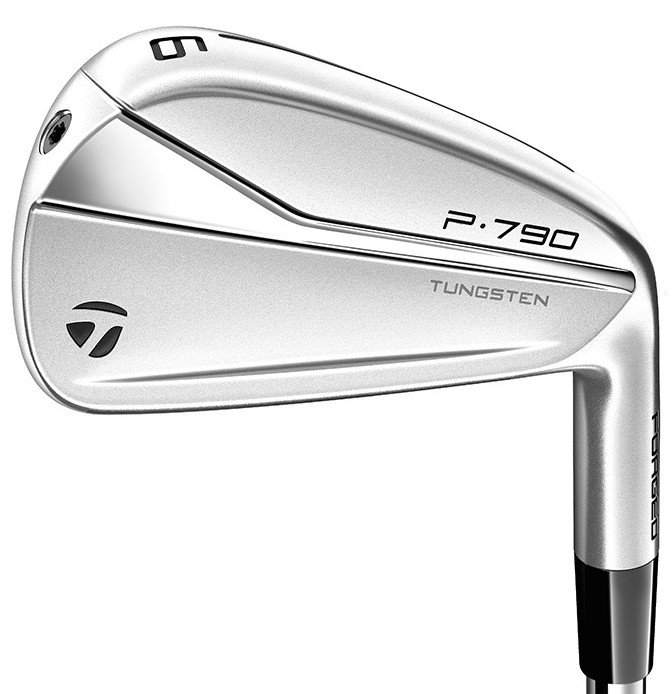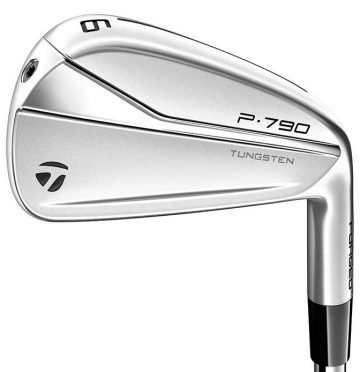 $185/club, or $1,300 for a set of seven
Shafts – Dynamic Gold 95 and Dynamic Gold 105 (steel), Mitsubishi MMT (graphite). Other options available at TaylorMade's Custom Shop.
Lofts – 7-iron: 30.5˚, PW: 45˚
Right and left-hand
Combine P790 irons P Series clubs (P770, P7MC, P7MB, P7TW) to create your own custom set.
taylormadegolf.com
---
For more on the latest and greatest gear in golf, visit our GEAR PAGE.
Colorado AvidGolfer Magazine is the state's leading resource for golf and the lifestyle that surrounds it, publishing eight issues annually and proudly delivering daily content via coloradoavidgolfer.com.
Follow us on Twitter, Facebook and Instagram.