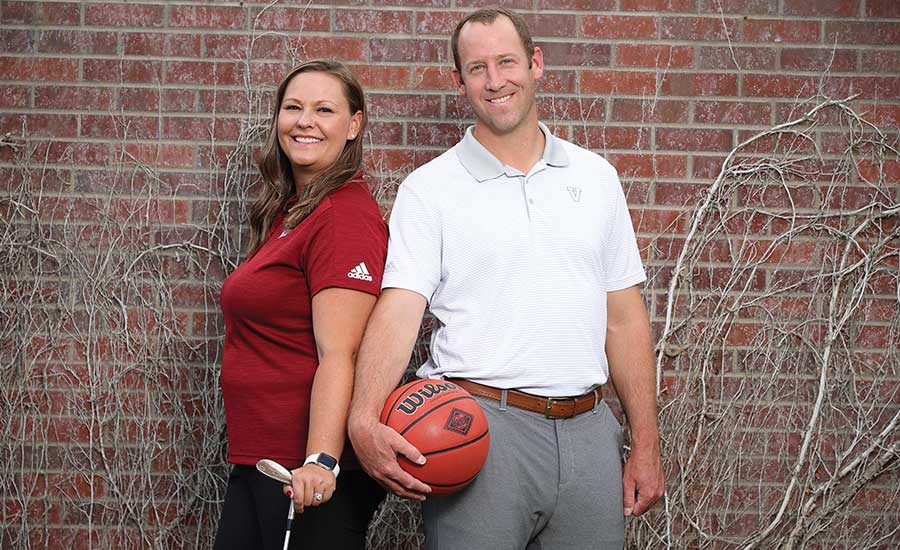 With an extended family of their DU women's golf and Valor Christian High School boys' hoops teams included in the mix, the household of coaches Lindsay and AJ Kuhle doesn't lack for competitive spirit.
LINDSAY KUHLE is the women's golf coach at the University of Denver, but she also played two years of high school basketball at Heritage High School in Littleton—more than enough qualification, she believes, for her to lend a hand and pass along her thoughts and observations of the boys' basketball team at Valor Christian High School to the coach, her husband AJ.
As in AJ Kuhle, the all-conference basketball player who ended his career at the United States Air Force Academy ranked in the all-time top 10 in assists and steals, followed by a brief NBA summer league stint with the San Antonio Spurs, the team coached by Gregg Popovich.
Like Kuhle, Popovich is a former assistant coach at the Academy who, it is said, knows a little bit about hoops.
"I'll write out my notes on who I thought did whatever well, and what we need to work on and why, and give him feedback—whether or not he asks for it," Lindsay says.
"And then I share it with the guys on our team," says AJ. "They love it."
And, upping her creds just a little bit more, Lindsay's quick to reference the time when she took Mr. Big Shot College Hoops Dude to school out on the court, beating him in a three-point shoot-out.
"When we first started dating, we'd go to DU and play HORSE or have shooting competitions," she says. "When I played, I was known for my shooting … and I beat him.
"He won't admit it, but you can ask him."
AJ's retort begins with a lengthy, mirth-filled chuckle.
"She's a good shooter, that's for sure, but I've heard that as we get older, our memories start to fade," he says. "I'm sure she's beaten me in basketball, just like I've beaten her in golf.
"Yeah, right."
Both Kuhles are quick to point out the similarities between their sports—things like the need for feel and touch and the ability to repeat a technique over and over again. The athletic dovetailing is as good a metaphor as anything to explain their lives—despite a mind-numbing swirl of parenting two young children and managing two high-powered programs with the subsequent pressures that accompany them, the Kuhles (pronounced Cool) give every impression of well, having it made in the shade. That's in part because their shared experiences allow them to pull on the rope from the same end, realize that success is a product of "less me and more we," or whatever jockish testimony to collaboration resonates.
"Being former athletes, we definitely have that competitive nature in us, but I think it's moved from that to more of teamwork," AJ says. "We both want to see each other have great success with our groups of young people and we want to influence them in a very positive way. Now, our competitiveness drives us to help our teams be successful."
In his first year at Valor, AJ's squad was poised to possibly win the school's second state championship, securing a berth in the Final Four. Meanwhile, Lindsay's Pioneers were in the midst of a historic season, setting team and individual scoring records and finishing fourth or better in each tournament in which they played.
"And we were peaking at the right time, you know?" she says. "I think we could have gone to the national championships."
But everything—including cutting down nets and hoisting trophies—was scuttled by the novel coronavirus. With it, DU's season came to an abrupt end; Valor never got the opportunity to take the court in the state semifinal.
"We both were just so excited about everything that was coming up," AJ says. "What we were doing at Valor, the success of her team … we were just so anxious to see what would happen, to see those groups have the level of success we thought they'd have.
"And beyond that, it was also the loss of the physical interactions you have with the teams, the people on them. There are so many relationships that go into success—the dynamics, how people step up and lift each other up. And then you have a meeting and tell them that the season has to end, and you don't see them again for two months—it's all Zoom meetings and FaceTime."
Both Kuhles say they're keen on making sure the people they coach are more than golfers and basketball players; it's important to integrate them into their lives away from the action as well. One reason is to give their two children, Lucy and Jordan, examples to aspire to, showing what might be possible if they put the work in and are great people to boot. So it's not uncommon that, as she's scribbling her critiques, Lindsay has Lucy and Jordan by her side in the stands. Similarly, when the Pioneers are playing locally, the two kids are getting plenty of fairway frolicking as well.
"We want our kids to be around our players a lot," Lindsay says.
"It's because they're amazing people," adds AJ. "In a way, we're trying to coach and teach the young kids in our house how to be like her college golfers or the guys on my team."
EVERY NIGHT'S A TUTORIAL
There are times, perhaps a small group around an LPGA or PGA TOUR putting green, or inside a locker room, maybe at a dinner table in a restaurant following a basketball game, when players or coaches get together and talk the game, and those fortunate enough to witness it are invariably amazed at the depth and passion of those conversations.
For the Kuhles, those talks can be held at the dining room table, the two finding themselves excitedly sharing and exchanging ideas and observations, which in turn are often passed along to their respective teams.
 "He'll send me profiles of players, or golf websites and go, 'You need to recruit this girl,' or 'Anna (Zanusso, a native of Italy and a freshman sensation for DU last season) needs to try to qualify for the Women's British Open,'" Lindsay says. "So it works both ways; we give each other advice and our relationship is such that, even when the other isn't asking for it, we can give each other feedback in a healthy way."
One thing Lindsay says she's picked up from AJ is his chill personality. Although much of his basketball career has been spent playing for and coaching with Joe Scott, the intense Air Force coach who at times, has a way with words that would cause a sailor to recoil in embarrassment, AJ says he largely takes his cues from the likes of his father, who coached him in youth ball, and Popovich, whom AJ considers a mentor, to the point that he's used the Hall of Famer as a reference when applying for jobs.
"At Valor, I'm fortunate to work with (former DU head coach and NHL Tampa Bay Lightning assistant) George Gwozdecky, who's very measured in his approach. I've read somewhere that you make better decisions when you're not moving up and down (emotionally), so that's why I try to stay level-headed."
It is an approach that's rubbed off on Lindsay—and there's a non-zero chance it might even stick.
"He's my calming influence; he tells me not to worry so much, that things will work out in the end—that, and to put my work away," she says. "He doesn't stress about anything, where I'm always thinking through stuff, whether it's about the kids or the team or whatever … if something's missing in the house, he's all 'Don't worry, it'll turn up'-and me, I'm not doing anything but thinking about it until I find it.
"So when I'm talking to him, and telling him, 'This is what I'm worried about, this is what I'm thinking, what should I do,' and he gives me that advice, that response, it's comforting to me—it puts my mind at ease."
Throughout her career, both playing (after Heritage, she played collegiately at Tulane in part because she didn't want to follow in the footsteps of her older brother John Hulwick, who played golf at DU) and coaching, Lindsay admits to being something of a control freak, and that there have been times in her career when she may have been guilty of micromanaging her players and staff. She would like that to change, perhaps even dialing down her natural obsessiveness in the process.
"I'm the type of person that plans and has structure and likes to know what my future holds and to have control over it; and anybody who knows me will tell you I have always been really driven with reaching my goals and working hard—almost to a point where it's too much," she says. "And that's something I wanted to focus on this year anyways; every year, I have a goal and I have one word that I like to focus on.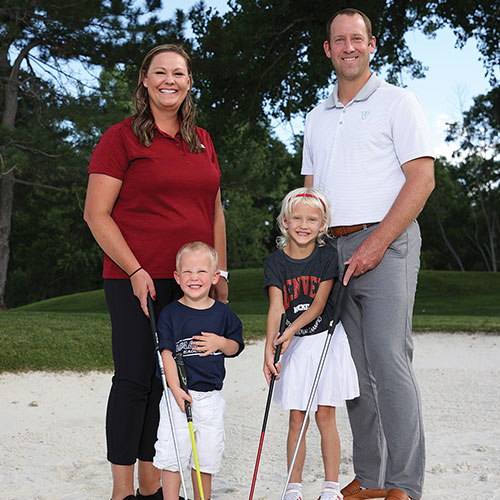 "This year, it was balance. Balance with, just my personal life, my family, and with my work and to really give all three equal attention. In the past, I've been all about work and my family's come second … it's been important for me to do the work, in part to show Lucy that it can be done, you can work and be a Mom, but one thing the pandemic has done, spending the last 16 weeks together as a family—no one's been traveling—is enable us to grow so much as a family."
THERE'S SOMETHING ABOUT MARY
Lindsay Kuhle is certain that the new, non-obsessed, more inclusive, yes, mellower, coach will still be able to deliver the goods for the Pioneers—as in lead the team to an NCAA title. Because of the pandemic, senior athletes, in essence deprived of their final seasons, were granted another year of eligibility. For DU, that means Mary Weinstein, the school's all-time leader in scoring average (73.07) will return.
"This last year was one of our best ever; and I know that with the players coming back, and with the new teammates coming in next year, we'll be even stronger next year," Weinstein says. "Obviously, we don't know what's going to happen with COVID-19 and how it will impact our sport, but whenever we come back, I'm certain we'll be competing for a national championship."
In some ways, Weinstein has been the poster child for her coach's journey to Zen enlightenment. Not surprisingly for someone who wants to be in control of every possible variable, Lindsay Kuhle is a big fan of analytics, forever poring over data that measures items like launch angles and spin rates, then passing the information on to her players, who are, in turn, expected to incorporate it into their games.
To put it kindly, Weinstein is not a big fan.
"She likes looking at every little thing—how we did on the par-3s, what our putting numbers are like," Weinstein says. "Personally, I'm not into all those things, stuff like Trackman (a software product that measures golf performance in a variety of areas). We have individual meetings with coaches after each tournament and we're encouraged to look at the numbers; and I do that, but I don't go as in-depth with it as some of the others—it's just who I am as a player."
So, as challenging as that may be for Kuhle, the mother with the two precocious, adorable kids has learned to channel the lyrics to the song from Frozen that's sung to children everywhere these days and "Let it Go."
"She's the first to admit that she's not totally obsessed with golf, but Mary just has a switch that, when it's time to play and compete, she flips it and she's right there," Kuhle says. "If a player doesn't want to use the statistics, doesn't want to spend hours on their mental game, I'm not gonna force it on them—I'm going to try to sell them on it, try to show them the benefits of it—but if they don't see it as another tool to help them get better, I won't force it.
"And that's what I've done with Mary. She's very independent; she knows what she needs to practice on, and how long she needs to practice on them, and for her, less is more … This is who I am, and I try to recruit players who are like me in terms of personality, but if they're not, I'm the one who has to adapt … I just try to slip stuff in every now and then."
You'd expect nothing less from a true competitor.
---
This article was also featured in the August/September 2020 issue of Colorado AvidGolfer.
Colorado AvidGolfer is the state's leading resource for golf and the lifestyle that surrounds it, publishing eight issues annually and proudly delivering daily content via coloradoavidgolfer.com.