Using a launch monitor and rangefinder can dial in club selection and improve course management.
By Trent Wearner

How far do you hit your 9-iron? Most golfers will respond with a number that reflects a distance longer than they normally hit it—an "on-the-screws" shot. Golfers think their clubs go one certain distance, yet due to the difficulty of the game, we don't consistently hit the ball perfectly. Each of our clubs actually propels the ball within a "range" of yardages.
For instance, if you were to hit 10-20 balls with your 9-iron, they might carry anywhere between 130 and 145 yards. Yet, when faced with a 145-yard shot, you always pull out that 9-iron to hit that perfect full yardage. And what if there's water or some other hazard short of that 145-yard target? There's more than a good chance you'll find it.
Take advantage of a high-quality launch monitor such as a Foresight GC Quad, Trackman or FlightScope to find your yardage "ranges." That range can be 15 yards or more, leading to a well-struck pitching wedge traveling farther than a poorly struck 9-iron; a well-struck 9-iron going farther than a poorly struck 8-iron and so on.
That also means that the range of yardages will overlap between clubs. For example, your PW could go 120-138 yards for an average of 129, while your 9-iron travels 132-148 yards (an average of 140) and your 8-iron flies 145-165 (an average of 155).
Knowing the range of yardages and the average distance you hit each club will better inform your club selection. Sometimes you may find an inappropriate gap between clubs, either too small or too big. This could mean you need to get your shafts or lofts checked with those clubs.
Create a Cheat Sheet
Most launch monitors have a function where, after hitting all your clubs, it will create a printable "cheat sheet" of yardages you can laminate and keep for reference during a round. Just make sure you get your range of yardages for each club—not just your average yardage.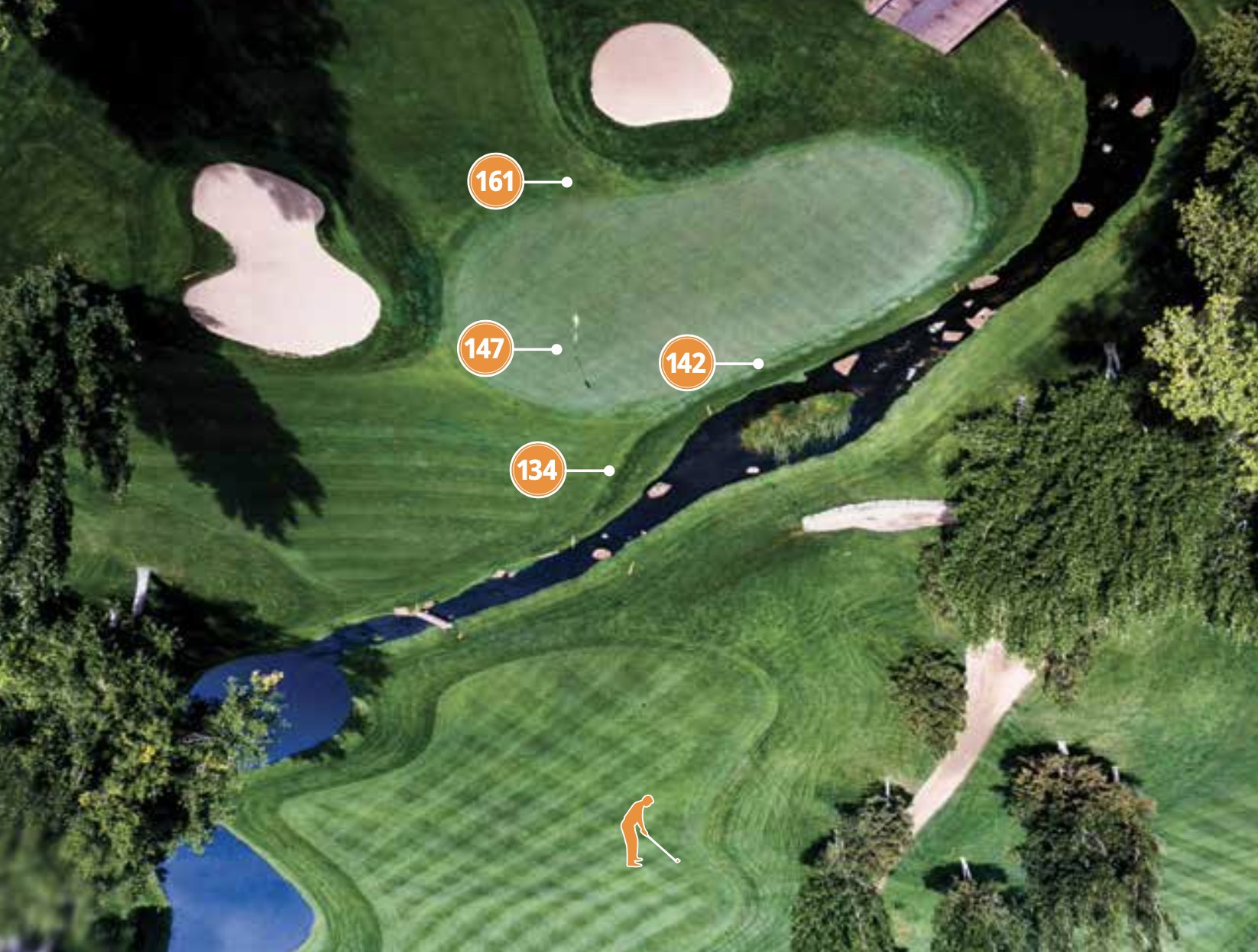 Play It Smart
The next time you're faced with an approach shot, put your club-yardage knowledge to your advantage. Use a rangefinder to laser not only the flag, but also the hazards that will potentially come into play.
For example, in this diagram of Cherry Creek Country Club's second hole, you would laser the yardages to carry the creek, to reach the pin and to find the back edge of the green, where a bunker and more water lurk just beyond. The key is to STOP only lasering the pin!
Finding out you'll need 134 to 142 yards to clear the water in line with the pin, 147 yards to the reach the pin and 161 to stay short of the trouble behind the green, what club do you pull?
Going with a 9-iron you can hit 148 yards is a poor choice here, because you can also hit it 132 yards into the water. The average distance of 140 yards leaves you little margin for error, especially with the creek curling up the right side of the green. Reach instead for the 8-iron, as its range of distances (145-165) better fits the range of yardages you lasered. This club choice also takes the pressure off you having to hit it perfectly.
Trent Wearner is a six-time Colorado PGA award-winning golf instructor with academies at Cherry Creek Country Club in Denver, Colorado National Golf Club in Erie, and Meadow Hills and Murphy Creek golf courses in Aurora. He has appeared on Golf Channel and [email protected] and atop Golf's and Golf Digest's "Top instructor" lists. trentwearnergolf.com; 303-645-8000.
---
This article can also be found in the May Issue of Colorado AvidGolfer.
Colorado AvidGolfer is the state's leading resource for golf and the lifestyle that surrounds it, publishing eight issues annually and proudly delivering daily content via coloradoavidgolfer.com.