Is knee pain preventing you from scoring—or even playing? Joint replacement isn't the only solution.
By Kathleen Kershisnik Sieg, DPT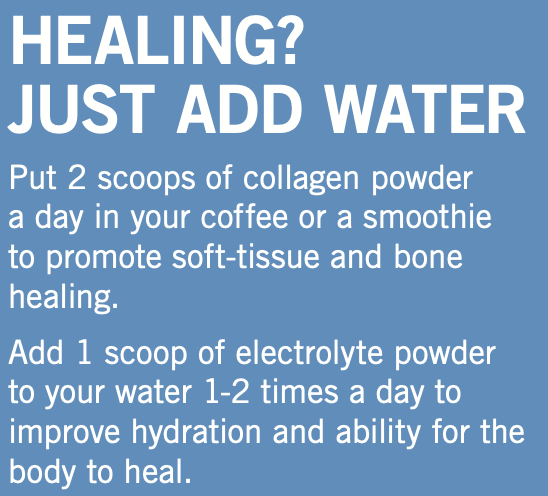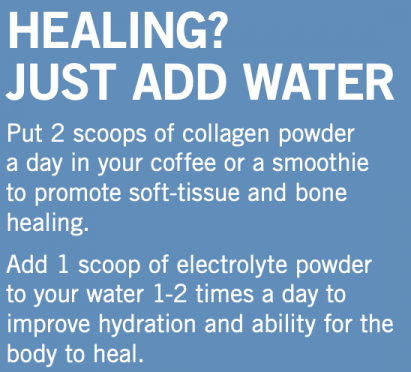 KNEE PAIN AND KNEE INJURIES can significantly alter a golfer's swing mechanics and ability to walk the course. In fact, a healthy knee joint is crucial for a golfer to maintain stability and balance during the follow-through. According to Oregon-based orthopedic surgeon Timothy Bollom, M.D. a golf swing delivers a force of 41⁄2 to 5 times your body weight to your lead leg's knee joint in less than a quarter of a second. "It would be less stress on your knee to jog 18 holes than to play 18 holes," he says.
So, although hip pain is also a common complaint of golfers, your knee is far more likely to be injured while playing golf or to be- come arthritic with age than your hip is. The knee accounts for 80 percent of all cases of osteoarthritis, which is the most prevalent joint disease and leading source of chronic pain in the U.S., making knee replacements more than twice as common than hip replacements. In 2019, an estimated 490,000 total hip replacements and 1.1 million total knee replacements were performed, and these numbers are predicted to rise, reaching 1.4 million total hip replacements and 3.4 million total knee replacements per year by 2040.
Although these statistics are alarming, they're not surprising—especially if you are one of many who are experiencing knee pain and considering a surgery. Or if you're some- one recovering from a total knee replacement.
As a Doctor of Physical Therapy and for- mer NCAA Division I golfer and assistant coach, I have studied the biomechanics of the golf swing for years. I have developed prehab and rehab exercises so my patients can return to playing as quickly and safely as possible. Ideally perform these exercises 3-5 times per week.

POSTERIOR PELVIC TILT + GLUTE BRIDGE WITH RESISTANCE
2-3 sets of 10 reps with a 3-sec. hold at the top
STEPS:
1. Lay on firm surface your back with knees bent and a medium to heavy resistance band above your knees.
2. Engage your lower abdominal muscles by flattening your low back into the ground.
3. Lift your hips, squeezing your glutes at the top.
4. Lower your hips back to the ground, rolling out of the bridge by touching your low back to the surface before your tailbone.
BENEFITS: Increases strength of your core, hips, and thighs (the muscle group most affected by atrophy following knee surgery).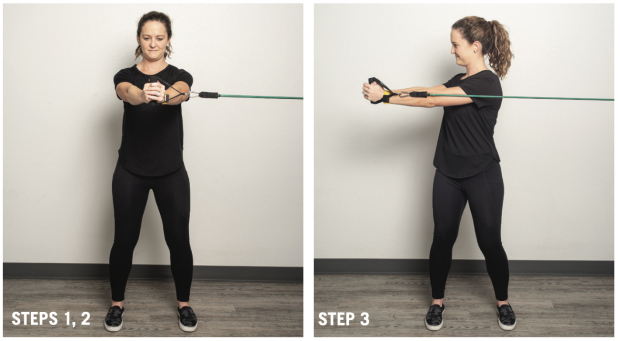 RESISTED THORACIC SPINE ROTATIONS
2-3 sets of 15 reps
STEPS:
1. Stand in a golf stance with your knees slightly bent and your arms extended out in line with your shoulders.
2. Using an overlapping grip, hold a light- to medium-resistance band in both hands.
3. Keeping your elbows straight, rotate your arms and trunk over your hips (like a golf swing) without moving your hips or locking your knees.
4. Slowly control the resistance band back to the starting position in line with your chest.
BENEFITS: Strengthens core while increasing active spinal and hip rotation range of motion during the golf swing.

DIAGONAL HIP EXTENSION KICKS (WITH OR WITHOUT RESISTANCE)
2-3 sets of 15 reps
STEPS:
Stand with hands supported at countertop or chair and light-to medium-resistance loop around both ankles.
On the standing leg slightly bend the knee to engage your glute muscles.
On the kicking leg, straighten your knee and point your toe slightly inward.
Kick backwards and sideways at a diagonal, engage your core to avoid arching at the low back.
BENEFITS: For increasing bilateral hip stability, improving balance, and reducing swaying at the hips throughout the golf swing.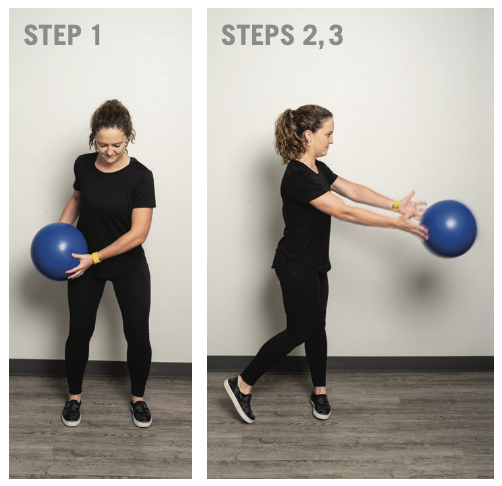 REHAB/POST-OPERATIVE (6-12 WEEKS POST-OPERATION)
WALL BALL REBOUNDS
2-3 sets of 20 reps
STEPS:
Stand in a golf stance with your knees slightly bent, holding a small stability ball or weighted ball in both hands against the front of your outside hip.
Turn at your hips (like a golf swing) throw- ing the ball against the wall using the power of your arms and hips.
Finish with your hips and trunk facing the wall like you would on your follow-through.
BENEFITS: Improves balance, strength, agility and the ability to finish a golf swing confidently.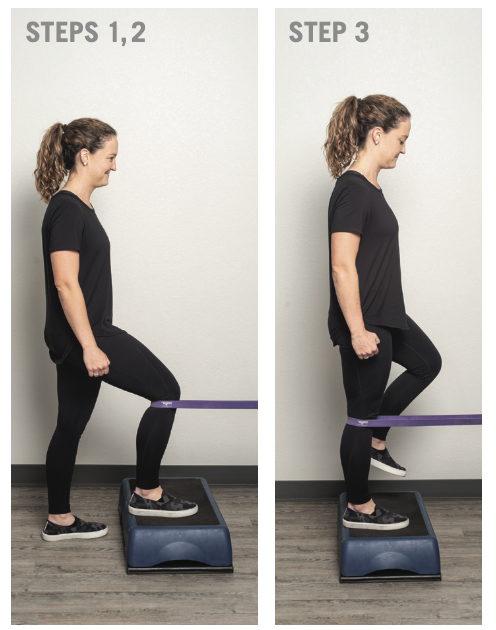 STAIR STEP UP WITH RESISTED TERMINAL
KNEE EXTENSION
1-2 sets of 20 reps with 3-sec. hold, each leg
STEPS:
Loop one side of a medium/heavy resis- tance band around a banister or stable pole and the other side around the back of your knee joint
Step up on a 4- to 8-inch step stool or bottom step of a staircase
Straighten your knee into the resistance band, activating your quadriceps muscle
Relieve tension on the band as you bend your knee and return your opposite foot to the ground.
BENEFITS: Increases quadriceps strength, knee extension range of motion and the ability to climb stairs and walk the golf course safely.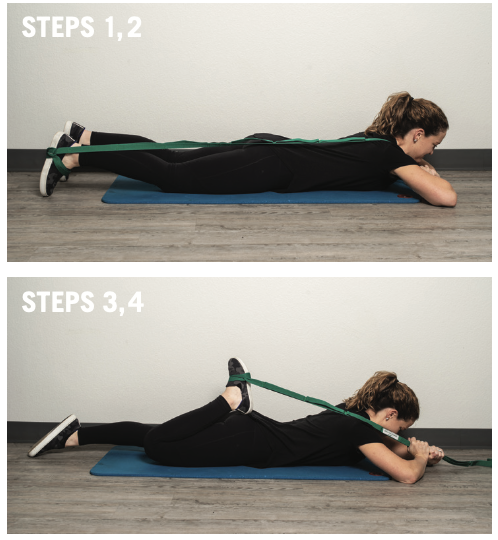 QUADRICEPS STRAP STRETCH/ PRONE KNEE FLEXION
Perform 2-3x/daily for 2 minutes moving the knee in and out flexion
STEPS:
Loop a yoga strap, dog leash, belt or rope around your mid-foot.
Lay on your stomach holding the opposite end of the strap in your hands.
Pull the strap to bend your knee and stretch your quadriceps muscle.
The goal is to get your heel as close to your butt without increasing knee joint pain.
BENEFITS: Increases knee flexion range of motion in order to improve a golfer's ability to walk, swing and pick up their ball after sinking a birdie putt.
Kathleen Kershisnik Sieg DPT practices at Physical Dimensions Integrative Health Group in Englewood. physicaldimensionsihg.com; 303-925-1050. For detailed videos of these exercises, go to Instagram @KKSiegDPT or the company Facebook page: Physical Dimensions-Chiropractic/Physical Therapy.
---
This article was also featured in the Fall 2021 Issue of Colorado AvidGolfer.
Colorado AvidGolfer is the state's leading resource for golf and the lifestyle that surrounds it, publishing eight issues annually and proudly delivering daily content via coloradoavidgolfer.com.