Inspired by the Topgolf Experience, Nine Co-Ed Teams Battle in Innovative Golf Channel Shotmaking Competition
ORLANDO, Fla. – Denver resident and golf instructor McKenzie O'Connell will compete on Golf Channel's Shotmakers, an innovative new golf competition where precision shotmaking meets intense strategy in a fast-paced format. The new competition-based show premiered Monday, April 9 at p.m. ET, with O'Connell's team finishing in fifth place after round one.
Shotmakers will take place at Topgolf Las Vegas and feature nine co-ed teams of two pairing up in head-to-head competitions that test precision, distance and control, all while facing intense pressure and strategic decision-making. The 18 competitors include a former PGA TOUR professional, mini-tour professional golfers, an Olympian, former collegiate athletes, a former World No. 1 World Long Drive competitor, a trick-shot artist, decorated military veterans, and champions from the Topgolf Tour.
---
---
Introduced to the game of golf at 5 years-of-age by her mother – a longtime club professional in Nebraska – and her father, O'Connell is following in her mother's footsteps in giving back to the game as a teaching instructor. She also is an ambassador for Women With Drive, a social media organization with the goal to bring more women to the game of golf.
O'Connell's teammate on Shotmakers (Team Lightning) is professional golfer and decorated military veteran Chad Pfeifer.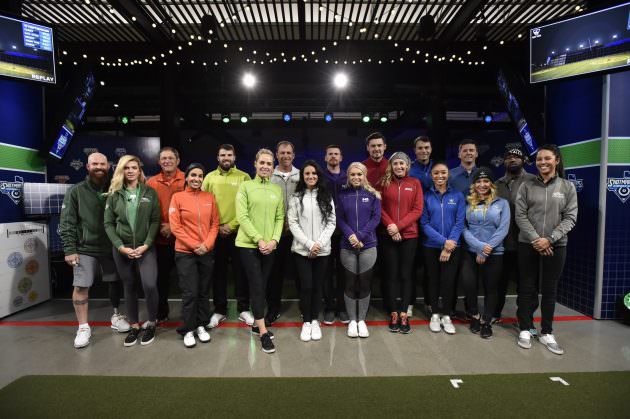 Another Colorado connection in the field is mini-tour player Tisha Abrea of Murrieta, Calif., who tied for sixth in the 2016 CoBank Colorado Women's Open with O'Connell as her caddie.

The competition will utilize Toptracer by Topgolf, the leading technology used on PGA TOUR televised broadcasts that immediately shows players their ball's flight, speed, distance and curve on screen, as well as the games made popular at the 41 Topgolf venues around the world. Teams will compete for cash and prizes in each competition and will be eliminated until one team is left standing as the champion of Shotmakers.
Shotmakers will feature seven rounds of competition airing two nights a week– Monday and Tuesday nights – at 9 p.m. ET beginning April 9 and concluding April 30. The series will also be distributed across Golf's international platforms, airing in more than 60 countries worldwide.
---
---