Major champion and Ryder Cup hero Justin Leonard moves up to the mountains and into the broadcast booth.
By Jon Rizzi
Photography by Justin Tafoya and Clarkson Creative
---
"What if we took golf out of it?"
Twelve-time PGA Tour winner Justin Leonard asked his wife Amanda the question in 2015. They were living in a 13,930-square-foot home they'd built just north of Justin's hometown of Dallas, but an "urge to simplify" had them weighing alternative places to live and raise their children—daughters Reese and Avery and sons Luke and Skylar.
Leonard, then 43, had played in 22 events that year, making only eight cuts. "I was tired of the travel, tired of not seeing any real results from playing and practicing," he explains. "The worst part was the time I'd miss with family. When you're playing well, you can kind of justify missing your daughter's school play. But when I miss the play and I miss the cut, that's doubly frustrating."
The couple considered downsizing in Dallas, but Justin knew he'd fall into the same familiar routines. They needed a change.
"Amanda's from Florida—the Jupiter area, where half the Tour lives," he says. "So we started kicking that around." But early in their marriage, the couple had owned two places in Telluride ("where there's a real anti-Aspen sentiment," he notes) and later rented a home in Aspen during the summers of 2012 and 2014.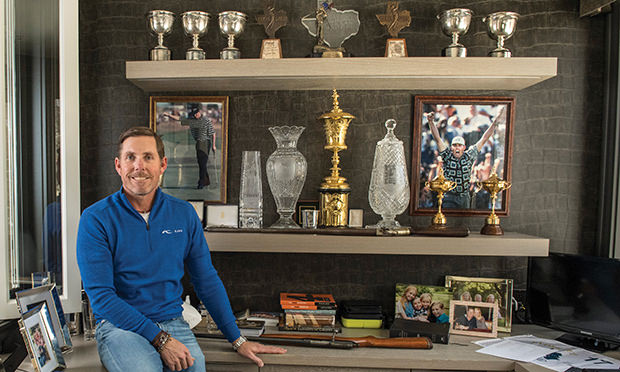 "When we left Aspen in 2014, it was like, 'I really hate leaving this place,'" he says. Then Justin had an epiphany. "I came home one day from the golf course and said, Florida's very natural for golf, but we've made enough decisions—vacations, whatever else—based on my playing career," he remembers. "What if we took that completely out of the equation? I said, 'We can move anywhere and I'll just figure it out.' Then all of a sudden, this became a real, viable option."
By "this" Leonard means the home he and Amanda bought in 2015 on a corner lot in the heart of Aspen's charming West End neighborhood. The two-story, five-bedroom house is less than half the size of their Texas spread, and about as intimate as a 5,500-square-foot home can be.

The rooms on the main floor flow into each other, leading to a well-appointed custom kitchen with a pair of islands: one for eating and food prep; the other a catch-all for mail, schoolbooks and shopping lists—and beneath it, instead of cabinetry, a custom nest for the Leonards' yellow labs, Blizzy and Maggie, who are chilling after joining Amanda on a 90-minute aerobic ascent up a nearby trail.
A visit to the garage suggests an REI rather than PGA Tour Superstore. Six sets of downhill ski equipment—helmets, poles, boots—share space with pairs of skin skis, a fleet of mountain and road bikes, lacrosse sticks, footballs, soccer balls and other gear. Standing in a bag across the way, his shiny PXG golf clubs look somewhat neglected.
To some degree they have been. Aside from occasionally practicing with Luke and Skylar and playing four or five holes with them at nearby Maroon Creek Club, Justin played all of four rounds last summer.
"And I donated those for charity and stuff like that," he says. Groomed hints of the bushy "mountain man" beard he regularly sported after relocating to Aspen shadow his youthful face. In his blue, eye-matching KJUS pullover, the five-foot-nine Texan appears far slimmer than his listed weight of 170 pounds. "I'd rather be on a bike or hiking up a mountain than on a golf course," he says. "I've never been a social golfer. For me it's always been more work-related."
In 2016, a whiskery Leonard played in 13 PGA Tour events, and last year, he only competed in the Texas Valero Open, finishing T58 in an event he'd won three times before. Trophies, plaques, photos and medals from those and other PGA Tour championships— along with his Havemeyer Trophy, Claret Jug and the two Ryder Cups he earned as part of the 1999 and 2008 U.S. teams— fill two shelves in his modest home office.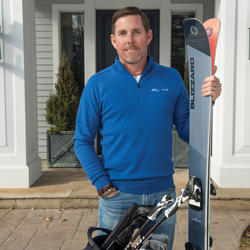 Leonard may have shelved his competitive playing career, but he recalls his experiences in articulate detail with wit, insight and candor. That combination—along with his bona fides as a major champion and Ryder Cup icon—has made him a fast-rising star analyst on NBC Sports and Golf Channel.
The broadcasting bug didn't bite Leonard as much as nip him in 2014 when, as part of its Ryder Cup coverage, Golf Channel asked him to tour Brookline 15 years after his 45-foot "putt heard 'round the world" capped the American squad's improbable comeback to win the event. The following year, he talked to former Tour player Joe Ogilvie, who'd done some digital announcing for Fox Sports, and shortly thereafter ran into NBC/Golf Channel broadcaster Steve Sands, who was emceeing at Scott and Kim Verplank's annual charity event in Oklahoma.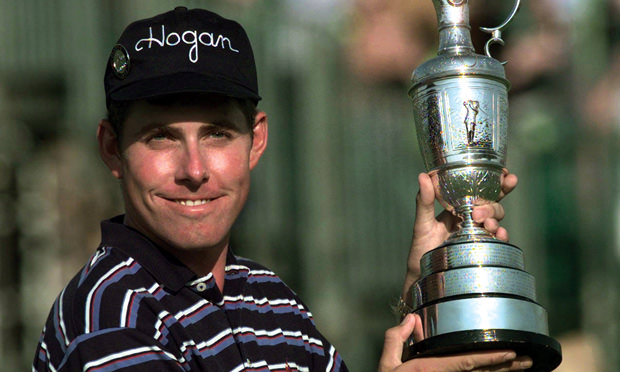 "Steve's a Vail guy," Leonard jokes. "After the program, I pulled him into a dark corner with a couple of beers and picked his brain."
Sands recalls the chat. "Justin had such an interest in being around the game and letting the audience know what's happening with the best players in the world," he says.
"He's a natural. He was always a go-to guy for interviews as a player because he had such insight and took his craft so seriously. You could tell a long time ago that if he chose to go into broadcasting, the sky would be the limit."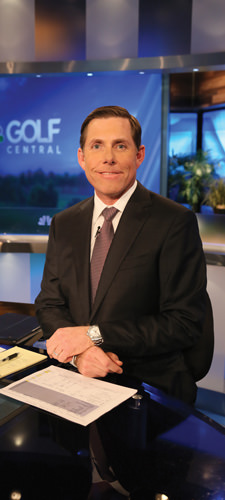 That August, Leonard took to the sky for a meeting with NBC Golf producer Tommy Roy. "He's in Jacksonville; I'm in Aspen, so we flew to DFW, never left the airport and talked for three hours," Leonard remembers.
The next month he found himself in Chicago in the production truck at the BMW Championship, where he also shadowed Gary Koch and Peter Jacobsen on the course.
"He's like a sponge," says Sands.
"He's so enthusiastic about learning the business," says Dan Hicks, the play-by-play host of NBC Sports' PGA TOUR coverage. "He doesn't have the 'I got this' attitude that many former pro athletes have, of just showing up and everything magically happens. He comes into the broadcast with the same work ethic he brought to playing.
"He's out on the practice tee with the players picking up nuggets. He has those relationships. The hardest thing for golfers who become broadcasters is realizing you're not a player anymore. As a player, you're worried about your game. But it's a much bigger playing field in the booth than it is on the course. You have to be a broadcaster first, and Justin realizes that. He's been able to cross that line almost immediately."
Leonard says his greatest challenge was giving his take. "I spent years not sharing my opinion or talking about anybody because I didn't want to be in any kind of controversy," he says. "Now I'm getting paid for giving my opinion. So in a lot of cases I had to figure out what my opinion was."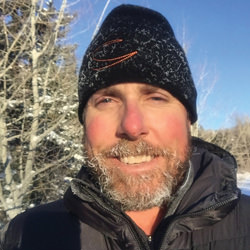 "Is Justin going to say something wacky or out of bounds?" Sands asks. "No. But he understands that sports is entertainment. He's finding he can joke around a little more and not step over the controversial line. He's not heeling to corporate sponsors, so he can be relaxed and just be himself."
"In the beginning I was trying to be a golf analyst," Leonard says. "Now I'm getting more comfortable with just talking about something I know very well." He now watches sports "completely differently. I listen more than watch—80 percent versus 20 percent."
Golf fans will hear and see Leonard at least 15 times this year, including at the Ryder Cup in France. Last December, however, they saw but didn't hear him during the PNC Father-Son Championship, an event he was initially supposed to cover. Earlier, during the Presidents Cup, Golf Channel Executive Producer Molly Solomon asked if he would play on a son-father team with his dad, Larry.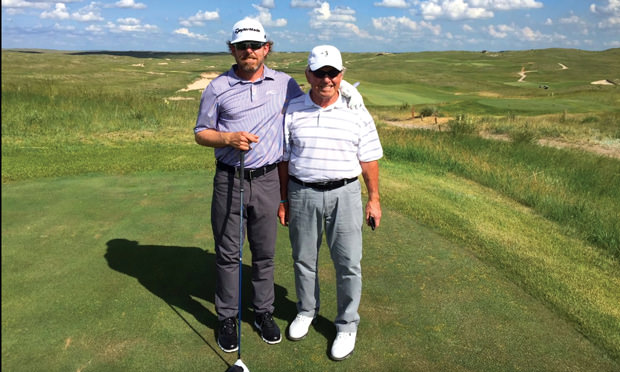 The Leonards paired up, but the event seemed to make the biggest impression on Justin's oldest son, 11-year-old Luke, who traveled with his father to the Orlando event.
"He really wanted to get out there and practice and stuff," Justin says. "I think it kind of inspired him a bit seeing Paddy Harrington's little boy, who's 14, and Leo Goosen, who's 15. Luke was like, 'I wonder if I could be out here in three or four years.' My approach with the kids and golf is give them access—if they want to go out, I'll take them. I'm not forcing it on them at all, because that doesn't usually work out very well at all."
After all, nobody forced him to move to Aspen, and things have clearly worked out quite well for him and his family.
---
This article is the cover story in the Spring 2018 issue of Colorado AvidGolfer Magazine— the state's leading resource for golf and the lifestyle that surrounds it, publishing eight issues annually and proudly delivering daily content via coloradoavidgolfer.com.