Mizuno's latest family of Hot Metal irons looks better than ever.
By Tony Dear
We all know how much science and expertise it takes clubmakers these days to find an extra mile or two per hour of ball-speed and, in turn, a couple more yards for your driver (those commercials promising an extra 20 to 25 yards, while technically not false advertising, assume the driver you're replacing was probably made of applewood or beech or was, perhaps, your four-year-old's plastic club).
Because USGA rules on shape, dimensions, volume, adjustability, weight, length, CT, Moment of Inertia (MoI), etc. are pretty strict, manufacturers are really only able to make limited adjustments to find you a little more of what you need. One important aspect of the club they can alter is what it's made from.
Mizuno began using a metal called Chromoly in 2016 with its JPX 900 irons. A mix of chromium and molybdenum, this 'Hot Metal' had an extremely attractive weight-to-strength ratio and was used in the manufacture of car and even airplane parts. And such was its suitability for golf clubs, irons specifically, Mizuno was able to create extremely thin but durable clubfaces. The Chromoly 4140M served the Japanese clubmaker well but it had come time for Mizuno to update it. Even minor design changes over the last six years had rendered the original Hot Metal more or less obsolete, at least where contemporary golf irons were concerned.
So Mizuno added Nickel, taking the Chromoly to an extra level of strength, and enabling the company to create clubfaces just 1.75-2.05mm thick. This new Nickel Chromoly 4335 is the flagship feature of the three new JPX 923 Hot Metal irons released last week – two more JPX 923 clubs: 'Tour' and 'Forged' are coming in February 2023 (the earlier arrival of the Hot Metal irons means they will be ready for snowbirds heading south for the fall and winter). The three Hot Metal models are the standard version, JPX 923 Hot Metal Pro, and JPX 923 Hot Metal HL.
Mizuno is, of course, associated with classic, forged irons built for elite ball-strikers but it is actually the game-improver Hot Metal lines that have won it acclaim and retail success of late. The JPX 923 Tour and JPX 923 Forged will, no doubt, be elegant irons that feel amazing and sit proudly in the bags of some of the world's best iron players. For now though, we are solely concerned with the Hot Metal offerings which, besides the unifying Nickel Chromoly 4335, are all single-piece castings (no face inserts or added weights) and feature what Mizuno calls the 'V-Chassis' – a distinctive shaping of the toe which is designed to stabilize the head thus enhancing feel (by controlling vibration and sound) and improving performance.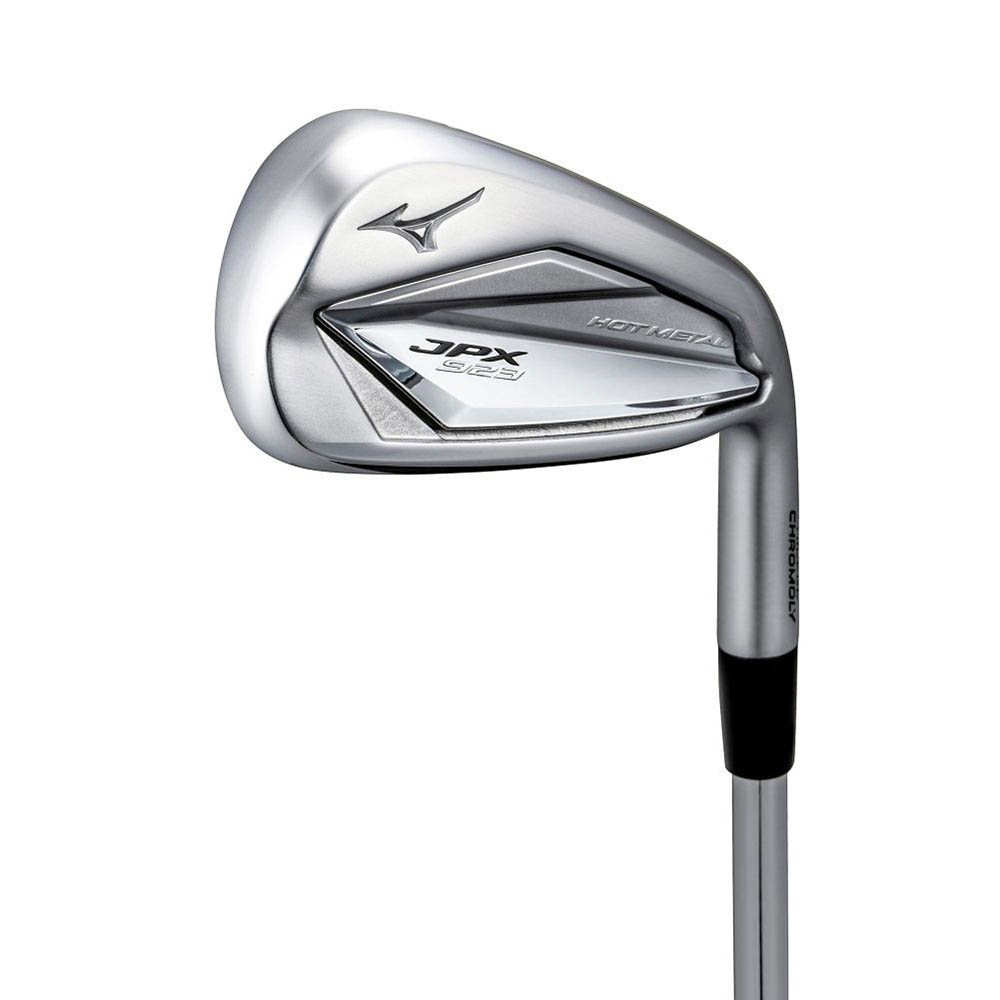 The standard JPX 923 Hot Metal is a sophisticated-looking club but, as the JPX line has done since appearing for the first time in the USA in 2011, is really built for the game-improver. The Nickel Chromoly faces have two advantages – firstly, being so thin they deflect a little more thus creating a little extra ball speed and, secondly, because they are so light and the soles relatively wide, the Center of Gravity (CG) moves back and low in the head. This allows Mizuno to keep lofts low but still launch the ball high with a decent mount of spin. That combination leads to easy launch, quite a high trajectory and the ball falling to the ground on a steep angle of descent which helps it stop that bit quicker. It's a combination that has Mizuno calling the JPX 923 Hot Metal its 'fastest-stopping fast iron'.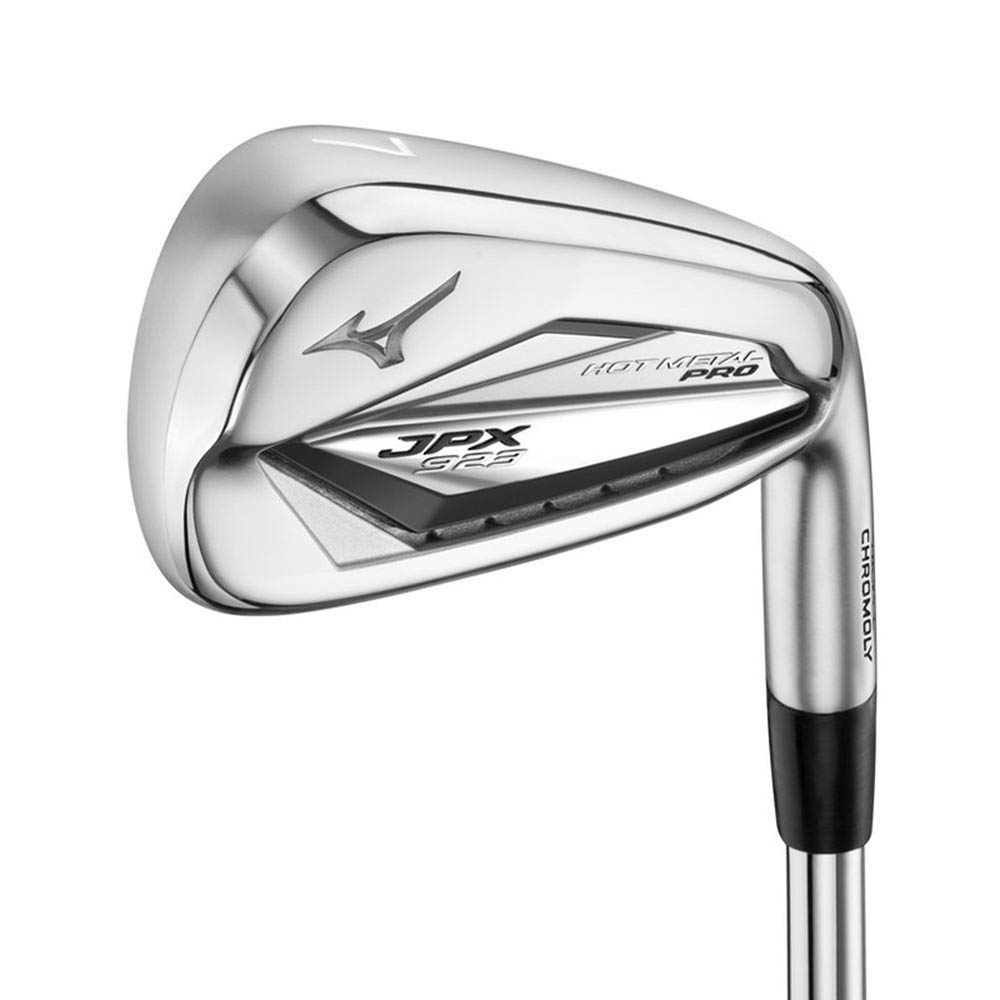 The JPX 923 Hot Metal Pro shares all of the standard version's technologies and, indeed, lofts, but has a shorter blade width and is a little more compact. It looks like a player's iron but has plenty of forgiveness for an ironhead of this size.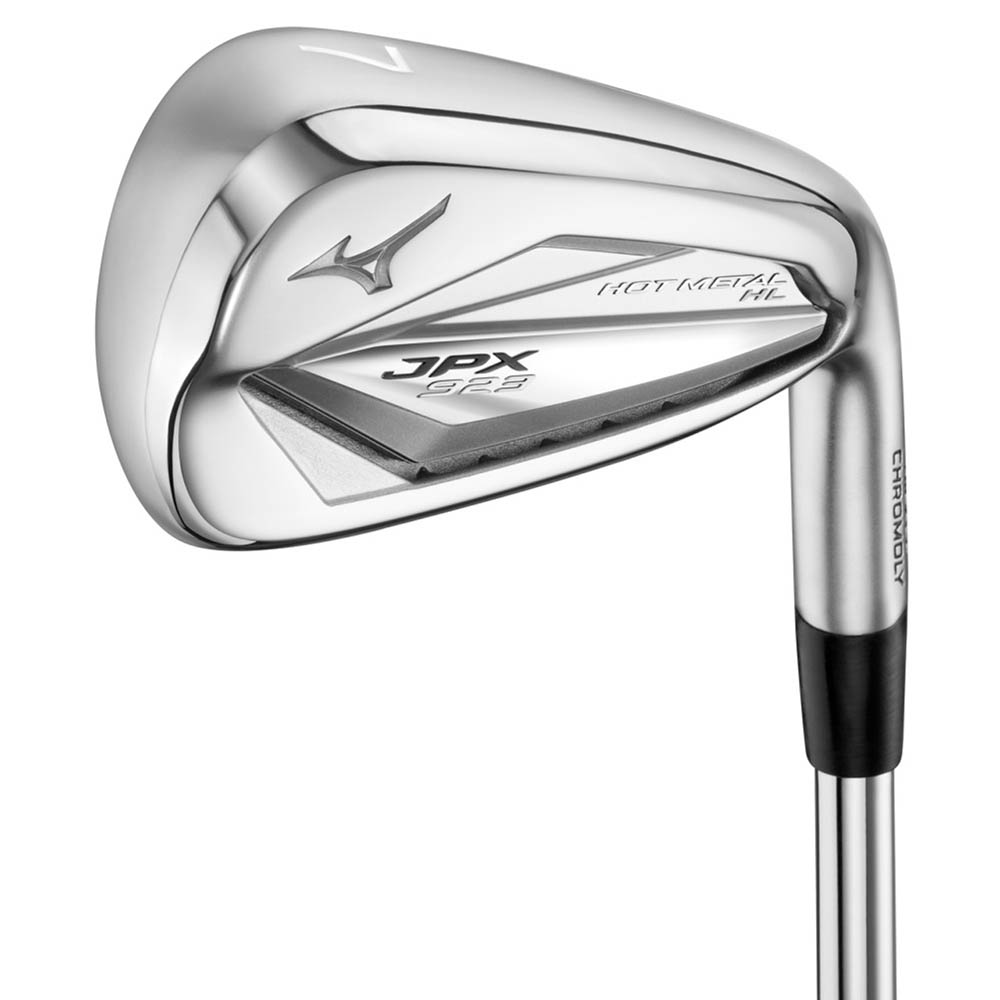 The JPX 923 HL (High Launch) is designed for the super game-improver though Mizuno has clearly made a concerted effort to avoid the unsightly appearance of previous JPX irons like the EZ, 825, 850… The 923 Hot Metal HL likewise benefits from the V-Chassis and Nickel Chromoly but has a slightly bigger head, more offset, thicker top-line and wider sole which pushes the CG lower still.
Even with that low CG though, Mizuno has increased the lofts of the HL iron to increase launch and help low/moderate swingspeed golfers get the ball up in the air. It turns out, according to Mizuno's research anyway, that after years of jacking lofts and pushing CGs ever-lower, the high-handicap, low swingspeed golfer still needs help getting the ball off the ground. The JPX 923 Hot Metal HL should help that golfer generate a touch more spin, launch the ball higher and maximize distance.
Price – $137.50 per club
Lofts –  Standard & Pro – 4-iron 19˚, 7-iron 28.5˚, PW 42.5˚
HL – No 4-iron, 7-iron 31˚, PW 45˚
Shafts – Standard – Dynamic Gold 95 Regular, KBS Tour Lite Stiff – both steel
Pro – Dynamic Gold 105 S300 – steel
HL – UST Recoil ESX 460 F2 (Lite), UST Recoil ESX 460 F3 (Regular), UST Recoil 450 F1 (Ladies) – all graphite.
Dexterity – Standard – right and left-hand (4-LW)
Pro – right and left-hand (4-PW)
HL – right-hand only (5-SW)
Availability – Now for pre-sale, at retail on October 13th
www.mizunogolf.com
---
Colorado AvidGolfer Magazine is the state's leading resource for golf and the lifestyle that surrounds it, publishing eight issues annually and proudly delivering daily content via coloradoavidgolfer.com.