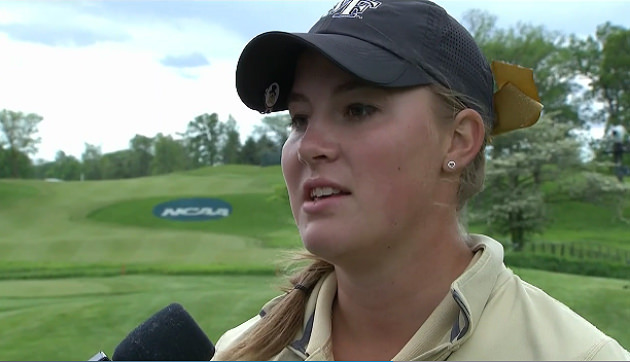 By Jon Rizzi
One day after being honored in absentia as Colorado Golf Hall of Fame's Person of the Year, Westminster's Jennifer Kupcho tied for runner-up in the NCAA Women's Division I Championship at Rich Harvest Farms in Sugar Grove, Ill.
Kupcho, a Wake Forest University sophomore, and Duke's Leona Maguire—the PING Women's Golf Coaches Association (WGCA) National Player of the Year—finished one shot behind Arizona State's Monica Vaughn.
However, the post-victory water bath Vaughn received from her Sun Devil teammates would never have happened if not for the soaking Kupcho gave her second shot on the par-4 17th.
Kupcho, who'd led the field by as many as four strokes during the final round, was two shots ahead of Vaughn going into the penultimate hole. She'd birdied and parred the 367-yard par 4 in her previous two rounds of the championship (weather had forced the cancellation of Saturday's round). Standing over the ball, with 127 yards to the flag, she pulled pitching wedge to clear the water and land the green.
"I got over the ball, and the wind kind of died down a little," she told the Golf Channel. "I hit it perfect. It looked so good, right at it."
But the perfect shot hit the bank and rolled into the pond. A drop, pitch and three putts later, she had relinquished the lead she'd held for the better part of two days. Instead of being up by two strokes, she found herself down by one, with one hole to play.
Although she'd previously carded birdies on the 476-yard par-5 finishing hole, Kupcho's final drive sailed right, leaving her too close to a hazard to go for the green. She finished with a par—as did Vaughn, who had started on hole 10 and was finishing on the ninth.
Despite her disappointment, Kupcho demonstrated incredible poise and maturity during a television interview immediately after the round.
"I'm really proud of how I played," she said. Having sustained a concussion in a freak accident in February, she recovered to come in second in the ACC Conference Championship and first in the NCAA Division I Regional in Athens, Ga.
And she battled adverse weather and wind at Conway Farms.
"I recovered from that concussion exactly how everyone thought I was going to," she said. "I came out stronger. It's unfortunate it came down to this, but I'll get over it.
"I know it's terribly disappointing," Wake Forest coach Dianne Dailey said, "but she's had such success and she will continue to have success."