The exquisitely explosive Jeep Grand Cherokee Trackhawk and Jaguar XF Sportbrake confer novel status on those who drive them.
By Isaac Bouchard
---

2018 Jeep Grand Cherokee Trackhawk
EPA ratings: 11/17/13mpg combined
0-60mph: 3.5sec
Price: $85,900-$94,000 ($90,880
as tested)
Jeep's Grand Cherokee has been one of the best selling—and best—midsize SUVs since 2011, when it moved onto a platform shared with Mercedes. And while it has always been an aspirational sort of machine, it's reached new heights in power and price with the 707 horsepower Trackhawk, currently the most powerful production vehicle in its class.
The ingredients are enticing: take one Hellcat engine, a hand-built, 6.2-liter Hemi with 11.6psi of boost stuffed down its eight throats by a 2.4-liter IHI supercharger. Channel the resulting 645lb/ft of torque through a stouter version of the 8-speed ZF transmission and transfer case that serve in all Grand Cherokees, and distribute through beefier driveshafts, differentials and uprated CV joints. Dispatch 0-60mph in 3.5 seconds using a wonderfully amusing launch mode that barks all four 295-section tires and ricochets a bellowing exhaust note and supercharger scream off surrounding buildings and cars.
Whew!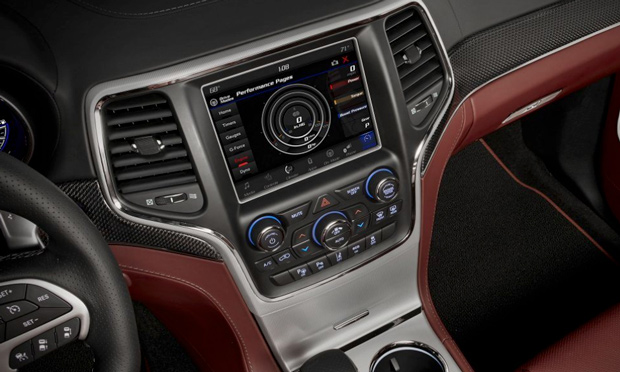 In case you think his is a one-trick pony, know that the Jeep racer/engineers gave a mild makeover to the already highly polished SRT suspension and braking system to handle the Trackhawk's extra power and 215 pounds of additional mass.
Comprised of slightly stiffer springs, recalibrated, adaptive Bilstein dampers, and even larger, 15.7-inch diameter front brake rotors, and blazing yellow-colored Brembo calipers, all corners of thus dynamic envelope are stretched even farther. For something so large and heavy, the Trackhaw manages body motions extremely well.  You can really fling it around a road course, and it excels on twisty tarmac.
In more pedestrian use, it rides better than many less sporty crossovers or SUVs, with quiet, refined progress when not on throttle. A perfect size for normal utility missions, this Grand Cherokee boasts comfortable seating for four and a capacious cargo area. It will also tow 7,200 pounds—and even has a special mode for doing so in the safest and smoothest manner possible.
One area where being a Jeep works against the Trackhawk is interior quality. Many of the shiny, hard plastic moldings you see, including the center console and door panels, have no place in a vehicle this expensive. Thankfully, a stitched leather dash and door caps help distract the eye, and the seats provide ample support and comfort.
The Grand Cherokee also offers many really nice features that more expensive competitors like the BMW X5M and Mercedes AMG GLE63 don't, including remote start that will also kick on the ventilated seats or heated steering wheel, depending on outside temperature. And the Trackhawk's exterior enhancements are handled in a classy yet suitably butch way; functional intakes for cooling replace fog lights, the hood's scoops and vents look great from inside and out, and the stance is foursquare and planted.
Hot rodded SUVs and crossovers have taken big bites out of the market for super sedans, and Jeep was early to the table with the first-gen SRT Grand Cherokee. This 707 horsepower version is a logical and worthy successor, and if its sticker is a bit of a shock, the underlying hardware and tuning talent it exemplifies are world class and first rate.
---

2018 Jaguar XF Sportbrake
EPA ratings: 18/25; 21mpg combined
0-60mph: 5.0sec
Price as tested: $84,245
An indirect effect of the popularity of SUVs and crossovers is the return of sleek yet capacious imported wagons to our shores, albeit in very small numbers. Demographics are on their side: there is still a clubby, old-money appeal to these two-box machines among the elite, and many younger buyers, who were carted around in early SUVs, view them with the same contempt as the prior generation did minivans.
The rarity and coolness factors add to the charm of the latest pageant contestant, Jaguar's XF Sportbrake. Offered in America only in top-spec, S trim with AWD and the 380hp supercharged V6, the XF Sportbrake really stands out—or more accurately, slinks between—a veritable sea of bloated, leviathan SUVs.
It even manages to make the company's otherwise svelte-appearing F-Pace look upright and formal. A full-length sunroof, built-in roof rails, blacked-out trim and body kit emphasizes glossy lower air intake blades and a mesh version of the classic Jaguar grill—all of it blending harmoniously to create a tightly coiled vibe. Enhanced by the way the tight wheel well gaps embrace the gorgeous 20-in wheels, its aesthetic hearkens back to the chopped, channeled lowrider rods created from mid-50s family cars.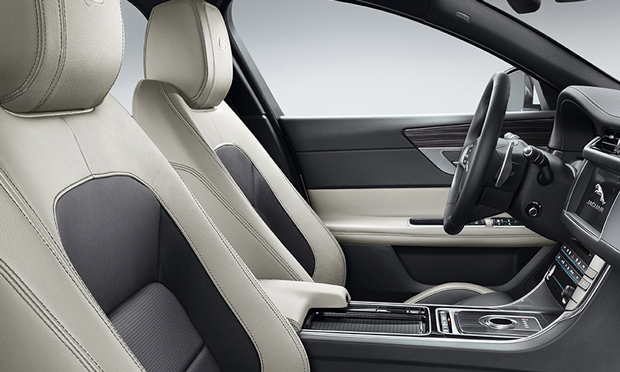 Inside, the XF's materials seem a bit too granular and stiff for the price, and while the 10-inch Touch Pro interface is better than prior company efforts, it really could benefit from the gorgeous twin-screen system deployed on the electric I-Pace. The Sportbrake affords room, however, providing over 66.9 cubic feet of space (more than the F-Pace and many other crossovers) with the rear seats folded, slick retraction for the cargo blind and a light-filled cabin, courtesy of that fixed-glass roof. Framed by a stitched, suede-like material, the glass top appreciably enhances interior ambience. Driver ergonomics are excellent, though the rotary shift knob still seems a retrograde step to a traditional pistol grip-style lever. The seat's embrace inspires confidence and the panoramic sweeps of glass draw one to the road ahead.
Which, of course, is what the XF is really about. It still is amongst the most dynamically accomplished midsize vehicles extant, with superb body control, telepathic steering and swift reflexes. It accomplishes all this without resorting to the kind of iron-fisted ride of taller vehicles, meaning that it can swallow up instances of most broken pavement without undue distress to occupants or cargo.
While the Sportbrake wont be considered cosseting—Jaguar seems to have made the decision its vehicles need to be more overtly "sporty" than that—its firm ride never becomes uncouth. The handling acumen more or less matches the performance offered; the 332lb-ft of torque arrives seemingly right off idle and the Sportbrake rockets to 60mph in just five seconds and in-gear acceleration is excellent.
The accompanying rorty exhaust note is pleasing, and goes some way towards masking this 3-liter engine's inherently gruff, gritty power delivery. The eight-speed gearbox has the intuitive programming Jaguar has become known for.
Jaguar has more than tripled sales in Colorado over the past couple years. Its lineup now consists of as many two-box vehicles (E-, F-, I-Pace and this wagon) as sports sedans and cars. While this lovely machine's sales will probably pale in comparison to those of the more conventional "utility" vehicles, the mere fact that it exists as a choice for Americans is splendid.
---
Contact CAG Automotive Editor Isaac Bouchard at [email protected] for help saving time, money and hassle when buying or leasing a vehicle.
Colorado AvidGolfer Magazine is the state's leading resource for golf and the lifestyle that surrounds it, publishing eight issues annually and proudly delivering daily content via coloradoavidgolfer.com.