If you're a Colorado golfer, Janene Guzowski would love to meet you.
And when she does, the new president of the Colorado Golf Association will let you know that her organization isn't just about getting an official USGA Handicap. "We're striving to make the CGA the leading resource in the Colorado golf community," she says. "We're dedicated to preserving, improving and serving the game of golf in Colorado, and to do that we need to honor, support and engage our members."
Guzowski, a 15 handicap, became president of the Colorado Golf Association's volunteer board of directors in December, less than a year after the organization's historic integration with the Colorado Women's Golf Association. Following the merger-inspired co-presidency of Juliet Miner and Joe McCleary, Guzowski is the first woman to "go it alone" as president of the 103-year-old organization.
With the CGA board wanting to continue the positive momentum of the integration, "a strong, positive leader like Janene" was "the right person at the right time," Executive Director Ed Mate told ColoradoGolf.org.
A native of El Paso who attended Southern Methodist University, Guzowski didn't get into golf until her late 30s, when she and her husband, Al, joined Lakewood Country Club. She has served on the caddie committee there for 18 years, chairing it seven times. "We train 13- and 14-year old kids, show them support," she says. "It's incredibly gratifying to watch them grow up, go on to college and into the world."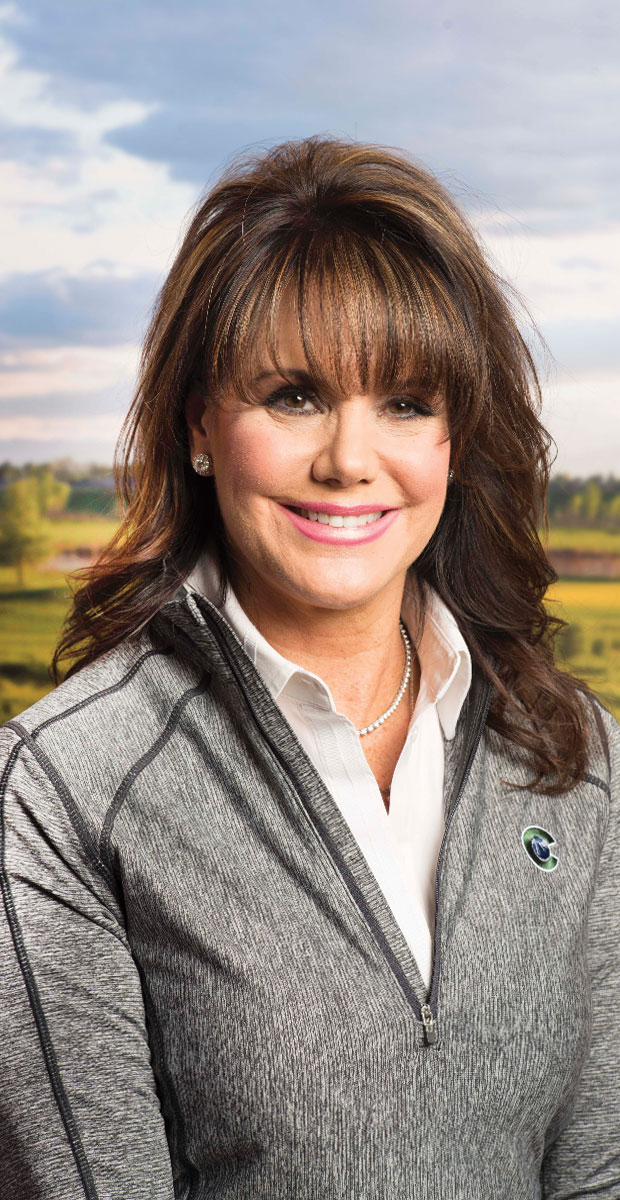 By 2011, Guzowski's enthusiasm for caddie programs translated into her becoming the first female director in Colorado for the Western Golf Association (WGA), the organization that administers the Evans Scholar Foundation, which provides full four-year tuition and housing college scholarship for golf caddies at 16 universities— including the University of Colorado. "My responsibilities are fundraising and making sure the caddie program at your club is vibrant and doing well," she says. "These kids would otherwise not be going to school."
The CGA's long partnership with the WGA in support of the scholarship led Guzowski to the CGA board two years ago, when she and Tracy Zabel became its first two female members. Post-merger, 16 of the board's 43 members were women. That's 37 percent, a ratio slightly better than one to three. "The men and women of the CGA have the same goals of serving golf in Colorado," Guzowski says. "We're going to have to discuss, hear ideas, compromise. At the first executive board meeting I chaired, there were three voting women and three voting men. It was smooth sailing."
Guzowski says she's been "overwhelmed by how much support and well wishes I've received. As the first woman president to go it alone, I wasn't expecting that, but people have come out of the woodwork. I've already received a call from NBC and Golf Channel about possible involvement in a long-drive event."
More relevant to the 60,000 members of the Colorado Golf Association, Guzowski says she aims to get more women involved and to help serve underserved groups, such as higher handicap men and women who elect not to play in tournaments, or people who want to play in co-ed events. "We want to create value for golfers of all levels."
Accomplishing that goal, Guzowski says, requires the CGA board to be "forward-thinking, collaborative, inclusive, professional and quality- driven, and have integrity," she says. "Those are our guiding principles."
And she's guiding a board that's among the best she's encountered. "We have an enormous amount of talent," she says. "I want to tap into everyone's strengths and skills and put them to use. I want everyone involved."
She'll tap into her own strengths as well. Guzowski, who has spent her career in real estate and retail sales (she currently sells the highend Carlisle women's clothing line), ascribes her success to her outgoing nature ("You can't be shy being in sales," she says) and the relationships she has built with clients.
"I'm interested in people—who they are, what they're doing—and I think that's going to be a big part of what I do as president," she says. "As the face of the organization, I want to be out there meeting people, talking to them, sharing our story and hearing theirs. I want to rock it."
---