From private clubs to munis, tee boxes are already packed as the summer season kicks off
by Jim Bebbington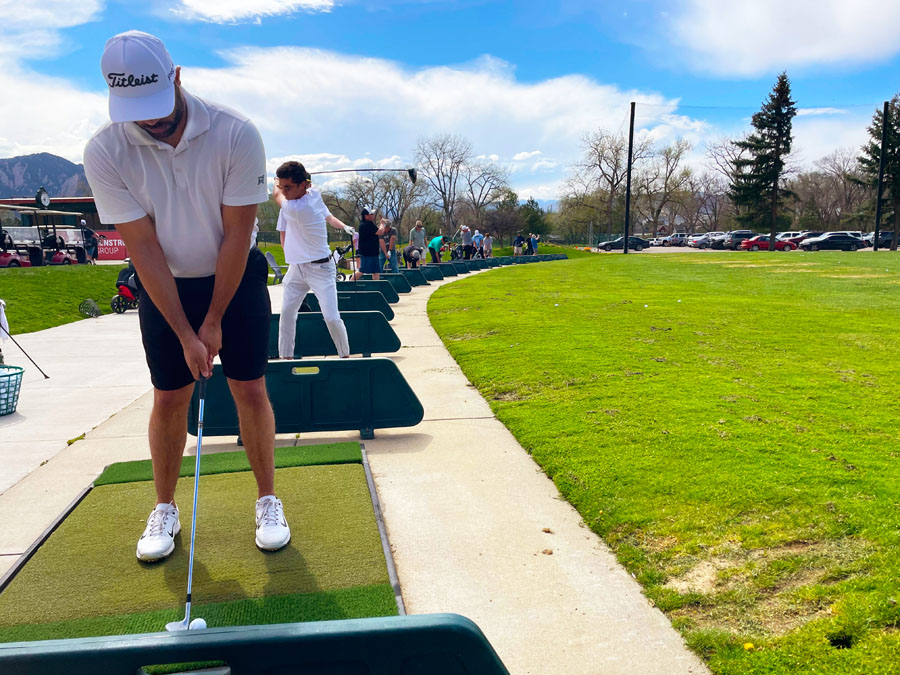 On a recent Saturday night the window for tee times at Denver's City Park Golf Course for the Saturday two-weeks later opened up at 7 p.m.
People who had paid $40 to the city's golf program get a seven-day head start on the rest of humanity all year to book tee times on Denver's courses. On the city's booking website that night, at 7 p.m. and 1 second, the entire day was available at City Park – dozens of plump, beautiful tee times ready for plucking.
By 7:04 p.m.? Poof… all gone.
Golf in Colorado is booming – driven by demographics, the region's growing population, and a covid-era phenomenon in which the game was one of the few athletic pursuits deemed safe to try during quarantine. Thousands gave the game a try – many of them from the big millennial generation who for the first time had careers and a little money to spend. Many got hooked.
That is on top of the regular popularity many courses in the region already have. Vail Golf Course has its iconic name and as soon as the snow melts the tee sheet fills up. Denver's City Park is just a few years removed from a full makeover that has made is must-play at least once. Private clubs are booked up regularly.
"I've been in this business for four and a half decades and nothing we've ever tried worked (to grow the game) and then a virus comes along," said Tom Buzbee, head PGA professional at Boulder's city-owned Flatirons Golf Course. "It's the greatest scenario any golf course owner could have dreamed of except for one thing: new players are boxed out of the course."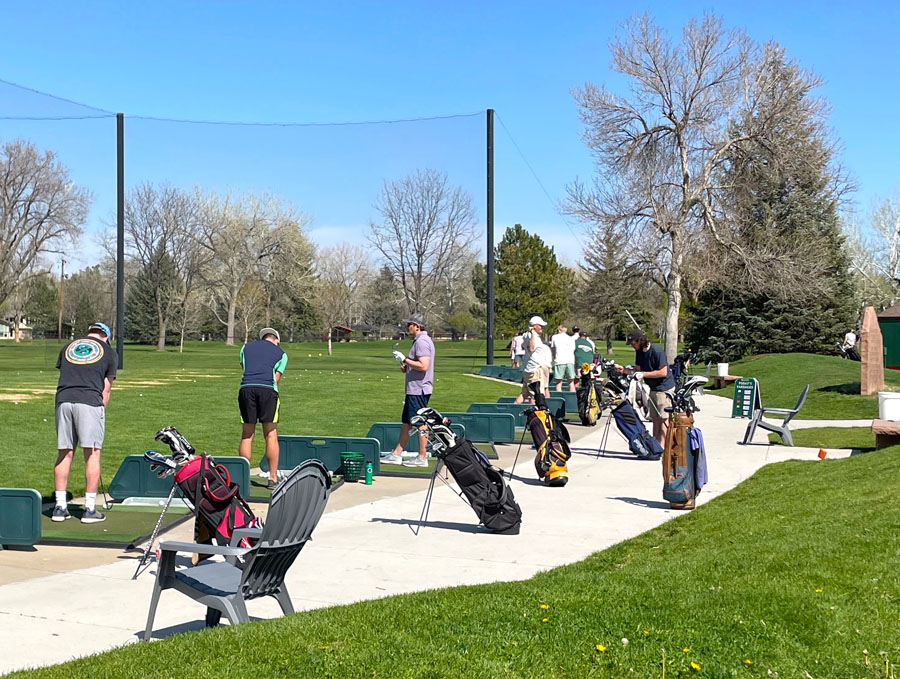 Buzbee said the local golf course operators have all seen the same phenomenon. As people have tried the game for the first time, they caught the fever. But their games are all rickety.
Time was, many afternoons were sleepy and tee boxes were often wide open. New golfers – whether children playing with their parents, or adults modest because they had brand-new swings like new-born flamingos (all knees and elbows) – could slip quietly out and swing and swing and swing again without anyone breathing down their necks.
No more.
Buzbee said it's like learning to drive. Most parents who care about having grandchildren some day don't take their 16-year-olds straight from the BMV to the left lane of Interstate 25 at rush hour. They let them drive around empty parking lots for a few weeks first.
But with crowded tee sheets on nearly every course, every day – there are few slow lanes to be had. Even driving ranges are packed.
"Its nuts here," Buzbee said. "We really can't comfortably accommodate more people on this range and five or six years ago I never would have dreamed that could happen."
The situation is most acute, naturally, at the least expensive courses. But the phenomenon is everywhere.
Tyler Ververs, head golf professional at Antler Creek northeast of Colorado Springs, said mid-week afternoons are when their tee sheet shows some daylight. But during rush hour –  early on a Saturday or Sunday morning when foursomes want
to play- those book up immediately each week through the course website AntlerCreekGolf.com, which takes reservations seven days in advance.
Pros know what their clients are dealing with and some have gotten creative to accommodate the new reality. Many have moved their online booking system 'go time' from midnight to an hour when normal people are more typically awake; they know that hoards of golfers wielding iphones and Androids have fingers poised over the button when that time hits.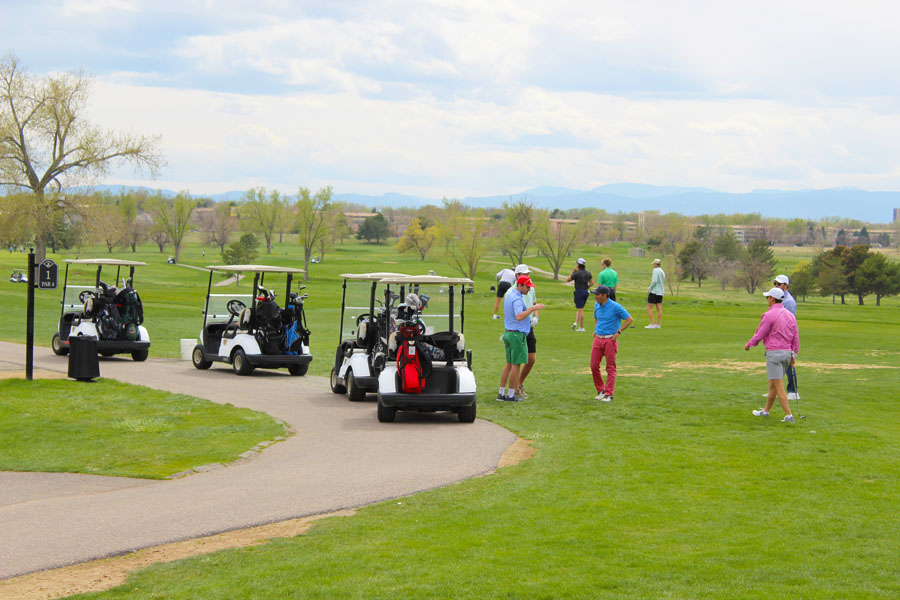 Denver's CityPark may be an extreme example, but if its an outlier it doesn't lie too far out there.
"For City Park we renovated it three years ago and since pandemic all golf courses get filled up really quickly," said Leslie Wright, director of marketing for the City of Denver Golf. "We haven't seen it go down much, but for City Park it hasn't gone down at all."
Private clubs like TPC Colorado in Berthoud even have it tight. At TPC club members get first crack – 30 days in advance – then other TPC course members from around the country get a window. Mortals, however, can go online four days in advance to try to book Monday through Wednesday rounds. Even on the weekends, they'll take calls 24-hours in advance and fill in cancellations if they have any, said Head Golf Professional Stephen Arendt.
The mountain courses – which typically have shorter seasons because of the weather, and often are coupled with resorts – have begun taking tee times months in advance. Many charge a booking fee of $10 or more per player, but that allows golfers to at least get on a tee sheet rather than just stare at the Aspen-shaded tee boxes and sigh.
"With such a short season it's always been busy here," said Trey Johnson, the head golf professional at Vail Golf Club. "Our tee sheet occupancy rate now is typically about 95 percent and in the past, maybe, it was 85 percent."
Buzbee said he and his team sought a solution to both the 'problems' created by golf's current popularity – how to help the average player get out, and how to help the new player learn and practice in peace. They offer a rare window – late each afternoon after the last booked round is out. Anyone can play Flatiron's first two holes – No. 1 goes out and No. 2 comes straight back to the clubhouse – for free, as many times as they want.
From CU Boulder students to little kids with their parents, they can play two real holes, iron out some bugs, and let the game come to them.
"We have 30,000 students just down the street at CU," Buzbee said. "Those kids aren't supposed to like golf. It has exploded with them. We are very accommodating. We weren't always that way. We have so many student pass holders. They don't wake up very early- they roll in at 2 p.m. But it's great to see that age group come back to golf; all we had to do was be nice to them."
Sidebar: Tips only the pros know; how to get a tee time
Get to know your favorite course's rules – The city of Denver Loyalty Program gives their players 14-day advance booking. The city of Aurora – which operated Aurora Hills, Meadow Hills, Murphy Creek, Saddle Rock and Springhill – is 10 days in advance. The city of Westminster is 14 days. Lakewood is 7 p.m. It all varies, but
Know the minute, not the day nor the hour – The city of Aurora, which operates five popular courses, opens up tee time reservations at 8 p.m. 10 days in advance. For city of Lakewood courses, its 5 p.m. seven days in advance. City of Westminster? 6 a.m., 14 days in advance. Know the exact time tee sheets open, and be prepared to hit them to the minute for the region's most popular courses.

Pay in advance – Some courses, like the two operated by the Foothills Parks and Recreation Department, take reservations 11 to 30 days in advance if the rounds are pre-paid.

Get Creative; your courses are – Ask if there are any other options. At Common Ground Golf Course in Aurora and Denver, operated by the Colorado Golf Association, the tee sheet hovers typically at 99-percent occupancy on the weekends.  That is unless you are willing to take a caddy. If you call and ask to book a tee time using the caddy reservation system, that is a separate process. The CGA wants its caddies to get rounds in, so players willing to take them – there is no additional charge, but a post-round tip is expected – those golfers get priority.
Find a Deal – There are packages and tournaments throughout the state all summer long. Join a scramble for charity. Ask your courses if they have any packages. The Colorado AvidGolfer tournament series, to name one example, features four tournaments at great courses in the Denver area throughout the summer. It also has two member-for-a-day opportunities in which non-members get tee times at Hiwan Golf Club on July 24 or Cherry Creek Country Club on Oct. 9. https://coloradoavidgolfer.com/member-play-days-registration/
Join a League – Ask your favorite course if there's a men's or women's league, and try to make it fit your schedule.
Head to the Mountains – Beginning in June, the mountain courses start filling up. Plan ahead and reserve tee times well in advance. Many take reservations months out, for a fee. If you have to made a six-month reservation to hike Rocky Mountain National Park, it's not all that different if you want to play courses with towering tee shots down into alpine valleys.
---
Colorado AvidGolfer Magazine is the state's leading resource for golf and the lifestyle that surrounds it, publishing eight issues annually and proudly delivering daily content via coloradoavidgolfer.com.