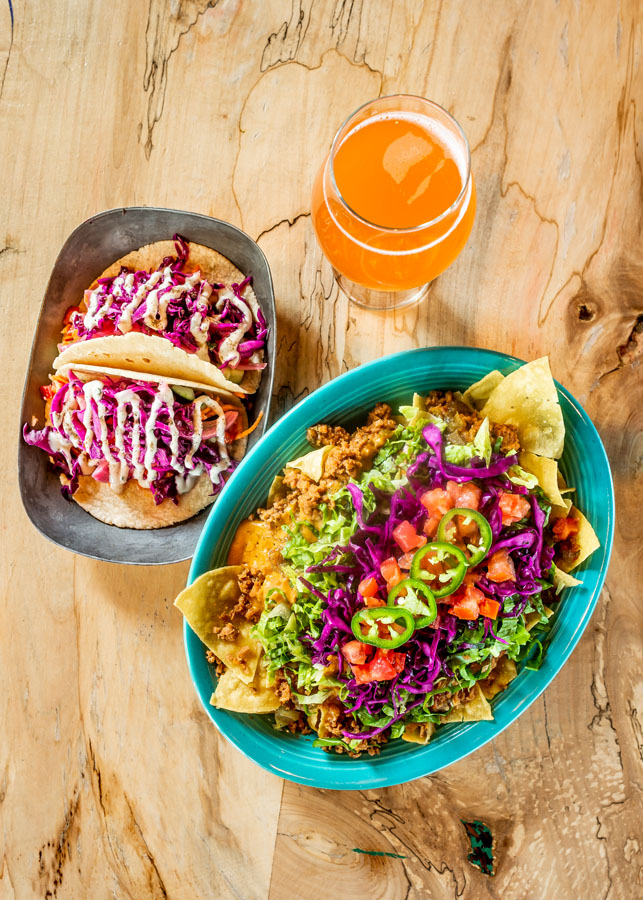 A new wave of good-for-you restaurants is changing the way Coloradans eat their vegetables.
by John Lehndorff
Burger King touts its Impossible Burger and Taco Bell offers a vegan burrito. KFC is testing plant-based chicken nuggets. In 2023, it is hard to find a chain or local eatery that doesn't offer a meat-free option.
Yet, only a decade or so ago, the United States was virtually a vegan dining wasteland. "You would drive across the country and the only vegetarian food you could find was French fries," says veteran chef Lenny Martinelli, co-owner of Boulder's Leaf Vegetarian Restaurant.
A smattering of well-meaning "health food" cafes could be found in Colorado starting in the 1970s, but the bland rice-and-beans fare was nothing to write home about. Vegetarianism was almost perceived as a fringe political choice—the blue cheese versus the red meat.
The local meatless dining scene started to upgrade when Watercourse Foods opened in 1998 in Denver serving good-for-you fare that tasted great. It was mom's meatloaf, but without the meat. Today Colorado is home to a wealth of vegan and health-oriented restaurants from Fort Collins to Colorado Springs with menus offering everything from superfood smoothies to vegan haute cuisine.
When Colorado AvidGolfer talked with the people who have launched successful eateries, they dished ample evidence that a new generation of chefs and diners are bringing meatless into the mainstream.
CLEAN EATING FOR ELITE ATHLETES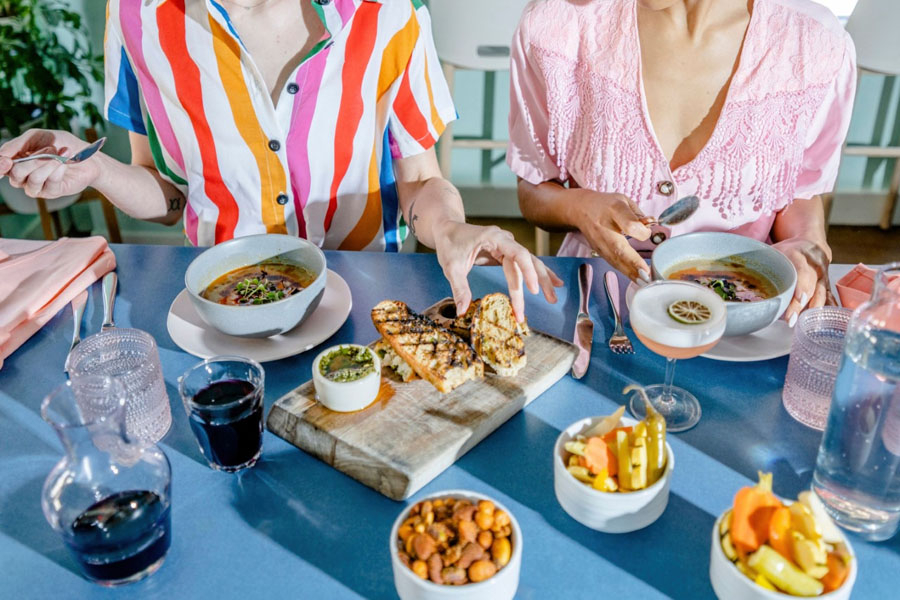 Among elite athletes—including some golfers—"eating clean" is the new dietary mantra. Proponents say a plant-forward approach boosts stamina and cuts inflammation, among other benefits.
Chef Sean Maher—who worked in fine dining and Michelin-starred bistros across the globe—is a vegan and a long-distance runner. "I like the fact that a vegan diet seems to be more sustainable. I also run 50-mile races. I'm not sluggish and not as heavy when I eat vegan," he says. The vegan diet excludes dairy, eggs and honey in addition to animal and fish protein.
Maher and his wife, Tricia, opened Denver's Somebody People in 2019, naming the cozy gathering spot after a David Bowie lyric. At Somebody People, the plant-based palate pleasers range from gnocchi with Japanese yam, carrot berbere, chermoula and radishes to chocolate pot de crème with cashew caramel.
"My wife and I were on a road trip from New York to, eventually, Denver. When we arrived, we noticed there wasn't a lot of vegan cuisine, but when we opened, we purposely didn't call our restaurant 'vegan.' It's 'vegetable forward.' It's important that people aren't put back by that word and realize what we're doing is just really good food," Maher says. The Australian-born couple also toss vegan pies at their Everyday Pizza shop in Denver.
GIVING BIRTH TO VEGAN SUSHI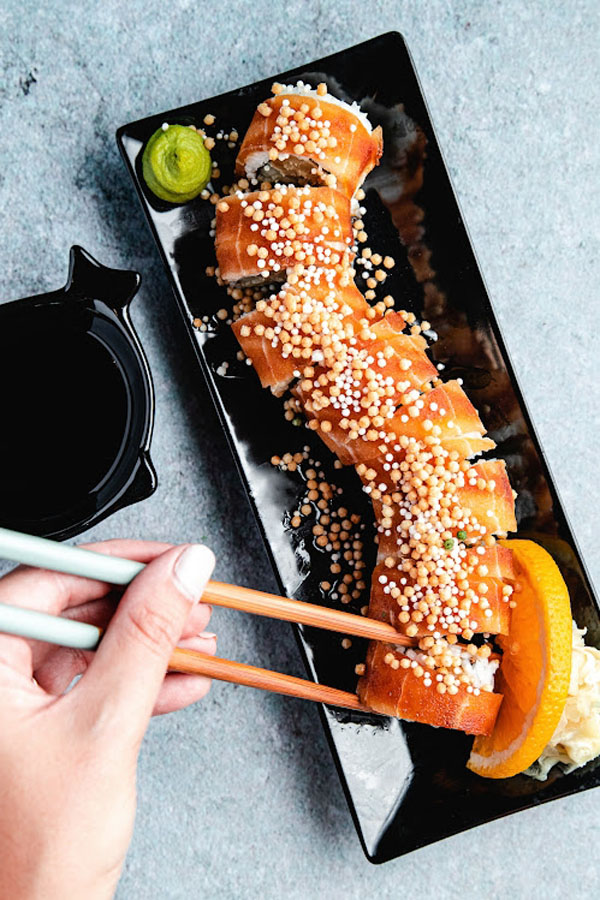 After working in the traditional sushi world for six years, Myanmar-born chef Steven Lee and his wife, Phoebe Lee, opened Wellness Sushi in 2019.
Denver's only vegan sushi bar recently scored a spot on Yelp's Top 100 U.S. Restaurants of 2023, the only Colorado eatery to make the list. The inspiration for the sushi bar came in part from an unlikely but very persuasive source.
"Pregnant women would come to us asking for something besides veggie rolls because they can't eat raw seafood. They missed their sushi. That gave me some ideas," Steven Lee says.
He developed inventive substitutions like grilled eggplant for freshwater eel, "krab" salad made with jackfruit and fried konjac root to replace crunchy tempura shrimp in sushi rolls.
THE SECRET VEGANS OF COLORADO SPRINGS
You take for granted that Boulder is the land of vegans, with a bevy of meatless dining options. "Tofu in Boulder" is a cherished Colorado cliché. Down in Colorado Springs, maybe not so much.
Eight years ago, Tyler Schiedel and Cody Dayton were both working in local restaurants. One of those bistros butchered whole pigs in the kitchen. Schiedel said he had an epiphany.
"I thought: 'Man, I really am not happy working here or serving this to people.' It was not aligning with how I wanted to live my life," he says.
The vegan duo opened The Burrowing Owl in 2015 in Colorado Springs despite the dearth of vegetarian or vegan eateries in the vicinity. "We thought that the seven vegans living in Colorado Springs were going to be stoked to have an all-vegan place in town. We focused on creating a good, homey and warm dive bar that happened to serve some vegan and organic food," Schiedelsays.
The Burrowing Owl's menu comforts diners with coconut curry, serious nachos and mac and cheese/sloppy joe variations.
The duo also operates Fern's Diner + Drinkery, a vegan eatery in Cascade at the base of Pikes Peak.
FINDING A NICHE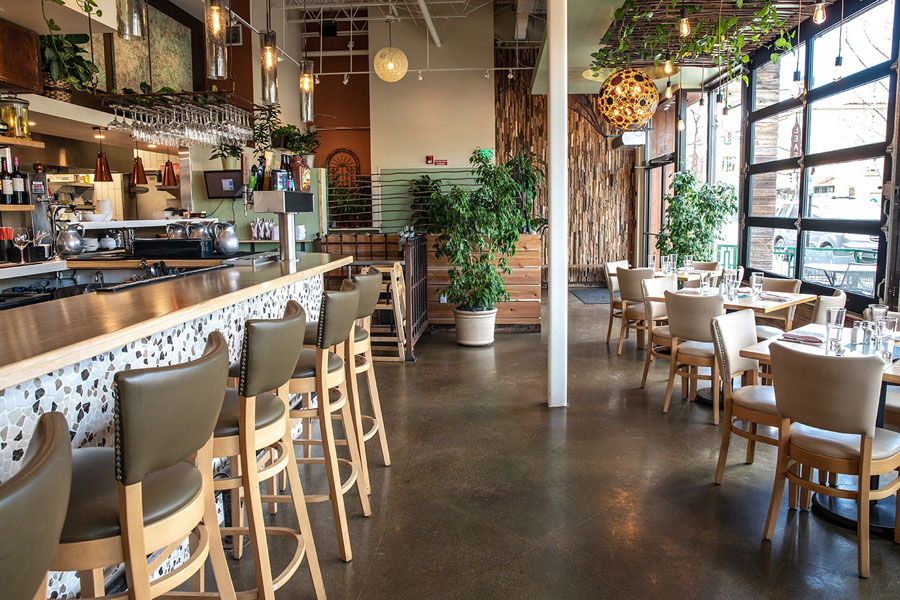 When it comes to cooking—or being—vegetarian, chef Lenny Martinelli freely admits that he is no spring chicken.
"I tried to start a vegetarian restaurant in Boulder 40 years ago," he says. His efforts failed for a lack of interested investors at the time. Since then, Martinelli and his wife, Sara, have opened Leaf Vegetarian Restaurant, Chautauqua Dining Hall and the 25-year-old Boulder Dushanbe Teahouse.
At Leaf, diners dig into popular dishes like jackfruit enchiladas with Spanish rice, green chile and cotija cheese or tempura batter-fried cauliflower florets in sesame-citrus glaze. The Martinellis go a step further for sustainability with their Three Leaf Farm in Lafayette.
"We feature the food grown on our 3½ acres mainly at Leaf. It is only 12 miles away from the restaurants, and most likely harvested that day from good organic soil. The vegetable scraps come back to the farm to be composted and grow more food, Martinelli says.
"My goal was always to do a vegetarian restaurant, but not a place that was billed as 'healthy' or 'good for you.' We're not eliminating the other things that are really delicious and fatty," Martinelli says.
INFO TO GO
Somebody People
1165 S Broadway #104, Denver
Wellness Sushi
2504 E Colfax Ave, Denver
wellnesssushi.com
The Burrowing Owl
1791 S. 8th St, Colorado Springs
Leaf Vegetarian Restaurant
2010 16th St., Boulder,
---
Colorado AvidGolfer Magazine is the state's leading resource for golf and the lifestyle that surrounds it, publishing eight issues annually and proudly delivering daily content via coloradoavidgolfer.com.