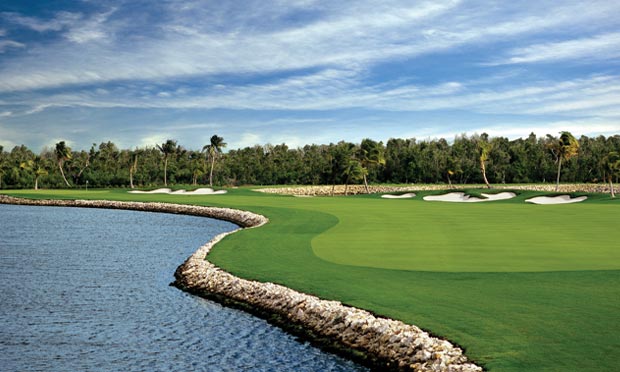 Direct flights from Denver mean nonstop Caribbean golf.
TO GOLFERS WHO remember the 1980s or know the history of the game's implements, the terms "Cayman" and "flight" immediately suggest the "Cayman ball"—a reduced-distance ball that Jack Nicklaus had MacGregor Golf develop in 1985 for what he called "the most versatile golf course I've ever designed."
Built on 37 acres on Grand Cayman—the largest of the British Territory's three islands—Nicklaus' Britannia Golf Club functioned as both a nine-hole par-35 regulation and 18-hole par-57 executive layout, but at 2,915 yards, Jack knew both would be cakewalks for anyone using the new three-piece, Surlyn-covered projectiles that had already begun to shrink courses.
MacGregor did develop the Cayman ball, which sported brambles instead of dimples, weighed roughly half of an average golf ball and flew half the distance. It was also buoyant. Which is more than you can say for the now-faded MacGregor brand and shuttered Britannia course.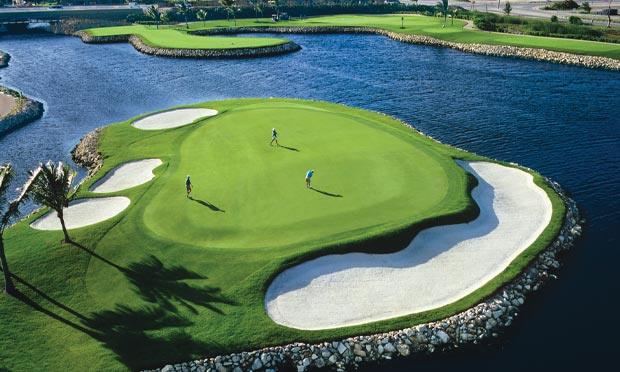 What you can say is that golf with real balls is alive and well in the Caymans—a set of jewels paradisaically nestled south of Cuba and atop the list of the world's best tax havens—and there's nothing restricted about the flight to get there from Denver. Nonstop service on Cayman Airways runs twice weekly, Wednesdays and Saturdays. At about 4.5 hours, depending on wind speeds and time of year, the comfortable flight features signature rum punch, playful Caribbean music and friendly "Cayman Kind" service.
The Caymans' two courses lie minutes from the airport and from each other on a peninsula on the west side of Grand Cayman. The newer nine-hole Greg Norman-designed Ritz-Carlton Golf Club and the 18-hole North Sound Golf Club laid out by Britain's Roy Case both deliver quintessential Caribbean golf: shifting ocean breezes, spectacular views and water and palm trees aplenty.
The Ritz-Carlton course welcomes guests and nonguests of the hotel. With the wind constantly shifting, play it twice, alternating between black and white tees for completely different experiences. Holes 4 and 6 share a putting surface, and the par-3 finisher with a huge island green caps off the experience. After golf, head to the adjacent mangroves, where the Ambassadors of Environment program operates glass-bottomed kayaks. The hotel's private helipad is a launching point for scenic tours and the Red Sail Sports headquarters can be seen from the property, an opportunity for scuba, snorkeling and sailing cruises.
North Sound Golf Club is a faster and firmer play. Challenges abound on the 6,605-yard par-71 layout with water coming into play on 15 of the 18 holes. "No matter the skill of the player, every golfer that plays a round at North Sound will remember the famous par- 3 11th, our most picturesque and challenging hole," grins General Manager Erick Fowler. "It ranges from 125 to 225 yards depending on the tee box and plays dead into a stiff breeze to a narrow green."
Probably not the kind of shot you'd risk with a 24- gram, limited-flight Cayman ball. caymanairways.com
---
This article appeared in the 2019  Fall Issue of Colorado AvidGolfer.
Colorado AvidGolfer Magazine is the state's leading resource for golf and the lifestyle that surrounds it, publishing eight issues annually and proudly delivering daily content via coloradoavidgolfer.com.