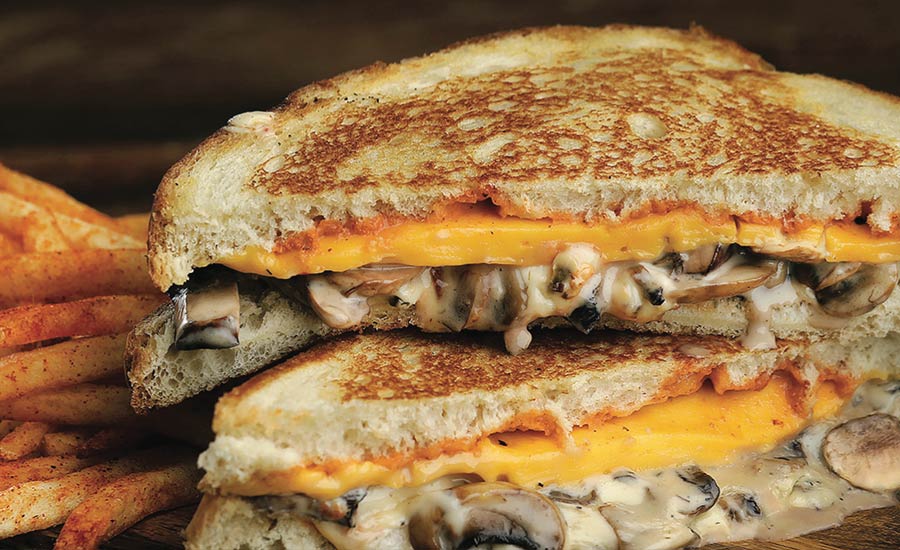 The ABC's of elevating the comfort favorite to sandwich glory.
By John Lehndorff
I'VE GOT A snapshot memory of me sitting at the Formica kitchen table in my childhood home. Mom is serving me American cheese on Wonder Bread griddled in butter. The crusts are cut off. I'm dipping the gooey grilled triangles in a cup of pinkish Campbell's Cream of Tomato Soup. Life is pretty good.
While that flavor combination still pushes my comfort button, my grilled cheese sandwiches have evolved. For one thing, now I crave the crust and the crunch.
Andy Clark grew up on the good stuff in New England and went on to become one of Colorado's most celebrated bread bakers.
"We always used great bread and sharp Vermont cheddar, the white cheese. The orange cheese freaked me out. We kept it simple," he says.
Clark owns the James Beard Award nominated Moxie Bread Company in Louisville, producing artisan breads that are slowly fermented using flour milled in-house from locally grown heirloom grain.
The grilled cheese sandwich is among the first dishes our parents teach us to make. The recipe is just two bread slices, 2 to 4 ounces of cheese and oil or butter, but the delight is in the details, Clark insists.
CRAFTING A GREATER GRILLED CHEESE
Becoming a grilled cheese GOAT—Greatest of All Time—means choosing the right loaf, great cheeses and proper technique, says Clark. "You want a moist, open and airy bread—not incredibly dense—because when you're pan-frying, the air holes will get nice and crunchy. They also let the heat get through to the cheese," he says.
On Moxie Bread Co.'s menu is a popular grilled cheese on fluffy crispy ciabatta with aged Raclette, house-pickled onions and garlic-infused olive oil.
I like using chewy sourdough bread with substantial slices about 3⁄4-inch thick so they hold together after griddling. Finely textured spongy breads like brioche are ideal for French toast, but too dense for grilled cheese.
Good loaves are widely available, but the very best get baked by Clark's fellow independent bread artisans along the Front Range. Check out the Denver Bread Company (thedenverbreadcompany.com), Raleigh Street Bakery (raleighstreetbakery.com), Reunion Bread Co (reunionbread.square.site), Izzio Bakery & Cafe (izziobakery.com) and Sourdough Boulangerie (thesourdoughboulangerie.com).
You may say "Doh!" but a grilled cheese sandwich needs to taste mainly like cheese, so it should be good cheese. Clark likes Raclette and other aged cheeses. I use Cheddar and Swiss a lot because they're always in my refrigerator. If I have aged Gouda or Gruyere, I'm happy to include them. Given the choice, I layer in soft ripened cheeses because they melt so beautifully. Colorado cheeses that fill the bill include MouCo ColoRouge (mouco.com), Fruition Farms Shepherd's Halo (fruitionfarmscreamery.com) and Moon Hill Dairy Alpenbert (moonhilldairy.com). A schmear of Haystack Mountain Chevre goat cheese can add a little tart tang.
FAT PLUS TIME EQUALS FLAVOR
Grilled cheese crafting requires a griddle and the perfect pan is a heavy cast-iron skillet. "Cast iron is still the best because it holds the heat evenly. Preheat it to medium high heat," Clark says. If the heat is too low, the bread will never get crisp. If it's too high, the bread will char before the heat gets through to the cheese.
The sandwich works out better if you griddle the two slices of bread at the same time before flipping one on top of the other into a unit and cooking it a bit more.
Homemade grilled cheese sandwiches lack the pizzazz of their restaurant cousins because, frankly, home cooks are scared to use to use enough butter, oil or fat. Without it you don't get that crunchy deliciousness. "To eat a grilled cheese, you should need a lot of napkins. If not, then there's a problem," Clark says, noting that he likes a blend of garlic-infused olive oil and butter. He admits that a dab of smoky bacon fat couldn't hurt.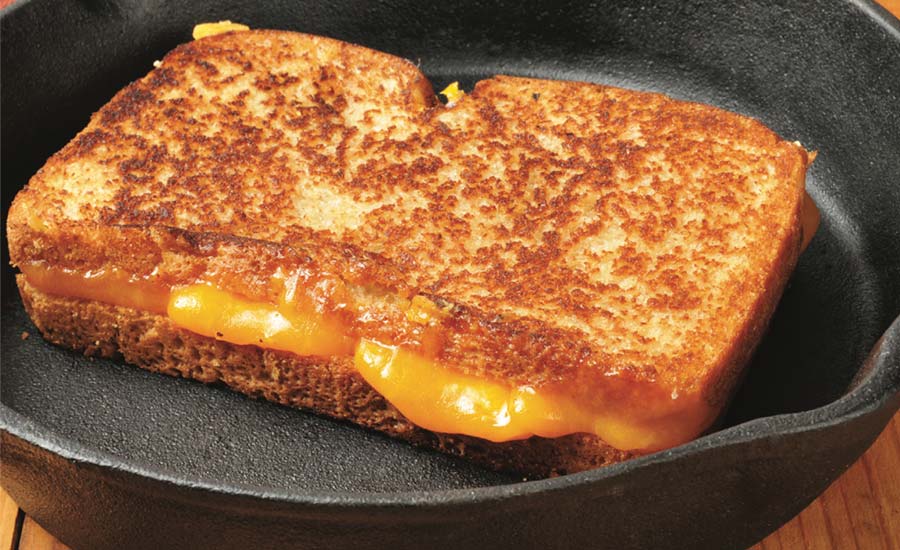 FRAGILE: DO NOT PRESS OR SQUOOSH!
You don't want to flip your grilled cheese and you especially don't want to lean into it with a spatula to speed it up. "I'm not a presser. I don't do panini," Clark says. He doesn't like the idea of anyone flattening his carefully raised breads. Besides, you lose those pockets of crunch.
The biggest challenge is being patient enough to leave the sandwich alone until it's done and the parts have become one. Help it along by covering the pan for a few minutes, but don't overdo it or you'll just steam the sandwich.
"If you're lucky, a little of the cheese will leak out and fry up," Andy Clark adds with a chuckle. There's even an evocative name for this appetizing pan-fried cheese crisp: frico. Some recipes call for spreading mayo on the bread and sprinkling it with Parmesan before grilling, but that may be overkill.
THE PROBLEM WITH FILLINGS
There are many international grilled cheese cousins, including France's croque monsieur: a grilled cheese with bechamel sauce and ham that is French toasted. It becomes a croque madame when you add a fried egg. "Those croques are delicious, deeper dives into the grilled cheese realm but really, those are another beast entirely," Clark says.
He resists adding too many extra spreads and inclusions in a grilled cheese, especially arugula or field greens. "That's a violation of the 'no vegetation' rule," Clark says. He'll allow a few pickled onions and maybe caramelized porcini mushrooms, but not too much.
I sometimes spread the inside of the bread with aioli, pesto or herbed cream cheese. Mainly, I insist on some sweet to balance the savory in the form of fig preserves, orange marmalade or apple butter.
I'm no purist. My grilled cheese sandwiches have featured occasional pickled beets, ripe heirloom tomato slices, roasted green chilies and smoked ham slivers. Here's the deal: If you overload it with too much stuff, it may be a good sandwich, but it's not a grilled cheese anymore.
KRAFT SINGLES AND AN EARWORM JINGLE
Warm bread and cheese with soup has been on the menu for a millennium in various forms, but "soup-and-sandwich" didn't become an American mantra until the 20th century. The sandwich entered households with the creation of Kraft American Singles and the availability of mass-produced white bread. The bland combo was propagandized by Campbell's Soup Company with its soup-and-sandwich jingle crooned to the tune of Frank Sinatra's "Love and Marriage."
Cafeterias in the 1950s and '60s started pushing the affordable tomato soup and grilled cheese duo to satisfy the caloric, Vitamin C and protein requirements of school lunch programs.
Ultimately, I think grilled cheese is exactly the right dish for a year like 2020. It's a big enough tent to embrace organic gluten-free bread and dairy-free cheese and can be customized to satisfy family members' specifications for any meal of the day.
My most recent grilled cheese memory resulted when I searched my kitchen for something sweet and yummy. I ended up with butter-fried cranberry walnut bread slices layered with creamy burrata cheese and peach slices. I dipped the sandwich quarters (crust-on) in dark maple syrup.
Grilled cheese: It's for dessert, too.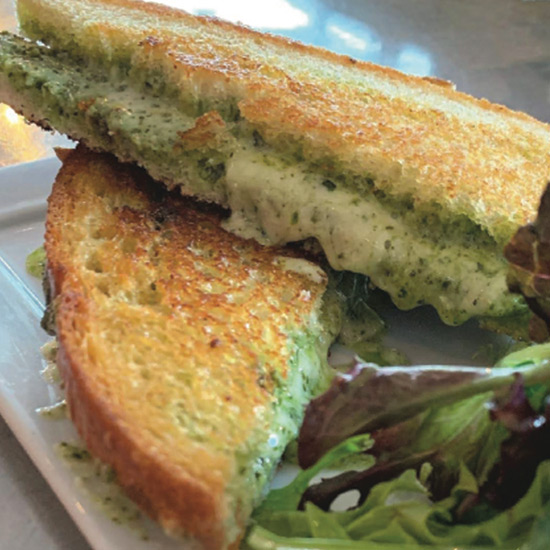 Grilled Cheese Destinations
Denver's long love affair with these sandwiches from diners to fine dining includes the popular Denver Grilled Cheese Fest—like other events it's on hiatus this year. These Denver-area eateries offer their own spin on the classic.
• KING KONG (Sauteed mushrooms, Sambuca cream sauce, grilled onions, pepper jack and American cheeses, white bread). The Grilled Cheese Society, Denver; grilledcheesesociety.com
• GRILLED CHEESE (Texas toast, Muenster and American cheeses, tomato soup optional). Steuben's, Denver and Arvada; steubens.com
• PESTO GRILLED CHEESE (menu of cheeses available). The Truffle Table, Denver; truffletable.com
• GRILLED CHEESE (Vermont Creamery fromage blanc, Beemster XO Gouda, New Bridge Aged Cheddar), Culture Meat & Cheese, Denver; culturemeatandcheese.com
John Lehndorff is the former Dining Critic of the Rocky Mountain News and has written for the Washington Post and Cheese Connoisseur magazine. He hosts Radio Nibbles on KGNU.
---
This article was also featured in the Fall issue of Colorado AvidGolfer.
Colorado AvidGolfer is the state's leading resource for golf and the lifestyle that surrounds it, publishing eight issues annually and proudly delivering daily content via coloradoavidgolfer.com.