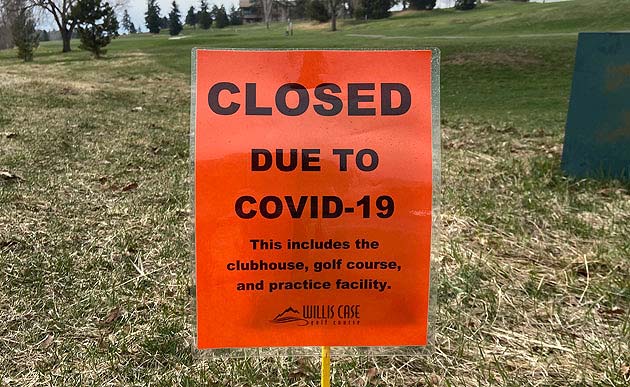 Complying with state and local directives, a number of courses remain open.  But make sure to check ahead—and stay safe out there.
By Andy Bigford
It started in early March with virtually all of Colorado's "in-season" courses pledging to stay open as a physical and mental refuge in the gathering COVID-19 storm—for as long as they could safely do so. Then, in mid-March, as the virus's impacts escalated, virtually all the municipally owned facilities closed, from the City of Denver's eight courses to Aurora's five to facilities up and down the Front Range.
But the vast majority of non-munis have stayed open for no-frills golf, with increased safety measures as outlined by local public health departments, and often allowing employees the option of staying home if uncomfortable. While not near the risk level of doctors, nurses and first responders, golf course employees have certainly been on the front lines, right along with grocery store clerks and delivery workers.
Clubhouse food and beverage closed first (usually replaced by takeout), then pro shops, with tee sheets migrating entirely on-line or by phone. On the grounds, water coolers, sand-seed bottles, rakes, benches and, in some cases, pins disappeared (or cups were turned upside down). Ranges closed, while carts were limited to single riders, private ownership, or banned entirely.
Staying Open
Public facilities that are privately owned quickly adjusted; Saddleback in Firestone has not missed a day due to the virus. A group of five courses under the Southwest Greens banner is a case in point: Colorado National, Bear Dance, Plum Creek and Riverdale Dunes and Knolls all remain open for basic golf.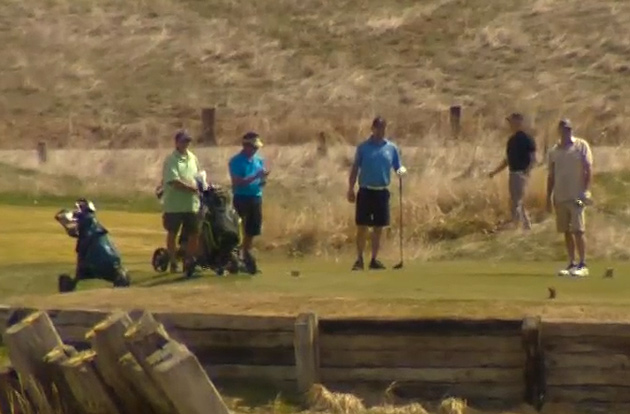 At Colorado National in Erie, with permission from Boulder County and the town, the course requires advance online tee times with credit/debit card payment then or over the phone, is walk-only, and asks golfers to arrive 10 minutes in advance with check-in at the starter booth, which has a six-foot "social distancing" line around it.
With no scorecards or tees, golfers are encouraged to download the course's virtual scorecard. These sorts of steps are being taken across the country: 74 percent of the "in-season" courses in the U.S. remained open as of March 27, according to a National Golf Foundation survey.
Critical to long term health, maintenance staffs will continue to maintain the roughly 20,000 acres of golf turf at the 240-plus state courses regardless of any tighter restrictions to come, thanks to the work of the Colorado Golf Coalition (composed of four groups representing golfers, GMs, PGA professionals, and greenskeepers). Grass that is not regularly cut soon presents a problem, and this maintenance exception has, in general, been approved nationwide.
Savvy operators hope to take advantage of the small business component of the initial $2 trillion relief package passed by Congress; it covers revenue shortfalls if owners can maintain their payrolls, though the lending review portion of that act has already been delayed.
On the Private Side
Private clubs, with their finite membership, were best equipped to adjust. A compelling narrative unfolded in Boulder County, where Boulder Country Club closed March 26, held three board meetings the following day and re-opened 3/28. The club became a mini-grocery store, selling toilet paper to members and delivering meals to Boulder Community Health. GM Michael Larson says that, ironically, he thinks this will be good for private clubs in the long run because of the sense of community it is building.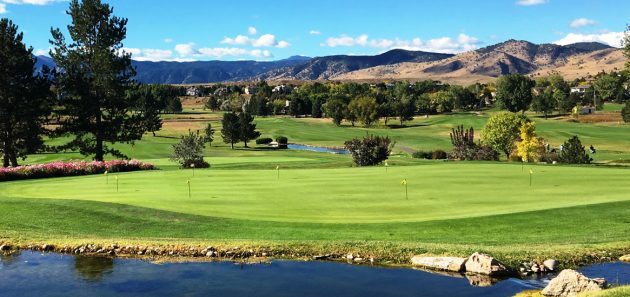 Ten miles west, at Lake Valley Golf Club, owner Mitch Galnick gathered his entire staff in the grill as the pandemic heightened. They all stood; the chairs had been removed from the room so takeout visitors to the restaurant wouldn't linger. Galnick told them that anyone who was uncomfortable working in this most unusual climate could and should stay at home—with pay. Two or three (particularly those with young families at home), took that option, though one ended up returning after a few days away. The looming question was whether Lake Valley should continue to offer golf if it could be done within all safety guidelines. "Yes" was the nearly unanimous answer. "It was quite heartening," Galnick says.
He has seen an outpouring of support from members on the benefit of this escape hatch, and has been in constant contact with the local health departments, the state attorney general's office, and the Boulder County attorney's office to ensure that all operations are permitted by the Governor's Office, both in spirit and letter.
To Play or Not to Play?

Meanwhile, at Commonground Golf Course, which is owned and operated by the Colorado Golf Association and falls under multiple government jurisdictions, the course closed for a week as CGA Executive Director Ed Mate sought further clarity…then it announced it was re-opening on Saturday, April 4.
For some, it's unnerving to search for a tee time amid the nonstop news about hospitalizations, medical supply shortages and the dire death toll, not to mention the 10 million lost jobs in the past two weeks or the collapsed stock market.
Critics of those who choose to tee it up may be in the minority, but they're loud, encapsulated in clickbait such as this: "Golf, guns and ganja are essential?" Or, on a more personal level, with texts from playing partners like this one: "I can't believe the local course is doing 160-plus rounds a day. Apparently, no one is concerned about being exposed and bringing it home except my wife, daughters, and myself?"
"We need to care more about the game itself than anyone's right to play it at this historic and dangerous time," wrote one local golf writer, quoted on 9News.
To play or not to play is a personal choice, and either decision is valid. When the proper precautions are rigidly followed, with a few dozen people spread out over 100 acres, thousands of golfers are reporting that golf's therapeutic benefits—health and sanity—far surpass those of any other activity.
If you agree, check-in regularly with your local course before heading out, hold your head high (except when addressing the ball), settle your Nassaus via Venmo, and be extra careful out there.
---
For more of the latest Colorado golf news, visit our NEWS & PROFILES PAGE.
Colorado AvidGolfer Magazine is the state's leading resource for golf and the lifestyle that surrounds it. CAG publishes eight issues annually and delivers daily content via coloradoavidgolfer.com.